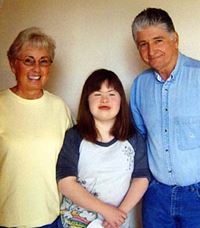 Columbus, Ohio – The family of Danny "Dan" Grubb, of The Plains, Ohio, has filed a lawsuit for the wrongful death of their beloved husband and adored father, in U.S. District Court for the Southern District of Ohio. The lawsuit (case no. 2:14-cv-01587-ALM-EPD) was filed by Dan Grubb's son, Timothy, who is the administrator of his father's estate and by Dan Grubb's widow, Darlene, who also sustained injuries from the 2013 motor vehicle collision on Interstate 77 near Fancy Gap, Virginia.
On September 21, 2013, Dan was driving his wife and aunt, northbound on I-77 in Carroll County, Virginia, when their vehicle collided with a jackknifed tractor-trailer, owned by Schneider National Carriers, Inc. (aka Schneider), the largest privately-owned truckload carrier in the U.S.
Schneider's tractor-trailer jackknifed, obstructing the northbound lanes, after another tractor-trailer, owned by Day to Day Logistics, Inc., crashed into the rear of Schneider's trailer. Although Schneider's tractor-trailer completely blocked their path, Dan attempted to steer away from it. The collision injured both passengers and killed Dan Grubb, Darlene's husband of 52 years.
Day to Day Logistics, Inc., of Ontario, Canada, and Schneider National Carriers, Inc. of Greenbay, Wisconsin, have been named defendants in the lawsuit for the negligent, careless and reckless operation of their vehicles.
The lawsuit alleges that the driver of the Schneider vehicle, Carlisle Sinclair, Jr., was negligent; that among other things, he failed to drive defensively or look for slow-moving traffic ahead, failed to be prepared for hazards and warn other drivers that he needed to slow down. The complaint also claims that Jaswant Singh, the driver of the Day to Day Logistics, Inc. tractor-trailer, also was negligent; he was driving too fast for the conditions and followed the Schneider truck too closely, failing to keep a safe distance.
Both drivers of the tractor-trailers failed to obey fog-related warning signs and adjust for bad weather conditions, among other things, according to the lawsuit's allegations. "In our opinion, the known facts support a conclusion that both truck drivers failed to exercise the care required, especially considering the inclement weather, and caused the tragedy that cost Dan Grubb his life," stated the family's attorney, Ronald Goldman, senior trial counsel at Baum Hedlund Aristei & Goldman.
Additionally, the lawsuit claims that Schneider and Day to Day Logistics, Inc. were both negligent in the hiring, training, supervision, retention, and entrustment of the drivers involved in the crash and that their conduct is responsible for the death of Dan Grubb and for the physical and emotional damage suffered by Darlene Grubb. Dan retired about 20 years ago and was known as a man who loved his family. Darlene believed his eyes were so blue that they looked like a piece of heaven. They were wed in 1961 and had three children together.
Baum Hedlund Aristei & Goldman, P.C. represents the Grubb family. Baum Hedlund is a national law firm that works to expose negligence and pursue accountability. The firm has handled more than 8,000 personal injury and wrongful death cases across the nation, including over 200 truck accident cases.