Bijan Esfandiari
Bijan Esfandiari is a pharmaceutical product liability litigation attorney and senior partner at Wisner Baum in Los Angeles. Since joining the firm in 2007, Bijan has worked as lead counsel on several cutting-edge pharmaceutical and medical device cases. His legal work has helped thousands of clients secure compensation for their injuries and shaped the law for the benefit of those harmed by dangerous drugs and medical devices.
Bijan spent the first five years of his legal career as a defense attorney at a major national law firm. While working on a variety of cases spanning multiple disciplines, including entertainment law, intellectual property, and toxic torts, he became discontented with representing corporate polluters. Recalling that he went to law school to help those who were harmed by the greed and neglect of others, Bijan left the defense firm and joined Baum Hedlund (now Wisner Baum), where he immediately found a committed group of lawyers and colleagues that shared his dedication to helping people harmed by corporate malfeasance.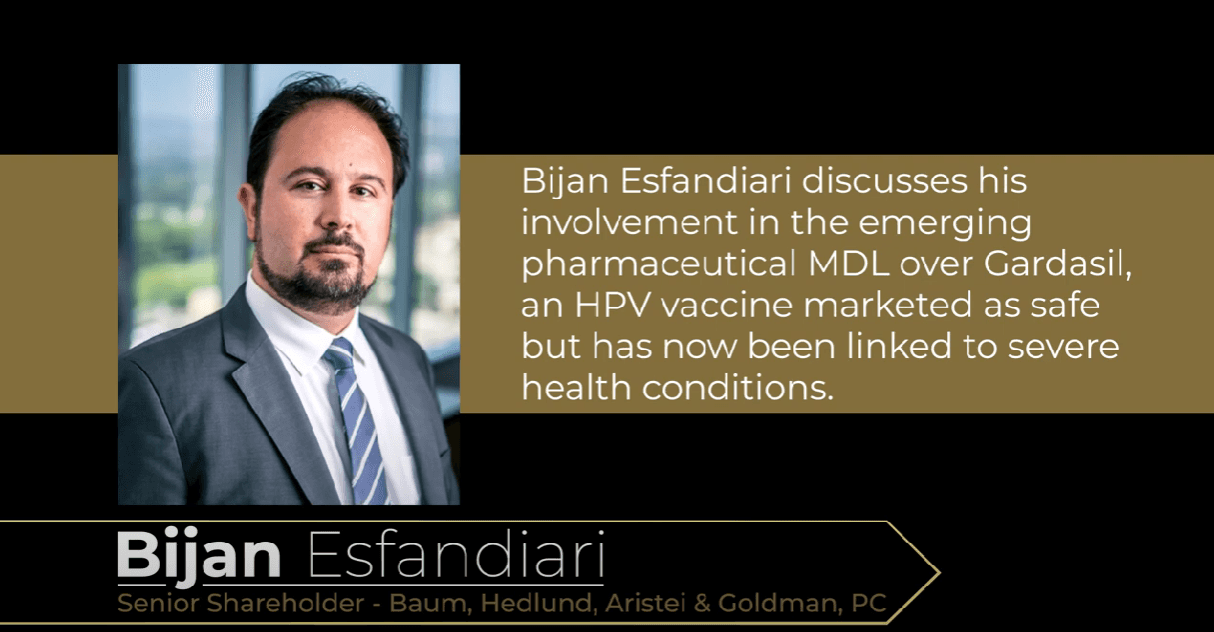 ​
Wisner Baum Senior Partner Bijan Esfandiari discusses the Gardasil HPV Vaccine Multidistrict Litigation (MDL). Just days after this interview a federal panel of judges approved the MDL, allowing Gardasil cases to move into coordinated discovery and pretrial proceedings. Gardasil plaintiffs who allege they sustained debilitating Gardasil side effects, will now be able to have their day in court. Watch it here.
Locally & Nationally Recognized
Since his arrival, Bijan has successfully represented clients in state and federal courts across the nation at both the trial and appellate level in wrongful death and catastrophic personal injury cases. Utilizing the discovery process, he has fought to de-designate internal corporate documents demonstrating that pharmaceutical manufacturers intentionally concealed dangers associated with their products simply to maintain sales and profits. In a noteworthy case against drugmaker GlaxoSmithKline (GSK), Bijan obtained, examined, and presented evidence to the Court, which later ruled that: "internal GSK documents suggest that Defendant acted with a wanton and willful disregard for the safety of its consumers…Given such evidence, Plaintiffs may be able to establish at trial that Defendant knew of the risks of pediatric use of its drug yet failed to warn solely to increase the commercial profitability of Paxil." The ruling allowed Bijan's clients to proceed with claims for punitive damages and resulted in a successful resolution of the case.
Bijan routinely works on challenging cases for severely injured clients that other law firms refuse to represent due to the costs and legal hurdles. His efforts have not only helped these clients that other attorneys turned away; they also led to precedent-setting legal rulings that have benefited all plaintiffs and consumers.
Many of these precedential successes came in the form of defeating pharmaceutical and medical device companies' claims that they are immune (preempted) from liability by virtue of their products being approved by the FDA. In 2014, Bijan successfully briefed and argued the first and only medical device preemption case at the time before the Maryland Court of Special Appeals. In an issue of first impression, the three-judge panel in McCormick v. Medtronic, Inc., 219 Md. App.485, unanimously agreed with Bijan's arguments that the device manufacturer was not entitled to immunity and held that the plaintiff could proceed with his claims against the medical device manufacturer. This appellate success led to thousands of other similarly injured plaintiffs being able to successfully bring and maintain claims against the device manufacturer.
In a similar proceeding, Bijan successfully briefed and argued the first drug preemption case before the United States Court of Appeals for the Seventh Circuit. The three-judge panel in Mason v. SmithKline Beecham Corp., 596 F.3d. 387 unanimously agreed with Bijan's arguments, finding that plaintiffs' claims against the drug manufacturer were not preempted by federal law.
The significance of these and other landmark rulings cannot be overstated. They ensure that drug and medical device companies that engage in deceptive or impermissible conduct are not entitled to immunity and that they can be held accountable in a court of law for any injuries they or their products cause to consumers.
Aside from obtaining substantial monetary recoveries for his clients, the cases Bijan and his colleagues have worked on helped give the public and medical community a chance to learn more about previously undisclosed risks associated with drugs, devices, and products. In multiple instances, his casework helped lead to labeling changes or dangerous products being removed from the market to prevent consumers and patients from suffering harm.
The son of an infectious disease scientist, Bijan was surrounded by members of the medical community from a young age. In addition to the joy he receives from representing and obtaining justice for his clients, a favorite part of Bijan's legal practice is that it allows him to learn from some of the world's leading medical experts in their respective fields, retained in the pharmaceutical and medical device cases he handles.
Education
University of California School of Law, Los Angeles, California (J.D., 2002)
University of California, Los Angeles (B.A., cum laude, 1999)
Member, UCLA School of Law Moot Court Honors Program
Court Admissions
California, 2002
U.S. District Court, Central District of California, 2002
U.S. Court of Appeals, Ninth Circuit, 2002
U.S. District Court, Southern District of California, 2005
U.S. District Court, Eastern District of California, 2005
U.S. Court of Appeals, Tenth Circuit, 2008
U.S. District Court, Western District of Michigan, 2008
U.S. District Court, Eastern District of Wisconsin, 2008
U.S. Court of Appeals, Third Circuit, 2008
U.S. Court of Appeals, Seventh Circuit, 2009
U.S. Supreme Court, 2011
U.S. District Court, Northern District of California, 2012
U.S. Court of Appeals, First Circuit, 2013
U.S. District Court, Western District of Wisconsin, 2021
U.S. District Court for the District of New Mexico, 2021
U.S. District Court, Eastern District of Texas, 2021
U.S. District Court, Eastern District of Michigan, 2022
Awards and Honors