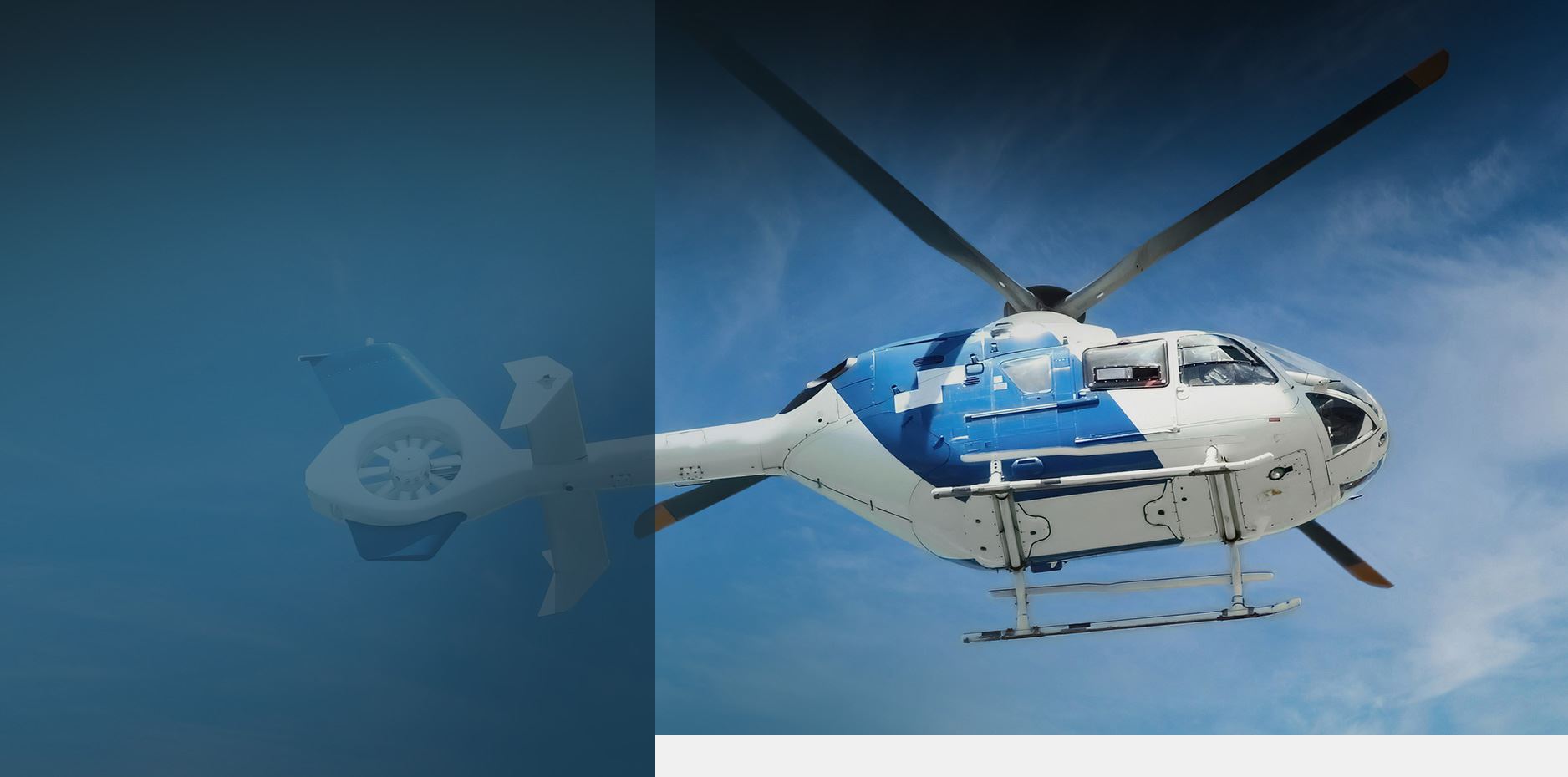 Helicopter Crashes Client Focused. Trial Ready. Billions Won.
Helicopter Crash Attorney
AVIATION LAWYERS HELPING HELICOPTER ACCIDENT VICTIMS FOR DECADES
Helicopters are highly complex machines requiring intricate design, construction, maintenance, and skills in operation. Because these machines require such precision in order to ensure safe manufacture and use, the smallest problem could lead to a disastrous helicopter crash. A tiny part malfunction or a momentary negligent act could result in serious injury or death. With so many possible contributing factors involved in a helicopter crash, it is often difficult to identify the true cause of the accident or who is ultimately responsible for it.
At Wisner Baum, however, our lawyers have extensive experience in performing a thorough helicopter accident investigation and pursuing full and fair compensation on behalf of the victims and their families. Based in California, our firm works with some of the best experts in helicopter safety, design and manufacturing, in order to find the answers that victims and their families need and the justice they deserve.
In the past, our firm has handled cases involving nearly 800 passengers and crew injured or killed in aviation accidents, including helicopter crashes across the U.S. and abroad.
Get started with a free case evaluation. Give us a call today at (855) 948-5098 or submit our online form to speak with a helicopter crash lawyer.
What Causes Helicopter Crashes?
After decades of experience in this field, we have seen many reasons why helicopter crashes occur and we have worked hard to improve helicopter safety by bringing many of these issues to light. Because of our unique experience, our attorneys understand how to investigate the causes of helicopter accidents and identify responsible parties and hold them accountable.
Among the most common causes of a helicopter crashes are:
Manufacturing defect/product liability
Pilot error or other human factors
Aircraft design defect
Aircraft maintenance negligence
Air traffic control — government or contractor error
Helicopter pad operator negligence
Obstructions
Poor weather conditions
According to helicopter safety statistics, helicopters crash more often than small planes and vastly more often than large airliners. At Wisner Baum, we have found that there are several factors that contribute to the higher accident rate. Helicopters are a unique kind of aircraft capable of vertical flight. They can effectively move back and forth, hover, and quickly change altitude in ways that airplanes cannot. Due to these differences, a helicopter can operate low to the ground and in areas that require a high level of maneuverability, such as between buildings, or near mountain ranges. However, many of these ideal uses for helicopters have inherent dangers of their own.
Military or medical helicopters are often flown into dangerous and stressful situations where the potential for pilot error is heightened even further. Flying low through buildings in order to rescue an accident victim is not easy – and these sensitive operations are made even more difficult when you consider that most helicopters don't have a set flight path or the controlled environment of an airport runway and air traffic controllers to assist them. Even with the assistance of air traffic control or helicopter pad operators, human error can play a part in causing helicopter crashes. Inaccurate information or a brief moment of inattention can bring about disaster when there is so much at stake.
Since helicopters are so tricky to operate and maintain, even leisure activities involving helicopters, such as sightseeing tours, have particular dangers associated with them. Many exciting sightseeing destinations, like Hawaii, have very unpredictable weather patterns and helicopters are naturally more vulnerable to bad weather than planes.
Another important factor that may add to the higher helicopter crash rate is that helicopters have many more moving parts than a plane, which means there are more parts that can potentially malfunction. Each individual moving part is essential to the operation of the aircraft and if any one of those parts is improperly designed or manufactured, deadly helicopter crashes can be the result. Additionally, because these parts are in constant motion they wear out faster than most plane parts and require very specific inspection and maintenance in order to continue functioning properly. If the helicopter maintenance provider is negligent and skips steps or fails to notice an issue with the aircraft it can easily lead to helicopter accidents.
WISNER BAUM HELICOPTER CRASH CASES
Below are some additional examples of our helicopter crash cases. We've also provided a complete list of our helicopter crash case history for your reference.
Robinson R44 Helicopter Crash, Windwhistle, New Zealand (2021)
A Robinson R44 helicopter carrying a newly married couple and a wedding photographer crashed after the aircraft's engine lost power. The three passengers and the pilot all sustained serious injuries. Wisner Baum helicopter crash attorneys filed a lawsuit against Robinson Helicopter Co. in June of 2023. The firm has represented victims in over a dozen cases against Robinson.
A/MH-6M "Little Bird" Military Helicopter Crash, Ft. Benning, Georgia, 2011
On August 8, 2011, two accomplished military pilots were operating an AH-6M helicopter in a routine training exercise when an unexpected malfunction lead to a fatal helicopter crash that killed both of the officers. We filed suit alleging that manufacturing flaws and quality assurance failures, lead the aircraft and parts manufacturers to provide an unreliable, unsafe, defectively manufactured helicopter that had safety issues with the engine, fuel control system, and other flight components.
Maryland State Police Helicopter Crash, Forestville, Maryland, 2008
After an automobile crash on September 27, 2008, Maryland state police sent a helicopter to pick up a 17 year-old who was injured in the accident and transport her to a nearby hospital. During the trip to the hospital the helicopter was forced to divert due to adverse weather and ended up crashing in a wooded park area. The helicopter crash killed four people on board, including the injured patient being transported. The National Transportation Safety Board conducted an investigation and found that a combination of factors, including outdated weather information from the air traffic controller, caused the crash.
We sued the FAA alleging that the air traffic controllers were negligent in their communications with the helicopter, and additionally that the controllers were unresponsive and inattentive when the pilot asked for help. Also, the State of Maryland filed a lawsuit against the FAA alleging that the air traffic controllers were not able to handle ground-based radar guides and therefore gave the pilot of the medevac helicopter weather information that was about five hours old.
Classic Helicopter Corp., Charter Helicopter Crash, near Easton, Washington, 2007
On August 2, 2007 just outside of Easton, Washington a Robinson R44 helicopter crashed shortly after takeoff in mountainous terrain. Witnesses reported seeing the helicopter takeoff and ascend to approximately 30 feet, then after about 100 feet of travel, the tail started swaying side to side, and the pilot had to get it down, albeit with a hard landing. A post-crash fire consumed the helicopter and those onboard. All four passengers sustained fatal injuries. Our helicopter crash lawsuit alleged that a design flaw in the helicopter lead the occupants to burn to death after a very survivable, low impact helicopter accident. The work our firm performed in this case helped lead to safer design of the fuel tanks in the R44.
Heli USA Airways, Sightseeing Helicopter Tour Crash, Kauai, Hawaii, 2005
An Aerospatiale Helicopter operated by Heli-USA Airways Inc. crashed into the Pacific Ocean off the coast of Kailiu Point on September 23, 2005. The helicopter was in the process of a sightseeing helicopter tour when the pilot continued to fly in adverse weather conditions. This resulted in the loss of control after an encounter with a microburst. Also contributing to the accident was the inadequate FAA surveillance of operating restrictions and a lack of flotation equipment on the helicopter. Three passengers suffered minor injuries, and three others were drowning-related fatalities.
Complete list of our past crash lawsuits:
Robinson R44 crash, Windwhistle, New Zealand, 2021
Robinson R44 crash, Wyoming County, Pennsylvania, 2021
Robinson R44 crash, Broome, Australia, 2020
Robinson R66 crash, near Mechanicsburg, Pennsylvania, 2020
Robinson R44 crash, Avalon, California, 2019
MH-6M Little Bird military helicopter crash, Ft. Campbell, Kentucky, 2019
AH-64E Apache helicopter crash, Ft. Campbell, Kentucky, 2018
Robinson R66 helicopter crash, Wikieup, Arizona, 2016
Robinson R44 helicopter crash, Orlando, Florida, 2015
Military helicopter hard landing, MH-60 Blackhawk, Hunter Army Airfield, Savannah, Georgia, 2014
Robinson R66 helicopter crash, Mangaratiba, Rio de Janeiro Brazil, 2013
Hospital Wing medevac helicopter crash, Eurocopter AS 350 B3, Somerville, Tennessee, 2013
Rocky Mountain Rotors helicopter crash, Robinson R44, near Thompson Falls, Montana, 2013
Robinson R22 helicopter accident, near Murrieta, California, 2012
Bell AH-1W Cobra military attack helicopter, Camp Pendleton, San Diego, California, 2011
Maryland State Police medical helicopter crash, Aerospatiale (Eurocopter) AS365, Forestville, Maryland, 2008
Carson Helicopter Services / U.S. Forest Service, Sikorsky S-61N, near Weaverville, California, 2008
Central Illinois Air Corp. helicopter crash, Robinson R44 II, Table Rock Lake, Missouri, 2008
Adventure Helicopter Tours sightseeing tour accident, Robinson R44 II, Topanga Canyon, California, 2008
Pilot training accident, Robinson R22 Beta, Rochester, Minnesota, 2004
Jack Harter helicopter tour crash, Bell 206B, Kauai, Hawaii, 2003
Robinson R22 helicopter crash, San Salvador, El Salvador, 2001
Sikorsky HH-3F helicopter accident, near Wellington, Nevada, 2000
TV helicopter accident, Bell 206B JetRanger, Cottage Grove, Minnesota, 1999
Los Angeles Fire Department medical helicopter, Bell 205A1, Los Angeles, California, 1998
Pacific Helicopter Tours, Inc., of Kahului power line construction project helicopter crash, Bell 206B, near McGregor Point, Maui, Hawaii, 1996
Hughes 269C helicopter accident, near Eldon, Washington, 1996
Air One Inc. helicopter accident, Sikorsky S-58T, Walnut Creek, California, 1994
MPW Industrial Services Inc. helicopter crash, McDonnell Douglas 369E, Richfield, Ohio, 1993
Helicopters, Inc. power line patrol crash, Hughes 269, East Bernstadt, Kentucky, 1992
Hawaii Helicopters accident, Aerospatiale AS-350B, Maui, Hawaii, 1992
Air Methods medical helicopter crash, Bell 206L3 LongRanger, Bayfield, Colorado, 1992
Energy Department helicopter accident, Messerschmitt BO-105, Las Vegas, Nevada, 1991
Intermountain Air Service helicopter crash, Bell 206B, Toutle, Washington, 1991
Contact a Helicopter Crash Lawyer
Our skilled helicopter crash lawyers are experienced in aviation law as well as the technical operations of an aircraft. We understand how to investigate the causes of helicopter accidents and identify all responsible parties. Several Wisner Baum attorneys are described in Aviation Counsel Magazine's 2001 list of Recommended High Flyers (considered by International Air Transport Association's (IATA) Legal Department as one of "the most elite lists of aviation law practitioners ever produced") to be "among the best aviation lawyers in the world by the aviation legal community." Collectively, we have also won at least half a billion dollars on behalf of aviation accident victims.
Contact our experienced helicopter accident attorneys for thorough investigation and aggressive pursuit of helicopter crash claim.
Leading Advocates for Helicopter Safety
While we work tirelessly to seek appropriate compensation for our clients, we also make it a priority to help improve helicopter safety by exposing bad business practices and fighting against improper aviation laws that put lives at risk. One case that exemplifies our efforts was a helicopter air ambulance case that we took to trial, changing aviation law in the process. The case involved a Los Angeles Fire Department helicopter picking up a girl seriously injured in a car accident. While the helicopter air ambulance was transporting the girl to Children's Hospital in Los Angeles, the tail rotor fractured and broke apart, causing the helicopter to crash in Griffith Park. Three paramedics and the injured girl were killed.
Although the helicopter company knew previously of the tail rotor problem and in turn notified the military to change all of the helicopters' maximum flight time, civil aviation was not notified. Our firm changed aviation law when we argued that a life is a life and that where the identical part is used in both civil and military aircraft, the manufacturer must notify the FAA of a parts failure even if the failure occurs in a military aircraft. The Appeals Court agreed. The result: manufacturers can no longer hide dangerous parts from the FAA and operators of aircraft. This allows for remedial action not otherwise possible.
$14 Million Settlement A Major US Plane Crash

Wisner Baum obtained a $14 million settlement for the death of a passenger in a major US plane crash.

$12 Million Settlement Helicopter Crash

Wisner Baum secured a $12 million settlement for a passenger who was injured in a helicopter crash.

$10 Million Settlement A Major Foreign Plane Crash

Wisner Baum obtained a $10 million settlement for the death of a passenger in a major foreign plane crash.

$17.5 Million Settlement A Major US Plane Crash

Wisner Baum obtained a $17.5 million settlement on behalf of a client who was killed in a major U.S. plane crash. Client-Focused Representation
REVIEWS & TESTIMONIALS
We believe our track record speaks for itself. But you don't have to take our word for it. See what our clients have to say about working with us.
"I Can't Imagine a Better Law Firm"

Multiple lawyers recommended Wisner Baum to me and I have been consistently impressed with the quality of their work.

- Best Law Firms Survey

"They Are About Changing the Systems..."

Wisner Baum are not only amazing attorneys but more importantly, they are activists. They are about changing the systems which got us into trouble in the first place. They understand their role in the process of making change.

- Kim Witczak

"Top Legal Minds in the Country"

The Wisner Baum firm has some of the top legal minds in the country; they are driven, determined, trustworthy, ethical and passionate.

- From Best Lawyers® Best Law Firms

"Diligent & Professional Representation"

Thanks to your efforts I was able to recover from a tragic experience and turn my life around for the best.

- W.T.

"Our Best Interest Was Always Number One on Your List"

A special thank you to your Spanish-speaking staff for the extra effort put into this case. The language barrier was never a problem, and we are so very thankful to them. Your name holds much respect in our family.

- G.C. & C.C

"We Have Never Met a More Wonderful Group of People"

It is obvious that the people at Wisner Baum believe in what they do. And that you all really care about your clients.

- The B. Family

"They Worked Very Hard and Kept in Contact, Which Is Very Important to Me"

I appreciate that you care about how I feel and that you take time to use your talents to ensure your every contact with me is warmly professional.

- A.D.B.

"Your Expertise in This Field Gave Me the Utmost Trust and Confidence"

I wanted a fair settlement within an appropriate time frame, and without any public scrutiny. With your hard work and dedication, we were able to achieve those goals.

- T.O.