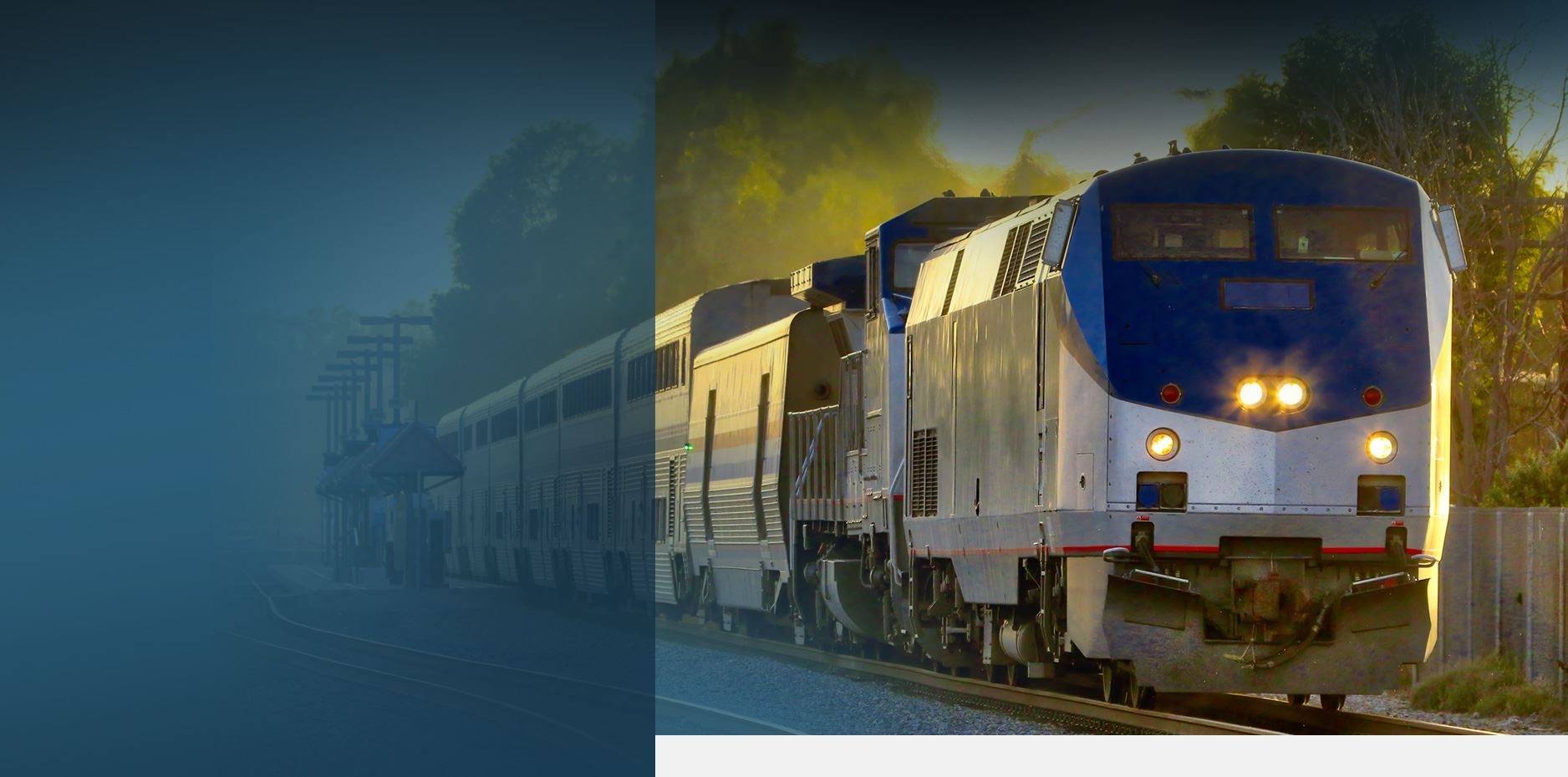 Train Accident Client Focused. Trial Ready. Billions Won.
Nationwide Train Accident Lawyers
Train Accident Lawyers with Extensive High-Level Experience
For decades, Wisner Baum has successfully represented railroad and train accident victims in some of the worst train crashes and derailments in our history. Based in Los Angeles, our train accident attorneys have handled the litigation for more than 85 passengers in train-related personal injury or wrongful death cases across the United States. These cases have included train derailments, train collisions, train accidents at-grade-crossings, FELA-railroad employee injury claims, and incidents involving Amtrak, Conrail, MARC and Metrolink.
Train accident victims or their families hire our firm because of our extensive high-level experience handling train accident litigation and other forms of commercial transportation liability. Wisner Baum concentrates its practice on wrongful death and serious personal injury commercial transportation cases throughout the United States. Our firm is listed in The Best Lawyers in America®, Top Ranked Law Firms™, U.S. News & World Report Best Lawyers® Best Law Firms and in Martindale Hubbell's Bar Register of Preeminent Lawyers.
Contact us at (855) 948-5098 if you or a loved one was seriously injured or killed in a train wreck. We take cases nationwide.
Our Train Accident Investigation Process
In all accidents involving trains, it is vital that prompt measures be taken by mass disaster accident attorneys to perform a proper accident and train investigation. At Wisner Baum, we use comprehensive programs to ensure no stone is left unturned. It is our job to obtain best possible results for our clients by using effective train investigation, litigation, and resolution strategies.
Among the many steps we take to precisely prepare a train investigation and litigate a train accident case:
Preserve all evidence throughout the train investigation
Obtain reports of local governmental agencies
Photograph scene, cars, undamaged equipment
Obtain scale models of equipment
Survey track area
Obtain the National Transportation Safety Board (NTSB) report
Obtain the Federal Railroad Administration (FRA), and any other government agency reports
Obtain witness statements
Acquire coroner reports and records
Obtain the black box data if the train was equipped with an ECM (Electronic Control Module)
Obtain the defendants' safety record
Get the full background and history on the conductor, rail switch operators, etc.
Secure a train accident reconstruction expert
Communicate with prosecuting attorney if any criminal proceedings are involved
Determine the best legal venue determined by substantive law and choice of law issues
Identify any governmental entities involved
Prepare and file claim forms against governmental entities, if necessary
Prepare and file the lawsuit
Contact our train accident attorneys at (855) 948-5098.
Our Past Experience in Train Accident Cases
Leading Litigators in the Glendale Metrolink Train Tragedy
Past Senior Partner, Paul J. Hedlund, who is also a mechanical engineer, testified about passenger car crashworthiness and the dangers of pushing passenger trains at the state hearing conducted by the California State Assembly, looking into the causes of the Glendale Metrolink train tragedy. It was our law firm's opinion that the "pushing" of passenger cars was likely responsible for the deaths and injuries which resulted from the southbound Metrolink train's collision with the Jeep left on the tracks. As deranged as the action of parking a vehicle on the railroad tracks was, Metrolink's unsafe procedure led to the tragic consequences in this case.
Paul Hedlund also testified before the State Assembly hearing on California commuter rail safety as a result of the Metrolink derailment. He showed two independently produced train crash test videos exposing the vulnerability of cab cars. The videos stunned the Committee members when it revealed the cab car with shock absorbers suffered very little damage compared to the cab car without. Mr. Hedlund also discussed push versus pull in general terms and the inherent dangers in pushing passenger cars with a locomotive and why pulling passenger cars with a locomotive is safer.
In December of 2005, almost a year after the Metrolink derailment, and after months of public pressure, Metrolink finally announced that it would install shock absorbers on their trains. On several occasions our firm organized meetings for our clients to personally meet with the state assemblyman and his transportation staff spearheading the push-pull ban legislation. We also organized our clients to meet with the U.S. Representative for the district where the crash occurred, seeking his involvement in improving passenger rail safety in the state of California.
Baum Hedlund Organizes March on State Capitol to Rally Support for Bill
Several of our clients and the firm's public relations director joined Assembly Majority Leader Dario Frommer (Glendale) at the Burbank airport for a press conference just before taking off for Sacramento. After landing, the Wisner Baum group spent the rest of that day and the next day lobbying 12 of the 13 senators who sit on the Senate Transportation and Housing Committee, to vote yes on the Assembly bill that would ban the pushing of trains.
Our Clients Testify Before the Senate Transportation and Housing Committee
Three of our Metrolink crash clients testified before the California Senate Transportation and Housing Committee in favor of the Assembly bill that, if passed, would ban the pushing of passengers in California and make passenger trains safer. Each one of these victims, a widow and two severely injured passengers, offered excellent testimony, and made it very clear that if their Metrolink train was being pulled that tragic morning, rather than being pushed, the injured would have walked away with much less severe, if any injuries, and no one would have died.
Representing Victims in the 1993 Amtrak Sunset Limited Crash
The crash remained Amtrak's worst until September 22, 1993, when 47 passengers and crew died when Amtrak's Sunset Limited plunged off a bridge into a muddy bayou near Saraland, Alabama. Our firm represented 22 victims from this train derailment which was initiated by the mishandling of a barge that struck the bridge just before the wreck.
Maryland was again, the site of a fatal Amtrak crash on February 16, 1996, when 12 people were killed when one of the company's passenger trains, the Capitol Limited, smashed into a MARC Maryland Rail Commuter train in Silver Spring. We represented six families in the MARC train crash that also involved a locomotive engine pushing the passenger cars ahead of it.
Taking on the 1987 Conrail Train Collision in Chase
The firm handled its very first train disaster in 1987. This was the case of the Amtrak – Conrail train collision in Chase, Maryland on January 4, 1987. In that incident, an Amtrak train, carrying 600 people, on its way to Boston from Washington, D.C., crashed into a set of Conrail freight locomotives bound for Pennsylvania. At the time of the collision it was reported the Amtrak train was traveling at an estimated speed of 108 mph. Train cars were stacked three high from the force of the impact.
The collision caused the deaths of 16 people, including the Amtrak engineer, and 175 people were also injured, making it, at that time, Amtrak's deadliest wreck in its history.
Our clients suggested to the committee, the many changes needed to make passenger trains safer. Some of their proposals included banning pushing of trains, installing automatic gates at all rail crossings, installing sensors, radar and/or cameras to warn of obstructions, train turnarounds, passenger car crashworthiness improvements, seat belts, better rail disaster training and alerting of passengers before a crash.
Why Work with Wisner Baum
Here are a few reasons to consider hiring our experienced train safety advocates and train accident lawyers at Wisner Baum:
Over $4 billion won firm-wide
Extensive high-level experience
Handling train accidents since 1987
Voted "Best Lawyers® Best Law Firms" by our clients and peers
Successfully resolved over 85 train crash or derailment cases
Major honors and national recognition for our achievements
Appointed to Plaintiffs' Steering Committees for Metrolink Glendale and Chatsworth
If you or a loved one have been a victim of a train accident, contact Wisner Baum at (855) 948-5098 or submit our online contact form today for a free consultation.
Dedicated Advocates for Train Safety Nationwide
We believe that being a safety advocate is very much a part of our firm's purpose, and efforts have been made by the firm's mass disaster attorneys to not only represent their clients in getting them full and just compensation, but to become advocates for train safety. Our train safety advocacy work is best exemplified by our extensive work in the community specifically regarding the extreme risk in the push-pull passenger rail system. Inspired by the families of those killed in the Glendale Metrolink crash, we became deeply involved in working with the state legislature to get the law changed to ban the pushing of passenger trains, starting with the State of California.
$265 Million Settlement Fatal Train Crash

In 2016, Wisner Baum attorney Timothy A. Loranger and six other attorneys in the Plaintiffs' Management Committee were able to secure a $265 million settlement for victims of the 2015 Amtrak 188 derailment in Philadelphia, one of the largest in the U.S. for 2016.

$3.5 Million Settlement Fatal Train Crash

Wisner Baum secured a $3.5 million settlement on behalf of an individual who died on a train.

$2.8 Million Settlement Wrongful Death

Wisner Baum obtained a $2.8 million wrongful death settlement for a train passenger.

$2 Million Settlement Fatal Train Crash

Wisner Baum obtained a $2 million settlement on behalf of a passenger who died on a train. Client-Focused Representation
REVIEWS & TESTIMONIALS
We believe our track record speaks for itself. But you don't have to take our word for it. See what our clients have to say about working with us.
"I Can't Imagine a Better Law Firm"

Multiple lawyers recommended Wisner Baum to me and I have been consistently impressed with the quality of their work.

- Best Law Firms Survey

"They Are About Changing the Systems..."

Wisner Baum are not only amazing attorneys but more importantly, they are activists. They are about changing the systems which got us into trouble in the first place. They understand their role in the process of making change.

- Kim Witczak

"Top Legal Minds in the Country"

The Wisner Baum firm has some of the top legal minds in the country; they are driven, determined, trustworthy, ethical and passionate.

- From Best Lawyers® Best Law Firms

"Diligent & Professional Representation"

Thanks to your efforts I was able to recover from a tragic experience and turn my life around for the best.

- W.T.

"Our Best Interest Was Always Number One on Your List"

A special thank you to your Spanish-speaking staff for the extra effort put into this case. The language barrier was never a problem, and we are so very thankful to them. Your name holds much respect in our family.

- G.C. & C.C

"We Have Never Met a More Wonderful Group of People"

It is obvious that the people at Wisner Baum believe in what they do. And that you all really care about your clients.

- The B. Family

"They Worked Very Hard and Kept in Contact, Which Is Very Important to Me"

I appreciate that you care about how I feel and that you take time to use your talents to ensure your every contact with me is warmly professional.

- A.D.B.

"Your Expertise in This Field Gave Me the Utmost Trust and Confidence"

I wanted a fair settlement within an appropriate time frame, and without any public scrutiny. With your hard work and dedication, we were able to achieve those goals.

- T.O.