You Won't Pay Unless We Win

Our personal injury firm is dedicated to fighting for the rights of our clients and obtaining maximum compensation on a contingency basis.

Over $4 Billion Won For Our Clients

Our history of success reflects our relentless pursuit of justice and unwavering dedication to achieving the best possible outcome for every case we handle.
Nationwide Bus Accident Attorneys
Dedicated Advocates for Bus Crash Victims in California and Nationwide
Wisner Baum has a long history of handling bus accident cases. The firm has handled 100 bus crash cases over the past 30 years for bus passengers, their families and pedestrians hit by buses, across the United States and in foreign tourist spots. In one case, the firm represented 27 passengers from a single bus accident.

​ We handle a wide variety of bus accidents:
Casino bus
Charter bus
City bus
Greyhound bus
Party bus
School bus
Tour bus
Our firm has also handled bus accident cases against defendants such as Greyhound, Ford Motor Company, American Tour and Leasing Co., Bluebird, Sky Express, Inc., American Stage Lines, San Diego Metropolitan Transit, Mexico Transportacion Turista Peninsular, Windsor Inc., and Travellers Coach Company Limited.
If you've been the victim of a serious bus accident, contact our bus accident lawyers at Wisner Baum today to schedule a free initial consultation: (855) 948-5098.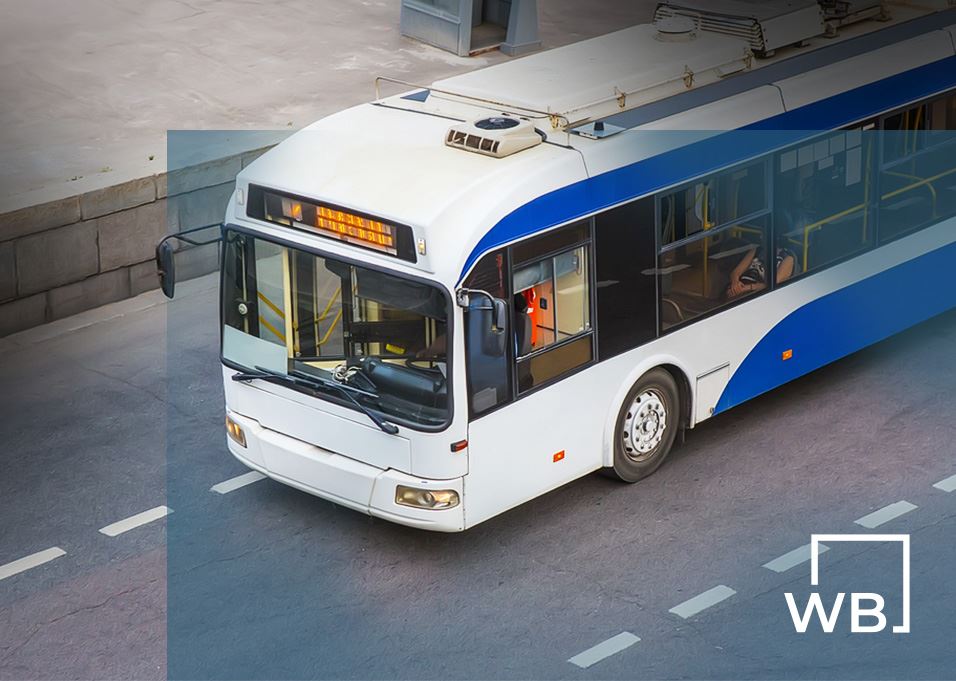 CALL

(855) 948-5098
Contact our experienced attorneys to learn about your legal options. Your consultation is free and confidential.
Your Legal Rights After a Bus Accident
Bus accident victims and their families have a right to seek personal injury and wrongful death damages against errant bus drivers and their companies. Any such lawsuit may well involve more than one state's law or court system, and numerous complex choices and decisions may have to be made to maximize recovery or streamline procedures.
Those responsible for these accidents should be held accountable and safety improvements made. There are usually a number of weak links in the chain of events which lead up to an injury or death – negligent operators, negligent supervision, poor maintenance, design flaws, failed parts, or faulty reporting.
Each individual or group responsible for one or more factors may be called upon to pay a portion, or even all, of the compensation due the injured person or family members. Each of those entities may be situated in a different state and the harm may have occurred in yet another state.
​Bus Crash Facts and Statistics
In 2018, there were roughly 65,000 bus accidents in the U.S., according to data from the National Highway Transportation Safety Administration (NHTSA). While most of these crashes resulted only in property damage, 234 caused deaths and 15,000 others caused injuries.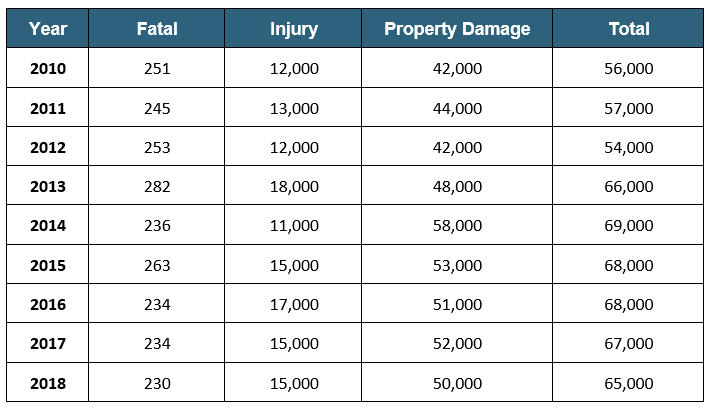 ​
Source: https://cdan.nhtsa.gov/tsftables/tsfar.htm
The lion's share of bus accidents in the U.S. involve school buses. An estimated 25 million public school students ride over 450,000 school buses twice daily to go to and from school. Another 1­2 million students ride school buses to and from school-related activities each day. Between 2008 and 2018, school buses accounted for 40% of all fatal bus crashes in the U.S. During the same period, intercity buses accounted for 12% and transit buses accounted for 35% of all fatal bus crashes.
Some other bus crash statistics:
There are more than 990,000 buses on the roads (includes municipally owned transit and commercial, federal, and school buses).
Bus accidents injure approximately 25,000 people every year.
On average, more than 250 people are killed in bus-related accidents each year.
Each day, over 450,000 school buses travel the nation's roads.
An average of 23 school-age children die in school transportation-related traffic crashes each year.
Nearly half of school-age pedestrians killed in school transportation-related crashes were between the ages of 5 and 7 years old.
Bus Accidents by State
The Right Choice for Your Bus Accident Case
Many bus accident victims or their families hire our firm because of our many years of experience handling bus accident litigation and other forms of commercial transportation liability.
Wisner Baum concentrates its practice on wrongful death and serious personal injury cases throughout the United States. The firm is listed in The Best Lawyers in America, the Bar Register of Preeminent Lawyers, and maintains the highest AV® peer review rating, obtained through a rigorous process conducted by the leading international lawyer directory, Martindale-Hubbell.
Some reasons to consider our firm for your case:
100 bus crash cases handled by our firm since 1988
27 passengers represented in a single bus accident
$6,200,000 million settlement obtained for a single bus passenger
Succeeded in getting U.S. jurisdiction in two foreign crashes (England and Mexico)
Extensive experience with complex choice of law and difficult insurance coverage issues
The firm's successful bus litigation is featured in the book, Reckless Disregard
Conducted an international grass-roots bus safety campaign to move the fuel tank to a safer location on school buses