Gardasil Vaccine Lawsuit
Gardasil Lawsuit Update - May 2023
The Gardasil vaccine, manufactured by Merck & Co., was approved by the U.S. Food and Drug Administration (FDA) in 2006 for use in preventing infection from only a few of the hundreds of types of human papillomavirus (HPV). Since hitting the market, however, thousands of adolescents and adults have reported serious and disabling Gardasil side effects after receiving the HPV vaccine. The most prominent among these side effects is postural orthostatic tachycardia syndrome (POTS).
To better assist those who are uncertain about their legal rights after suffering from serious health issues after receiving the HPV vaccine, our firm created the Gardasil Injury Compensation Guide. If you believe Gardasil may have caused autoimmune disorders or other injuries, this guide can help answer some of your questions. We have also included some helpful resources for seeking care and support groups.
Gardasil achieved FDA approval in just six months. Even one of the principal investigators of the Gardasil clinical trials (the human testing that precedes FDA approval) said the process "went too fast."
Researcher Peter C. Gøtzsche in his book Vaccines: Truth, Lies, and Controversy noted some of the research inadequacies in the HPV vaccine clinical trials:
"It is a requirement for registration of drugs that randomized trials have been carried out where one group received the drug and the control group received placebo or nothing. This allows assessment of both the benefits and harms of drugs. I have done research on non-vaccine drugs for decades and was shocked when I learned through my work with vaccines against human papilloma virus (HPV) that the regulatory requirements are much less for vaccines. Almost all the HPV vaccine trials have a control group receiving a hepatitis vaccine or a strongly immunogenic adjuvant, which makes it impossible to find out what the harms of the HPV vaccines are."
Today, many young women and men who received the Gardasil vaccine (FDA also approved Gardasil for boys) are suffering, and it has been a living nightmare for parents with children who experienced severe adverse reactions to the vaccine. They all trusted Gardasil, never suspecting the grave illnesses and disabilities that could follow.
Gardasil Injury Attorney Team with Proven Track Record Against Major Pharmaceutical Companies
Wisner Baum represents individuals who were harmed by HPV vaccine side effects. If you or a member of your family suffered an adverse reaction after a Gardasil injection, we recommend that you speak with an experienced attorney to discuss the possibility of pursuing a Gardasil shot lawsuit. Even if you suffered from Gardasil side effects years after injection, you may have a claim.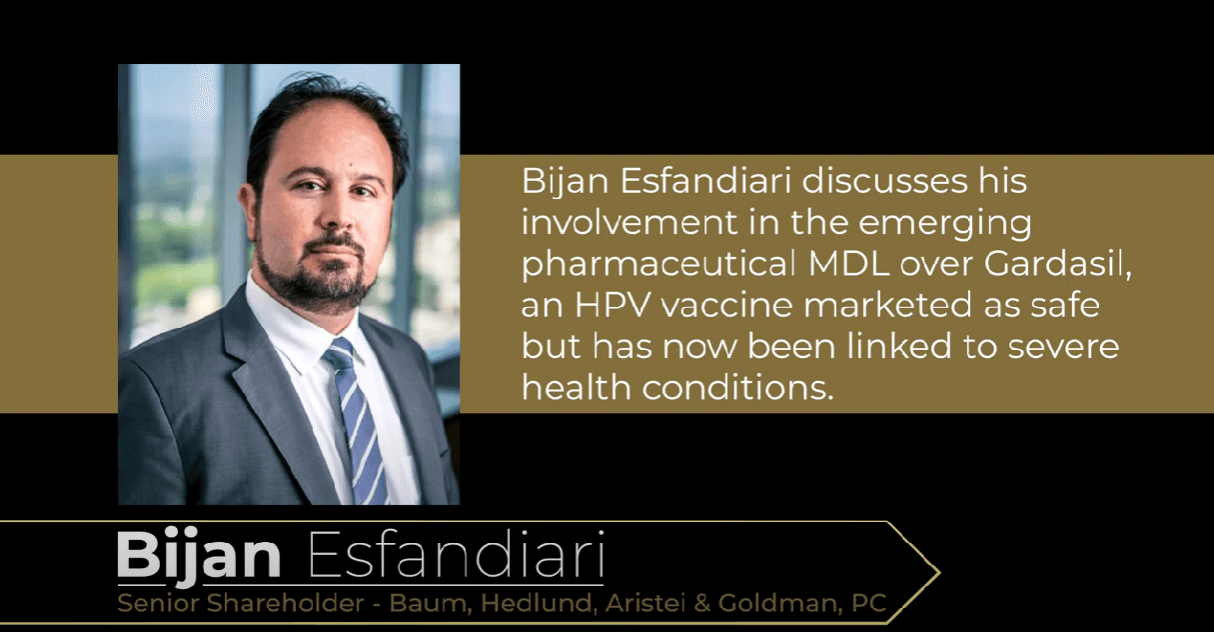 Learn more about the Gardasil HPV Vaccine Multidistrict Litigation (MDL) in this interview with Gardasil injury lawyer and Wisner Baum senior shareholder Bijan Esfandiari. TheGardasil MDL, which was approved after this interview was conducted in August of 2022, allows HPV vaccine injury cases to move into coordinated discovery and pretrial proceedings. People who allege in lawsuits that they sustained debilitating Gardasil side effects will now be able to have their day in court.
Wisner Baum is evaluating lawsuit claims based on the following HPV vaccine side effects after the Gardasil shot (or shots):
Auto-immune disorders
Chronic fatigue syndromes
Chronic pain syndromes, including Chronic regional pain syndrome (CRPS)
Death
Dysautonomia
Fibromyalgia
Idiopathic Thrombocytopenic Purpura (ITP)
Lupus
Movement disorders
Neurological disorders
Postural orthostatic tachycardia syndrome (POTS)
Reproductive disorders, including premature ovarian failure (POF)
Small fiber neuropathy
If you or someone in your family suffered side effects related to the HPV vaccine, we would like the opportunity to hear your story. You may be able to pursue legal action in a Gardasil lawsuit.
Our firm has successfully litigated against many of the largest pharmaceutical companies in the world, obtaining justice and maximum compensation on behalf of clients. Across all areas of practice, we have won more than $4 billion in settlements and verdicts.
If you have been harmed by the Gardasil vaccine, you might have a potential claim, please click here to fill out our contact form.