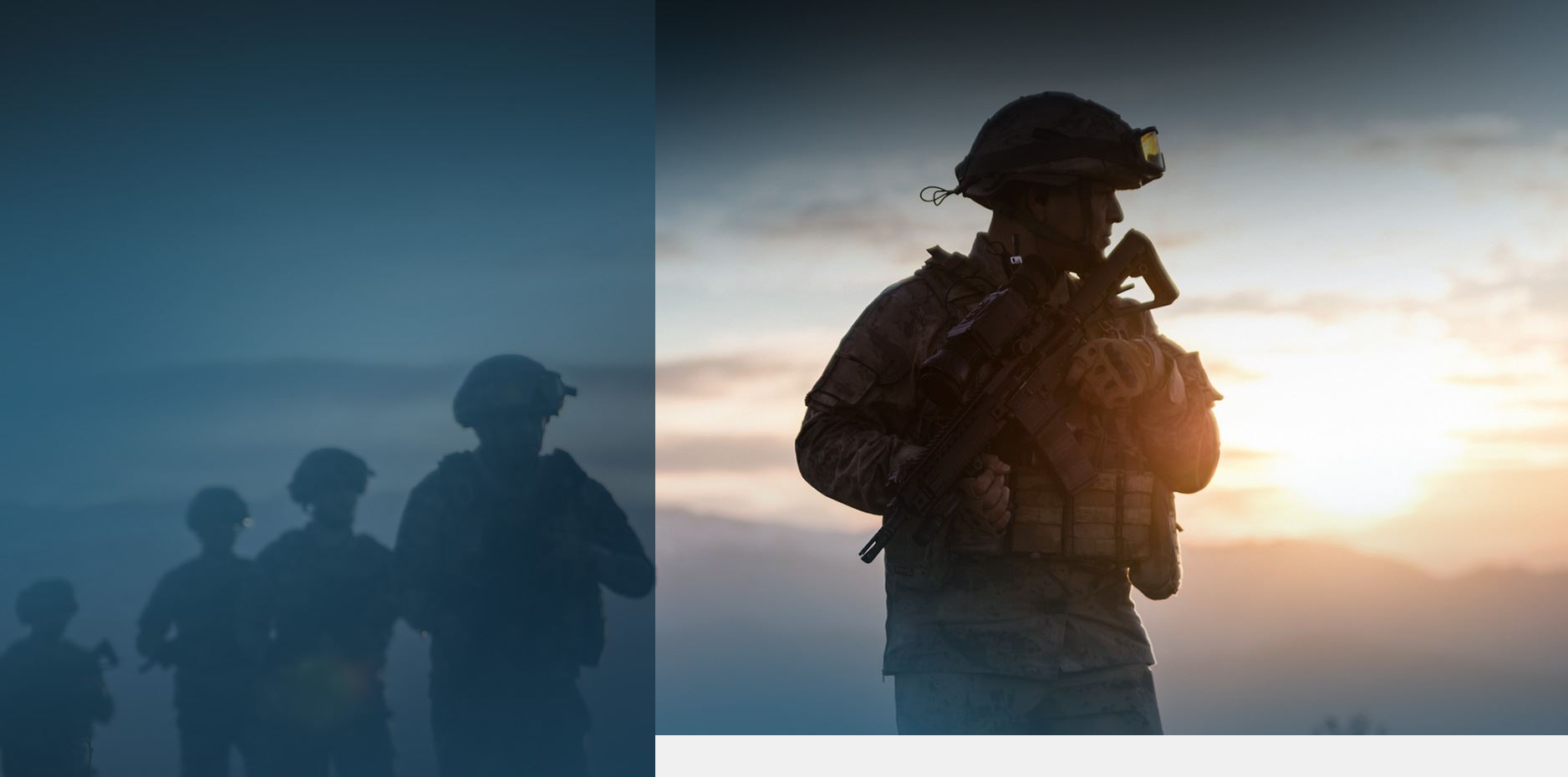 Military Accidents Client Focused. Trial Ready. Billions Won.
Military Accident Lawyer
The law firm of Wisner Baum is honored to represent the brave men and women who serve our country in uniform. If you or a member of your family were harmed in a military accident and would like to speak with an experienced attorney and Marine Corps veteran, please call (855) 948-5098 today for a free case evaluation.
Military injuries and deaths stemming from helicopter crashes, ground transportation accidents, and military training exercises happen more frequently than some may expect. In September of 2022, the Congressional Research Service issued a report, "Trends in Active-Duty Military Deaths From 2006 Through 2021." The report found that accidents caused more military deaths than any other category between 2006 and 2021.
More from the report:
Between 2006 and 2021, 19,378 active duty servicemembers died while serving in the U.S. Armed Forces. Of those who perished, 24% were killed while serving in what the Department of Defense categorizes as Overseas Contingency Operations (OCO). Most of these military deaths were within the territories of Iraq and Afghanistan.
The remaining 76% died during operations categorized as Non-Overseas Contingency Operations (Non-OCO). The categories with the highest number of active duty servicemember deaths were (in order):
Accidents
Self-inflicted wounds
Illnesses or injuries
The table below represents all active duty military deaths between 2006 and 2021.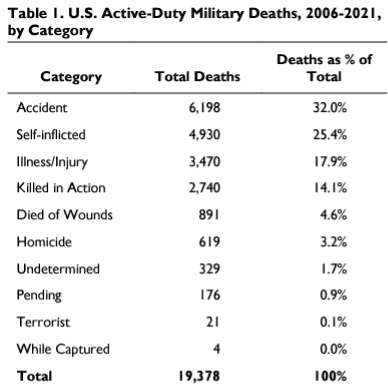 In 2022, military accidents dropped. According to a report from the Army Times, the Army set a record-low number of accident deaths in 2022. A total of 82 soldiers were killed in "fatal mishaps," which represents a 22% decrease from the preceding year when 105 soldiers were killed.
As for the Navy and the Marine Corps., according to data from the Naval Safety Command, Class A aviation accident mishaps (incidents that occur in-flight and cause fatalities) rose in 2022 from the previous year. While the accident statistics are said to be within "normal" range, Dan Grazier, who works as a defense analyst at the nonprofit watchdog group Project on Government Oversight, says the stats are indicative of a larger aviation safety problem throughout the military in recent years.
"It's definitely getting worse," Grazier told the San Diego Union-Tribune.
Military Accidents and the Feres Doctrine
Active duty service members are not eligible to pursue claims against the United States Government for injuries or death in military accidents. However, they may bring a lawsuit against the manufacturers of a product that caused or contributed to a military accident, or any third party whose negligence contributed to an accident.
Wisner Baum has experience representing members of the Armed Forces who were injured or lost their lives in preventable military transportation accidents. Our firm has litigated against some of the largest aviation and ground transportation companies in the world on behalf of service members, obtaining justice and compensation.
Military Lawyer Timothy A. Loranger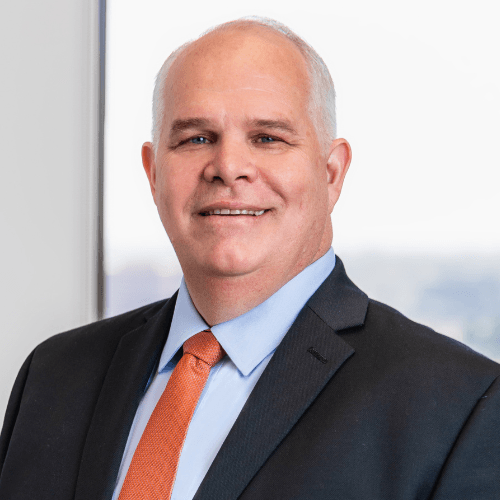 ​Wisner Baum's lead military accident lawyer Timothy A. Loranger is a Marine Corps veteran who served in Operations Desert Shield and Desert Storm. Tim credits his experience as a Marine for preparing him to enter a career in the legal field where service, honor, compassion, perseverance, and dedication are essential traits.
During his time in the Marine Corps, Mr. Loranger worked as an aircraft mechanic at the Marine Corps and Navy Air Stations in El Toro, California; San Diego, California; Memphis, Tennessee; and Jacksonville, Florida. The focus of his training and work was on RF-4b, F/A-18, and C-130 aircraft at both the squadron and intermediate maintenance levels.
As a Marine, Mr. Loranger developed a passion for aviation and aviation safety. After his service in the military, he obtained his private pilot's license and flew for many years. Now as a civilian, that passion is expressed in the courtroom as a transportation attorney and safety advocate.
Schedule a consultation with Timothy Loranger or call (855) 948-5098 to speak with Wisner Baum's Los Angeles office regarding our experience in handling military accidents.
If you or a loved one has been harmed in a military accident and would like to speak with an experienced attorney and marine corps veteran, please fill out our contact form or call (855) 948-5098 today.
Military Aviation Accidents
Every year, our Armed Forces lose brave men and women in preventable military aviation accidents caused by faulty manufacturing, design flaws or maintenance negligence. As aviation attorneys representing members of the military, we have seen planes, helicopters, and other aircraft like the Bell Boeing V-22 Osprey (a vertical takeoff and landing, or VTOL) crash due to mechanical failure, manufacturing defects, improper maintenance, and other causes in which victims and their families may have legal standing to pursue a lawsuit against non-military entities.
At Wisner Baum, we are committed to holding accountable any responsible parties that needlessly put service members in harm's way.
Military Helicopter Crashes
One of the most widely used utility helicopters in the military, the UH-60 Black Hawk, has seen an uptick in crashes over the last few years. Between December of 2019 and March of 2023, at least 10 Black Hawk helicopter crashes on U.S. soil resulted in military deaths. The Aviation Safety Network lists 390 total incidents involving Black Hawk helicopters (including variants) since the 1970s. ASN data lists 970 deaths in Black Hawk helicopter crashes.
It is possible that the number of military helicopter crashes is actually higher than the number reflected in public statistics, as some crashes that occur in conflict areas can go unreported. In other circumstances, there is not enough information on the incident for a report to be filed.
Our Military Helicopter Cases
Wisner Baum has experience representing victims and their families who were harmed in military helicopter crashes. Read more about our cases below:
June 8, 2022 – Five Marines from Camp Pendleton were killed when their Osprey V-22 crashed near Glamis, California. The crash was caused by a dual hard clutch engagement (HCE) in the aircraft's gearbox, resulting in a catastrophic failure. Wisner Baum represents Amber Sax and her children.
Feb. 27, 2019 – An MH-6M "Little Bird" helicopter from Fort Campbell, Kentucky crashed during a training flight. Two people were injured in the crash.
April 6, 2018 – A Boeing AH-64E Apache Guardian helicopter from the Army's 101st Combat Aviation Brigade crashed during a night training exercise at the Fort Campbell training area (Ft. Campbell, Kentucky). The crash killed both soldiers on board.
April 17, 2017 – A UH-60L Black Hawk helicopter crashed on the Breton Bay Golf Course near Naval Air Station Patuxent River, killing one person and injuring others. The helicopter was from the 12th Aviation Battalion, stationed at Davison Airfield at Fort Belvoir, Virginia.
Jan. 15, 2014 – An MH-60M Black Hawk helicopter used by the 160th Special Operations Aviation Regiment sustained a hard landing during a night training exercise and crashed onto its side. One crew member was killed and two received minor injuries in the crash.
March 16, 2013 – A Kiowa Warrior OH-58D military helicopter crashed in Kandahar, Afghanistan, killing two Army soldiers. Wisner Baum represented the families of both soldiers in their case against the manufacturers of defective parts in the helicopter's engine.
Sept. 19, 2011 – A Bell AH-1W Super Cobra helicopter with the 3rd Marine Aircraft Wing crashed during a training exercise near Camp Pendleton, California. The crash killed two Marines.
Aug. 8, 2011 – An AH-6M "Little Bird" military helicopter crashed at Fort Benning, Georgia, killing two Army soldiers. Wisner Baum represents the family of one of the deceased, Chief Warrant Officer Steven Redd, a decorated combat veteran.
Military Plane Crashes
Just like general or commercial aviation accidents, military plane crashes are caused by a wide variety of factors, including pilot error, negligent maintenance, aircraft defects (or component part defects), air traffic controller error, or dangerous weather conditions.
While military pilots receive the best possible training, on occasion, they are required to fly aircraft that:
Could be considered too old to be in service
Have defective component parts
Were negligently maintained by a third party civilian contractor
If a mechanical defect should occur during a critical phase of flight, even the best pilots in the world can be pushed to the limits to keep themselves and those traveling with them safe.
While it is true that service members killed or injured in a military plane crash are restricted from taking legal action against the government, a military aviation lawsuit may be filed against the plane's manufacturer and/or the manufacturer(s) of component parts if they are defective. The same can be said if a third party maintenance company is negligent in performing maintenance on an aircraft or aircraft component or system.
The challenge lies in proving that the plane or its components were "unreasonably dangerous" due to defective design and/or manufacture, or was negligently maintained by a contractor. This is why it is vital to have an experienced attorney who understands the complexities of crash investigations and evidence gathering as your advocate.
Our Military Plane Accident Cases
Our firm has been litigating military plane crash cases since the 1980s. Click on the links below to read more about our cases:
June 8, 2022 – Five Marines from Camp Pendleton were killed when their Osprey V-22 crashed near Glamis, California. The crash was caused by a dual hard clutch engagement (HCE) in the aircraft's gearbox, resulting in a catastrophic failure. Wisner Baum represents Amber Sax and her children.
July 10, 2017 – A Marine Corps KC-130T plane experienced a catastrophic mechanical failure and crashed in Mississippi, killing 15 Marines and one Navy Corpsman. Wisner Baum is honored to represent the families of several victims who lost their lives in this tragedy.
Dec. 12, 1985 – A McDonnell Douglas DC-8-63CF jetliner operating as Arrow Air Flight 1285 crashed near Gander Airport in Newfoundland, Canada. The Army chartered the plane from Cairo, Egypt to Fort Campbell, Kentucky. Wisner Baum represented the families of three soldiers killed in the crash.
Military Vehicle Accidents
According to data from the Naval Health Research Center, military vehicle accidents are a major source of non-combat injuries. During Operation Desert Storm, military vehicle accidents accounted for nearly 20 percent of all non-combat hospital admissions.
While the terrain in warzones like Iraq and Afghanistan present challenges for safe driving, military vehicle accidents are also prevalent outside of operational environments. A Government Accountability Office (GAO) analysis found that military vehicles were the leading cause of over 1,100 military personnel fatalities attributable to on-duty, non-aviation accidents.
Oftentimes, military vehicle drivers are young adults who do not have many years of driving experience, which can lead to accidents. Other variables, such as terrain, weather, vehicle maintenance, or mechanical issues can also be factors contributing to military vehicle crashes.
Our Military Vehicle Accident Cases
Wisner Baum has represented both military personnel and civilians who were injured or killed in military vehicle crashes. Investigating these accidents and uncovering evidence can be challenging, which is why it is in your best interest to hire a military attorney with experience litigating these types of cases.
Learn more our military vehicle accident cases by clicking the links below:
OUR MILITARY CASES AND LAWYERS IN THE NEWS
Law Firm Handling Military Accidents
Companies that put profit over the safety of men and women in the military should be held accountable for their misdeeds. When military accidents cause injury or death, filing a lawsuit against the responsible parties can provide victims and their families with compensation in a time of need and help deter future reckless conduct by negligent companies.
Our military accident attorneys have represented over 40 military service members in product liability lawsuits.
$2.0 Billion Verdict Personal Injury

In May of 2019, the jury in the case of Pilliod et al. v, Monsanto Company ordered the agrochemical giant to pay $2.055 billion in damages to the plaintiffs, Alva and Alberta Pilliod, a Bay Area couple in their 70s.

$105 Million Settlement Pharmaceutical Settlement

Wisner Baum obtained $105 million on behalf of multiple clients involved in a pharmaceutical negligence case.

$18 Million Settlement Whistleblower Settlement

Wisner Baum secured an $18 million settlement against the Boeing Company for overcharging the U.S. government on aircraft maintenance.

$17.5 Million Settlement A Major US Plane Crash

Wisner Baum obtained a $17.5 million settlement on behalf of a client who was killed in a major U.S. plane crash.

$15 Million Settlement Truck Accident

Our firm successfully negotiated a $15 million catastrophic injury settlement for our clients. The case stemmed from a Southern California accident involving a commercial truck and a pedestrian. Client-Focused Representation
REVIEWS & TESTIMONIALS
We believe our track record speaks for itself. But you don't have to take our word for it. See what our clients have to say about working with us.
"I Can't Imagine a Better Law Firm"

Multiple lawyers recommended Wisner Baum to me and I have been consistently impressed with the quality of their work.

- Best Law Firms Survey

"They Are About Changing the Systems..."

Wisner Baum are not only amazing attorneys but more importantly, they are activists. They are about changing the systems which got us into trouble in the first place. They understand their role in the process of making change.

- Kim Witczak

"Top Legal Minds in the Country"

The Wisner Baum firm has some of the top legal minds in the country; they are driven, determined, trustworthy, ethical and passionate.

- From Best Lawyers® Best Law Firms

"Diligent & Professional Representation"

Thanks to your efforts I was able to recover from a tragic experience and turn my life around for the best.

- W.T.

"Our Best Interest Was Always Number One on Your List"

A special thank you to your Spanish-speaking staff for the extra effort put into this case. The language barrier was never a problem, and we are so very thankful to them. Your name holds much respect in our family.

- G.C. & C.C

"We Have Never Met a More Wonderful Group of People"

It is obvious that the people at Wisner Baum believe in what they do. And that you all really care about your clients.

- The B. Family

"They Worked Very Hard and Kept in Contact, Which Is Very Important to Me"

I appreciate that you care about how I feel and that you take time to use your talents to ensure your every contact with me is warmly professional.

- A.D.B.

"Your Expertise in This Field Gave Me the Utmost Trust and Confidence"

I wanted a fair settlement within an appropriate time frame, and without any public scrutiny. With your hard work and dedication, we were able to achieve those goals.

- T.O.