Zantac Lawsuit
Wisner Baum Co-Leads First Zantac Trial in July 2023
Zantac Lawsuit Update: March 2023
People who developed cancer after taking Zantac (generic: ranitidine) may choose to file a Zantac lawsuit against the drug manufacturers to recover financial compensation for past, present, and future medical bills, lost wages, and other damages.
Check to see if you are eligible to pursue a Zantac lawsuit by filling out this confidential case evaluation form.
Independent laboratory testing found that one ranitidine 150 mg tablet produced 304,500 nanograms (ng) of a cancer-causing substance called N-Nitrosodimethylamine (NDMA), an amount that greatly exceeds the U.S. Food and Drug Administration's (FDA) daily acceptable intake limit of 96 ng.
Zantac lawsuits began after the FDA confirmed that ranitidine contains NDMA. On April 1, 2020, the FDA requested a market withdrawal for Zantac ranitidine drugs, stating that NDMA in some ranitidine medications "increases over time and when stored at higher than room temperatures and may result in consumer exposure to unacceptable levels…"
The FDA, the Environmental Protection Agency (EPA), and the World Health Organization (WHO) all classify NDMA as a cancer-causing substance.
Several manufacturers, including Sanofi and GlaxoSmithKline (GSK) have issued voluntary Zantac recall announcements, citing safety concerns.

In December of 2022, the judge overseeing the federal Zantac multidistrict litigation (MDL) in Florida issued an order dismissing cases in federal court. The order does not affect cases in state courts. At Wisner Baum, we do not have a single case in the MDL, meaning our clients' quest for justice continues.

Jury selection in the first Zantac trial is scheduled to begin on July 24, 2023 in Oakland, California. Wisner Baum's lead trial attorney R. Brent Wisner will serve as co-lead trial counsel. The case is James Goetz v. GlaxoSmithKline, LLC, Superior Court of California, Alameda County. For the latest update on Zantac cases throughout the country, visit our Zantac Trial Schedule page.
Which Cancers Qualify for the Zantac Lawsuit?
Our law firm is currently accepting Zantac cancer cases on behalf of people who took the drug for at least one year and developed the following cancers:
Bladder cancer
Esophageal cancer
Gastric cancer / stomach cancer
Liver cancer
Pancreatic cancer
Prostate cancer
Breast cancer
Lung cancer
Colon cancer
Those who are eligible and meet certain requirements must submit their claim within a time limit called the statute of limitations. We advise anyone who is considering a Zantac lawsuit to speak with an attorney as soon as possible to ensure that they are not time-barred from pursuing a claim.
Please note that Zantac lawsuit eligibility may change at any time in accordance with court orders.
Zantac Lawyers with Billions in Verdicts and Settlements
Class action lawyers from the national law firm of Wisner Baum represent thousands of people from across the country with personal injury and wrongful death claims against the makers of Zantac:
Boehringer Ingelheim Pharmaceuticals, Inc., a subsidiary of Boehringer Ingelheim Corporation
Sanofi US Services Inc., a wholly owned subsidiary of Sanofi S.A.
Pfizer Inc.
GlaxoSmithKline LLC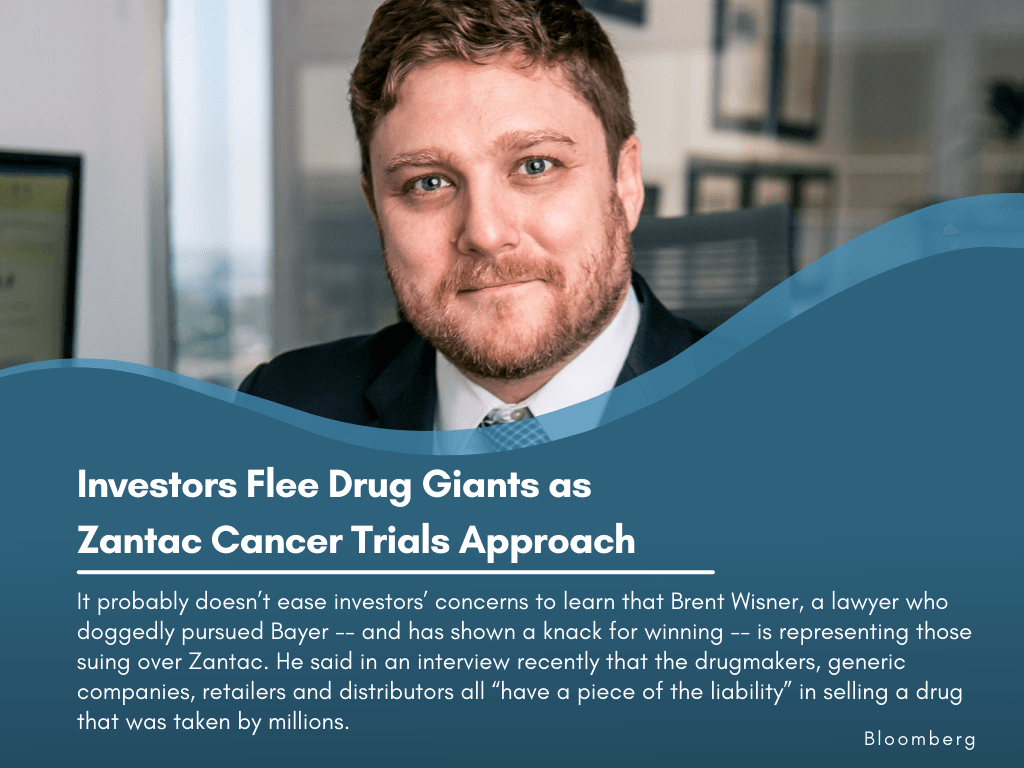 How We Can Help With Your Zantac Lawsuit
The trial-ready team of attorneys at Wisner Baum intend to hold the makers of Zantac accountable for allegedly concealing the ranitidine cancer link. With more than $4 billion in verdicts and settlements won across all practice areas, we have the experience and track record needed to secure maximum compensation for our clients.
We have filed Zantac lawsuits alleging the drug maker defendants have known for decades that the ranitidine molecule is capable of producing staggering amounts of the carcinogen NDMA when ingested as directed. Rather than warning people about the Zantac cancer risk, the drug makers willingly chose to put profit over people.
Our clients would never have purchased or used this drug had the manufacturers properly disclosed potentially fatal Zantac side effects. Outraged by the recklessness of these companies, we intend to hold them accountable for the damage they have caused.
Wisner Baum Zantac Attorneys Are in Active Litigation. If You Were Diagnosed with Cancer After Taking Zantac, You May be Eligible to Pursue Compensation in a Ranitidine Lawsuit. Contact Us Online or Call (855) 948-5098 to See if You Qualify.
Join the Zantac Cancer Lawsuit
Wisner Baum is one of the leading firms in the Zantac litigation. In practice for nearly 50 years, our firm has earned a reputation for winning big cases against big companies. One of our greatest successes in litigation shares similarities to the Zantac litigation. Our lawsuits against Monsanto (now part of Bayer) involved allegations that a consumer product causes cancer (non-Hodgkin's lymphoma).
At trial, co-lead counsel R. Brent Wisner delivered the opening and closing statements before the jury. Wisner and his colleagues earned a $2.055 billion jury verdict* for our clients, one of the largest personal injury jury verdicts in U.S. history. A similar case resulted in a $289.2 million jury verdict* on behalf of our client, the second-largest jury verdict in the state of California for 2018.
Put your case in the hands of an experienced legal team that understands what it takes to earn the results clients deserve.
*Jury verdicts later reduced