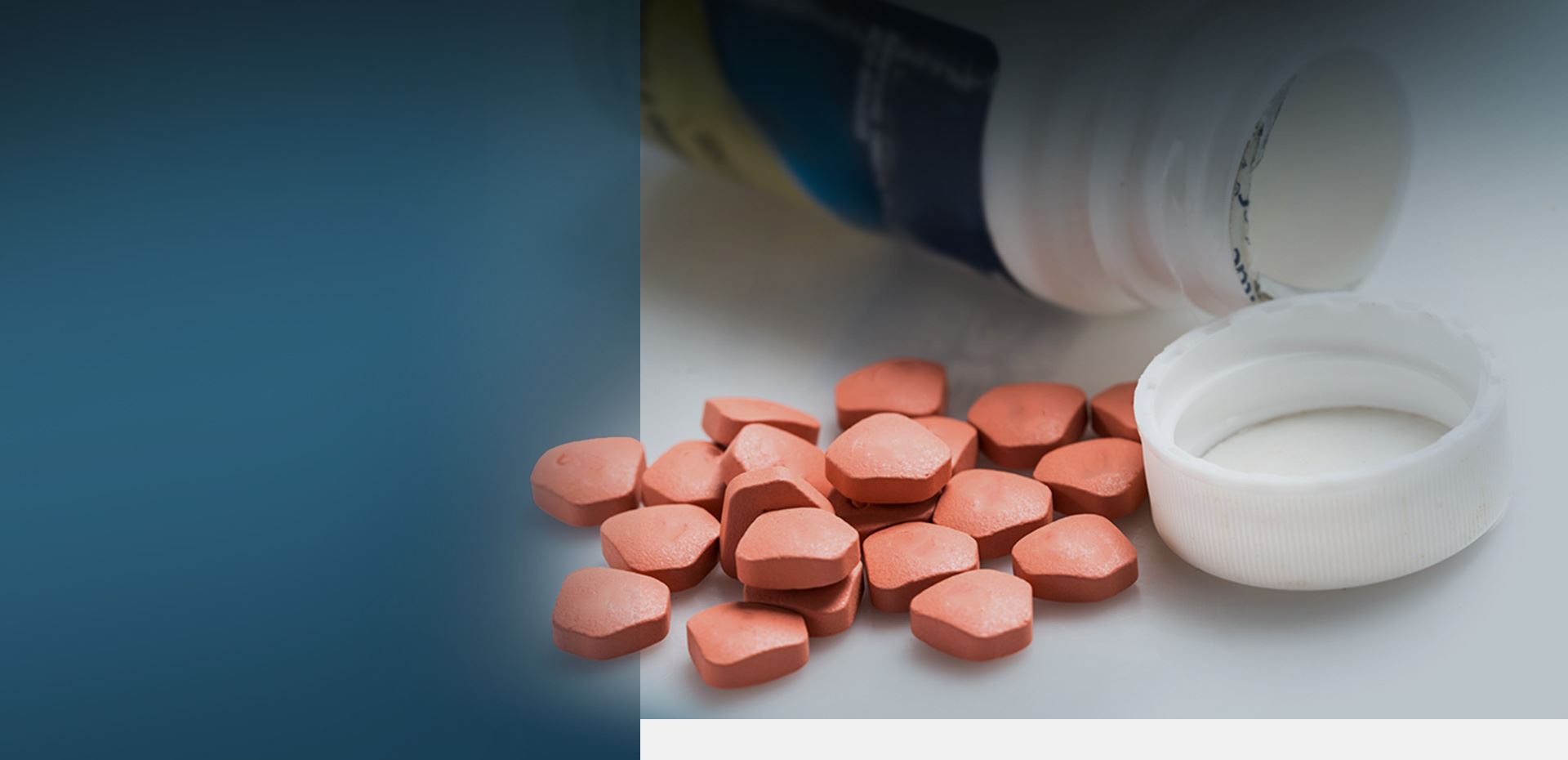 Leading zantac cancer lawyers Over $4 Billion in Verdicts & Settlements
Trusted & Recognized Counsel

The Wisner Baum attorneys are proud to be recognized as Top Plaintiff Lawyers.

History of Success

Our team has a strong reputation for successfully litigating against Big Pharma.

Trusted Legal Counsel

Our team is proud to be co-lead counsel in the first Zantac Trial (in July 2023).

Proven Track Record

Our team secured a two billion dollar verdict which is the 2nd largest personal injury verdict in the USA (2019, Monsanto Roundup cancer lawsuit).
Zantac Lawsuit
Zantac Lawsuit Update: September 2023
People who developed cancer after taking Zantac (generic: ranitidine) may choose to file a Zantac lawsuit against the drug manufacturers to recover financial compensation for past, present, and future medical bills, lost wages, and other damages.
Check to see if you are eligible to pursue a Zantac lawsuit by filling out this confidential case evaluation form.
Independent laboratory testing found that one ranitidine 150 mg tablet produced 304,500 nanograms (ng) of a cancer-causing substance called N-Nitrosodimethylamine (NDMA), an amount that greatly exceeds the U.S. Food and Drug Administration's (FDA) daily acceptable intake limit of 96 ng.
Zantac lawsuits began after the FDA confirmed that ranitidine contains NDMA. On April 1, 2020, the FDA requested a market withdrawal for Zantac ranitidine drugs, stating that NDMA in some ranitidine medications "increases over time and when stored at higher than room temperatures and may result in consumer exposure to unacceptable levels…"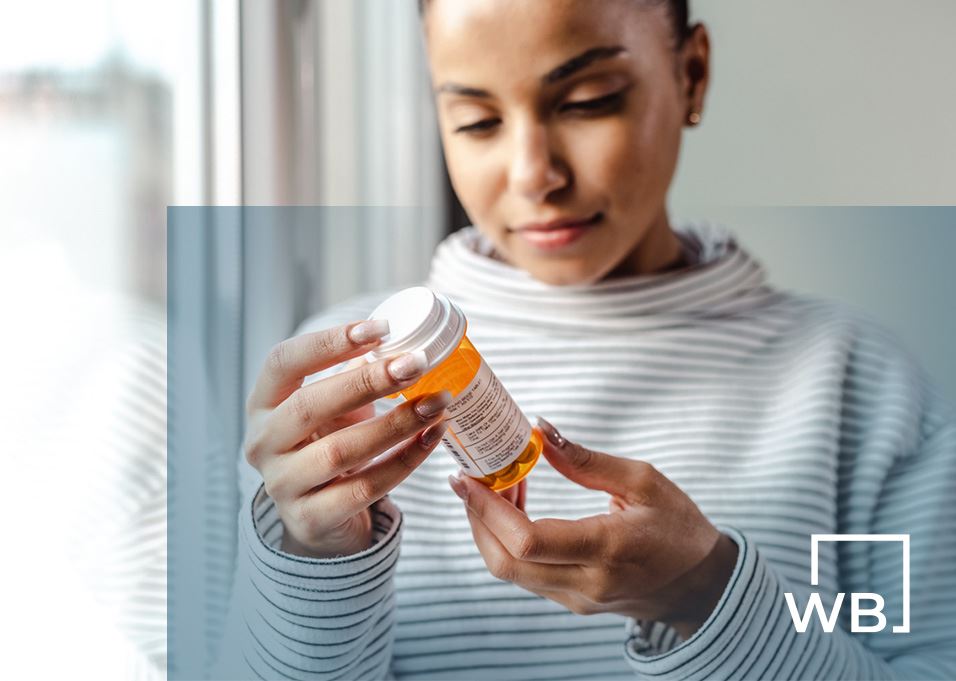 Call

(855) 948-5098
Contact our experienced attorneys to learn about your legal options. Your consultation is free and confidential.
Which Cancers Qualify for the Zantac Lawsuit?
Our law firm is currently accepting Zantac cancer cases on behalf of people who took the drug for at least one year and developed the following cancers:
Bladder cancer
Esophageal cancer
Gastric cancer / stomach cancer
Liver cancer
Pancreatic cancer
Prostate cancer
Breast cancer
Lung cancer
Colon cancer
Those who are eligible and meet certain requirements must submit their claim within a time limit called the statute of limitations. We advise anyone who is considering a Zantac lawsuit to speak with an attorney as soon as possible to ensure that they are not time-barred from pursuing a claim.
Please note that Zantac lawsuit eligibility may change at any time in accordance with court orders.
Is your law firm looking to refer Zantac cases? Please visit our Zantac Case Referral page for more information.
What is NDMA in Zantac?
N-Nitrosodimethylamine (NDMA) is a water-soluble organic (containing the element carbon) chemical and appears as a yellow liquid with little or no obvious taste or odor. NDMA was once used to make rocket fuel, but today is made only for research purposes. It can also be produced as a byproduct of manufacturing processes. Humans can be exposed to NDMA in relatively small amounts through various products, including tobacco, foods (cured meat, fish, cheese, beer), shampoos, cleansers, and pesticides.
NDMA is carcinogenic even in minimal doses. The FDA's acceptable daily intake of NDMA is 96 nanograms (ng), or 96 billionths of a gram. Studies show that NDMA exposure as little as 179 ng per 100 grams per day is associated with elevated cancer risks.
The International Agency for Cancer Research (IARC), the most recognized cancer research institution in the world, studied over 200 research papers on NDMA and the NDMA cancer risk. IARC placed the chemical in the "Group 2A" category, meaning substances that are "probably carcinogenic to humans." The agency found that NDMA is "carcinogenic in all animal species tested" and noted that the metabolism of NDMA by humans and animals is similar.
NDMA caused malignant tumor growth in several organs, in multiple species, via numerous routes of exposure (oral, inhalation, subcutaneous (under the skin), injections), with dose-response relationships appearing in several studies. Scientists are also gaining detailed knowledge of the body's biochemical mechanisms to repair NDMA DNA damage and how those mechanisms play a role in the progression towards cancer.
The FDA, Environmental Protection Agency (EPA), and World Health Organization (WHO) all classify as a substance capable of causing cancer.
Zantac Recall Update
The following companies issued voluntary Zantac recall announcements, citing safety concerns: Client-Focused Representation
REVIEWS & TESTIMONIALS
We believe our track record speaks for itself. But you don't have to take our word for it. See what our clients have to say about working with us.
"I Can't Imagine a Better Law Firm"

Multiple lawyers recommended Wisner Baum to me and I have been consistently impressed with the quality of their work.

- Best Law Firms Survey

"They Are About Changing the Systems..."

Wisner Baum are not only amazing attorneys but more importantly, they are activists. They are about changing the systems which got us into trouble in the first place. They understand their role in the process of making change.

- Kim Witczak

"Top Legal Minds in the Country"

The Wisner Baum firm has some of the top legal minds in the country; they are driven, determined, trustworthy, ethical and passionate.

- From Best Lawyers® Best Law Firms

"Diligent & Professional Representation"

Thanks to your efforts I was able to recover from a tragic experience and turn my life around for the best.

- W.T.

"Our Best Interest Was Always Number One on Your List"

A special thank you to your Spanish-speaking staff for the extra effort put into this case. The language barrier was never a problem, and we are so very thankful to them. Your name holds much respect in our family.

- G.C. & C.C

"We Have Never Met a More Wonderful Group of People"

It is obvious that the people at Wisner Baum believe in what they do. And that you all really care about your clients.

- The B. Family

"They Worked Very Hard and Kept in Contact, Which Is Very Important to Me"

I appreciate that you care about how I feel and that you take time to use your talents to ensure your every contact with me is warmly professional.

- A.D.B.

"Your Expertise in This Field Gave Me the Utmost Trust and Confidence"

I wanted a fair settlement within an appropriate time frame, and without any public scrutiny. With your hard work and dedication, we were able to achieve those goals.

- T.O.
Zantac Lawyer Appointed to Leadership Role in Litigation
Zantac lawyer R. Brent Wisner serves as Co-lead Plaintiffs' Liaison Counsel for the Ranitidine Product Cases, also known as the Ranitidine (Zantac) Judicial Council Coordinated Proceedings (JCCP 5150) in California Superior Court for the County of Alameda. He was also appointed co-lead trial counsel in the Zantac (Ranitidine) Products Liability Litigation (Civil Action No. N22C-09-101 ZAN) in Delaware Superior Court. As of August 2023, there are nearly 85,000 cases filed in California and Delaware.
Zantac Lawyers with Billions in Verdicts and Settlements
Class action lawyers from the national law firm of Wisner Baum represent thousands of people from across the country with personal injury and wrongful death claims against the makers of Zantac:
Boehringer Ingelheim Pharmaceuticals, Inc., a subsidiary of Boehringer Ingelheim Corporation
Sanofi US Services Inc., a wholly owned subsidiary of Sanofi S.A.
Pfizer, Inc.
GlaxoSmithKline, LLC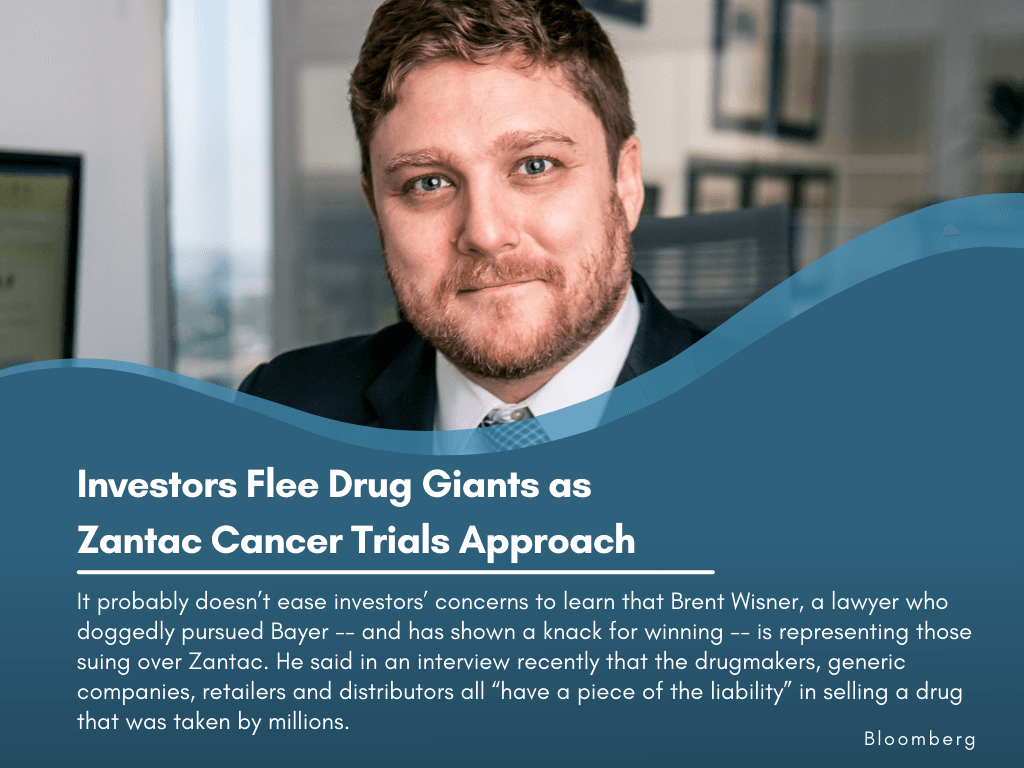 How We Can Help With Your Zantac Lawsuit
The trial-ready team of attorneys at Wisner Baum intend to hold the makers of Zantac accountable for allegedly concealing the ranitidine cancer link. With more than $4 billion in verdicts and settlements won across all practice areas, we have the experience and track record needed to secure maximum compensation for our clients.
We have filed Zantac lawsuits alleging the drug maker defendants have known for decades that the ranitidine molecule is capable of producing staggering amounts of the carcinogen NDMA when ingested as directed. Rather than warning people about the Zantac cancer risk, the drug makers willingly chose to put profit over people.
Our clients would never have purchased or used this drug had the manufacturers properly disclosed potentially fatal Zantac side effects. Outraged by the recklessness of these companies, we intend to hold them accountable for the damage they have caused.
Wisner Baum Zantac Attorneys Are in Active Litigation. If You Were Diagnosed with Cancer After Taking Zantac, You May be Eligible to Pursue Compensation in a Ranitidine Lawsuit. Contact Us Online or Call (855) 948-5098 to See if You Qualify.
Join the Zantac Cancer Lawsuit
Wisner Baum is one of the leading firms in the Zantac litigation. In practice for nearly 50 years, our firm has earned a reputation for winning big cases against big companies. One of our greatest successes in litigation shares similarities to the Zantac litigation. Our lawsuits against Monsanto (now part of Bayer) involved allegations that a consumer product causes cancer (non-Hodgkin's lymphoma).
At trial, co-lead counsel R. Brent Wisner delivered the opening and closing statements before the jury. Wisner and his colleagues earned a $2.055 billion jury verdict* for our clients, one of the largest personal injury jury verdicts in U.S. history. A similar case resulted in a $289.2 million jury verdict* on behalf of our client, the second-largest jury verdict in the state of California for 2018.
Put your case in the hands of an experienced legal team that understands what it takes to earn the results clients deserve.
*Jury verdicts later reduced
What is the Current Status of the Zantac Lawsuit?
September 1, 2023: The first Zantac trial will be a breast cancer case. The trial is still scheduled for November 13, 2023 in Alameda County, California. While the result of the California trial will not have a binding impact on other Zantac cases pending in other state courts, the case will be closely monitored to see how the jury responds to the plaintiff's evidence and experts.



The next Case Management Conference for the consolidated Zantac cases in California will take place on September 19. We anticipate other bellwether trials to be scheduled on that date or soon thereafter.





This week, attorneys filed a lawsuit in Connecticut alleging plaintiffs were diagnosed with bladder, breast, prostate, and other forms of cancer after taking Zantac and generic ranitidine. There are now six state courts with Zantac cases (California, Connecticut, Delaware, Illinois, Nevada, and Pennsylvania).

July 18, 2023: Today's case management conference (CMC) provided a few updates for the Delaware Zantac litigation. Plaintiffs' expert reports will be submitted on July 31, 2023. The court will hold hearings on Daubert from January 22-25, 2024. Like the Sargon hearings in the California state court litigation, Daubert hearings allow the legal teams for the plaintiffs and the defendants to present expert witnesses and educate the court on the science underpinning their arguments.

Once Daubert is completed, the judge will determine whether or not the experts used valid methodologies. If the judge finds that the plaintiffs' experts used valid methodologies to arrive at their conclusions, then Zantac cases in Delaware state court can proceed to trial. Experts will be allowed to provide evidence and testimony on whether Zantac causes cancer, and whether that propensity for inducing cancer caused a particular Zantac user's cancer.
July 3, 2023: The first Zantac trial is scheduled for November 13, 2023 in Superior Court of California, Alameda County. R. Brent Wisner of Wisner Baum and Jennifer Moore of the Moore Law Group will serve as co-lead trial counsel. The plaintiff in the first case will be named in the coming weeks. Check back for further details as the litigation continues.
June 23, 2023: Jennifer A. Moore, founder of

Moore Law Group

, PLLC, and R. Brent Wisner, managing partner of Wisner Baum, recently negotiated a Zantac settlement of the first case set to go to trial in the California Ranitidine Products Cases JCCP 5150. On behalf of our client, Mr. James Goetz, who took Zantac and developed bladder cancer, we are pleased that Defendant, GlaxoSmithKline, agreed to settle and finally bring closure to Mr. Goetz.

June 15, 2023 – We are nearly a month away from the first Zantac cancer trial. Our firm's managing partner and senior trial attorney R. Brent Wisner will co-lead the case of James Goetz v. GlaxoSmithKline, LLC with attorney Jennifer Moore of the Moore Law Group. The trial will take place in the same court where Wisner and colleagues previously won a $2.055 billion jury verdict in the Roundup cancer litigation.
May 16, 2023 – The judge overseeing consolidated Zantac cases in Delaware State Court issued an order appointing R. Brent Wisner as co-lead counsel for the plaintiffs. Wisner will be joined by Jennifer Moore (Moore Law Group), Raeann Warner (Jacobs & Crumplar), and Justin Parafinczuk (Parafinczuk Wolf) in the plaintiffs' leadership, which is responsible for presenting the plaintiffs' position in all pretrial matters, initiating and coordinating pretrial discovery, and more.

"The formation of a new venue for these cases creates more opportunity for our clients and other people throughout the country stricken with cancer after taking a drug that we believe is dangerous," says Wisner. "We look forward to presenting evidence at trial that Zantac causes cancer, and that the defendants have known about the risks for decades."

As of this writing, more than 77,000 cases are pending in Delaware, with plaintiffs from every U.S. state represented in the ongoing litigation. Important dates for the Delaware litigation can be found on our Zantac Trial Schedule page.
Why Was Zantac Taken Off the Market?
Zantac (ranitidine) was taken off the market because the drug contains unacceptable levels of N-Nitrosodimethylamine (NDMA), which is a substance known to cause cancer. Testing of ranitidine drugs showed levels of NDMA above the FDA's acceptable daily intake limit of 96 nanograms (ng) per day. For example, testing from Connecticut-based online pharmacy Valisure detected NDMA in excess of 3,000,000 ng per tablet when analyzing ranitidine products.
Valisure tests medications for consistency and quality issues. During testing, the company discovered extremely high levels of NDMA "in every lot tested, across multiple manufacturers and dosage forms of the drug ranitidine."
Valisure's finding was consistent with studies from Stanford University and elsewhere, which found that NDMA in Zantac was likely due to the "inherent instability" of the ranitidine molecule.
"There's no acceptable cancer risk for a drug like this," said David Light, CEO of Valisure.
Valisure reported its findings to the FDA in June of 2019. Three months later, the company filed a citizen's petition urging the FDA to issue a Zantac recall and suspend all sales:
"Combined with other data from Valisure and the scientific works of Stanford University and others, the evidence presented shows this instability and the resulting NDMA occurs in the conditions representative of those in the human body and builds a compelling case for ranitidine being a likely human carcinogen."
On Jan. 2, 2020, research laboratory Emery Pharma filed a citizen's petition of its own noting that ranitidine is a time and temperature-sensitive pharmaceutical product that develops into NDMA when exposed to heat. In a press release, Emery Pharma noted:
"Exposure to high temperatures is a common occurrence during transportation and storage, and is of specific concern to ranitidine as there currently are no requirements for the drug to be shipped in temperature-controlled conditions and/or stored under refrigeration."
Ranitidine is a very unstable molecule. On one side, you have the N (Nitroso). On the other side, you have the DMA (Dimethylamine). When the molecule is exposed to heat, various biological processes in the stomach, and enzymatic reactions throughout the body, it shears apart and reconstitutes as NDMA. But the formation of NDMA is not limited to the reaction in human stomach. Ranitidine can turn into NDMA in the pill bottle itself. In fact, our Zantac lawsuits allege that the drug manufacturers for decades had this problem where ranitidine turned yellow in storage. If it's yellow, that's NDMA. They claim they had no idea why this was the case, but our lawsuits say otherwise—they knew." – Zantac Attorney R. Brent Wisner
If you took Zantac and developed cancer, it is in your best interest to speak with an experienced personal injury attorney about filing a Zantac lawsuit. Based in Los Angeles and serving clients nationwide, our attorneys at Wisner Baum have vast experience holding big corporations accountable for concealing the true dangers of consumer products.