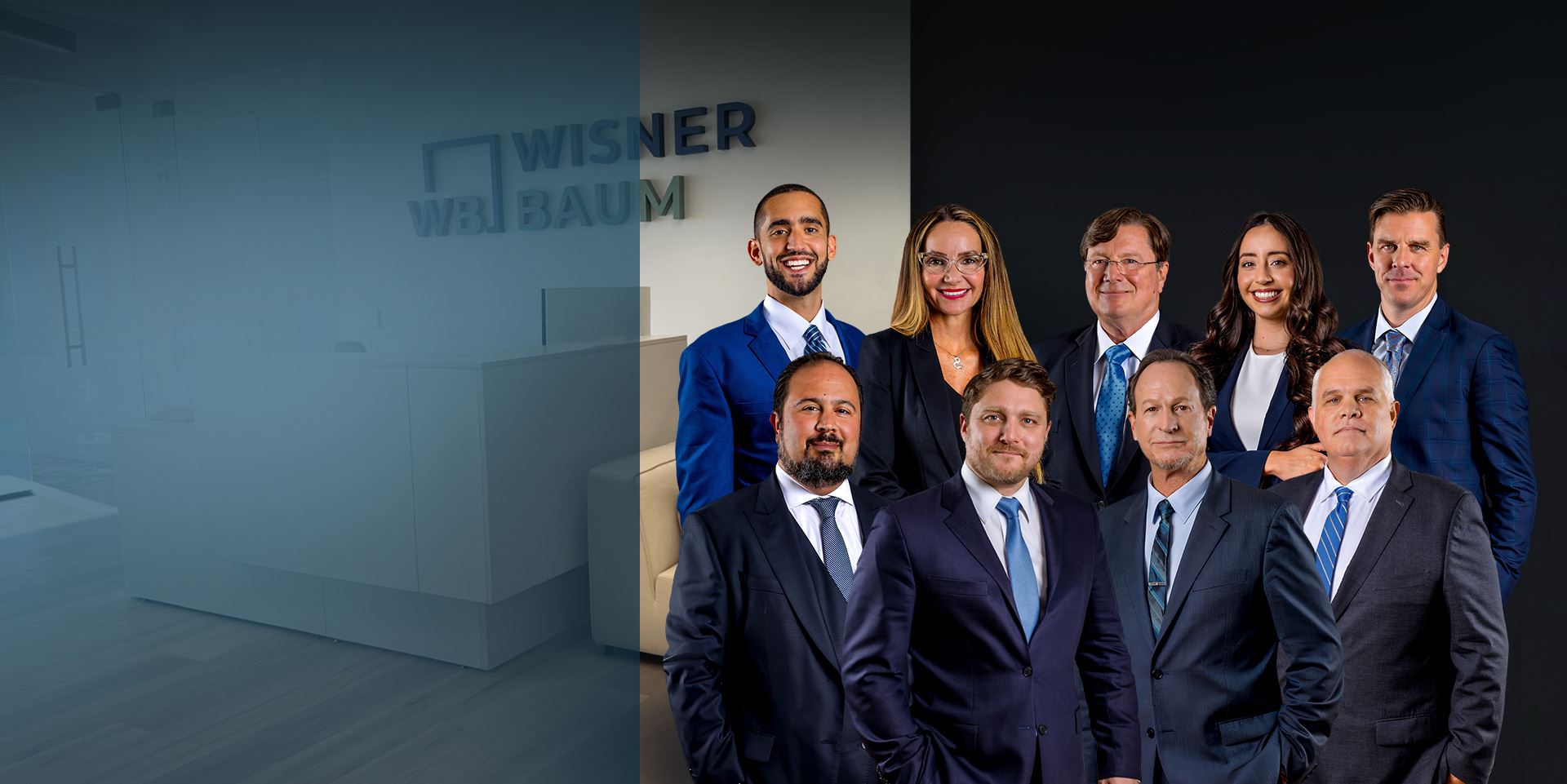 Personal Injury Lawyers Client Focused. Trial Ready. Billions Won.
Proven Track Record

Wisner Baum has recovered over $4 billion for our clients. We know what it takes to win big cases against big companies.

Award-Winning Law Firm

Recognized as one of U.S. News – Best Lawyers® "Best Law Firms," we have won the National Trial Lawyers' Mass Tort Trial Team of the Year award multiple times.

No Fees Unless We Win

Our team offers free consultations and operates on contingency, meaning there are no fees unless we win.

National Reach & Recognition

Wisner Baum is proud to be one of the leading trial firms in America. We have what it takes to advocate for you.
Los Angeles Personal Injury Lawyers
Obtaining Justice for Victims Nationwide Since 1985
No matter how safe and careful you are, negligence on the part of another person or company can cause serious injuries. When your life is upended by an accident, you need a lawyer that understands what you are going through; who will vindicate your rights and bring those responsible to justice for their recklessness.
The Los Angeles personal injury lawyers at Wisner Baum have more than 40 years of experience litigating cases on behalf of accident victims. Our board-certified trial attorneys understand what a takes to investigate, try, and win the best possible results on behalf of our clients.
We pride ourselves on providing honest, compassionate legal counsel to every single person that we represent. Our track record of $4 billion in verdicts and settlements speaks for itself.
To arrange a free consultation with a Los Angeles personal injury attorney who will put you first, call Wisner Baum at (855) 948-5098 or contact us online.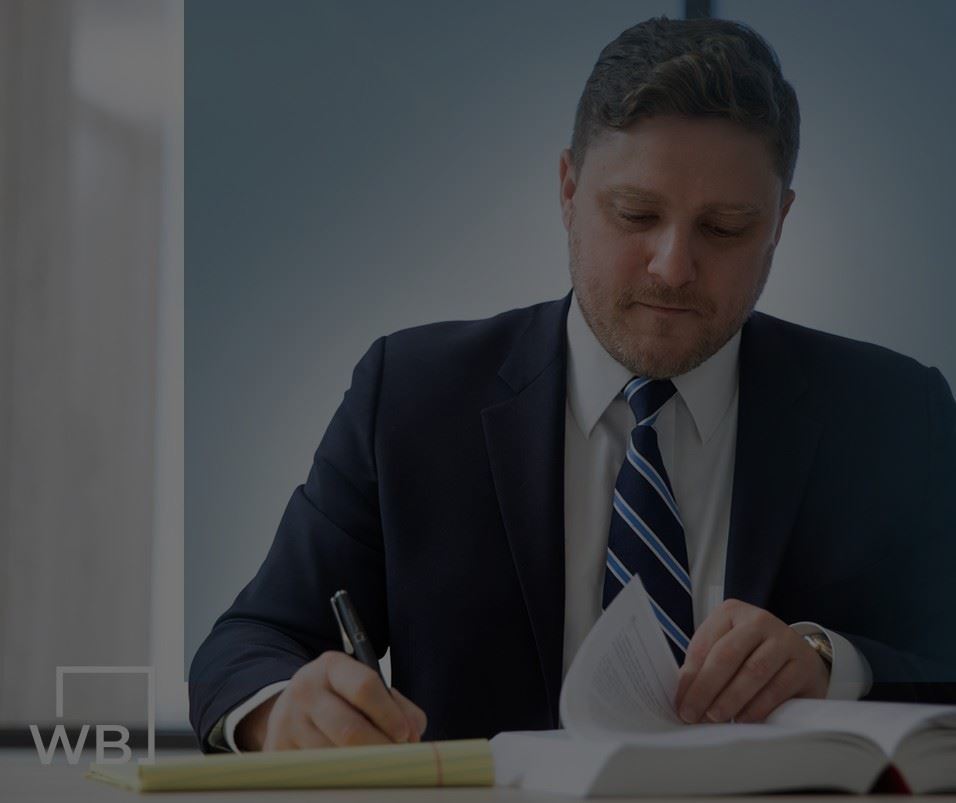 CALL

(855) 948-5098
Contact our experienced attorneys to learn about your legal options. Your consultation is free and confidential.
Who Can File a Personal Injury Claim?
In a personal injury claim, the claimant (or plaintiff) must prove that another party owed them a standard of care, that the responsible party violated that standard of care, and that the violation caused the claimant's injury (or injuries).
In a bus accident, for example, the standard of care owed to you by the bus driver and the bus company includes safe driving and a properly maintained vehicle. If the bus driver was speeding and crashed into another vehicle as a result of recklessness, the driver (and possibly the bus company) breached their duty of care to you as a far-paying passenger.
\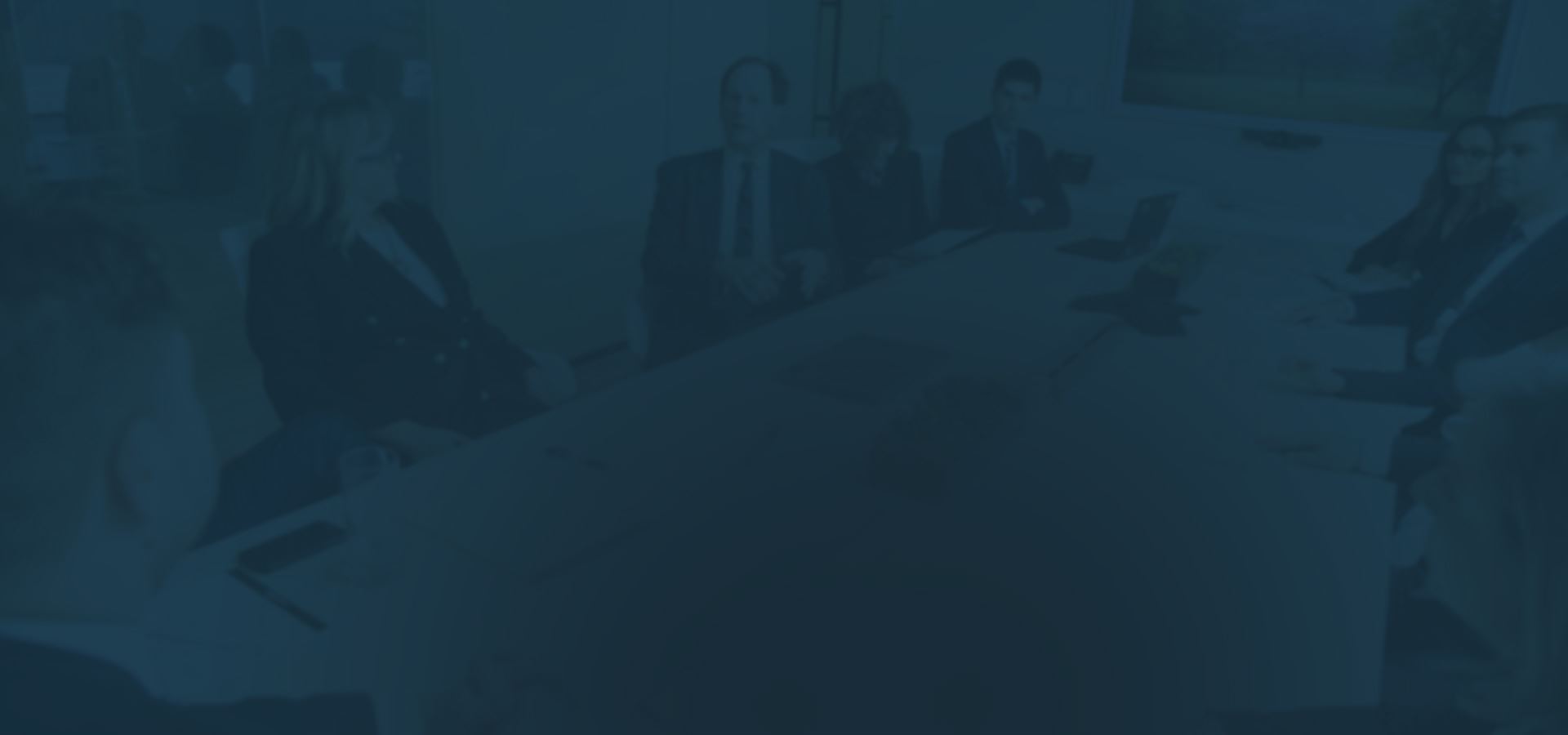 Building Relationships

We take pride in our professional relationships with referring attorneys and are equipped with the resources to take on your complex case.

Track Record of Success

We have resolved thousands of cases worldwide, winning over $4 billion in verdicts and settlements on behalf of clients.

Free & Confidential Consultations

Interested in exploring your legal rights? Schedule a free consultation with our team. You won't pay unless we win your case.
What Is a Personal Injury Claim?
Personal injury law itself is far-reaching, with claims falling into numerous practice areas.
Some of these practice areas include:
By no means is this an exhaustive list. The rule of thumb is that if another person or entity's negligence caused resulted in serious harm, your case will be some form of a personal injury claim.
Some examples of injuries that qualify for a personal claim include severe burns, amputation, partial paralysis, full paralysis, dismemberment, broken bones, the development of cancer, and internal injuries, among others.
Hire an Award-Winning Wisner Baum Attorney
At Wisner Baum, our personal injury attorneys in Los Angeles are motivated to pursue justice on behalf of individuals who have suffered great harm at the hands of another. Not only do we have the skills needed to litigate claims, but we also have the competency to investigate the complexities of a case and uncover key elements, details, and documents.
Our lawyers are nationally renowned by The Best Lawyers in America©, Martindale-Hubbell®, the National Board of Trial Advocacy, and more.
Our legal team does not believe that a person who was subjected to short-term or long-term disability, even wrongful death, should go unnoticed. Regardless of their circumstances, personal injury victims deserve acclaimed legal advocates to fight for justice on their behalf.
Put our seasoned trial lawyers in your corner. Contact our Los Angeles firm online today.
Is There a Time Limit for Filing a Claim in Los Angeles?
Each state has its own statute of limitations specifying how long claimants have to pursue legal action. Once a statute of limitations passes, a plaintiff is no longer able to pursue damages in a lawsuit. This is why we recommend accident victims contact an experienced personal injury attorney as soon as they are able to ensure that their claim eligibility does not expire.
The California statute of limitations generally grants residents two years from the date of the accident that caused the injury to file a personal injury claim. However, in certain circumstances, the statute of limitation can be extended if delayed discovery applies.
Delayed discovery allows for a plaintiff to have a longer statute of limitations if they either did not know of facts that would have caused them to suspect that they were harmed by another party's wrongful conduct; or that a thorough investigation would not have revealed that a product or situation caused harm.
In delayed discovery cases, a lawsuit may be filed after was (or should have been) "discovered." The Zantac cancer litigation is a good example of when delayed discovery applies to a personal injury; many of our clients were injured years before the alleged dangers of the drug were publicized by the U.S. Food and Drug Administration (FDA).