California—a state where truck accidents are unfortunately common—is bracing for more of the same as it heads into the holiday season, with many travelers taking to highways as they visit family and friends. The Thanksgiving weekend—and the days leading up to it—have already resulted in numerous fatalities, and officials are preparing for more tragedy on the roads. Among the incidents in recent weeks was the death of a National City man who leaves behind six children and a wife of 16 years.
Motorcyclist Had Right of Way in National City Truck Crash
November 20, 2017
A family is in mourning as they attempt to figure out how to move forward without their beloved "El Nene," a man otherwise known as 35-year-old Omar Moreno. Moreno, who was the father of six, also leaves behind his longtime wife, Maria Moreno.
Omar Moreno was traveling to work on his motorcycle a little before 6:00 a.m., when San Diego police say that a semi-truck made a left turn into Moreno, who was traveling west, not far from Naval Base San Diego. Moreno was unable to avoid the collision and ended up laying down the motorcycle on its side before it careened into the big rig. He died at the scene from injuries sustained in the crash before he could be transported to a hospital.
The San Diego Police Department's Traffic Division is investigating the truck crash. News reports indicate, however, that Moreno had the right of way when he was struck by the semi.
Moreno worked for General Dynamics NASSCO and was only about two miles from the company's shipbuilding yard on Harbor Drive, where he worked, when the fatal accident occurred. One of Moreno's co-workers, Juan Osuna, was quick to create a GoFundMe page for Moreno's family, who Osuna said would need assistance with memorial services for Moreno. The fundraising campaign had a goal of $20,000, but after only one week $29,475 had been raised.
Ashli Moreno, the eldest daughter at 16-years-old, said that the reality of losing "El Nene" has not even set in for some of her siblings, referencing one of her younger brothers.
"[My brother] still believes my dad is going to come at any moment and he is going to play with him like always," Ashli said in an interview with NBC San Diego.
Ashli will turn 17 on December 8th, and also spoke to the news outlet about the depth of loss she feels from her father's death.
"He was the best dad," Moreno said. "He was a friend. Whenever I had problems with my friends and everything, he was there for me."
Semi-Truck Driver Dies After Being Thrown from Vehicle in Berkeley
November 24, 2017
The day after Thanksgiving and only a few days after the National City truck crash, a 35-year-old Oakland man was killed when the semi-truck he was driving crashed into a center median on Interstate 80 in Berkeley.
Elder Flores Martel was traveling on Interstate 80 near University Avenue at approximately 8:52 a.m. when the crash occurred. California Highway Patrol (CHP) says that the empty trailer Martel's truck was towing suffered a flat tire, which set off a chain-reaction. The cab swerved into the center median, and the trailer crashed into a cement support for the overpass, which then caused the tractor and trailer to become separated and Martel to be thrown from the vehicle. Martel was pronounced dead at an area hospital.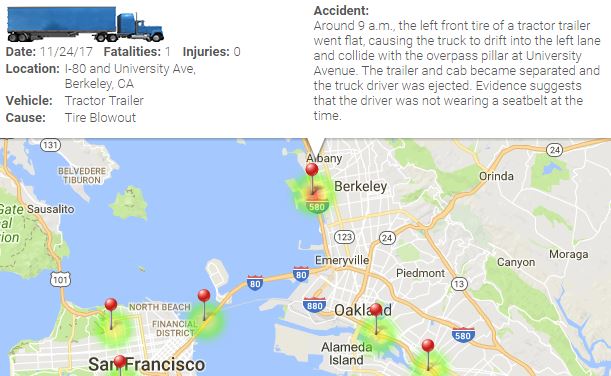 CHP is investigating the fatal crash, and say there is evidence that indicates Martel may not have been wearing a seatbelt when the accident happened.
One Fatality in Collision Between Dump Truck and Bus
November 17, 2017
Details are unclear in a crash between a dump truck and a municipal bus on Highway 101 in San Francisco that left a San Pablo man dead.
The crash occurred at approximately 4:00 p.m., with rush hour traffic underway, with the dump truck traveling south on 101 Highway north of the Cesar Chavez exit. The municipal bus was also traveling south and was on the left side of the dump truck.
Thirty-eight-year-old Cesar Octavio Trujillo-Gonzalez was driving the dump truck when it collided with the bus for reasons that have yet to be determined. The impact caused the dump truck to overturn, trapping Trujillo-Gonzalez in the vehicle. San Francisco Fire Department firefighters extricated him, but he died at the scene.
CHP Officer Vu Williams said that investigators are still trying to figure out whether Trujillo-Gonzalez died from injuries sustained during the crash or if there was a medical incident that took his life, causing him to collide with the bus.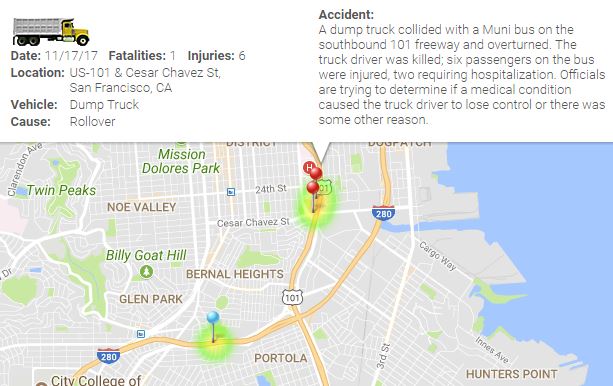 The bus involved in the crash was a 14 Express to Daly City with approximately 12 people on board. Half of those passengers suffered minor injuries, with two being taken to San Francisco General Hospital for treatment and four being treated by paramedics at the scene. The other half of the passengers were picked up by a different municipal bus and removed from the accident scene.
CHP officials closed the two right lanes of Highway 101 until approximately 7:50 p.m. as they worked to clear the wreckage from the crash and complete their on-scene investigation into the incident.