Baum Hedlund Is Representing Ten Passengers From the Amtrak 188 Tragedy
Eight people were killed and over 200 others sustained injuries on May 12, 2015, when Amtrak Train 188 crashed in Philadelphia. The commuter train, frequently occupied by lawmakers, was traveling from Washington D.C. to New York City with 238 passengers and five Amtrak staff on board when it derailed at around 9:30 p.m.
The names of some of the deceased victims from the Amtrak derailment have begun to surface. The U.S. Naval Academy has confirmed that one of its midshipman—Justin Zemser of Rockaway Beach, New York—was among those killed in the crash. Zemser was on leave, heading back home when the crash took his life. The Associated Press also confirmed that one of its employees—48-year-old software architect Jim Gaines—was killed.
According to the New York Times, Amtrak 188 jumped the tracks at a curve in the Port Richmond section of Philadelphia, specifically at a rail yard called Frankford Junction, where several passenger and freight lines merge. The engine, which was pulling at least six passenger cars, was separated from the rest of the train during the derailment and came to rest diagonally across another set of tracks.
While the cause of the Amtrak crash is still under investigation, speed looks to have been a factor. The area where the derailment occurred has a speed limit change of 80 miles-per-hour down to 50 miles-per-hour. Sources close to the Amtrak crash investigation have indicated that the event recorder has the train speeding at about 106 miles-per-hour entering the curve. The train's engineer has thus far refused to give a statement to investigators and has retained an attorney.
Most of the passenger cars fell onto their sides. Some were mangled so badly that they resembled aluminum soda cans—torn and crumpled. Amtrak passengers told the media that they felt a sudden shake in the seconds before the crash, then chaos ensued. People were flying about the train cars, with luggage falling everywhere. When the dust settled, some passengers were forced to kick out windows to escape the wreckage. Others had to wait for emergency responders to free them using hydraulic tools.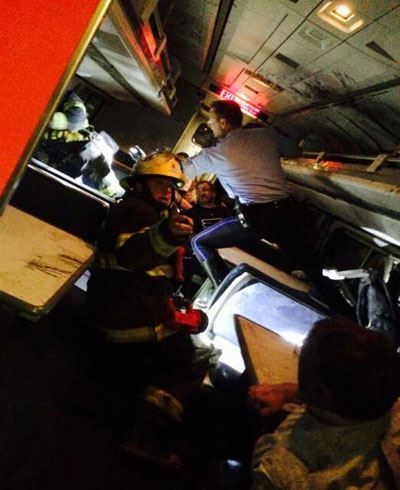 Investigators from the National Transportation Safety Board (NTSB) arrived early Wednesday morning to begin piecing together what caused this tragedy. The train's "black box" recorders were recovered and taken to the Amtrak operations center for further analysis.
Frankford Junction was the site of another rail disaster in 1943 that left 79 people dead and 117 injured. In that crash, one of the train's axles fell off right before the curve, causing eight cars to derail. Some passengers were tossed like rag dolls out the windows, while others remained trapped inside the mangled wreckage.
Human error—like speed or fatigue—is a common factor in transportation accidents of all kinds, and unfortunately, we've seen time and again that these mistakes can be tragic and costly. The technology to curb human error in train accidents has existed for several decades, but lawmakers and the railroads have failed to devote the necessary funds to fully implement the safety systems.
Positive train control (PTC) is a system that utilizes radar, track sensors, and GPS receivers that allow computers to remotely control a train if an operator isn't handling the locomotive responsibly. It is designed specifically to avoid collisions and derailments caused by human error. PTC was mandated to be implemented on all major railways across the nation by the end of this year. It won't be—in part because the railroads have by and large fought the legislation from the start, saying it is too expensive and lawmakers have refused to take a hardline stance on the issue. In fact, a bill was introduced in Congress to delay the full implementation of PTC for an additional five years. At the same time, The House has moved to slash the Amtrak budget.
Learn More About Positive Train Control
"While the PTC is badly needed and the delay unconscionable, particularly in light of these deaths, one should not forget that it is simply wrong to be traveling that fast around a curve," said a Baum Hedlund train accident attorney. "Amtrak cannot hide behind a defense that they didn't have the funds in the budget to finish installation of PTC. That may be true and due to an egregious failure of the legislature to provide sufficient funds, but it is no defense against reckless driving."
The Philadelphia Amtrak crash reminds us that the federal government needs to fix the country's aging rail infrastructure. Officials in the rail industry have long asked for more funding to make renovations and repairs, but even in light of the Philadelphia Amtrak derailment, more funding appears unlikely. In Wednesday's U.S. House of Representatives Appropriations Committee session, Republicans voted down a motion to increase Amtrak's funding. The GOP has previously tried to end federal subsidies to Amtrak entirely.
The train accident law firm of Baum Hedlund Aristei & Goldman is currently investigating the Amtrak 188 train crash and is accepting clients who were victims of the tragedy. Every passenger on that train was subjected to trauma/and or some type of physical injury, many serious and some even fatal injuries. All passengers on Amtrak 188 are eligible to receive the maximum compensation they deserve. Baum Hedlund has successfully litigated over 70 train crash or derailment cases across the nation.
Philadelphia Amtrak Derailment Updates
The Most Common Train Accident Causes
September 26, 2016
Amtrak's lack of funding has led to an increasingly deteriorating track, especially in the Northeast Corridor, where the Amtrak 188 derailment happened. Congressional failure to address this issue, and provide adequate funding could have disastrous consequences for passengers, not to mention the potential legal liability of Amtrak.

NTSB Releases Final Report on Amtrak 188 Crash
May 17, 2016
The National Transportation Safety Board (NTSB) has issued its long-awaited final report on the Amtrak 188 derailment. Investigators believe that Amtrak engineer Brandon Bostian was distracted by radio traffic, which caused him to lose situational awareness and run the train too fast into a curve.

Mystery Surrounding the Amtrak 188 Derailment Continues
February 2, 2016
This week, the National Transportation Safety Board (NTSB) released an accident docket on the Amtrak 188 derailment. The docket contains about 2,000 pages of documents containing interview transcripts, factual reports, photographs, letters, and other material gathered by investigators.
Releasing the docket to the public signals a transition in the investigative process—most of the facts necessary for the investigation have been gathered. Now the NTSB can move ahead with analysis of those facts and come to a conclusion and an official probable cause report for the Amtrak 188 derailment.

No Smoking Gun as NTSB Opens Amtrak 188 Derailment Investigation Docket
February 1, 2016
The National Transportation Safety Board (NTSB) has released roughly 2,000 pages of documents pertaining to the May 12, 2015, Amtrak 188 derailment in North Philadelphia. The Amtrak derailment was the deadliest accident that Amtrak has seen since 1999. Eight of the 238 passengers aboard the Amtrak train died in last year's derailment, and more than 200 others sustained injuries.
Without coming to any conclusions about what specifically caused the Amtrak 188 derailment, the NTSB docket ruled out a number of possible contributing factors.

Positive Train Control System Activated on Rail Line Between New York and Philadelphia
January 7, 2016
Amtrak has activated an integral train safety system on rail lines connecting New York and Philadelphia. As of Monday, December 21, all tracks owned by Amtrak in the Northeast Corridor are equipped with Positive Train Control (PTC), collision avoidance, and speed control system.

Amtrak 188 Victims Seek Punitive Damages in Philadelphia Crash Lawsuits
December 21, 2015
The law firm of Baum Hedlund Aristei & Goldman has filed complaints on behalf of six passengers who were injured in the crash of Amtrak Train 188 in Philadelphia, Pennsylvania. The complaints were filed today in U.S. District Court for the Eastern District of Pennsylvania and claim that Amtrak's reckless operation of Train 188 and the railroad's inexcusable decision not to implement a necessary safety system caused the train crash, which left eight people dead and over 200 others injured. The complaints will be consolidated with others already filed.
Compensation Cap in Amtrak Train Crash in Philadelphia Raised to $295 Million
December 3, 2015
Congress has agreed to boost the compensation limit for victims of the Amtrak train crash in Philadelphia earlier this year from $200 million to $295 million.
The increased compensation cap was written into the $305 billion highway funding bill that cleared Congress late Thursday. The 'Fixing America's Surface Transportation Act,' or FAST, will now be sent to President Obama's desk, where it will be signed into law. The $95 million was listed as a "cost-of-living" increase, and the FAST bill will now provide an automatic cost-of-living increase every five years.

GAO Report: PTC Deadline Must be Pushed Back
September 16, 2015
The Government Accountability Office (GAO) released a report on Wednesday confirming that America's railroads will not be able to meet the December 31 deadline to implement Positive Train Control (PTC), the automatic braking system that officials said could have prevented the Amtrak crash in North Philadelphia earlier this year.

NTSB Calls for Amtrak to Install Video Cameras on all Trains to Monitor Engineers
July 9, 2015
The National Transportation Safety Board (NTSB) has issued a recommendation to Amtrak, urging the railroad to install video/audio recorders in the cabs of all its trains to effectively monitor engineer activity.
The recommendation comes nearly two months after an Amtrak train traveling from Washington D.C. to New York City derailed at a sharp curve in north Philadelphia. On May 12, the Amtrak Northeast Regional train derailed and crashed in the Port Richmond neighborhood at the railroad's Frankford Junction. Eight people were killed and over 200 sustained injuries in the tragic crash that officials say could have been avoided.

Amtrak Supports MDL Bid to Consolidate Train Accident Lawsuits
July 1, 2015
Amtrak announced today that the railroad has consented to a request by plaintiffs to create a new federal multidistrict litigation program (MDL) to handle current and future claims stemming from the May 12 Amtrak derailment in Philadelphia. At present, 22 separate lawsuits have been filed, including two wrongful death lawsuits filed earlier this week.
In a court filing, Amtrak said that an MDL proceeding would "promote coordinated discovery, reduce the costs of litigation, and enable cases to move more efficiently to resolution or trial."

NYT: Site of Philadelphia Amtrak Crash One of the Most Dangerous in Northeast Corridor
June 23, 2015
The stretch of track where the Philadelphia Amtrak derailment has one of the sharpest curves in the entire Northeast Corridor, according to the New York Times. What is being done to ensure that trains take curves safely?

NTSB Issues Preliminary Report on Philadelphia Amtrak Crash on Same Day Congress Grills Amtrak Execs
June 2, 2015
The National Transportation Safety Board (NTSB) released preliminary findings in last month's Amtrak train crash in Philadelphia that left eight dead and over 200 others injured. Federal investigators have not found any anomalies in the train's braking system, nor any issues with the signals and track where Amtrak train 188 derailed.
Amtrak CEO and President John Boardman testified before a Congressional hearing today, saying the railway is responsible for the Philadelphia crash and its consequences. According to NBC News, Boardman was pressed by the House Transportation Committee on why Amtrak failed to implement safety systems that could have prevented last month's crash. In an emotional testimony, Boardman said PTC is "the single greatest contribution my generation of railroaders can make."

Amtrak Train Crash Investigation Update: What Do We Know One Week Later?
May 19, 2015
Over the weekend, National Transportation Safety Board (NTSB) member Robert Sumwalt appeared on CNN's 'State of the Union' to discuss the Amtrak investigation. On the show, Sumwalt said investigators had turned their attention to a projectile that may have hit the windshield of Amtrak 188. Photos of the train do indeed show a mark on the windshield; however, there is still nothing definitive about what caused the mark and whether or not the projectile had anything to do with the derailment.

Amtrak Didn't Install Automatic Braking System That Could Have Prevented Train Crash in Philadelphia
May 15, 2015
As new reports are beginning to surface from the Amtrak 188 train crash investigation, one thing is startlingly clear: this crash and the tragic loss of life did not have to happen.