On September 25, 2021, an Amtrak train derailed in northern Montana, killing at least three people and injuring dozens more. The Amtrak Empire Builder 7/27 train left the tracks at approximately 4 p.m. local time outside Joplin, Montana, a small town 30 miles away from the Canadian border.
Click here for the latest Amtrak Empire Builder crash updates.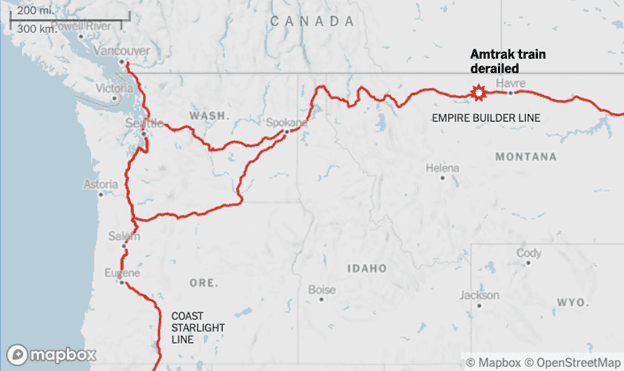 Authorities say 141 passengers and 16 crew members were on board the Amtrak train, which departed from Chicago, Illinois, bound for Seattle, Washington. The train had two locomotives and 10 cars, eight of which derailed. At the time of the accident, the train was going just below the 79 miles per hour speed limit. The stretch of track where the Montana train crash occurred is owned by BNSF Railway, the largest Class I freight rail network in North America with approximately 32,500 miles of track across 28 U.S. states.
Trevor Fossen, a Joplin resident, was one of the first at the scene. He was walking on a dirt road near the tracks when he saw a wall of dust drift into the air hundreds of feet high. When the dust cleared, he saw that a train had derailed and called 911.
One of the Amtrak passengers, Megan Vandervest, said she was taking a nap in a sleeper car located toward the front of the train when the crash happened. She was one of the lucky ones—her car managed to stay upright, though she recalled seeing the car behind hers tilted to its side. She and her fellow passengers were evacuated within 10 minutes. Others in cars that had tipped fared much worse and were "badly injured," she said.
Deceased Victims of the Montana Train Crash
The derailment caused three deaths and injuries to 50 people, with seven people requiring hospitalization. Law enforcement officials identified two of the deceased as Don and Margie Varnadoe, a retired couple from Georgia who took the train trip to commemorate their 50th wedding anniversary.
Well known in their Glynn County community, Don worked for many years as a real estate agent, first with Sea Island Realty, then later with Coldwell Bankers. He also served as a school board member with the Glynn County School District. His wife, Margie, worked as a teacher and administrator with the Glynn County School District.
The fatal Montana train derailment also killed Zach Schneider, a 28-year-old software engineer from Fairview Heights, Missouri. He worked for Stripe, a payment processing company. Schneider was traveling with his wife, Rebecca, who was one of dozens injured in the accident.
In the days following the Amtrak crash, Rebecca Schneider filed a wrongful death lawsuit against Amtrak and BNSF alleging both companies failed in their obligation to ensure the railroad tracks were safe. The Amtrak lawsuit further alleges that the Empire Builder derailed as a result of defective and/or poorly maintained rail track.
Injuries in Amtrak Derailment
Hill County, Montana's disaster and emergency services coordinator, Amanda Frickel told the media in the aftermath of the derailment that most of the injuries reported ranged from minor cuts, bruises, and sprains. Most of the injured were treated and released from area hospitals following the crash. Others, however, suffered head wounds and a small number sustained critical injuries that required longer hospital stays.
Seven people with serious injuries remained at the Benefis Health System hospital in Great Falls, Montana, and Logan Health, a hospital in Kalispell, Montana following the accident. According to media outlets, two of the seven were in the ICU.
Hope Gilmore, a 70-year-old woman from Yamhill, Oregon, was one of those who remained in ICU after the accident. Gilmore, who celebrated her 70th birthday in ICU, suffered a broken vertebrae and brain bleed. She will remain in Montana for some weeks to rehab her injuries and relearn how to walk. "It's going to be a long road, but we are hoping she will pull through," says her husband, Alan.
Train Accident Lawyer
If you or someone in your family suffered injuries or death after a train accident or derailment, you may be able to pursue compensation. The train accident attorneys at Baum Hedlund Aristei & Goldman have earned numerous substantial personal injury and wrongful death settlements on behalf of victims and their families.
Since opening our doors in 1985, we have successfully represented train crash victims in several of the worst train crashes and derailments in U.S. history. Our firm has litigation arising from train derailments, train collisions, train accidents at grade-crossings, FELA-railroad employee injury claims, and incidents involving Amtrak, CSX, Conrail, MARC, and Metrolink.
Baum Hedlund Aristei & Goldman trial lawyers have:
Won over $4 billion in verdicts and settlements
Litigated train accident cases since 1987
Leadership experience in Plaintiffs' Steering Committees for major train accident cases
Earned "Best Lawyers® Best Law Firms" via client and peer review
Successfully resolved over 85 train crash or derailment cases
Major honors and national recognition for our achievements
In addition to our track record of success in earning maximum compensation for our clients, we are also committed train safety advocates. Our advocacy work is best exemplified by our efforts to mandate positive train control and our extensive work regarding the extreme risk in the push-pull passenger rail system. Inspired by the families who lost loved ones in the 2005 Glendale, California Metrolink train crash, our train crash lawyers worked with the California state legislature to ban the pushing of passenger trains.
We also served on the Plaintiffs' Management Committee for the 2015 Amtrak 188 derailment in Philadelphia in 2015 which resulted in a record $265 million settlement for all of the injured passengers. The NTSB declared the probable cause of the accident was the engineer's acceleration to 106 miles per hour as he entered a curve with a 50 mile per hour speed restriction, due to his loss of situational awareness likely because his attention was diverted to an emergency situation with another train (radio traffic regarding rocks striking a SEPTA train). Contributing to the accident was the lack of a positive train control (PTC) system. Baum Hedlund represented 10 passengers from this crash.
Our advocacy has sent a strong message to the railroad industry: if you fail to take safety seriously, you will suffer the consequences.
If you or a family member were harmed in a train wreck, contact us or call (855) 948-5098 today for a free and confidential case evaluation. We take cases nationwide.
Amtrak Empire Builder 7/27 Train Derailment Update
October 6, 2021 | Montana Train Derailment Lawsuits Filed on Behalf of Injured Passengers – Several passengers aboard the Empire Builder train that derailed outside of Joplin, Montana last month filed lawsuits against Amtrak and BNSF Railway, accusing them of negligence. The Amtrak train was transporting passengers from Chicago, Illinois to Seattle, Washington when eight cars derailed. Three people were killed and many others sustained injuries. The newly filed lawsuit names BNSF because the company is responsible for maintaining the track where the fatal derailment occurred.
October 2, 2021 | Four Injured Amtrak Victims Remain in Hospital – According to the Bulletin, four people who were critically injured in the Montana train derailment remain hospitalized. Hope Gilmore, a 70-year-old Oregon resident, is the only person remaining in the ICU following the accident. Gilmore's husband, Alan, said he and dozens of others were on a conference call with officials from NTSB and Amtrak to discuss the cause of the derailment. According to Gilmore, it will "be a while" before officials report on the cause.
September 28, 2021 | Amtrak Train Traveling Under Speed Limit at Time of Derailment —Investigators found that the Amtrak Empire Builder 7/27 train was going under the speed limit at the time of its derailment. It was traveling at about 75 miles per hour when it veered off the track along a gradual curve, right before a switch in the line, where one set of tracks turns into two.
The National Transportation Safety Board is looking into the maintenance of the track along with the potential for a mechanical issue with the train. NTSB vice chairman Bruce Landsberg stated that a preliminary report is expected within 30 days.
September 27, 2021 | NTSB Reviews Derailed Train's Black Box — The National Transportation Safety Board announced that it is reviewing the derailed Amtrak Empire Builder 7/27 train's black box to uncover what caused the accident.
A team of 14 investigators and experts will review on-board video captured by the train's front-facing cameras on the derailed train. The team will also review video footage from a freight train that passed through the site of the accident only an hour and a half earlier.