Nov. 1, 2018 – San Diego, California – – The national law firm of Baum Hedlund Aristei & Goldman filed a lawsuit on behalf of four active duty members of the United States Marines Corps (USMC) who sustained injuries in a 2017 training accident on Marine Corps Base Camp Pendleton in San Diego, California.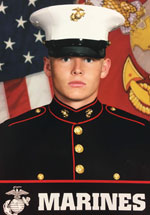 Ronald L.M. Goldman, Timothy A. Loranger and Clay Robbins III filed the military accident lawsuit (Case No. 3:18-cv-02482-L-JLB) in United States District Court for the Southern District of California on behalf of the plaintiffs; Corporal Anthony Romero; Lance Corporal Samuel Koontz; Lance Corporal Nicholas Amrien; and Lance Corporal Tagen Schmidt.
The lawsuit alleging negligence and strict liability, names San Diego Gas & Electric (SDG&E) of San Diego, California; Southern California Gas Company (SoCal Gas) of Los Angeles, California; San Diego Pipeline Company of San Diego, California; Kinder Morgan G.P., Inc.; and numerous unnamed gas line installation contractors as defendants.
Lawsuit Alleges SDG&E Negligence Caused Serious Injuries in Camp Pendleton AAV Fire
On the morning of Sept. 13, 2017, Marines and Navy Corpsmen were participating in amphibious assault vehicle (AAV) training in the San Mateo section of Camp Pendleton. While conducting a tactical movement, the AAV moved into a ditch, where it contacted an exposed and poorly marked natural gas line.
According to a Marine Corps. report, service members attempted to get the AAV unstuck by rocking the vehicle in the ditch. The maneuver required the AAV's engine to rev to high RPMs. Per the report, none of the witnesses recalled seeing the grey natural gas line in the ditch, or any warning of its presence, prior to the explosion.
The AAV backfired, triggering a large explosion that soon engulfed the AAV in flames. The fire, which reached 20 feet in height, continued for hours until the Camp Pendleton maintenance division could secure the natural gas line.
All the Marines involved in the incident were wearing Marine Utility Uniforms, including gloves and eye protection. Nevertheless, the plaintiffs and others in the AAV sustained second and third degree burns to their faces, hands and other parts of their bodies in the incident.
The Commanding General, 1st Marine Division wrote of the accident:
"There were signs regarding the gas line, but those signs were not visible due to fading and the growth of brush around them. With that said, even if the signs had been clearly readable, the average person would interpret them to mean that no digging should occur in the vicinity of the gas line, but that driving in the area would be safe."
According to the complaint, the defendants failed to meet basic safety standards and failed to conform to the "Natural Gas Requirements" for Camp Pendleton, which includes the following:
All pipe shall be buried a minimum of 36" below finished grade or as recommended by the manufacturer, whichever is greater. Burial of gas pipe with less than 26" of cover requires PWD (Public Works Department) approval.
Buried piping shall include magnetic warning tape installed 12" below finished grade. Tape shall be 3" wide and have the words "Caution buried gas line below."
All above ground piping shall have proper labeling…, including directional labeling.
New gas lines located in vegetated areas, away from paved areas shall have pipeline markers indicating presence of the lines. Contractor shall place markers at or near all taps, tees, and caps, so as to ensure continuous line of sight is established at intervals not to exceed 500' along natural gas lines.
The lawsuit claims that the explosion and fire would never have occurred if proper, legible, warning signs had been used at the location of the gas line, and if the gas lines had been buried in compliance with the "Natural Gas Requirements" for Camp Pendleton.
"The companies involved clearly knew about the very real danger of allowing gas lines to be exposed in an area where Marines are training," says Timothy A. Loranger, a Marine Corps veteran and attorney representing the plaintiffs. "Failing to take reasonable steps to comply with the rules and keep those lines properly buried resulted in our clients' very serious burn injuries that have effectively ended military careers and changed lives forever. Our Marines deserve better."
Allegations Against SDG&E, Southern California Gas and San Diego Pipeline
According to the lawsuit, the defendants failed to exercise reasonable and ordinary care which resulted in serious physical and emotional juries to Marines at Camp Pendleton.
Specifically, the lawsuit alleges the defendants were aware that service members would be training and operating heavy vehicles near these exposed natural gas lines. Furthermore, they knew that without legible and properly placed signs and warnings, Marines would not know where the natural gas lines were located and would be unable to avoid gas lines that were not buried as required by regulations.
The defendants' negligence constitutes an "ultrahazardous and abnormally dangerous activity, that poses a serious risk of harm to the public…" the lawsuit states.
Per the complaint, the defendants' negligent actions caused the service members aboard the AAV to suffer severe burn injuries.
About Baum Hedlund Aristei & Goldman
Baum Hedlund Aristei & Goldman handles military accident cases involving American contractors. The national law firm has successfully represented clients in thousands of personal injury and wrongful death cases, including military accident lawsuits filed on behalf of service members and their families. Our attorneys have secured over $1.9 billion in verdicts and settlements across all areas of practice.