It is with great sorrow that we report the passing of our great friend, colleague, and warrior in the trenches, attorney Michael J. Miller. Mike, 69, passed away on November 24th.
Mike was fearless and fought many high-profile cases against major pharmaceutical companies resulting in stellar court victories and billions in awards for his clients.
He began his legal career in 1979 and later founded The Miller Firm based in Orange, Virginia—a national leading law firm in product liability and mass tort litigation. Perhaps best known for his leading role in the Monsanto Roundup litigation, Mike and his firm were among the first in the country to pursue Roundup cancer cases against Monsanto.
Mike was co-lead counsel in two of the first three Roundup trials and worked very closely with Baum Hedlund Aristei & Goldman attorneys R. Brent Wisner (co-lead trial counsel), Michael L. Baum, and Pedram Esfandiary. Mike had asked Brent Wisner to co-lead the trial for Dewayne "Lee" Johnson, who suffered from non-Hodgkin lymphoma, with another Miller Firm partner in the first Roundup trial against Monsanto after Mike was severely injured in a kite-surfing accident in 2018, two weeks before the trial began. In 2019, Mike asked Brent Wisner again to co-lead his firm's next Roundup cancer trial against Monsanto for Alva and Alberta Pilliod, a couple with non-Hodgkin lymphoma from years of Roundup exposure. This time, Mike was able to try the case, side-by-side with Brent.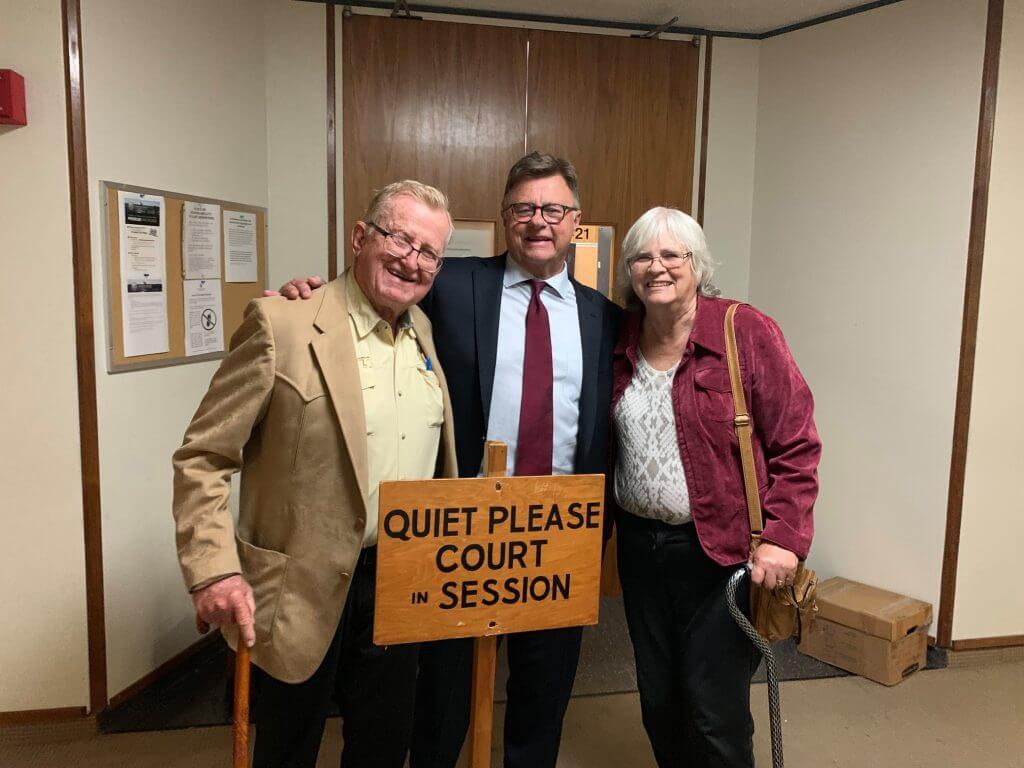 Mike Miller, with Alva and Alberta Pilliod after their historic verdict
Johnson v. Monsanto Company and Pilliod et al. v. Monsanto Company culminated in jury verdicts worth more than $2.3 billion. The Pilliod verdict was the second largest in the nation in 2019 and both it and the Johnson verdict (also in the top 10 verdicts in 2018) landed Mike and his colleagues in the National Law Journals' Verdicts Hall of Fame.
Mike's work on these cases continued through the appeals process with every court, so far, denying Monsanto-Bayer's appeals of the verdicts. While the judges in both cases reduced the jury verdicts, Mike's clients retained more than $100 million in total. He told the media that "Monsanto deserves to be punished for decades of hiding the truth about Roundup," after Monsanto lost another appeal late this summer.
The hard-earned victories at trial helped pave the way for settlements with Bayer in 2020 worth nearly $11 billion. Mike was instrumental in these negotiations and remained steadfastly committed to securing the best possible outcome for Roundup clients from the start of the litigation until the end.
In addition to his role in the Roundup litigation, Mike leaves a remarkable legacy of legal victories. Mike led the Zyprexa litigation in federal court, served as chairman of discovery for the Avandia litigation, resulting in a $2.1 billion settlement, won several major Actos jury verdicts, ultimately resulting in $2.3 billion in settlements in the Actos bladder cancer litigation and won the largest FenPhen verdict in Philadelphia.
"Mike was a brilliant strategist that led the mass tort field with using preference cases to get his clients to trial quickly in the Monsanto Roundup and Actos litigations," says Baum Hedlund Aristei & Goldman managing shareholder, Michael L. Baum. "Beyond that, he was our pal and ally that helped us out in our Cymbalta trial and eventually brought Baum Hedlund into the inner circle of the Monsanto litigation, ultimately tapping us to step in and co-lead the Johnson and Pilliod trials. He led a team of intrepid, fearless litigators and experts that figured out the Avandia, Actos, and Roundup puzzles, and we have been lucky and proud to fight those battles with him and Team Miller. He will be sorely missed."
Mike is survived by his wife, Nancy Guy Armstrong Miller, who worked side-by-side with her husband at The Miller Firm, his six children and his brother and fellow attorney, Pete Miller of Miller DellaFera PLC in Henrico, Virginia.