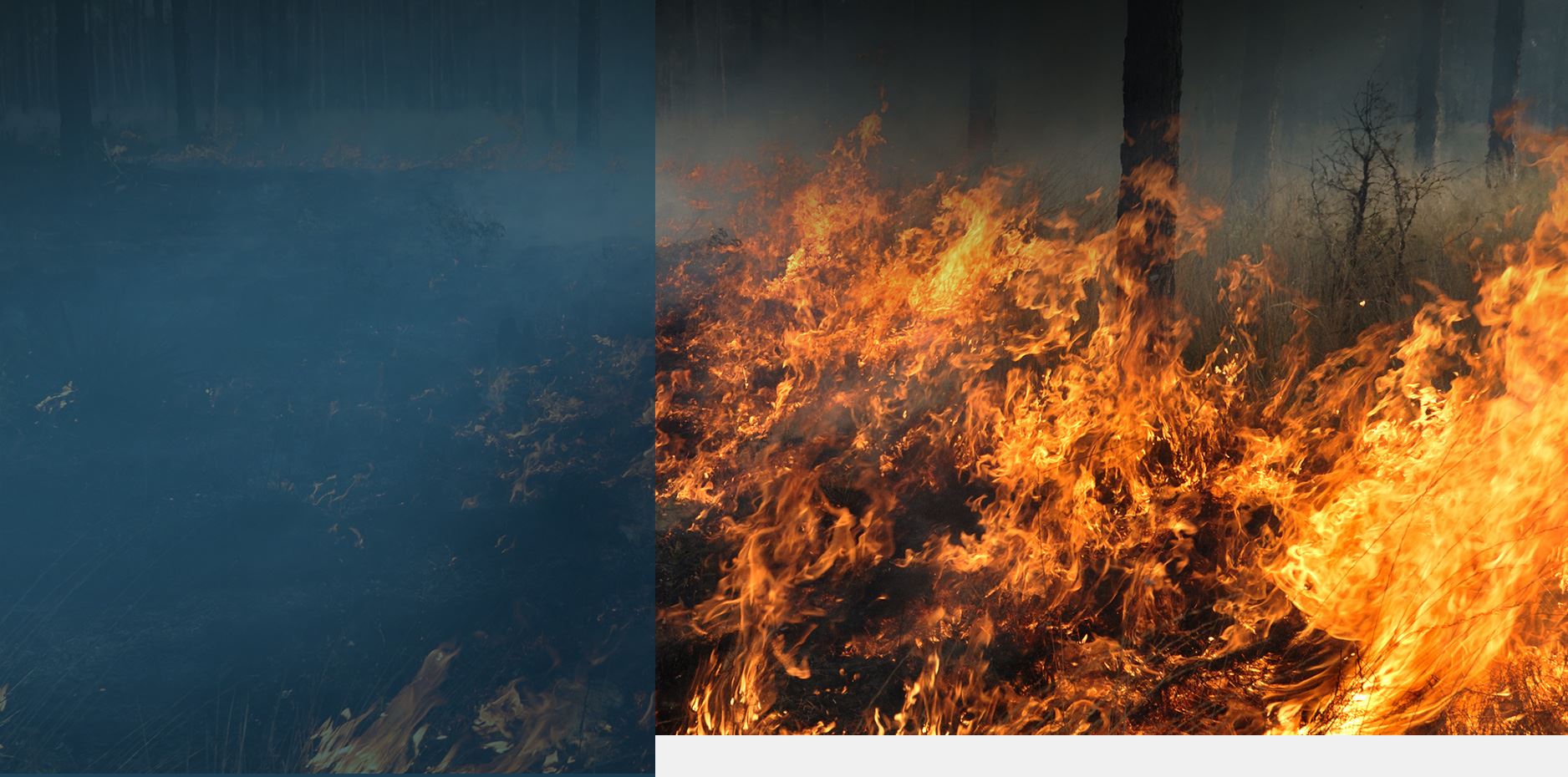 Camp Fire Lawsuit Client Focused. Trial Ready. Billions Won.
Camp Fire Lawsuits
California Attorneys Advocating for Wildfire Victims in Paradise and Beyond
The Camp Fire, which started in Butte County on November 8, 2018 near Paradise, California killed 85 people and destroyed more than 18,000 homes and structures. The California Public Utilities Commission (CPUC) and the California Department of Forestry and Fire Protection both concluded that the deadly blaze was sparked by Pacific Gas & Electric (PG&E) and its poorly maintained power equipment. In 2019, PG&E filed for Chapter 11 bankruptcy and admitted in federal court that its equipment had probably caused 10 wildfires in Northern and Central California.
Families in Paradise and many surrounding communities filed lawsuits against PG&E, alleging the utility is responsible for sparking the Camp Fire. If you were harmed by this devastating California wildfire and are interested in speaking to one of our attorneys about your legal rights, or if you would like free legal assistance submitting your proof of loss claim, please contact the attorneys at Wisner Baum.
Based in Los Angeles, our California Camp Fire attorneys can help you explore your legal options. Call (855) 948-5098 today or submit our online form to get started.
Updates on the Aftermath of the Camp Fire
As of February 2019, the death toll from the Camp Fire is 85 fatalities. Nearly 9,000 firefighters, including many from out-of-state, were called in to fight the wildfires in northern and southern California. Even with the extra help, the Camp Fire burned the town of Paradise to the ground and destroyed more than 18,000 structures. According to CNN, the fire burned more than 153,000 acres, destroyed more than 13,972 homes, 528 businesses and 4,293 other buildings.
Areas affected by the Camp Fire include:
Berry Creek
Butte Creek Canyon
Butte Valley
Centerville
Cherokee
Concow
Irish Town
Little Chico Creek
Magalia
Messilla Valley
Mineral Slide
Morgan Ridge
Paradise
Parkhill
Pulga
Yankee Hill
On March 20, 2020, PG&E reached a bankruptcy deal that pledges billions to wildfire victims and removes a key hurdle for the utility to come out of bankruptcy. PG&E will use shareholder funding to reduce its debt load as well as submit to more rigorous safety oversight. Failure to make safety enhancements could lead to the state of California taking over the utility. Likewise, if PG&E fails emerge from bankruptcy by June 30, 2020, the utility will be forced to put itself up for sale.
On March 23, 2020, PG&E stated in a filing with the Securities and Exchange Commission (SEC) that it pleaded guilty to 84 counts of involuntary manslaughter related to the Camp Fire. PG&E also noted in the filing that it pleaded guilty to one count of causing a fire in violation of the state penal code.
According to the SEC filing:
"The Utility will be sentenced to pay the maximum total fine and penalty of approximately $3.5 million. The Agreement provides that no other or additional sentence will be imposed on the Utility in the criminal action in connection with the 2018 Camp fire…The Utility has also agreed to pay $500,000 to the Butte County District Attorney Environmental and Consumer Protection Fund to reimburse costs spent on the investigation of the 2018 Camp fire."
How Did the Camp Fire Start?
The California Public Utilities Commission (CPUC) launched an investigation into PG&E after the utility company reported electrical malfunctions near ground zero for the Paradise fire. The agency's probe focused on "compliance of electric facilities with applicable rules and regulations in fire impacted areas," a spokesperson for the agency said. "The CPUC staff investigations may include an inspection of the fire sites once Cal Fire allows access, as well as maintenance of facilities, vegetation management, and emergency preparedness and response."
According to NBC News Bay Area, investigators now believe the fire started due to a failed hook that held up a high-voltage power line on a nearly 100-year-old PG&E transmission tower. The fire reportedly started at the base of a transposition tower, which redistributes electricity on the system to balance the load and assure safety. The transposition tower is equipped with two arms that hold the jumper—a part of the power line that shifts to another point at the top of the tower—and electrical insulators, which look like white discs. Authorities say the fire started when a steel hook holding up the insulators fractured in high winds on the morning of Nov. 8.
Of note, in the days before the Camp Fire, PG&E sent a notification to customers that it might be forced to cut power due to forecasts of "localized extreme weather." By the afternoon of Nov. 8, however, the utility told the CPUC that "weather conditions had improved, and PG&E no longer anticipated the need to proactively de-energize."
In October, PG&E made the decision to cut power to 60,000 customers citing an extreme risk for wildfires. This was the first time the utility had cut electricity as part of its wildfire safety program. PG&E is currently on probation following the San Bruno gas explosion. On Nov. 27, 2018, the judge overseeing the probation issued an order demanding PG&E answer questions related to its role in the North Bay Fires and the Camp Fire.
"Any wildfire started by reckless operation or maintenance of PG&E power lines" and/or "any inaccurate, slow, or failed reporting of information about any wildfire by PG&E" were among the areas of interest cited by U.S. District Court Judge William Alsup.
Judge Alsup's order appears to focus on the North Bay Fires in 2017 and the Camp Fire, as it asks for "[a]n accurate and complete statement of the role, if any, of PG&E in causing and reporting the recent Camp Fire in Butte County and all other wildfires in California since the judgment."
PG&E NAMED IN PREVIOUS CALIFORNIA WILDFIRE LAWSUITS
State officials have also investigated PG&E for its role in previous wildfires in California. In June of 2018, Cal Fire issued a report blaming the utility company for several major 2017 wildfires in Northern California that caused dozens of deaths and destroyed thousands of structures.
According to Cal Fire, the Nuns, Atlas and Redwood fires in northern California were started by PG&E's "electric power and distribution lines, conductors and the failure of power poles." Cal Fire issued the report one month after the agency attributed four other wildfires, including the Napa wine country fires, to "trees coming into contact with power lines."
The estimated insured losses from the October 2017 wildfires in Northern California are nearly $10 billion, per the California Department of Insurance. Many families filed lawsuits against PG&E for its role in the North Bay fires. In 2017, state regulators ordered PG&E to pay an $8.3 million fine for failing to maintain a power line that sparked the 2015 Butte fire in Amador County that killed two people and destroyed more than 500 homes. Specifically, the fine was for failing to maintain a tree that contacted with a power line and for failing to report that one of its power lines caused the deadly blaze.
PG&E HAS A LONG HISTORY OF PUTTING PROFIT OVER PEOPLE
The Camp Fire is far from an isolated incident. PG&E has a pattern of serious safety lapses:
San Francisco Gas Explosion (1981)– Occurred at a construction site at Sacramento and Battery Streets in San Francisco. A 16-inch gas main ruptured, causing an explosion. An estimated 30,000 residents were forced to evacuate as the line expelled gas that contained toxic PCBs. It took nine hours for workers to shut the gas line off.
Trauner Fire (1994) – A Nevada jury found PG&E guilty of 739 counts of criminal negligence based on a pattern of tree-trimming violations that caused a wildfire near the Sierra. Investigators found that the fire began when a 21,000-volt power line contacted with a tree limb that PG&E failed to trim. Additionally, investigators found hundreds of safety violations in the vicinity of the Trauner Fire, approximately 200 of which involved PG&E power lines contacting with vegetation. PG&E paid $29 million ($22.7 million settlement and $6 million in penalties). In 1998, the California Public Utilities Commission (CPUC) issued a report that revealed PG&E had diverted over $77 million ear marked for tree-trimming between 1987 and 1994. During the same period, the utility underspent its budget for maintenance of its distribution system by $495 million.
Fires at PG&E Mission Substation in San Francisco (1996 and 2003) – In 1996, a cable splice short circuited and burned cable insulation, resulting in a fire that opened a circuit breaker. PG&E customers lost power as a result of the blaze. At the time of the incident, the substation was unmanned and the fire was only discovered because an employee happened to stop at the substation to use the restroom.
In 2003, another fire at the Mission substation caused roughly a third of San Francisco residents to lose power. Like the 1996 fire, the incident occurred during reduced staffing hours.
According to the CPUC, "PG&E did not implement its own recommendations from its own investigation of the 1996 fire… Had PG&E implemented its 1996 investigation recommendations, CPSD believes the cable failure on December 20, 2003 would not have resulted in loss of service to customers."
Pendola Fire (1999)– The Pendola Fire burned for 11 days, scorching 11,725 acres. A government investigation found that the fire started because a rotten pine fell on a power line. The investigation blamed PG&E for failing to remove the rotten tree. PG&E paid a $14.75 million settlement to the U.S. Forest Service in 2009 for its role in the Pendola Fire.
Sims Fire and the Freds Fire (2004)– The Sims Fire burned more than 4,000 acres in Trinity County, including areas of Six Rivers National Forest and Trinity National Forest. Investigators found the cause was a decaying tree falling on a transmission line. In court filings, the government said PG&E failed to remove a decaying tree that fell onto a 66,000-volt transmission line.
The Freds Fire burned more than 7,500 acres in El Dorado County. According to court filings, PG&E was negligent in supervising a contractor whose workers lost control of a large tree they were cutting down. The tree fell onto 21,000-volt line, sparking the fire. In total, PG&E and its contractors paid $29.5 million to settle federal lawsuits over the Sims and Freds Fires.
Power Fire (2004)– The Power Fire burned an estimated 17,000 acres in Amador County and the Eldorado National Forest. According to federal authorities, the blaze started when PG&E contractors left cigarettes burning during their break from clearing vegetation around the power lines.
A civil lawsuit accused PG&E and its contractor, Quanta Services Inc. of negligently hiring work crews who smoked during a period of extreme fire risk. Prosecutors said neither PG&E nor the subcontractor hired to clear the vegetation had any rules in place governing smoking in a wooded area during a period of extreme fire risk. Quanta paid $45 million to settle the suit.
Rancho Cordova Gas Explosion (2008)– A gas leak from a PG&E pipe caused natural gas explosion at a Rancho Cordova residence killed one person, injured 3 other residents, and damaged several area properties.
A government investigation revealed that PG&E's incorrect repairs caused the gas leak. The report also noted that PG&E failed to send properly trained personnel to inspect the leak in a timely manner. In 2010, the CPUC filed charges against PG&E resulting in a $38 million fine.
Whiskey Fire (2008)– A pair of PG&E contractors failed to cut down a grey pine tree that contacted with a PG&E power line, sparking a blaze in the Mendocino National Forest that burned 7,800 acres and cost more than $5 million to extinguish.
PG&E and its contractors were required by law to keep tree branches away from power lines. Both PG&E and contractor Davey Tree Surgery paid $1.5 million to settle the case. Another contractor, ACTR Inc., paid $2.5 million.
San Bruno Gas Explosion (2010)– A PG&E gas pipe explosion killed eight people, injured 58 others and decimated an entire neighborhood in San Bruno. A government investigation found that PG&E's poor pipeline management was to blame for the explosion.
In 2015, the CPUC ordered PG&E to pay a $1.6 billion fine for negligence in causing the explosion. CPUC President Michael J. Picker said of PG&E's corporate culture: "Despite major public attention, ongoing CPUC investigations (OIIs) and rulemakings (OIRs) into PG&E's actions and operations, including the investigations we voted on today, federal grand jury, and California Department of Justice investigation, continued safety lapses at PG&E continue to occur."
In 2016, a federal jury convicted PG&E on five counts of violating gas pipeline safety laws and one count of misleading government investigators. Additionally, a U.S. District judge imposed a five-year probation period under the watch of a court-appointed monitor.
Court Filing by the CPUC Addressing San Bruno Gas Explosion (2013)
"PG&E engaged in a 'run to failure' strategy whereby it deferred needed maintenance projects and changed the assessment method for several pipelines from ILI to the less informative ECDA approach – all to increase its profits even further beyond its already generous authorized rate of return, which averaged 11.2% between 1996 and 2010…Thus, it is evident that while the example of [gas transmission and storage] underfunding between 2008 and 2010 might be extreme, it was not an isolated incident; rather, it represents the culmination of PG&E management's long standing policy to squeeze every nickel it could from PG&E gas operations and maintenance, regardless of the long term "run to failure" impacts. And PG&E has offered no evidence to the contrary."
Carmel Gas Explosion (2014)– A Carmel home was destroyed due to a gas explosion caused by PG&E. Prior to the explosion, the utility was attempting to replace a gas line, but lacked records showing that the steel pipe had a plastic insert.
When PG&E crews dug into the pipe to perform the replacement, the plastic insert was pierced, allowing gas to leak into the residence. California's Public Utilities Commission fined PG&E $37.3 million in penalties over the incident. Additionally, PG&E was forced to pay the city of Carmel $1.6 million to settle a lawsuit over the gas explosion.
Butte Fire (2015)– The Butte Fire burned for 22 days across Amador and Calaveras Counties. Two people died, 921 structures were destroyed and more than 70,000 acres were burned. Like the Whiskey Fire, the Butte fire started when a grey pine tree came into contact with a PG&E power line.
CPUC fined PG&E $8 million for "failing to maintain its 12kV overhead conductors safely and properly" and failing to maintain a minimum distance between vegetation and its power lines. Additionally, CalFire has asked PG&E for $90 million to cover state firefighting costs.
North Bay Fires (2017)– The fires killed at least 44 people, injured numerous others, destroyed over 8,500 structures and burned over 245,000 acres. CalFire stated that PG&E equipment was responsible for sparking at least 16 of the fires. The agency's report strongly suggested that violations of state fire safety codes could be involved in raising the possibility of criminal prosecution.
We are helping people in several ways:
We are helping people for free (pro bono) with the preparation and filing of insurance and FEMA claims. Our team can help ensure that your policy claims are properly and thoroughly prepared, so as to give your insurance company or FEMA a clear path to honestly and in good faith process your claim.
If an insurance payment, satisfactory to you, is achieved without the need for litigation, then there will be no attorneys' fees charged against that payment. However, in the event your property insurance claims become disputed and require mediation, arbitration or litigation, we will represent you for a contingent fee. We are prepared to litigate against insurance companies that dishonestly deny property claims or refuse to fulfill their legal obligations.
We are filing lawsuits as part of a mass action against PG&E.
Contact our wildfire attorneys online or by calling (855) 948-5098 today.
Why Is Wisner Baum the Right Law Firm to Handle My Case?
Our California wildfire team will determine the parties responsible for causing the Camp Fire and any resulting damage – and pursue maximum compensation under the law for our clients. We will also assist our clients in filing homeowner's insurance claims for losses and claims with the Federal Emergency Management Agency (FEMA) at no cost. At Wisner Baum, our team is completely dedicated to helping you rebuild and restore your life as quickly as possible.
Contact us today at (855) 948-5098 to explore your options with a seasoned California Camp Fire attorney.
$2.0 Billion Verdict Personal Injury

In May of 2019, the jury in the case of Pilliod et al. v, Monsanto Company ordered the agrochemical giant to pay $2.055 billion in damages to the plaintiffs, Alva and Alberta Pilliod, a Bay Area couple in their 70s.

$289.2 Million Verdict Personal Injury

On Aug. 10, 2018, a San Francisco jury ordered Monsanto to pay $39.25 million in compensatory damages and $250 million in punitive damages to Mr. Johnson, a former groundskeeper who alleged exposure to Monsanto's herbicides caused him to develop terminal non-Hodgkin lymphoma.

$265 Million Settlement Fatal Train Crash

In 2016, Wisner Baum attorney Timothy A. Loranger and six other attorneys in the Plaintiffs' Management Committee were able to secure a $265 million settlement for victims of the 2015 Amtrak 188 derailment in Philadelphia, one of the largest in the U.S. for 2016.

$105 Million Settlement Pharmaceutical Settlement

Wisner Baum obtained $105 million on behalf of multiple clients involved in a pharmaceutical negligence case.

$80 Million Verdict Personal Injury

Wisner Baum attorneys served on the trial team in the case of Hardeman v. Monsanto Company, which resulted in an $80 million jury verdict for the plaintiff, Edwin Hardeman. Client-Focused Representation
REVIEWS & TESTIMONIALS
We believe our track record speaks for itself. But you don't have to take our word for it. See what our clients have to say about working with us.
"I Can't Imagine a Better Law Firm"

Multiple lawyers recommended Wisner Baum to me and I have been consistently impressed with the quality of their work.

- Best Law Firms Survey

"They Are About Changing the Systems..."

Wisner Baum are not only amazing attorneys but more importantly, they are activists. They are about changing the systems which got us into trouble in the first place. They understand their role in the process of making change.

- Kim Witczak

"Top Legal Minds in the Country"

The Wisner Baum firm has some of the top legal minds in the country; they are driven, determined, trustworthy, ethical and passionate.

- From Best Lawyers® Best Law Firms

"Diligent & Professional Representation"

Thanks to your efforts I was able to recover from a tragic experience and turn my life around for the best.

- W.T.

"Our Best Interest Was Always Number One on Your List"

A special thank you to your Spanish-speaking staff for the extra effort put into this case. The language barrier was never a problem, and we are so very thankful to them. Your name holds much respect in our family.

- G.C. & C.C

"We Have Never Met a More Wonderful Group of People"

It is obvious that the people at Wisner Baum believe in what they do. And that you all really care about your clients.

- The B. Family

"They Worked Very Hard and Kept in Contact, Which Is Very Important to Me"

I appreciate that you care about how I feel and that you take time to use your talents to ensure your every contact with me is warmly professional.

- A.D.B.

"Your Expertise in This Field Gave Me the Utmost Trust and Confidence"

I wanted a fair settlement within an appropriate time frame, and without any public scrutiny. With your hard work and dedication, we were able to achieve those goals.

- T.O.