We are proud to share the news that four of our attorneys here at the national law firm of Baum Hedlund Aristei & Goldman have obtained Super Lawyers® Rising Stars recognition for another consecutive year. This is a major accomplishment, as no more than 2.5% of all practicing attorneys in the United States earn this recognition, annually.
In addition to his 2021 Rising Stars award, Baum Hedlund Aristei & Goldman vice president and senior shareholder R. Brent Wisner was selected for the cover of the Southern California Rising Stars magazine, and is featured in the story "The 2 Billion Dollar Man – How R. Brent Wisner landed one of the largest product-defect jury awards in history"
What Is Super Lawyers® Rising Stars?
Super Lawyers® is a legal rating service that features accomplished attorneys from all corners of the country and over 70 areas of legal practice. All listees must pass two rigorous reviews as part of the patented multiphase selection process. The Super Lawyers® research department conducts the first independent review, evaluating candidates on "12 indicators of peer recognition and professional achievement." This includes past settlements and verdicts, special licenses, bar and professional activity, pro bono and community work, and more. Then, the highest-scoring Super Lawyers® candidates thus far sit on a Blue Ribbon Panel to reevaluate other candidates within their respective fields.
Please note: Attorneys cannot nominate themselves for consideration. A third party must nominate them or the Super Lawyers® research department must identify them as an eligible candidate.
Rising Stars is the Super Lawyers® register for attorneys no older than age 40 or who have been in practice for no more than 10 years. These early career attorneys are held up to the same high standards as mid and late-career attorneys featured in the annual Super Lawyers® register.
Both Super Lawyers® and Rising Stars are distributed to attorneys and law school libraries accredited by the American Bar Association (ABA). The registers are available to the public online, as well as a special section in various magazines throughout the U.S.
Baum Hedlund's Super Lawyers Rising Stars Attorneys 2021
In the 2021 edition of Super Lawyers® Rising Stars, four Baum Hedlund Aristei & Goldman attorneys were recognized for their work in Los Angeles, CA as follows:
Our legal team congratulates these attorneys on their continuing Rising Stars recognition! We are very honored to work with these attorneys who, though being considered early career attorneys, have already achieved groundbreaking results in complex litigation. They have each exemplified premier legal skills and a deep passion for advocating for the injured, which has helped our firm win over $4 billion for our clients.
Attorney Wisner Makes Cover of Southern California Rising Stars Magazine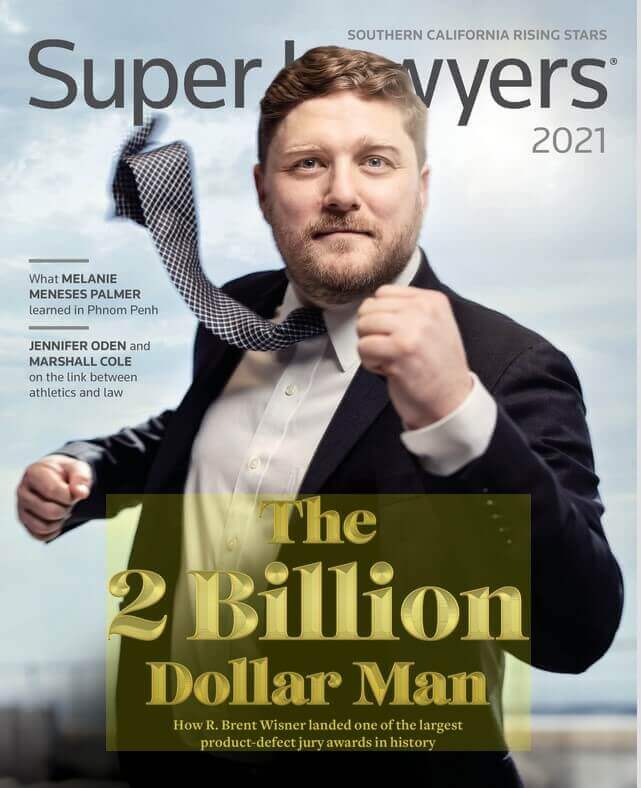 Cover photo by Dustin Snipes
Attorney R. Brent Wisner is featured on the cover of Southern California Rising Stars magazine for leading the charge in the Monsanto Roundup litigation. In 2019, Attorney Wisner served as co-lead trial counsel in Alva and Alberta Pilliod v. Monsanto Co.(Case No. RG17862702, JCCP No. 4953). He was instrumental in winning a $2 billion verdict for the plaintiffs of this case.
This was the very first Roundup non-Hodgkin lymphoma lawsuit to go to trial from the California Roundup Judicial Council Coordination Proceedings (JCCP). As a result of this record-setting verdict, Attorney Wisner became the youngest lawyer in history to win a multibillion-dollar jury verdict. According to Super Lawyers, the verdict was the eighth largest for any product-defect claim in U.S. history. While the jury verdict was reduced to $87 million, the case remains on appeal.
The court victories paved the way for Wisner to help negotiate Roundup cancer settlements worth $10.9 billion from Bayer AG, which acquired Monsanto in 2018. Wisner told Southern California Super Lawyers magazine:
"The cases showed people that we can win, and consistently win, and win as often as we could get cases to trial. So the first thing we did was we pushed every case to trial as fast as we could...The trials combined with pretty intense negotiations and the trial dates we had set up put an incredible amount of pressure on them and ultimately led to the announcement last year of $11 billion in settlements."
Colleague Jennifer Moore, who worked with Wisner in the case of Edwin Hardeman v. Monsanto Company, agreed that Wisner's trial work was a catalyst for the settlements:
"There's no doubt when you have a litigation like Roundup … and have successful verdicts, that it is going to spark settlement. His work, along with others, was the genesis of bringing justice for thousands of people."
The agreements effectively settled tens of thousands of cases in favor of those injured. As he told The San Francisco Chronicle, the settlement represented "a huge first step in correcting 40 years of glyphosate harm."
In 2021, Attorney Wisner also made the Up-and-Coming 100: Southern California Rising Stars list for a fourth consecutive time. The Top Lists showcase the attorneys who scored the highest in the multiphase selection process. Super Lawyers® considers these attorneys to be the "best of the best," per its website.
About Baum Hedlund Aristei & Goldman
Our Rising Stars-acclaimed attorneys have greatly contributed to our success here at Baum Hedlund Aristei & Goldman. Our team is proud to stand up against large corporations that have consistently put profit over public safety. Whether your case involves a dangerous pharmaceutical drug or medical device, defective consumer product, truck accident, commercial transportation mass disaster, or whistleblower retaliation, we are prepared to represent you.
To learn more, please read our Press Release. If you need the help of an award-winning attorney, get in touch with Baum Hedlund Aristei & Goldman online or at (855) 948-5098 today.