Positive Train Control (PTC) is a GPS system that works together with radar and track sensors that allow computers to remotely control a train if an operator isn't handling the locomotive correctly. The main concept behind positive train control is to avoid collisions and prevent speed derailments caused by human error.
In December of 2020, the Federal Railroad Administration (FRA) announced that PTC was, at long last, operable on 57,536 miles of freight track in the United States. Railroads also achieved interoperability between each applicable host and tenant railroad operating on tracks equipped with PTC. FRA has also certified that each host railroad's PTC system complies with the technical requirements for PTC systems.
The implementation of PTC on more than 57,000 miles of railroad track took more than a decade to achieve. The train accident attorneys at Baum Hedlund Aristei & Goldman have been calling for PTC implementation since the 2005 Metrolink train crash in California that killed three passengers.
"It is inarguable that PTC saves lives," says train accident attorney Ronald L.M. Goldman, a longtime advocate for PTC. "It is also true that the rail industry and lawmakers dragged their feet for many years on this issue. So, while it is indeed an important safety improvement to reach full implementation of this life-saving technology across many thousands of miles of track, it is bittersweet to consider the significant number of accidents that could have been avoided had the rail industry complied with the original deadlines. Unfortunately, many people died due to preventable train derailments and collisions, and even more sustained life-altering injuries. Had the industry and legislators simply made this more of a priority, those people would still be alive, and the health of others would not have been ruined."
How Does Positive Train Control Work?
Human error has been a major cause in many of the worst train accidents. PTC technology, however, will prevent many types of human error from causing accidents.
The PTC network consists of communication from three different devices:
Centralized Office Dispatch Systems: Provide movement authority and restriction information.
Onboard Computer System: Equipment on the train that receives and interprets the information from dispatch and compares the information against the train's location.
Wayside 'Ping' Units: Equipment that runs along tracks monitor and report switch positions and signal indications to both dispatches and onboard computer systems.
Before a train departs on a trip, the onboard computer system downloads information on the route from centralized office dispatch. This information includes posted speed limits on the route along with any potential hazards.
As the train travels, it is in constant contact with dispatchers via the onboard computer and trackside ping units (these units may also be built into the track itself). These ping units are connected to both dispatchers and the train's onboard computer via a radio network, so both dispatch and the train are always aware of speed and location.
If the train is moving too fast for an area, the onboard computer sends a warning to the engineer. In the event of an emergency, the PTC system can override the actions of the engineer and slow or stop a train by remotely applying the brake system.
Since the system always knows where each train is, PTC can also prevent collisions between two trains, keep trains from mistakenly going through work zones and stop trains that have mistakenly gone through a signal or when a switch has been left in the wrong position.
Among the crashes that can be prevented with Positive Train Control:
Crashes linked to excessive speed;
Train-into-train crashes;
Train travel on unauthorized sections of track (such as where maintenance is being done); and
Train travel guided by improperly set track switches.
Positive Train Control Legislation
For years, Positive Train Control was on the National Transportation Safety Board's 'Most Wanted List'. In the wake of several devastating train crashes between 2002 and 2008, Congress passed the Rail Safety Improvement Act of 2008 (RSIA), which mandated that PTC be implemented across a significant portion of the country's rail industry by the end of 2015.
Not long after the RSIA was signed into law, the rail industry began a fervent lobbying campaign to push the PTC deadline back. The rail industry spent a reported $316 million in lobbying efforts in Washington D.C., and contributed $24 million to the reelection campaigns of numerous members of Congress.
As the deadline approached, the railroads warned of a "transportation crisis," saying certain freight and passenger lines would need to be shut down, resulting in $30 billion in losses to the American economy, if the PTC deadline was not extended.
"Positive Train Control will protect passengers and prevent future tragedy yet the industry and Congress have dragged its feet causing needless death and destruction," said attorney Ronald L. M. Goldman at the time.
In October of 2015, the rail industry got what they lobbied for. Led by the efforts of Transportation Committee Chairman Bill Shuster (R-PA), the House attached a PTC deadline extension to a must-pass highway funding bill. "We need to extend the Positive Train Control Deadline as soon as possible to prevent significant disruptions of both passenger and freight rail service across this country," said Shuster, who himself accepted nearly half a million dollars in campaign contributions from the rail industry between 2001 and 2015.
The highway bill passed, granting the railroads a new deadline for PTC implementation. The rail industry had until December 31, 2018 to implement PTC, with the possibility of two additional years tacked on for testing purposes. In December of 2020, the FRA announced that all required rail lines were equipped with PTC.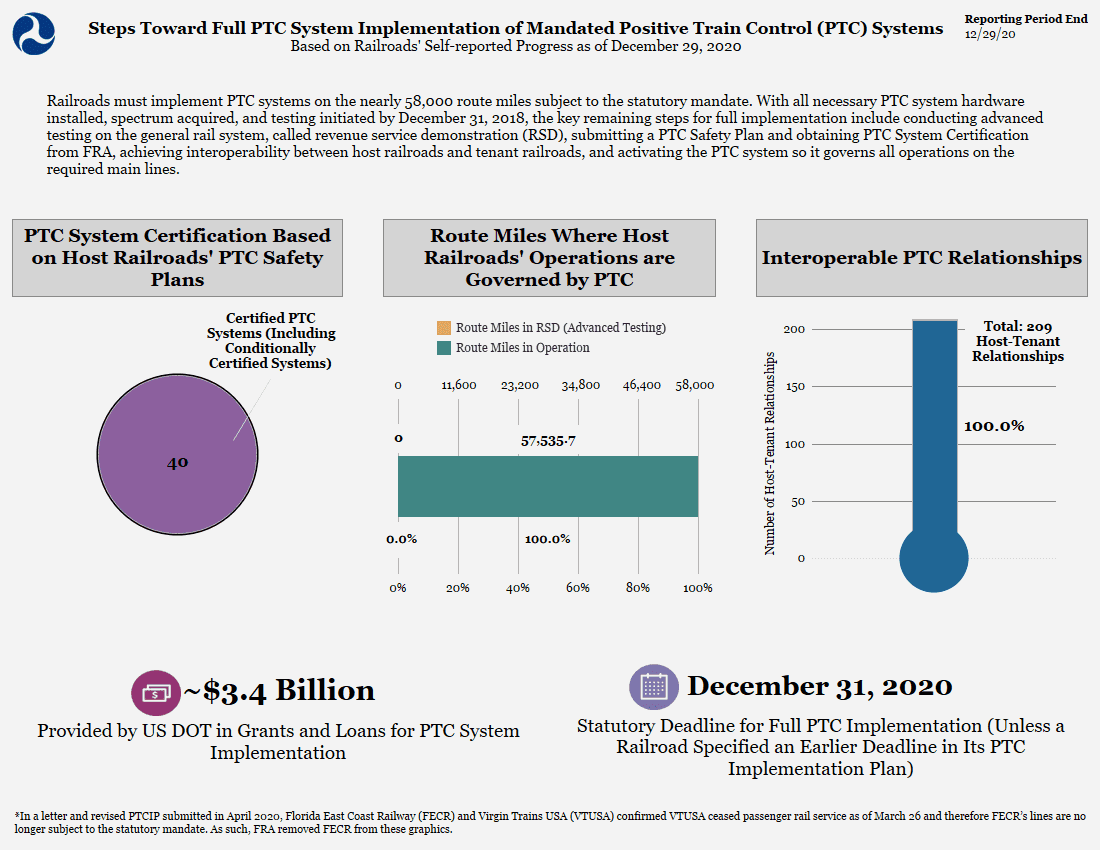 Crashes That Could Have Been Avoided if PTC Had Been Implemented
According to NTSB statistics, PTC could have prevented 145 train accidents between 1969 and 2015. Those accidents killed 288 people and injured 6,574 others. Safety experts have indicated that the following train accidents could have been avoided had PTC been implemented:
Amtrak Train Crash in South Carolina Kills Two, 100+ Injured (February 4, 2018) – Amtrak Train 91 was diverted onto a side track where it collided with an idle CSX freight train. The collision killed two train crew members and left over 100 other people with injuries. "An operational PTC system is designed to prevent this kind of accident," said NTSB chairman Robert Sumwalt in the aftermath of the crash.
Three Dead, Dozens Injured in Washington Amtrak Derailment (December 18, 2017) – Amtrak Train 501 derailed going roughly 50 mph above the posted speed limit. The train was not equipped with PTC, which officials say would have prevented the disaster.
One Killed, More Than 100 Others Injured in Hoboken Train Accident (September 29, 2016) – A New Jersey Transit train was reportedly going twice the speed limit when it slammed into a concrete bumper block as it entered Hoboken Terminal. The train was not equipped with PTC, which safety experts believe would have stopped the train from crashing.
Three Dead in Texas Panhandle Freight Train Crash (June 28, 2016) – Two Burlington North Santa Fe freight trains collided in the Texas Panhandle, killing three train crew members. The sequence of events that led to the deadly train accident started when one of the train crew members missed a signal. According to a BNSF spokesman, the accident could have been avoided if PTC had been implemented.
Eight Dead, Over 200 Injured in Philadelphia Amtrak Train Crash (May 12, 2015) – The New York-bound train was traveling over 100 miles-per-hour in a 50-miles-per-hour zone when it reached a curve and derailed. While the investigation into the Philly crash is still underway, Robert Sumwalt of the National Transportation Safety Board (NTSB) said "this accident would not have occurred" if PTC had been installed. With respect to Train 188, it could have assessed the high speed and the approaching curve, determined that the train could not stay on the tracks at that speed in that curve, and slowed the train to a safe speed well before it started its way around the curve.
Six Killed, More Than a Dozen Hurt in New York Metro-North Train Crash (February 3, 2015) – A Metro-North train collided with an SUV sitting on the tracks at a crossing. In the wake of this tragedy, New York Representative Sean Maloney said new technology "could have minimized the tragic outcome" of the fatal Metro-North accident. The PTC system would likely have recognized the hazard and stopped the train well before the crossing.
Four Dead, at Least 61 Injured in Metro-North Train Crash in the Bronx (December 1, 2013) – The commuter train was going roughly 83 miles-per-hour in a zone where the speed limit was 30 miles-per-hour. The train derailed at a curve. According to NTSB findings, PTC would have averted the fatal Metro-North derailment.
25 People Killed, 135 Others Injured in Chatsworth, California Metrolink Train Crash (September 12, 2008) – A Metrolink train went through a red light and collided head-on with a freight train. An investigation revealed that the conductor was text messaging and failed to see the red light. Federal Railroad Administrator Joseph H. Boardman told a reporter just a few days after the fatal crash that PTC "would have stopped the train before there was a collision."
More About Positive Train Control
Train Crashes and Groundhog Day – Baum Hedlund Aristei & Goldman
NTSB Releases Final Report on Why Amtrak 188 Crashed – Baum Hedlund Aristei & Goldman
Frankford Junction: One of the Northeast Corridor's Most Dangerous Stretches of Track – Baum Hedlund Aristei & Goldman
Amtrak Train 188 Crash in Philadelphia – Baum Hedlund Aristei & Goldman
Amtrak Crash Illuminates Obstacles to Plan for Controlling Train Speeds – Baum Hedlund Aristei & Goldman
Yet again, a federally mandated safety technology might have prevented a major train disaster – The Verge
Lawmakers Approve Markup Bill Delaying the Implementation of Positive Train Control – Baum Hedlund Aristei & Goldman
Make the Rails Safer – Los Angeles Times
Crash Victims Expose Metrolink's Failed Promises – Baum Hedlund Aristei & Goldman