Los Angeles, California – The husband and adult children of an Oregon woman are suing Food Express, Inc. of Arcadia, California for negligence and wrongful death.

Robin Rae Udey was killed when Ronald Jory, operating a Kenworth tractor hauling two tanker trailers for Food Express, Inc., lost control of his vehicle while eastbound on a snow and slush-covered Oregon highway in January.  The tractor double trailer rig then crossed the center line into oncoming traffic, killing Mrs. Udey.  This needless calamity has devastated the Udey family and has forever deprived Raymond Udey, Robin's husband, and their adult children, Ginny Wood and James Udey, of their loving and dedicated wife and mother.
On the morning of January 25, 2010, Robin Rae Udey was driving her Toyota 4-Runner westbound on U.S. Highway 26 in Wasco County, Oregon. It was a cold winter day and the road conditions required reduced speed and extreme caution. Also traveling on Highway 26 at that time was a Food Express. Inc., commercial truck pulling two loaded tanker trailers.  According to witness accounts, the truck driver was operating the double tanker at dangerously fast speeds.  At around 7:44 a.m., the tractor-trailer lost control while approaching a curve and crossed the center line.  The truck then slid into the westbound lane and collided with Mrs. Udey's car head-on.  She was pronounced dead at the scene.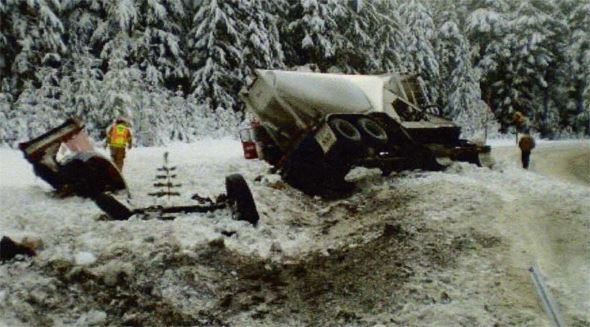 Robin Udey, 54, was an Equal Employment Specialist for the U.S. Forest Service where she had worked for nearly 30 years.  She enjoyed fishing, hunting, traveling, and, most of all, being with her family.
The wrongful death lawsuit was filed in the Superior Court of California for the County of Los Angeles, Case No. BC-446914, against Food Express, Inc., by attorneys Paul J. Hedlund and Robert F. Foss of Baum Hedlund Aristei & Goldman of Los Angeles. The lawsuit seeks unspecified damages.
According to the complaint, Food Express, Inc. was negligent, careless and reckless in the hiring, training, and supervision of truck driver Ronald Jory, among other things, and that they knew, or reasonably should have known that Jory was incompetent or unfit, and had reason to believe he posed an undue risk of harm to other persons or property in the performance of the work entrusted to him. The lawsuit also asserts that Jory drove the truck at speeds greater than were reasonable or lawful under the conditions present that day.
"Here we have a Washington truck driver, hauling goods for a California company, crashing his rig in Oregon, resulting in a tragedy which has completely devastated this family. Truck driver discipline is a huge problem and unsafe and illegal interstate trucking practices must be eliminated. Hopefully, lawsuits such as ours and other corrective measures will help bring about needed change and avoid the senseless destruction of lives," stated Paul J. Hedlund, attorney for the Udey family.
Baum Hedlund Aristei & Goldman is located in Los Angeles, Washington, D.C., and Philadelphia and has been handling commercial truck accidents for more than 20 years. They have handled over 165 truck accidents across the country.
If you have any information about this incident or the parties involved, please contact Paul Hedlund or Robert Foss.