January 19, 2011, Detroit, Michigan  — The family of a young Canadian boy severely injured when he was run over by a snow groomer in 2008, has filed a personal injury lawsuit against the Michigan-based ski area, Mt. Brighton, Inc., and the driver of the snow groomer, Robert Sturgis.
Baum Hedlund Aristei & Goldman, a Los Angeles-based national law firm, filed the lawsuit on behalf of Austin Miles and his family, alleging that the ski area and Robert Sturgis violated The Michigan Ski Area Safety Act as well as acted negligently and recklessly in causing Austin's injuries, which required numerous surgeries and extensive treatment.
On January 30, 2008, twelve-year-old Austin Miles, who was on a school field trip with a group of over 100 students from Canada, had just skied down a beginner slope at Mt. Brighton when a snow groomer, driven by Sturgis in front of the lodge, ran over Austin and wrapped his left leg around the machine's rotating tiller.
The snow groomer's tiller, which is used to groom the snow, consisted of a heavy, hydraulically operated, metal rotating cylinder, 14 feet long and 1 ½ foot in diameter, with metal teeth.
The snow groomer dragged Austin over 200 feet in front of the lodge while bystanders yelled at the driver to "stop!"  Austin feared for his life and was in excruciating pain as his leg was being broken in multiple places.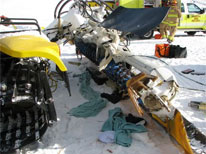 When the groomer finally stopped, Austin could see the bottom of his ski boot with the toe pointing downward towards his waist.
Austin's mother, stepfather, and sister saw Austin trapped in the groomer and ran over to him.
When the crew from the Brighton Area Fire Department arrived, they found Austin's stepfather holding him.  Paramedics from the University of Michigan Hospital were also called to the scene. The emergency medical technicians sedated Austin.  He remained unconscious for at least an hour during the rest of the rescue operation.
Austin was trapped in the groomer for approximately 90 minutes while rescuers worked to free him and save his leg as his family watched in horror.  With the help of the Corrigan Oil Company, a local business that had special steel-cutting equipment, a last-ditch effort to save Austin's leg was successful.
Once freed, Austin was rushed to the University of Michigan Hospital where he underwent several surgeries in an attempt to repair his multiply fractured and fragmented leg, including the insertion of plates and screws.  He remained in critical condition for several days.  As a result of this accident, Austin has suffered, and continues to suffer from, severe physical and emotional injuries.
The lawsuit, filed in U.S. District Court for the Eastern District of Michigan (Detroit) case number 11-10233, alleges that Mt. Brighton and Robert Sturgis negligently operated the large snow groomer across the base of the novice ski area and in front of the lodge while the tiller was down and rotating subjecting patrons and young children to needless risk and life-threatening danger.
The lawsuit also alleges that Mt. Brighton failed to post the required notices warning skiers and patrons that snow grooming operations were being performed, and operated the snow groomer without the required flashing or rotating lights.
According to the complaint, the snow groomer's windshield was dirty and the left plane mirror was cracked and dirty at the time of the accident, which caused reduced visibility and blind spots. Sturgis told police that he never saw Austin.
"Mt. Brighton contends that the Michigan Ski Area Safety Act protects them from any liability whatsoever for this horrendous incident.  We contend that it does not.  Skiers understand that there are certain risks involved in skiing.  However, getting struck and severely injured by a snow groomer operating in a public area that is not cordoned off in front of the lodge, is not one of them," stated attorney Robert Foss, from Baum, Hedlund's Los Angeles office. "This machine had no business being in that area.  What started as a family day of fun, ended up in severe injury and permanent disability to Austin and psychological damage to his family."
Life after the accident has not been easy for Austin, who has endured weeks of hospitalization, numerous surgeries and months of physical therapy.  His rehabilitation caused him to miss the remainder of his school year.
Austin still experiences pain and discomfort in his leg, which is visibly bowed.  More surgeries may be required and his future will always be uncertain.
The lawsuit is seeking unspecified damages to compensate Austin and his family.
Baum Hedlund Aristei & Goldman has investigated and represented individuals and families in more than 7,000 personal injury and wrongful death cases across the nation.  Austin Miles and his family are also represented by Baum, Hedlund's Michigan co-counsel, Andrew S. Muth.