We are no longer accepting OP-1 Putty medical device cases.
Cambridge, Massachusetts, April 14, 2015 – – A New Mexico woman has filed a product liability lawsuit in Superior Court of Massachusetts against medical device manufacturer Stryker®, alleging her serious and disabling injuries were caused by the illegal off-label promotion and use of a Stryker medical device called OP-1 Putty.
Plaintiff Amber Martin claims in her lawsuit that defendants Stryker® Biotech, LLC of Massachusetts, a subsidiary of Stryker® Corporation, and Stryker® Corporation of Michigan, are strictly liable for the injuries she suffered as a result of unapproved spine surgery. The case number is 1581 CV 02463.
The complaint includes seven counts plus punitive damages claims:
Strict Liability – Failure to Warn
Strict Liability – Design Defect
Fraud
Violation of New Mexico Unfair Practices Act
Negligence
Breach of Express Warranty
Breach of Implied Warranty
Amber Martin underwent surgery in January 2006 at Gerald Champion Regional Medical Center in Alamogordo, New Mexico, to address back pain issues she sustained as a result of a fall. Without her knowledge, surgeon Frank Bryant, M.D. implanted a Stryker® Biotech device called OP-1 Putty in an unapproved manner, by among other things mixing OP-1 with a synthetic bone void filler.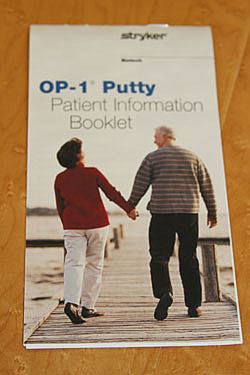 OP-1 Putty is a bone morphogenetic protein (BMP) whose efficacy has never been established but is believed to help stimulate bone growth in revision spinal surgeries. Dr. Bryant's use of OP-1 was and is considered "off-label," as OP-1 was never approved by the FDA for use in the interbody disc space (where the OP-1 was inserted in Ms. Martin) and had not been approved to be mixed with other products (such as autograft bone and/or synthetic bone void fillers).
According to the allegations, Stryker® knew that the mixture of OP-1 with synthetic bone void fillers was ineffective and would result in the migration of the OP-1 away from the surgical site. This shift results in the formation of bone in undesirable areas, including formation of bone over nerves which could lead to nerve damage, pain, and serious injury.
Also, according to the allegations, some executives within the company, including a senior manager and the vice president of regulatory affairs, drafted a proposed "Dear Doctor" letter to warn surgeons not to mix OP-1 with unapproved devices such as synthetic bone void fillers because of the adverse experiences associated with the unapproved preparation of OP-1.
However, the lawsuit alleges, the National Sales Director at Stryker Biotech, and others in sales management, decided against sending out the "Dear Doctor" letter and allegedly wrote a memo saying it would hurt sales and anger surgeons who had been misled because "many surgeons are just handed the product prior to implantation and think it's all OP-1." The memo also stated that it would cause Institutional Review Boards (IRBs), whose mission is to protect patients, to cease all OP-1 usage.
Therefore, according to Ms. Martin's allegations, Stryker never issued any timely warnings regarding such risks and instead continued to impermissibly promote the use of OP-1 with synthetic bone void fillers, because they believed that OP-1 on its own had poor volume and insufficient handling and would not be used by surgeons unless Stryker could recommend it being mixed with such extenders and volume enhancers.
Because the efficacy of OP-1 has never been scientifically established, Stryker® had to make sure that an IRB for a hospital approved the use of OP-1 before it could sell the product. An IRB is a committee within a hospital that is responsible for, among other things, overseeing and approving human experimentation, approving human clinical trials, and approving the use of experimental/humanitarian medical devices such as OP-1 Putty. The Complaint alleges that when Stryker® employees came across hospital IRBs that would not approve or renew the use of OP-1, some Stryker employees would at times falsify or forge IRB records in order to continue selling OP-1 at those hospitals.
Ms. Martin alleges that, at the time she had her OP-1 surgery at Gerald Champion Regional Medical Center, the IRB for this hospital had not approved or renewed the use of OP-1, rather, a Stryker® employee had falsified the IRB's approval.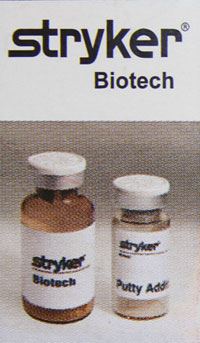 As a result, Ms. Martin was implanted with OP-1 in an unapproved off-label manner, causing her permanent, severe, disfiguring, disabling, and debilitating injuries, according to the complaint allegations. Specifically, she claims that the mixture of OP-1 and the synthetic bone void filler eventually migrated away from the surgical site and into Ms. Martin's spinal canal and that she began to develop unwanted/ectopic bone over her nerve roots, which required an unsuccessful remedial surgery.
Ms. Martin has never recovered from her injuries, the ectopic bone growth, and her nerve damage. Her injuries have left her permanently disabled wherein, despite being in her late thirties, she is no longer able to work, requires the daily assistance of a home nurse, and lives in constant pain.
Her lawsuit alleges that Stryker® failed to adequately warn the public about the risks and lack of effectiveness of OP-1 and that the design of OP-1 was unsafe, defective, and unreasonably dangerous. Further, that Stryker® negligently misrepresented the safety of OP-1 and engaged in a widespread illegal marketing campaign in which Stryker® employees urged the use, purchase, and off-label utilization of OP-1. And finally, it claims that Stryker® expressly and impliedly warranted to physicians and other members of the general public that such a use of OP-1 Putty, and its mixture with unapproved devices, was safe and effective even though the company allegedly knew otherwise.
About Baum Hedlund Aristei & Goldman
Bijan Esfandiari of Baum Hedlund Aristei & Goldman is the lead attorney representing Ms. Martin in her lawsuit against Stryker®
Baum Hedlund Aristei & Goldman has successfully represented thousands of clients in defective medical device and pharmaceutical injury cases, including illegal and off-label use of drugs and devices. The firm has developed a reputation for holding Fortune 500 companies accountable, raising public awareness, influencing public policy, and improving product safety.
The firm has recovered over $1.4 billion for its past clients in all areas of practice. They are listed in Martindale-Hubbell's Bar Register Preeminent Lawyers, The Best Lawyers in America®, Top Ranked Law Firms™ and U.S. News & World Report Best Lawyers® Best Law Firms and five lawyers are listed in the Nation's Top One Percent, National Association of Distinguished Counsel.**
**Baum Hedlund's past performance, verdicts or settlements do not constitute a guarantee, warranty, or prediction regarding the outcome of your legal matter. Past results obtained or overall performance must be confined to that particular case, its factual and legal circumstances, and legal surroundings. Every case is different and must be judged on its own merits.