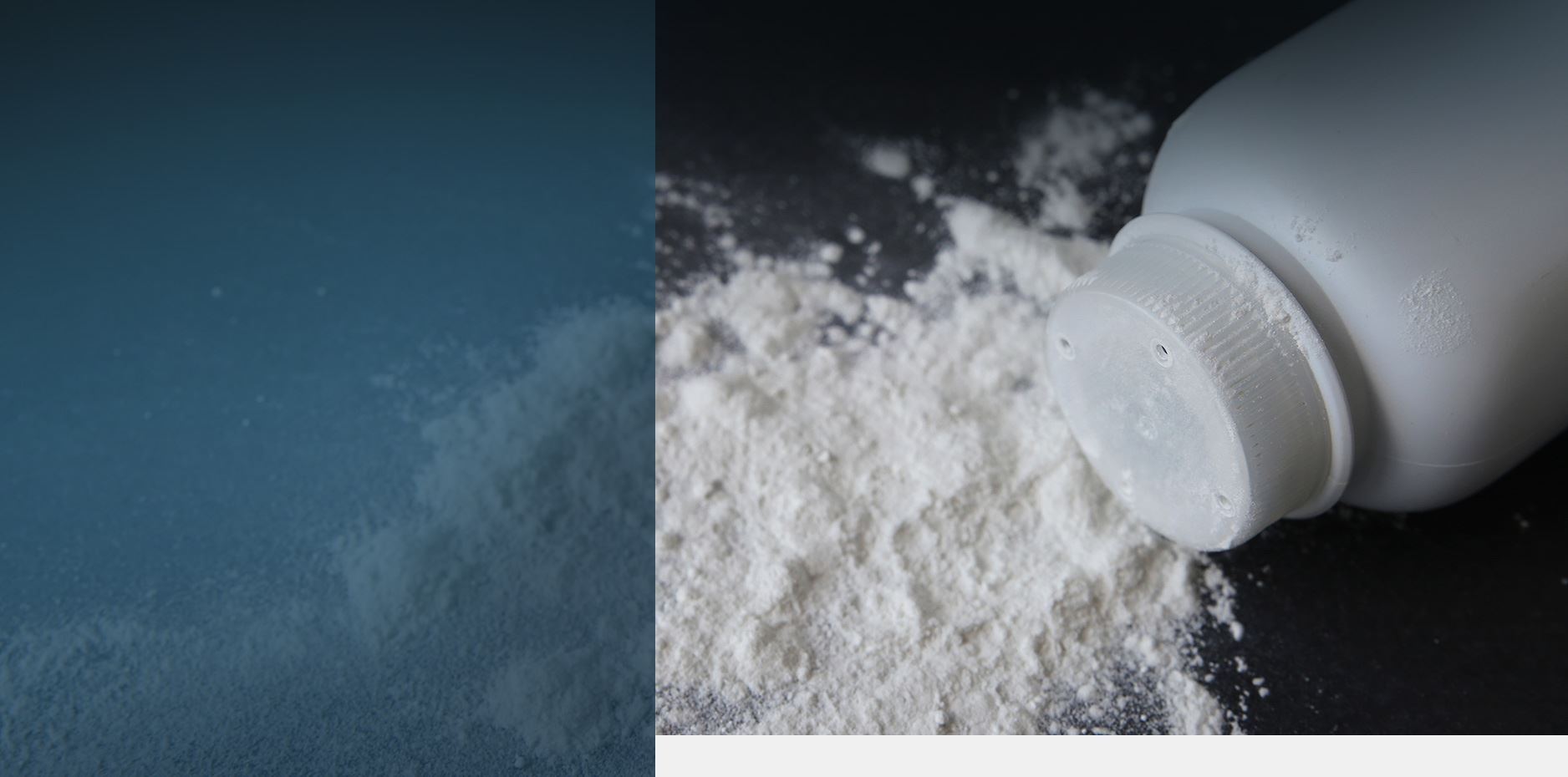 Ovarian Cancer Talcum Powder Client Focused. Trial Ready. Billions Won.
You Won't Pay Unless We Win

Our personal injury firm is dedicated to fighting for the rights of our clients and obtaining maximum compensation on a contingency basis.

Over $4 Billion Won For Our Clients

Our history of success reflects our relentless pursuit of justice and unwavering dedication to achieving the best possible outcome for every case we handle.
JOHNSON AND JOHNSON TALCUM POWDER LAWSUIT
The award-winning legal team from Wisner Baum represents clients from across the nation in talcum powder lawsuit claims against Johnson and Johnson. The lawsuits allege that prolonged use of Johnson and Johnson Shower to Shower, Baby Powder, and other talc products can cause ovarian cancer and that J&J failed to warn the public about the health risks.
On April 4, 2023, Johnson and Johnson announced that it would pay an $8.9 billion talcum powder settlement to resolve lawsuits filed by tens of thousands of people. The proposed Johnson and Johnson baby powder settlement would be paid out over 25 years through a subsidiary, which filed for bankruptcy. This maneuver, commonly referred to as a "Texas Two-Step," allows a company to continue operating while it restructures assets.
On July 28, 2023, a federal judge shot down the company's efforts to resolve the talc lawsuits in bankruptcy. With the ruling, a wave of talcum powder lawsuits have been filed in a federal multidistrict litigation (MDL).
As of October 2023, nearly 50,000 talcum powder lawsuit cases are consolidated in the MDL. Roughly 11,000 cases were filed in the five weeks after the J&J bankruptcy stay was lifted in July. There are also cases pending in California state court.
Wisner Baum talcum powder lawyers provide free and confidential J&J baby powder lawsuit evaluations. Contact us or call (855) 948-5098 today.
How Do I File a Talcum Powder Lawsuit against J&J?
Our firm is currently reviewing and accepting claims from women who developed ovarian cancer after using Johnson & Johnson's Baby Powder and other talc products for feminine hygiene. We are also prepared to file wrongful death lawsuits on behalf of family members who have lost a wife or a mother to ovarian cancer stemming from talc powder use.
Wisner Baum has successfully handled thousands of cases, securing over $4 billion in verdicts and settlements for our clients. With decades of experience handling personal injury and wrongful death cases, our firm has developed a reputation for holding Fortune 500 companies accountable, improving product safety, influencing public policy, and raising public awareness on the dangers of consumer products.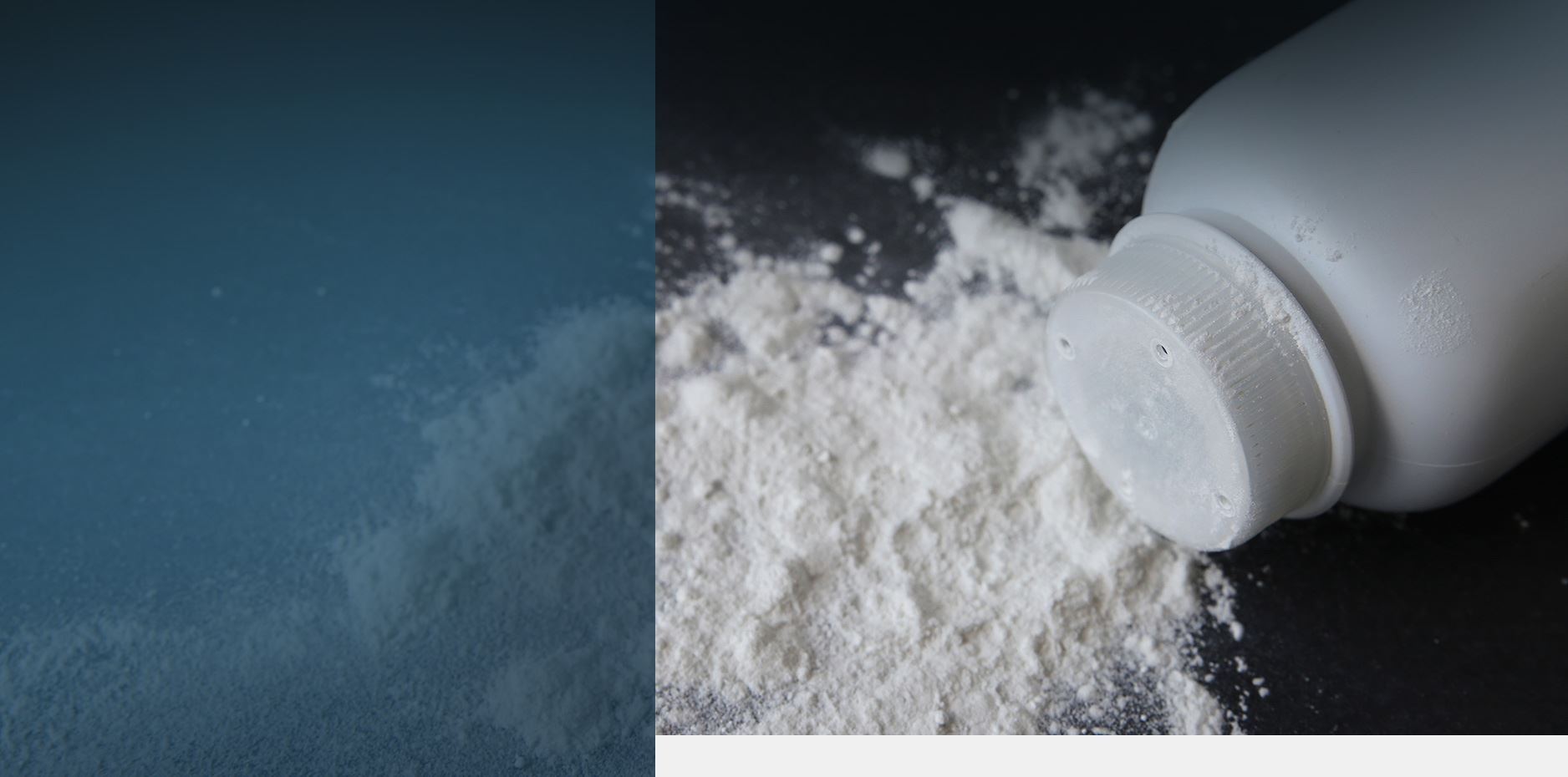 CALL

(855) 948-5098
Contact our experienced attorneys to learn about your legal options. Your consultation is free and confidential.
talcum powder brands named in lawsuits
The talcum powder lawyers at Wisner Baum have been investigating claims connected to several baby powder products. Companies named in talcum powder lawsuits include:
Johnson & Johnson
Colgate-Palmolive
Imerys Talc North America
Whittaker, Clark & Daniels
Vanderbilt Minerals
Some of the talcum powder products implicated in baby powder lawsuits include:
Johnson's Baby Powder
Shower to Shower
Gold Bond No Mess Powder Spray
Gold Bond Body Powder
Gold Bond Extra Strength Body Powder
Old Spice powder
Some talcum powder retailers have also been named in lawsuit claims, including:
CVS
Target
Walgreens
Walmart
Please note that some of the above-named companies and products were sued over mesothelioma claims, not ovarian cancer.
Talcum Powder Lawsuit Update
October 13, 2023: Talcum powder lawyers in California have filed a motion to move forward with bellwether trials selected by the plaintiff's leadership. The attorneys are making a concerted effort to bring their clients justice after years of protracted litigation, mostly due to J&J's tactics. Per the motion filed this week:
The attorneys added that during J&J's bankruptcy stay, 77 women with talcum powder lawsuits filed in California passed away. "Had J&J not attempted its twice-failed bankruptcy ploy, the originally contemplated bellwether trials would have been long over and some of those plaintiffs that passed away may have seen their day in court. In the interests of justice, the Court should not deprive these terminally ill women of their day in court because of the delay caused by J&J's "bad faith" bankruptcy filings."
July 29, 2023: A federal judge dismissed Johnson and Johnson's attempt to resolve many thousands of talcum powder lawsuits via bankruptcy. The judge ruled that the company's talc subsidiary, LTL Management LLC, did not meet the standards needed to proceed with the Chapter 11 filing. A prior filing was also dismissed on the same grounds.
April 13, 2023: Johnson and Johnson agreed to a talc settlement worth $8.9 billion over 25 years. While that figure sounds like a lot of money, it may not be enough to fully and fairly compensate the many thousands of individuals who received a cancer diagnosis after using talc products. If jury verdicts in talc lawsuits are any indication, plaintiffs have every right to demand more compensation.
February 9, 2023: Johnson & Johnson has indicated it will appeal the Third Circuit's decision to reject the company's bankruptcy gambit. The talcum powder lawyers at Wisner Baum believe the company will be unsuccessful in this endeavor and the cases will continue to move forward.
Other talcum powder lawsuit news to report today – a new judge has been assigned to handle the talc litigation. The Honorable Judge Michael A. Shipp for the U.S. District of New Jersey will preside over this new stage of the litigation. The order came after Judge Freda L. Wolfson's retirement. Judge Wolfson presided over the talcum powder litigation for roughly seven years.
Unless J&J is able to get the bankruptcy stay continued while awaiting whether SCOTUS will take up its appeal, we believe Judge Shipp will revive the bellwether process, which means trials that were previously postponed will be rescheduled.
January 31, 2023: The U.S. Court of Appeals for the Third Circuit has rejected Johnson & Johnson's attempt to offload its liability in baby powder lawsuits by transferring them to a subsidiary company and filing for bankruptcy. In its ruling, the Third Circuit held that LTL Management—the subsidiary company J&J created to transfer thousands of talcum powder lawsuit claims and file for bankruptcy—was not eligible for bankruptcy protection because LTL Management was not in "financial distress," and thus the bankruptcy was not filed in good faith.
How does the J&J bankruptcy decision affect talcum powder lawsuits? First, the bankruptcy filing placed a stay on claims, meaning that baby powder lawsuits were on hold and no new lawsuits could be filed. With the Third Circuit's decision, the stay is lifted and proceedings in the pending talcum powder lawsuits can resume. It also means new talc lawsuits can be filed.
September 19, 2022: The New Yorker published an outstanding piece detailing Johnson & Johnson's marketing of its baby powder products, the talc litigation, and the company's brazen attempt to manipulate its liability via bankruptcy proceedings. The article includes background on Deane Berg's talcum powder case, the first to go before a jury. Prior the trial, Berg told the New Yorker that J&J offered her a six-figure settlement agreement. Berg asked if the company would add a warning label to its baby powder? No, J&J's lawyers said, then upped their settlement offer, contingent on Berg never saying that talcum powder caused her cancer (per the New Yorker, J&J denies Berg's memory of the events). Berg, courageously said: "If you're not going to put a warning on the powder and you're not going to tell women, I'll see you in court."
August 11, 2022: Johnson and Johnson announced that it will no longer sell baby powder products globally in 2023. J&J removed baby powder products from the U.S. and Canada in 2020 based on the growing number of baby powder lawsuits. According to Reuters, J&J is facing 38,000 talcum powder lawsuits alleging asbestos contamination caused cancer. A 2018 Reuters investigation uncovered that J&J had known for decades about asbestos contamination in their baby powder products.
July 20, 2022: Talcum powder cancer lawyers representing plaintiffs filed an appeal to challenge Johnson and Johnson's attempt to shield its liability via the bankruptcy process. Oral arguments are likely to occur in the fall.
May 22, 2022: Johnson & Johnson shareholders recently voted on whether or not the company should cease sales of its baby powder products. Despite the jury verdicts finding talcum powder exposure caused several women to develop ovarian cancer, shareholders voted to continue selling baby powder.
February 25, 2022: A federal judge has allowed Johnson & Johnson to proceed with a controversial bankruptcy filing that talcum powder attorneys say is a bad faith effort to avoid responsibility for allegedly causing thousands of women to develop ovarian cancer. Judge Michael Kaplan acknowledged that his ruling would cause frustration but noted that bankruptcy would offers an efficient remedy for the talc litigation. The ruling effectively places talcum powder lawsuits on hold and stops new claims from coming in, a significant win for one of the world's richest corporations.
Facing 38,000 talcum powder lawsuits, J&J created a subsidiary company called LTL Management under Texas State law, assigned the new company legal liability for the litigation, then filed for bankruptcy. The maneuver, known as the "Texas Two-Step," has drawn scrutiny from the legal community as well as members of Congress.
"We need to close this loophole for good," said Senator Dick Durbin (D-IL) earlier this month. "Bankruptcy is supposed to be a good-faith way to accept responsibility, pay one's debts as best you can, and then receive a second chance, not a Texas two-step, get-out-of-jail-free card for some of the wealthiest corporations on earth like Johnson & Johnson."
Talcum powder lawyers representing plaintiffs said they will appeal the judge's ruling.
October 21, 2021: Johnson & Johnson has made a controversial maneuver to avoid responsibility in the talcum powder litigation. Using Texas law, the company created a subsidiary called LTL Management, which the company used to absorb all of its talc-related liabilities. Last week, LTL filed for bankruptcy, thus drastically limiting plaintiffs' ability to recover damages in the talcum powder litigation. Instead of being able to pursue damages against one of the world's largest corporations, plaintiffs may be forced to pursue damages against a smaller spinoff company created by J&J.
Lindsey Simon, a bankruptcy expert at the University of Georgia School of Law, recently published a paper on this corporate practice entitled, "Bankruptcy Grifters." According to Simon, Johnson & Johnson and other wealthy corporations receive the benefits of Chapter 11 protection while "incurring only a fraction of the associated burdens." Simon also told NPR that the maneuver gives Johnson and Johnson significant advantages in negotiations that are likely to follow over a potential talcum powder settlement.
Research on Talcum Powder and Ovarian Cancer
Talcum powder is made from the mineral talc, which is an ingredient in a wide variety of products we use each and every day. When talc is crushed into a powder, it can absorb moisture, oils and odor, making it popular for use in bath and body products. Talcum powder can also be used as a lubricant or an astringent on human skin.
According to Bloomberg, researchers discovered the possibility of a link between talcum powder and ovarian cancer about 45 years ago. Johnson & Johnson, which brought in an estimated $374 million in 2014 from talcum product sales, has denied this link for decades despite the growing body of peer-reviewed research underscoring the ovarian cancer and talcum powder link.
Below are some of the major talcum powder cancer studies:
The results of the last three studies prompted the World Health Organization (WHO) to classify talc as a "possible human carcinogen." It should be noted that the studies listed above are not the only ones to find a link between baby powder and ovarian cancer. Since 1982, there have been 20 other epidemiological studies finding that long-term use of baby powder for feminine hygiene increases one's risk of developing ovarian cancer.
What is the largest Jury Verdict Awarded so Far for a Talcum Powder case?
In July 2018, a jury in St. Louis, Missouri issued a landmark $4.69 billion verdict for the plaintiffs, who include 22 women and their families. The women allege their ovarian cancer was caused by J&J talcum powder products contaminated with asbestos. Discovery documents presented during the trial show that J&J knew for decades about the talcum powder asbestos contamination but fought to keep the information from going public.
Johnson & Johnson asked the judge who presided over the St. Louis case to toss the jury verdict. In an order, Judge Rex Burlison wrote that "substantial evidence was adduced at trial of particularly reprehensible conduct" by J&J, including evidence that the company "knew of the presence of asbestos in products that they knowingly targeted for sale to mothers and babies, knew of the damage their products caused, and misrepresented the safety of these products for decades."
In June of 2020, an appeals court judge reduced the verdict amount to $2.12 billion. J&J again appealed, but a Missouri court refused to hear the case. The company has stated that it will take the case to the Supreme Court.
Contact a Los Angeles talcum powder attorney at Wisner Baum. To learn more about filing a talcum powder lawsuit, give us a call at (855) 948-5098 today.
Can I File a Talcum Powder Lawsuit?

The answer to this question hinges on how strongly your ovarian cancer can be traced to feminine hygiene use of talcum powder. If you used talcum powder for feminine hygiene over the course of many years and developed ovarian cancer, you may have a case against Johnson & Johnson. The duration of talcum powder use does not necessarily validate a claim, which is why it is in your best interest to consult with a talcum powder attorney who can investigate your case and determine if you have a claim.

What Are the Symptoms of Ovarian Cancer?

While the early stages of ovarian cancer can be symptomless, women often report the following before their diagnosis: abdominal bloating, abdominal swelling, abdominal or pelvic pain, frequent need to urinate and difficulty eating or feeling full quickly. Other symptoms of ovarian cancer include: weight loss, back pain, constipation, fatigue, pain during sex, menstrual changes, and vaginal bleeding after menopause.

Who Makes Talcum Powder Products?

The largest manufacturer of talcum powder products is Johnson & Johnson (J&J), which rolled out its first talc-based product back in 1893. Sales of the company's talcum powder products amounted to roughly $374 million in 2014 alone.

How Is Talcum Powder Used?

Talcum powder absorbs moisture, so it is widely used on babies to prevent diaper rash, as an additive in latex gloves, in cosmetics, and in bath and body products. The most iconic of these is Johnson & Johnson's Baby Powder – their signature product and the target of the most recent lawsuits.

How is Talcum Powder Made?

When talc is crushed into a fine powder, the resulting substance can absorb moisture, oils and odor, which makes it a common ingredient for use in bath and body products, particularly baby powder. While talcum powder remains a popular product, especially among women, the medical community has long expressed concern about the potential health effects associated with feminine hygiene use of talcum powder. In fact, studies going back to the 1970s show that women who regularly use talcum powder for feminine hygiene may be more at risk of developing ovarian cancer.

What Is Talcum Powder?

Talcum powder comes from the talc mineral, which consists of magnesium, silicon and oxygen. Talc is mined from metamorphic rocks of convergent plate boundaries all over the planet. Most of the talc mines in the United States are found along the east side of the Appalachian Mountains. California, Texas, Nevada, New Mexico, Idaho, and Montana are also considered talc-rich areas of the country. Nearly all of the world's talc output comes from China. Other countries heavily involved in the talc trade include India, Brazil, France, Italy, Finland, Japan, and South Korea.
How Does Talcum Powder Cause Cancer?
Baby powder is made from talc, which is a mineral primarily comprised of magnesium, silicon and oxygen. Plaintiffs in the litigation against Johnson & Johnson allege talcum powder products contain asbestos, which is a highly carcinogenic mineral often found next to talc underground. Additionally, when talcum powder is used on the genitals, talc particles can easily migrate from the vagina into the ovaries, where they remain trapped. These trapped talc particles cause inflammation, which can lead to the growth of cancer cells.
Despite the volume of studies pointing to the connection between baby powder and ovarian cancer, neither Johnson & Johnson nor the Food and Drug Administration (FDA) has ever warned consumers in the United States about the health risks.
Even after scientists with the National Toxicology Program (an arm of the U.S. Department of Health and Human Services) voted 13-2 to list feminine hygiene use of talcum powder as a possible human carcinogen, Johnson & Johnson has continued to deny the link to ovarian cancer and refused to put a warning label on its baby powder products – although in May 2020, the company made the extraordinary decision to pull its talc-based Baby Powder from North American markets.
Time and time again, Johnson & Johnson has referred to the volume of studies finding a link between talcum powder and ovarian cancer as inconclusive or "junk science." This stance, as well as the company's failure to inform the public about the link between baby powder and cancer, has compelled over 1,000 women to file baby powder cancer lawsuits over the last eight years.
Call (855) 948-5098 or complete the online form to get in touch with our legal team.