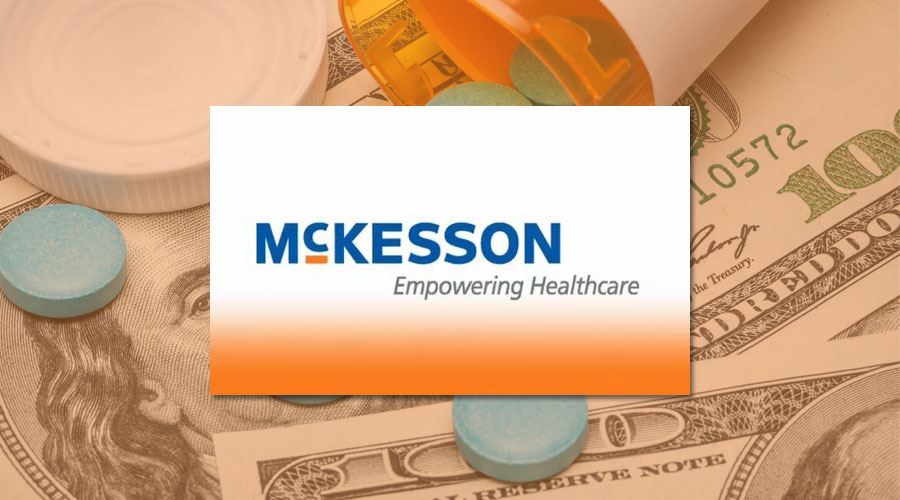 One of the nation's largest pharmaceutical distributors will pay a record $150 million civil penalties to settle alleged Controlled Substances Act violations.
The Justice Department announced the penalty levied on San Francisco-based McKesson Corp. on Tuesday. McKesson was accused of failing to report suspicious orders for painkillers, which have been linked to the country's opioid epidemic and pharmaceutical fraud.
The settlement requires McKesson to suspend the sales of controlled substances from distribution centers in Colorado, Florida, Michigan, and Ohio for multiple years. The civil penalty and the suspension of sales constitute one of the most severe sanctions the Drug Enforcement Administration (DEA) has ever issued for a registered pharmaceutical distributor.
"Today's settlement sends a clear message to all distributors of pharmaceutical drugs that it is essential to dispense controlled substances in compliance with DEA's recordkeeping requirements," said Drug Enforcement Agency (DEA) Special Agent in Charge Karl C. Colder.
The government alleged that McKesson failed to implement an effective system to detect and report "suspicious orders" for controlled substances distributed to its independent and small chain pharmacy customers. These suspicious orders were considered as such due to unusual frequency, size, or other patterns.
According to the Justice Department, between 2008 and 2013, McKesson supplied various U.S. pharmacies with increasing amounts of oxycodone and hydrocodone pills, which are highly addictive, frequently misused pharmaceutical drugs.
Many have pointed to the abuse of opioids as the biggest reason the U.S. is currently in the midst of a heroin epidemic. According to the Centers for Disease Control and Prevention (CDC), people who become addicted to prescription painkillers are most at risk of turning to heroin. A number of heroin users interviewed by NBC News have said they became addicted to prescription painkillers like OxyContin and Vicodin, then later switched to heroin because the pills are far more expensive on the black market than heroin.
The enforcement action against McKesson isn't the first time the company has been investigated for failing to report suspicious drug orders. In 2008, the drug distributor agreed to pay a $13.25 million civil penalty and enter into an administrative agreement over similar violations.
The government's most recent investigation into McKesson's Controlled Substances Act violations uncovered evidence that even after designing a compliance program in the aftermath of the 2008 settlement, McKesson failed to fully implement or adhere to its own program.
In Colorado, for example, McKesson processed more than 1.6 million orders for controlled substances between June of 2008 and May of 2013. During that time, the drug distributor allegedly reported only 16 orders (or .001 percent) as suspicious. All 16 suspicious orders were connected to one instance involving a single customer that had been recently terminated.
According to the National Survey on Drug Use and Health, the state of Colorado was ranked second-worst of all U.S. states for prescription drug abuse between 2010 and 2011.
In another example cited in the Controlled Substances Act violations settlement, a former McKesson distribution facility in Maryland routinely failed to report suspicious drug orders between 2008 and 2012.
One of the West Virginia pharmacies that placed suspicious orders was Judy's Drug Store in Grant County, which paid $2 million to settle a federal investigation. It was Judy's Drug Store investigation that led to the government's investigation into McKesson.
"In many instances, the suspicious orders placed by West Virginia pharmacies resulted in prescription narcotics being diverted for illegal use and abuse," said Betsy Steinfeld Jividen, the acting U.S. attorney in northern West Virginia.
McKesson is the latest drug distributor to settle investigations into Controlled Substances Act violations. Earlier this month, Cardinal Health agreed to pay $20 million to settle allegations that it failed to oversee and report an unusual surge in painkiller orders. AmerisourceBergen, the third-largest drug distributor in West Virginia, agreed to pay $16 million to settle similar allegations.
According to a Charleston Gazette-Mail investigation, drug distributors have shipped 780 million oxycodone and hydrocodone pills to the state of West Virginia over a span of six years. During that time, 1,728 people fatally overdosed.
In addition to the monetary penalties and suspensions, the McKesson settlement included enhanced compliance terms that the company must abide by for the next five years.
Below are some of the compliance terms outlined in the settlement agreement:
Implementation of specific, rigorous staffing and organizational improvements
Periodic auditing
Stipulated financial penalties for failing to adhere to the compliance terms.
Most notably, the settlement requires McKesson to engage an independent monitor to assess compliance – the first independent monitor of its kind that has ever been tacked on to a CSA civil penalty settlement.
Related Articles: