Alameda, California – March 21, 2017 – – The California -based law firm of Baum Hedlund Aristei & Goldman and Robert F. Kennedy, Jr. have filed a lawsuit against Monsanto on behalf of 40 individuals from California who allege that exposure to the company's Roundup herbicide caused them to develop non-Hodgkin lymphoma.
RFK, Jr. and Baum Hedlund attorneys Michael L. Baum, R. Brent Wisner, and Frances M. Phares filed the Roundup cancer lawsuit in Alameda County Superior Court for the State of California (case no: RG17853420). The complaint includes three cases filed by attorneys Nicholas Rockforte, Christopher L. Coffin, and Jonathan E. Chatwin of Pendley Baudin & Coffin, with offices in Plaquemine and New Orleans, Louisiana.
The Alameda Roundup cancer lawsuit seeks compensatory and punitive damages for wrongful death and personal injuries against Defendants Monsanto Co. of St. Louis, Missouri, and Wilbur Ellis Company, LLC of San Francisco, California.
The lawsuits contain six counts:
Strict Liability – Design Defect (Against All Defendants)
Strict Liability – Failure to Warn (Against All Defendants)
Negligence (Against All Defendants)
Fraud (Against Monsanto)
Breach of Express Warranties (Against Monsanto)
Breach of Implied Warranties (Against Monsanto)
Exemplary Damages (Against All Defendants)
Allegations in Alameda Roundup Cancer Lawsuit
In 1970, Missouri-based Monsanto discovered the herbicidal properties of glyphosate and began marketing it in 1974 under the brand name Roundup®. At all times relevant to this complaint, California-based Wilbur Ellis sold and distributed Roundup in California.
In 2015, the World Health Organization's International Agency for Research on Cancer (IARC) concluded that glyphosate is a Group 2A herbicide, which means it is a probable human carcinogen. According to the complaint, the IARC report was based, in part, on studies of exposures to glyphosate in several countries around the world, and it traced the health implications from exposure to glyphosate since 2001.
According to the IARC report, the cancers most associated with glyphosate exposure are non-Hodgkin lymphoma and other hematopoietic cancers. The report further concluded that glyphosate exposure caused DNA and chromosomal damage in human cells, as well as genotoxic, hormonal, and enzymatic effects in mammals.
The Alameda Roundup cancer lawsuit alleges that Monsanto continues to proclaim that glyphosate-based herbicides, including Roundup, create no unreasonable risks to human health or to the environment, at one point going so far as to represent Roundup as being "safer than table salt" and "practically non-toxic."
Per the complaint, Monsanto championed falsified data and attacked legitimate studies that revealed the dangers of Roundup in order to prove that Roundup was safe, while also leading a prolonged campaign of misinformation to convince government agencies and the general population that Roundup wasn't dangerous.
The Alameda Roundup cancer lawsuit further alleges that multiple studies on Roundup and glyphosate have been ghostwritten in part and/or published by Monsanto starting in 2000 to present day, which minimizes any safety concerns about the use of glyphosate, are used to convince regulators to allow the sale of Roundup and are used to convince customers to use Roundup.
These studies were allegedly submitted to the Environmental Protection Agency (EPA) and were relied upon in assessing the safety of glyphosate. Through these means, the lawsuit accuses Monsanto of fraudulently representing that independent scientists concluded glyphosate to be safe. In fact, the lawsuits allege these independent experts were "…paid by Monsanto and have failed to disclose the significant role Monsanto had in creating the manuscripts."
Monsanto is also accused of ghostwriting editorials for scientists such as Henry Miller and Robert Tarone to advocate for the safety of glyphosate in newspapers and magazines and ghostwriting letters by supposed independent scientists that were submitted to regulatory agencies charged with reviewing the safety of glyphosate.
The Alameda Roundup cancer lawsuit also accuses Monsanto of violating federal regulations by holding secret ex parte meetings with certain EPA employees to "…collude in a strategy to re-register glyphosate and to quash investigations into the carcinogenicity of glyphosate by other federal agencies such as the Agency for Toxic Substances and Disease Registry." Monsanto's close connection with the EPA arises in part from its offering of lucrative consulting gigs to retiring EPA officials, the lawsuit alleges.
Documents obtained in discovery show that one EPA official who was charged with evaluating the cancer risk associated with Roundup allegedly bragged to a Monsanto executive that he "should get a medal" if he could quash another agency's investigation into glyphosate.
The internal Monsanto documents recently unsealed by U.S. District Court Judge Vince Chhabria caught the eye of Congressman Ted W. Lieu (D – Los Angeles County), who issued the following statement:
"New questions about the safety of Monsanto weed killer Roundup are deeply troubling. I worked on the glyphosate issue last term and I believe consumers should immediately stop using Roundup, whose core ingredient glyphosate has been labeled a likely carcinogen and has been linked to non-Hodgkin's lymphoma by the International Agency for Research on Cancer. We need to find out if Monsanto or the Environmental Protection Agency misled the public."
"Reports suggest that a senior official at the EPA worked to suppress a U.S. Department of Health and Human Services review of glyphosate, and may have leaked information to Monsanto. I believe that a Department of Justice investigation is warranted to look into any potential misconduct by employees of the EPA. I also believe a congressional hearing is immediately warranted."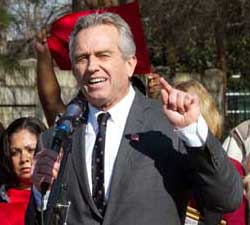 Environmental attorney Robert F. Kennedy, Jr., who is working with Baum Hedlund on the Monsanto Roundup litigation, also expressed deep concern over the newly unsealed documents.
"Monsanto's newly released documents expose a culture corrupt enough to shock the company's most jaded critics. Those papers show sociopathic company officials ghostwriting scientific studies to conceal Roundup's risks from Monsanto's regulators and customers, including food consumers, farmers, and the public. One wonders about the perverse morality that incentivizes executives to lie so easily and to put profits before human life. All humanity will benefit when a jury sees this scheme and gives this behemoth a new set of incentives."
The case is captioned Pennie v. Monsanto Co. and Wilbur Ellis Company LLC, Case No: RG17853420.
Ruling Allows California to Move Forward with Roundup Cancer Warning Label
In January of 2016, Mr. Kennedy and Baum Hedlund managing shareholder Michael Baum held a press conference in Fresno with a dozen of their California clients to support the California Office of Environmental Health Hazard Assessment (OEHHA), which was named in a lawsuit by Monsanto over the state's decision to list glyphosate as a chemical known to cause cancer in accordance with Proposition 65.
On March 10, 2017, a Fresno superior court judge ruled against Monsanto in that case, allowing California to begin the process of listing glyphosate as a chemical known to the state of California to cause cancer. Mr. Kennedy issued the following statement with the announcement of the ruling:
"Democracy is alive and well in California where judges are willing to stand up for science, even against the most powerful corporate polluters. This decision gives Californians the right to protect themselves and their families from chemical trespass."
Baum Hedlund Represents Hundreds in Monsanto Litigation
With this new lawsuit and hundreds of other claims filed last week in St Louis, more than 700 individual Roundup cancer claims have been filed in state and federal courts throughout the country. The total number of Roundup plaintiffs with filed cases is estimated to be as high as 920, as some of the spouses of cancer victims have filed their own claims for loss of consortium.
Baum Hedlund represents nearly 250 clients diagnosed with non-Hodgkin lymphoma, with more cases being reviewed each day. Most of the Roundup cancer lawsuits have been filed in St. Louis City and in the Roundup Products Liability Litigation, MDL 2741, (multidistrict litigation), U.S. District Court, Northern District of California (San Francisco).
John Barton, a Bakersfield farmer, is one of many plaintiffs represented by Baum Hedlund and Mr. Kennedy. Barton is a third-generation farmer who used Roundup for many years, believing it to be safe.
"I have spent more than 50 years as a farmer because I love the soil and growing food for California consumers. I never thought the price I'd pay would be blood cancer," said Barton. "I wish somebody would have warned me…I don't want anyone to have to go through what I have gone through."
Deborah Brooks is also a plaintiff in the Alameda case. Brooks' husband Dean used Roundup around their Harmony, California home. Dean passed away in 2016 only a few months after he was diagnosed with stage 4 B-cell non-Hodgkin lymphoma.
"My husband was a wise man. If he knew that a weed killer could have killed him and left his wife struggling to survive after providing for the two of them, he would have lived with the weeds," Brooks said.
The Roundup cancer attorneys at Baum Hedlund estimate that at least 3,000 people have retained counsel in the Monsanto Roundup litigation.
About Baum Hedlund Aristei & Goldman
Baum Hedlund Aristei & Goldman, and Robert F. Kennedy, Jr. are co-counsel on the Monsanto Roundup litigation and are working together with a number of other environmental and plaintiff lawyers across the country in representing individuals alleging that exposure to Roundup caused them to develop non-Hodgkin lymphoma. The judge overseeing the MDL in Northern California appointed Michael Baum and five attorneys from other law firms to serve on the MDL's Executive Committee.
Baum Hedlund has successfully handled thousands of cases, securing over $1.5 billion in verdicts and settlements on behalf of clients. With decades of experience handling personal injury and wrongful death cases, the firm has developed a reputation for holding Fortune 500 companies accountable, influencing public policy, raising public awareness, and improving product safety.