June 27, 2019 – Cleveland, Ohio – – The national law firm of Baum Hedlund Aristei & Goldman filed a wrongful death lawsuit today against tanker trailer manufacturer Tremcar USA, Inc. on behalf of a grieving widow who lost her husband in a horrific underride truck accident.
The incident, which involved multiple passenger vehicles sliding underneath a jackknifed tractor trailer, triggered lawmakers to propose legislation that would require tractor trailers to be equipped with side underride guards, steel bars that absorb energy in a collision, thus preventing cars from sliding underneath trailers.
Truck accident attorneys Ronald L.M. Goldman, Diane Marger Moore and Clay Robbins III filed the truck accident lawsuit in U.S. District Court for the Northern District of Ohio, Eastern Division on behalf of Clara Kim, whose husband, Dr. Moonjohn Kim, was one of four people to perish in the July 5, 2017 crash in New York.
Mrs. Kim alleges that Tremcar was negligent in the design and manufacture of the tanker trailer, and that Tremcar is strictly liable for her husband's fatal injuries. The lawsuit also seeks punitive damages against Tremcar. The case number is 1:19-cv-01482.
Underride Crash Kills Four
On the night of July 5, 2017, a Western Star tractor towing a 2013 Tremcar milk tanker trailer jackknifed across all northbound lanes on a rural and dark stretch of Interstate 81 in Oswego County, New York.
The configuration of the jackknifed tractor-trailer—perpendicular and blocking all northbound I-81 lanes—dislodged the electrical connection between the tractor and the tanker (also known as a "pigtail"). According to the complaint, the pigtail was too short to withstand the actual stretch experienced during the jackknife, so all the lights on the trailer were effectively shut off.
At approximately 11:38 p.m., Dr. Moonjohn Kim was driving his Subaru Impreza northbound on I-81 when, in almost pitch-black darkness. Without any illumination from the tanker trailer, Dr. Kim's car struck the trailer and slid underneath. The impact sheared off the roof of Dr. Kim's car and it continued to travel northbound on I-81 before ultimately coming to rest several hundred yards away. Dr. Kim suffered catastrophic, and ultimately, fatal injuries in the crash.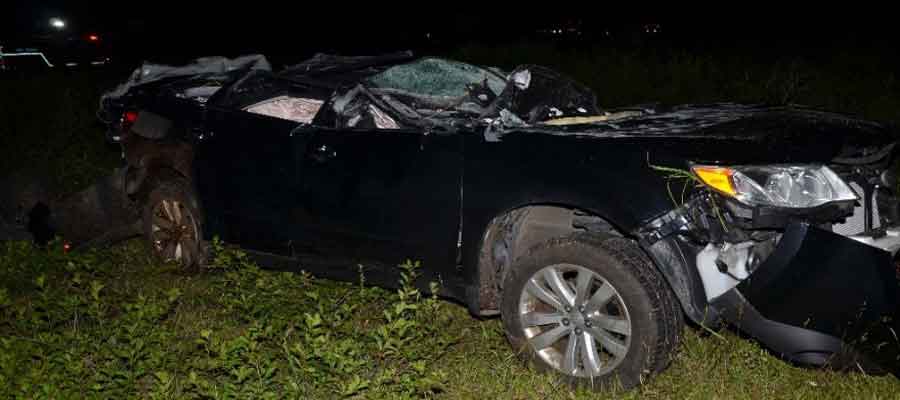 Shortly after Dr. Kim's vehicle was crushed by the trailer, another passenger vehicle collided with and was forced underneath the Tremcar trailer. Like Dr. Kim's vehicle, the second vehicle also had its roof similarly sheared off as it traversed from one side of the tanker trailer out the other side. All three occupants in the second passenger vehicle were killed.
The lawsuit alleges that if the tanker trailer had been properly illuminated and visible to oncoming traffic, Dr. Kim would have been able to take action to avoid a collision with the tractor-trailer. Instead, the defective trailer failed to inform owners of the minimum length required for the electrical connection from the tractor to the trailer ("pigtail") in the event of a foreseeable jackknife. If the causing the pigtail is too short, it becomes detached from the trailer during when it jackknifes, cutting off all electricity and, therefore, its lights.
The lawsuit further alleges the tanker trailer was defective because it failed to contain a backup battery or electrical source in the foreseeable event that the electrical connection between the trailer and tractor became disconnected.
According to the complaint, the tanker trailer was negligently and defectively designed in that it exposed motorists, including Dr. Kim, to a foreseeable underride hazard in the event of a side-impact collision. Had the tanker trailer been equipped with a side underride guard, Dr. Kim would most probably have survived this collision. While the hazards and defects did not cause the jackknife, they were the proximate cause of Dr. Kim's death, the complaint states.
"That the company failed to incorporate side underride guards to prevent such a devastating sequence of events that led to Dr. Kim's and three other tragic deaths is unconscionable." said attorney Diane Marger Moore.
Lawmakers Calling for Underride Guard Legislation
Underride crashes occur when smaller passenger vehicles collide with a tractor-trailer and slide underneath either the back or side of the trailer. Modern passenger vehicles are equipped with crush zones, structural areas that are designed to absorb energy upon impact in a predictable way.
In a collision with a commercial truck, however, a car can go under the truck and the first point of impact may be the passenger occupant space rather than the crush zone, which is what happened to Dr. Kim. Put simply, the occupants of passenger vehicles are left vulnerable to horrifying injuries in underride crashes.
Underride guards on both the rear and side of trailers have been shown to prevent underride accidents and save lives. But regulators in the U.S. have been slow to require underride guards.
In the aftermath of the tragic 2017 crash that killed Dr. Kim and others, Sen. Charles Schumer (D-NY) urged regulators to require underride guards.
"Requiring trucks be equipped with underride guards is a proven technology that will save lives and make our roads safer," said Sen. Schumer in a prepared statement. "Drivers and passengers in this most recent crash could have been better protected if the truck was equipped with side underride guards. The devastation of crashes like these—a result of a gap in truck safety standards—could be reduced."
Sen. Schumer is not alone in calling for more underride guard regulation. Legislators from both the House of Representatives and the Senate (Senators Kirsten Gillibrand [D-NY] and Marco Rubio [R-FL] and Representatives Steve Cohen [D-TN] and Mark DeSaulnier [R-CA]) have introduced identical legislation (Stop Underrides Act) that would require underride guards on the sides and front of tractor trailers, as well as update the standards for rear underride guards.
According to Rep. Mark DeSaulnier (D-CA), at least 300 people die every year in underride crashes.
About Baum Hedlund Aristei & Goldman
Baum Hedlund Aristei & Goldman is a nationally recognized law firm known for its success in complex transportation accident cases. The firm focuses on representing clients in personal injury and wrongful death litigation, particularly in cases involving commercial trucking accidents and other commercial transportation accidents across the nation. The firm has handled over 1,500 commercial transportation accident cases and has secured $4B in verdicts and settlements on behalf of clients across all areas of practice.