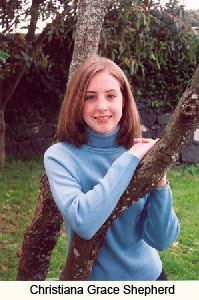 Charlotte, North Carolina, May 6, 2005 – – The last family to settle a wrongful death claim stemming from the Air Midwest (operating as USAir Express Flight 5481) crash of January 8, 2003, at the Charlotte-Douglas International Airport demanded as part of their settlement terms that those responsible for the crash hold themselves accountable and publicly apologize to the victims' families.
Pastor Douglas and Tereasa Shepherd, who lost their 18-year-old daughter, Christiana, in the crash, invited all the victims' families to attend today's event. The Shepherd family, their attorneys, and approximately six other families gathered at the memorial crash site this morning to witness the public apology by Air Midwest and its maintenance company, Vertex Aerospace (now known as L-3 Communications Aerotech). The prepared statement read by Greg Stephens, President of Air Midwest stated:
"We are here today to remember the victims of Flight 5481 and to offer our apologies, condolences and sincere sympathy to the surviving family members of the passengers and crew who perished in the January 8, 2003 crash of Air Midwest Flight Number 5481. We are deeply saddened by your loss. The National Transportation Safety Board's investigation disclosed errors that caused and contributed to this tragic accident. We participated fully with the NTSB in its investigation and understand our roles leading up to the crash. Air Midwest and its maintenance provider, Vertex, acknowledge deficiencies, which together with the wording of the aircraft maintenance manuals, contributed to this accident. This tragedy has caused us to investigate rigorously our policies and guidelines regarding aircraft maintenance, operation, and safety in general. We have taken substantial measures to prevent similar accidents and incidents in the future so that your losses will not have been suffered in vain. We have also implemented or are implementing the applicable NTSB safety recommendations following this accident. We are truly sorry, and regret and apologize to everyone affected by this tragic event."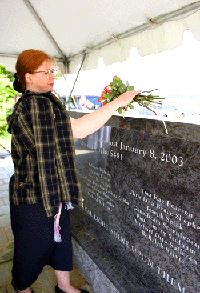 Christiana Shepherd, an Interior Design major, was returning to school after a Christmas break with her parents when Flight 5481crashed. She is survived by her parents and four siblings, Amanda, Juliana, Stephen, and Andrew.
The Shepherds' attorneys, Baum Hedlund, also represented the surviving family of another Air Midwest victim, Keith Coyner, a GNC Vice President.
The lawsuits filed by Baum Hedlund alleged that the Beech 1900-D was improperly loaded and experienced acute problems with its flight controls due to a disastrously rigged elevator pitch control system. This caused the airplane to rise straight up right after take-off, stall, and crash, killing 21 people on board.
The Shepherds' case was the last to resolve. Although a substantial monetary settlement was also involved, the Shepherds' primary focus had been to require accountability by the defendants, either by trial or by a public apology, for the operation, maintenance, and design deficiencies that caused the air crash. A trial was avoided as a result of today's public apology by Air Midwest and Vertex.
Baum Hedlund's lead negotiator and trial counsel for this settlement was aviation attorney Ronald L. M. Goldman (former Judge Pro Tem, arbitrator, mediator, and adjunct aviation accident law professor). Other members of Baum Hedlund's aviation team that represented the Shepherd and Coyner families, John Greaves (a former airline captain), Paul Hedlund, and Michael Baum, also attended today's ceremony.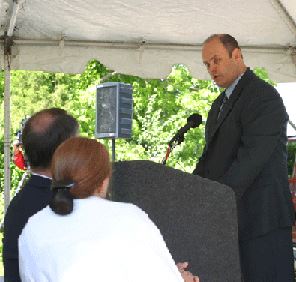 "We are pleased to be hearing this apology. We wish to thank the attorneys and staff at Baum Hedlund for sharing our goal and working diligently to see it advanced in this way today. Our goal is to strengthen commercial airline safety, in part by holding airlines accountable for their actions and encouraging them to remedy their mistakes to avoid future tragedy. We would also like to see the FAA play a more active role in the oversight and regulation of outsourced maintenance. The loss of a child, sibling, spouse, or parent is devastating to any family; all that can be done to avoid such loss should and must be done. The bottom line must always be people, not profit," Pastor Douglas and Tereasa Shepherd stated.
"Pastor Douglas and Tereasa Shepherd had the fortitude, tenacity, and courage to allow us to press their case. We were able to accomplish their primary demand for requiring airline and maintenance company public acceptance of accountability accompanied by their pledge to work more rigorously to ensure the safety of airline passengers. It is most gratifying that we have been able to achieve their goals," attorney Ronald Goldman stated.
Baum Hedlund has represented clients in more than 50 airline crashes over the last 20 years, including membership on the Plaintiffs' Steering Committee and Trial Team for the 1994 Charlotte crash of US Airways Flight 1016; they also currently serve on the Plaintiffs' Executive Committee for the 9/11 Aircrash Litigation.
Updates to this blog:
The Air Midwest apology was featured in a 2008 docudrama and aired on the National Geographic Channel and the Discovery Channel May Day series.
This historic public apology was also featured in the Audible Podcast Series Say You're Sorry in 2021, Episode 4 The Business of Saying Sorry.
Audible's "Say You're Sorry" is an insightful podcast series about public apologies. We are proud to have our case featured. Listen here: https://t.co/5O2wXiPCfI
#PublicApology #IamSorry #AirMidwest #planecrash pic.twitter.com/NYbAM5U1jm

— Baum Hedlund Aristei & Goldman, PC (@baumhedlund) December 9, 2021