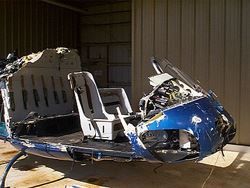 Baum Hedlund is presently handling all five victims from the Heli USA helicopter crash on September 23, 2005, in which the Heli USA Airways Aerospatiale A-Star-AS350 crashed in the water, several hundred yards off Ke'e Beach, near Haena, on the island of Kauai. The pilot flew into a thunderstorm and crashed into the ocean. Two people drowned, one died of a heart attack from nearly drowning, and two others were injured but survived.
On Thursday, March 8, 2007, at 3:02 PM, another A-Star tour helicopter, also operated by the Las Vegas-based Heli USA  tour company, crashed in a grassy area near a northern runway at the Princeville, Hawaii airport located on the island of Kauai.  The pilot and two of the passengers were found dead at the scene.  A third passenger died en route to the hospital.  Three others are critically injured.
According to Federal Aviation Administration spokesperson Ian Gregor, the aircraft's pilot, Joe "Helicopter Joe" Sulak, had radioed the company dispatcher shortly before the crash to report difficulties with the hydraulic system.  Sulak was approximately two miles from the airport and attempting to return.
Just three days later, around 1 PM on Sunday, March 11, 2007, Kauai was the site of another fatal helicopter tour crash when a Hughes 500 aircraft, operated by Inter-Island Helicopters, whose parent company is Smoky Mountain Helicopters, went down onto YMCA's Camp Naue located near Haena Beach on the island's north shore.  According to FAA officials, the pilot heard a loud bang shortly before losing control of the helicopter.  The main rotor blade hit some trees and crashed, leaving one passenger dead and three others seriously injured.
Air tours are one of Hawaii's most popular tourist attractions.  According to 2005 statistics, approximately one in 10 Hawaii vacationers, more than 750,000 passengers, take air tours while visiting the islands.
Less than a month ago, following a review of two previous fatal crashes on Kauai, one of which was the previously mentioned September 23, 2005, Heli USA helicopter crash,  the National Transportation Safety Board (NTSB) criticized the Federal Aviation Administration (FAA) for failing to properly regulate Hawaiian air tours.
The FAA has since announced new national safety standards for air tour companies; however, these new safety rules will not go into effect until August of this year.
Call

(855) 948-5098

or Contact Baum Hedlund online.

Baum Hedlund has recently concluded another sightseeing tour case arising out of the crash of a Bell Jet Ranger 206B II helicopter into the Waialeale Crater in Kauai, Hawaii.  That aircraft was owned and operated by Jack Harter Helicopters located in Lihue. Five people died in that crash, on July 23, 2003.
The firm also handled the 1992 Aerospatiale A-Star-AS350 Hawaii helicopter crash in Maui in which six tourists and the pilot died when their helicopter crashed on a remote ridge near Kaupo Gap on the slopes of Haleakala.
For more than 15 years now, injured victims and the families of passengers killed in helicopter crashes have hired Baum Hedlund to file personal injury and wrongful death lawsuits for them.
In addition to sightseeing helicopter tour accidents, Baum Hedlund has handled the cases for passengers and paramedics in air ambulance medical helicopter crashes, private company helicopter crashes and private and public helicopter accidents as well as product liability and maintenance issues involving helicopters manufactured by Aerospatiale, Bell, McDonnell Douglas, Hughes, Messerschmitt, Sikorsky, and Robinson.
Not all helicopter crash cases result in a trial before a jury, but some do.  Baum Hedlund's most recent helicopter crash trial involved a helicopter crash during a medical rescue operation in Los Angeles, California.  On March 23, 1998, a Bell 205A-1 helicopter, owned and operated by the Los Angeles City Fire Department, crashed when its tail rotor failed in flight as a result of metal fatigue in the tail rotor yoke. The crash occurred in Griffith Park, Los Angeles and the helicopter was destroyed. Our firm represented two paramedics and the helicopter apparatus operator against Bell Helicopter Textron, Inc.
Sightseeing Helicopter Tour Accidents
Helicopters are often used as sight-seeing vehicles because they can fly at altitudes that offer a unique view of water or terrain. Unfortunately, many of the aircraft used are owned and operated by small businesses that do not properly maintain or operate them.  Many times these tours turn tragic when a manufacturing defect, maintenance failure, or pilot error causes a sightseeing tour accident that severely injures or kills passengers. At Baum Hedlund, our attorneys have handled a wide range of aviation accident cases, many of which arose from sightseeing tour accidents.
Helicopters are highly complex machines requiring intricate design, construction, maintenance, and skills in operation. A malfunction or negligence could result in a devastating accident causing death to its victims. At Baum Hedlund, our lawyers are experienced in investigating helicopter accidents and pursuing full compensation on behalf of the victims and families.
A helicopter accident attorney must be skilled and experienced in both federal and state aviation and general tort rules, regulations, and statutes, as well as the technical operation and construction of helicopters, and how to investigate the causes of an accident and identify responsible parties.
We provide the factual and legal support necessary to pursue full compensation for injuries sustained in a helicopter accident. Baum Hedlund is based in Los Angeles, California, and can assist you with any of the following matters relating to helicopter accidents.
Sightseeing tour plane accidents
Pilot error
Design defects
Manufacturer error
Maintenance
Air Traffic Control government or contractor error
Helicopter pad operator
Obstructions
Weather
Helicopter accidents
Charter accidents
Air ambulance accidents
Whether the accident was fatal or caused catastrophic injuries caused by pilot error, unsafe weather conditions, a product defect, or a maintenance shortcoming, you need an experienced attorney to pursue full compensation for your losses.
We will identify every potential source of liability and aggressively pursue your claims. Our attorneys have the legal experience and technical comprehension to effectively handle aviation and sightseeing tour accident claims. If you or a loved one has suffered an injury in a helicopter sightseeing tour aviation crash, you may be entitled to substantial compensation for your losses. Our attorneys can handle all aspects of protecting your claims and rights resulting from a helicopter sightseeing tour accident.
For immediate assistance, or to schedule an initial consultation or case evaluation with an experienced helicopter accident lawyer, please Contact Baum Hedlund or call

(855) 948-5098

.