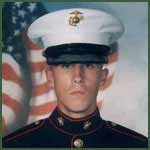 Cleveland, Ohio – A federal court judge in Ohio has delivered a strong rebuke to Arkansas based Tyson Foods, denying their requests for a new trial or reduction of the verdict in a horrific truck crash caused by one of its drivers near Crestline, Ohio in 2004. Since the accident the plaintiffs have tried, in good faith, to settle the case with Tyson Foods. But after years of Tyson's low-ball settlement offers, and failed settlement negotiations, Tyson lost at trial in December of 2006 where the jury awarded over 7 million dollars for the death and pre-impact distress of a 22-year old marine, survived by two parents and a brother.
The judge issued opinions on October 10, 2007 which rejected Tyson's request for a new trial and stated that the jury's verdict was the result of careful, thoughtful and accurate analysis of the evidence and the law, and was not excessive and was not the result of improper passion or bias. The judge not only upheld the original 7 million dollar jury verdict, but he granted the plaintiff's motion for pre-judgment interest, increasing the total amount currently due the surviving family to approximately 8.5 million dollars. By law, post-judgment interest continues to accrue until Tyson fully satisfies the verdict and pays the family.
Opinions:
On December 12, 2006, a jury in U.S. District Court for the Northern District of Ohio, Eastern Division in Cleveland before the Honorable Donald Nugent, judge presiding, returned a verdict over 7 million dollars against Tyson Foods for the death of Daniel J. Brumfield, 22, a U.S. Marine, who was killed when a Tyson Foods truck driver hit Mr. Brumfield's pickup truck head-on on a two-lane road in a no passing zone, near Crestline, Ohio on May 29, 2004. The truck pushed the pickup backwards nearly the length of two football fields before it came to rest.
After the jury awarded the verdict to the Brumfield family in this case, Tyson Foods filed a motion for a new trial arguing that the verdict was unwarranted and out of proportion to similar verdicts in the state of Ohio.
"The verdict in this case represents substantial justice," said Ronald Goldman, the Brumfield's attorney, "and it reflects the Ohio community's conscience by evaluating the evidence presented in a dispassionate court of law." "The verdict represents, in part, the many hours spent with the Brumfield family, learning of their relationship with Danny. That helped us present the importance of their loss in a way that the jury could understand." He added, "Tyson should stop fighting this verdict, and once and for all accept the magnitude of their responsibility for Daniel Brumfield's death."
Tyson Foods' Argument
Tyson contested the first 6 million dollars of the 7 million dollar jury verdict as "seriously erroneous" and excessive for the death of a single adult male with no children and no lost earnings claim in the state of Ohio because it was disproportionately higher than similar wrongful death verdicts in Ohio. Tyson also argued against the 1 million dollar survivorship portion of the verdict for Danny Brumfield having suffered severe emotional distress in the seconds before impact, as he tried to avoid the crash by braking his pick-up truck to a near stop. Tyson claimed this verdict was excessive. The Court disagreed.
Why Did the Judge Grant the Plaintiffs Pre-judgment Interest?
The judge granted the plaintiffs motion for prejudgment interest, in part, because the plaintiffs made a good faith effort to settle the case but, it found, Tyson did not. Ohio law encourages good faith settlement efforts so as to avoid a trial. Pre-judgment interest is awarded to victims when the defendant who engaged in the tortious conduct delays the ultimate resolution of a case by failing to engage in good faith settlement negotiations. It is not a punishment but rather it acts as compensation and serves ultimately to make the aggrieved party whole "by compensating the party for the lapse of time between the accrual of the claim and the final judgment."
The judge stated that Tyson never clearly stipulated to liability in this accident before the trial, and appears to have always under-valued and low-balled this case, failed to rationally evaluate the risks and potential liability, and did not act in good faith from the moment the plaintiffs filed their first claim directly with the company's adjuster back in June of 2004.
Tyson made its first offer of $200,000 twenty nine months after the accident and nine months after the Brumfield's first official demand. Tyson increased its offer to $450,000 at a subsequent mediation, but stated that they would never settle for a figure with a "3" in front of it. By October of 2006, nearly two years after failed negotiations, the Brumfield's reduced their demand to 3.9 million dollars which was within the 4 million dollar Tyson self-insured retention/deductible. Tyson increased their offer to 1.3 million dollar contingent upon the Brumfield family's acceptance of Tyson's proposed structured settlement, an arrangement when some funds are paid up front and some periodically over time. The family would not agree to this.
During the final settlement conference conducted by the Court, Tyson increased its offer to 2.4 million dollars which the family's attorney, Ronald Goldman, rejected, stating his client would not settle for less than a figure in the high 3 million dollar range.
In one of his opinions, the judge stated that Tyson's computation of likely damages was based solely on impersonal factors such as age, marital status, and occupation. Tyson did not take into account the intangibles present with the Brumfield family as described in Baum Hedlund's Demand Package, which was admitted into evidence during the post-judgment hearing concerning pre-judgment interest, and which the judge noted as being an extensive bound volume of information supporting the demand. He said that the trial attorney, Ronald Goldman, presented to the jury a family who was extraordinarily close and happy with each other. Their lives were closely intertwined. They worked together, ate together, and planned events together. Daniel Brumfield was the youngest son, a United States Marine and best friend to his older brother.
The family was appalled by the fact that Tyson's driver, Mr. Friesen, pulled his tractor trailer out of his lane without a clear line of sight in a no passing zone, and that he sped toward Danny Brumfield, on the wrong side of the road at over 60 miles an hour, not even braking until after he hit Danny's truck.
The case was tried by Ronald L. M. Goldman, senior trial counsel for Baum Hedlund Aristei & Goldman, his shareholder and co-counsel J. Clark Aristei, and trial team member and shareholder Robert F. Foss.
Daniel Brumfield is survived by his parents, Mary and Steven Brumfield, who live in Marion County, Ohio and his brother, Steven Brumfield.
Danny was born in Marion, Ohio. He grew up in Ohio and graduated from Ridgedale High School in Morral, Ohio in 2000. After high school, he enlisted in the Marine Corps Reserve where he served until the time of his death. He was 22 years-old, single, never married, and had no children. At the time of his death he lived in Marion, Ohio, ten miles from his parents and brother.
About the Crash
On May 29, 2004, at approximately 11:57 a.m., Daniel J. Brumfield was driving his pickup truck westbound on U.S. Route 30 near Oldfield Road west of Crestline, Ohio. At that time, Tyson truck driver Dale Friesen, was driving a partially loaded 50,000 lb. 2003 Tyson big-rig tractor trailer eastbound at a speed of over 60 mph. on U.S. Route 30.
Mr. Friesen was traveling in the eastbound lane of U.S. Route 30 when he moved into the westbound lane in an attempt to pass two vehicles in an uphill no-passing zone. While eastbound in the westbound lane, he hit Daniel Brumfield's red Chevy pickup truck head-on, pushing the pickup backwards 562 feet from the point of impact to the point of rest. The pickup truck was crushed and Danny was still pinned to the front of the tractor-trailer when it came to rest.
About Baum Hedlund's Transportation Department
Baum Hedlund (Los Angeles, Philadelphia and Washington, D.C.) has represented thousands of victims in airline, general aviation, bus, train and trucking accidents as well as defective pharmaceutical products.