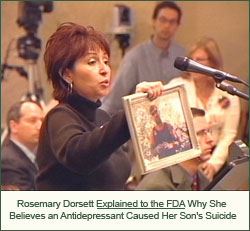 On March 26, 2010, a United States District Court Judge in Los Angeles rejected Eli Lilly and Company ("Lilly") and Sandoz Inc.'s attempt to dismiss a case arising from the suicide of Noe Carrasco, a 26-year-old Southern Californian man who was taking the generic version of the antidepressant Prozac at the time of his suicide.  The lawsuit was brought by the young man's mother, Rosemary Dorsett, who claims the manufacturers failed to warn of the suicide risks associated with fluoxetine (Prozac). 
Both Lilly and Sandoz  moved to dismiss the case arguing that the FDA would not have allowed a warning concerning fluoxetine's suicide risks.  Sandoz additionally argued that, as a generic manufacturer, it is not legally allowed to voluntarily revise its warning labels.  In a 30 page opinion, Judge A. Howard Matz of the U.S. District Court for the Central District of California rejected Lilly and Sandoz's arguments.  The case is Dorsett v. Sandoz, Inc., Case No. CV 06-7821 (C.D.Cal., March 26, 2010).
The Court ruled, amongst other things:
FDA standards for labeling are minimum standards (Order, p. 9)
 
The Court criticized Lilly's preemption argument, stating that the company "ignores its burden here. To establish a preemption defense, a drug manufacturer must produce 'clear evidence that the FDA would not have approved a change to [the drug's] label.' ... A mere possibility that the FDA might not have allowed an enhanced suicidality warning for Prozac ... is not enough to warrant preemption." (Order, p. 23)
 
That, "at no point prior to Carrasco's suicide in August 2004 did Lilly request to add suicide or suicidality language to the Prozac warning label ... Consequently, of course, the FDA never rejected any such request" (Order, p. 12)
 
Sandoz's argument that FDA regulations prohibited it from making any changes to the fluoxetine label and that generic manufacturers may not change a warning label without prior FDA approval "lacks merit" (Order, p. 24)
 
The Court "[gave] no weight whatsoever to the position the FDA articulated in amicus briefs [previously filed by the agency in favor of preemption in other cases]" noting that the FDA withdrew the briefs following the Supreme Court's rejection of preemption in Wyeth v. Levine (Order, p. 16)
 
Defendants offer nothing but theoretical assumptions of what the FDA would have done, and that is not enough to warrant a finding of preemption." (Order, p. 23)
 
In permitting Ms. Dorsett's claims to be tried on the merits, the Court held: "Absent clear Congressional intent to do so, the Court will not foreclose the traditionally available state law remedy for which the [Food Drug and Cosmetics Act] provides no substitute." (Order, p. 29)
Despite her own personal tragedy, Rosemary Dorsett has taken proactive steps to try to prevent others from having to endure the emotional pain she has been forced to suffer.  She traveled to Maryland for the December 13, 2006 Psychopharmacologic Drugs Advisory Committee meeting to testify about her son's death and to urge the FDA to issue stronger warnings about the increased risk of suicidality associated with antidepressants, including fluoxetine. 

Ms. Dorsett is represented by the national law firm, Baum, Hedlund, Aristei & Goldman. Baum Hedlund has the longest track-record of handling SSRI (selective serotonin reuptake inhibitor) antidepressant cases such as Prozac, Paxil and Zoloft, and is currently representing hundreds of antidepressant birth defect clients in addition to suicide cases.

Baum Hedlund attorney Bijan Esfandiari, who briefed and argued against preemption on behalf of Ms. Dorsett, stated of the Court's ruling:  
"The Court's well-reasoned decision confirms that both generic and name brand manufacturers have an ongoing responsibility to ensure their products remain safe and that they provide adequate warnings regarding life threatening risks. The Court's ruling further confirms that negligent and reckless manufacturers will no longer be allowed to seek blanket immunity from liability through the shield of preemption.  The decision is a victory for all consumers." 
The firm has successfully argued against preemption in numerous antidepressant product liability cases, including: Motus v. Pfizer, 127 F. Supp. 2d 1085 (C.D. Cal. 2000); Witczak v. Pfizer, 377 F.Supp.2d 726 (D.Minn. 2005); Zikis v. Pfizer, Inc., 2005 WL 1126909 (N.D. Ill. 2005); Cartwright v. Pfizer, Inc., 369 F.Supp.2d 876 (E.D. Tex. 2005); Tucker v. SmithKline Beecham Corp., 596 F.Supp.2d 1225 (S.D.Ind. 2008); Knipe v.SmithKline Beecham, 583 F.Supp.2d 553 (E.D.Pa 2008); Collins v. SmithKline Beecham Corp., 2008 WL 744070 (Pa. Ct.Com.Pl. March 11, 2008); Turek v. SmithKline Beecham, Case No. 3596 (Pa. Ct.Com.Pl. March 18, 2009); Forst v. SmithKline Beecham Corp., 639 F.Supp.2d 948 (E.D.Wis., 2009); Mason v. SmithKline Beecham,  __F.3d __, 2010 WL 605922 (7th Cir. 2010).
Lilly was represented by Shook Hardy & Bacon, LLP (Kansas City and Irvine).  Sandoz was represented by Hollingsworth, LLP (Washington, D.C.)  and Parker, Milliken, Clark, O'Hara & Samuelian (Los Angeles).