Heart-Related Antidepressant Birth Defects
The FDA issued a Public Health Advisory on December 8, 2005 based on U.S. and Swedish studies showing that exposure to certain antidepressants in the first trimester of pregnancy may be associated with an increased risk of heart birth defects. Most of the cardiac defects observed in these studies were atrial or ventricular septal defects, conditions in which the wall between the right and left sides of the heart is not completely developed.
Persistent Pulmonary Hypertension (PPHN)
Persistent Pulmonary Hypertension (PPHN) is a serious and life-threatening lung condition that occurs soon after birth of the newborn. Babies with PPHN have high pressure in their lung blood vessels and are not able to get enough oxygen into their bloodstream. About 1 to 2 babies per 1000 babies born in the U.S. develop PPHN shortly after birth, and often they need intensive medical care. Unfortunately, some cases of PPHN may be caused by SSRIs.
This information is based on a study that suggests there may be additional risks of SSRI medications during pregnancy. In this study, PPHN (Persistent pulmonary hypertension of the newborn) was six times more common in babies whose mothers took an SSRI antidepressant after the 20th week of the pregnancy compared to babies whose mothers did not take an antidepressant.
Our Experience in Antidepressant Birth Defect Cases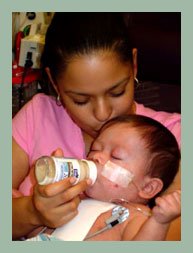 Baum Hedlund, managed by senior shareholder Michael Baum, has the longest track record handling SSRI antidepressant litigation, having litigated more antidepressant cases in the past 20 years than any other law firm in the country. Members of the firm have served as leaders on plaintiffs' steering committees (PSC) that manage complex multi-district litigation, arising from pharmaceutical and drug manufacturer negligence. Baum Hedlund also served as Lead Counsel for the Paxil Products Liability Litigation MDL, and as a member of the Fialuridine Product Liability MDL in Washington, D.C. and the Prozac Product Liability MDL out of Indianapolis.
Baum Hedlund also served on the first SSRI-suicide litigation PSC in the early 1990s, involving Prozac, which was the first SSRI approved by the FDA for marketing in the U.S. Our firm has filed lawsuits and currently represents families of children from across the United States who have suffered PPHN and heart birth defects due to their mothers' use of antidepressants during pregnancy.
Past efforts by Baum Hedlund and others have resulted in improvements in drug safety including the FDA black box suicide warning issued on certain antidepressants. Thousands of clients from every state in the United States and six continents have been successfully represented by Baum Hedlund, and our attorneys have tried well over 200 cases in this area.
Committed Advocacy for Your Birth Defects Case
Because Baum Hedlund has been representing victims of antidepressants in personal injury and wrongful death cases for decades, we have seen, firsthand, the harm antidepressants can cause – and we are extremely motivated by our clients' tragic stories. In our representation of our clients, we dig deep into drug company files to discover the truth about what the company knew about the drug's risks, when the company knew of those risks and what efforts, if any, the company took to hide those risks. Only through legal action can anyone gain access to this information. We fight hard to get this information into the public domain to prevent others from having to endure similar tragedies.