Baum Hedlund Aristei & Goldman is representing the estate of a young man killed in the August 14 California 200 race accident that claimed a total of eight lives and injured dozens of others.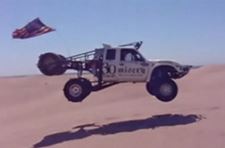 Andrew Therrien was just 22-years-old when he abruptly lost his life at the Johnson Valley Off-Highway Vehicle Area in Lucerne, California. The accident occurred when a modified 2000 Ford Ranger lost control and spun into a crowd of hundreds of spectators that had gathered near the track.
Therrien's mother, Doris Levinson, is now suing the race organizer and promoter, MDR Productions Inc., and all other potential defendants on behalf of her son's estate and the interests of her 4-year-old granddaughter, who was present at the race and witnessed the death of her father.
The lawsuit, filed on December 29, 2010, in Los Angeles Superior Court, alleges that the race was negligently and recklessly planned, promoted and supervised by MDR.  According to the complaint, MDR failed to properly set up and monitor the event.  MDR also failed to use temporary fencing to define a safe spectator area during the event, the lawsuit claims.
According to reports, the crowd of spectators had come within a few feet from the race track, which was without barriers, although the Bureau of Land Management (BLM) regulations restrict spectators coming within 50 feet of the track.   BLM has admitted it failed to properly monitor and prepare for the event.
"Those who invite the public to public events need to understand that they have the responsibility for the safety of the public according to the law," Ronald Goldman, a Baum Hedlund attorney representing Levinson, told the Daily Press. "And if they fail, they should be held accountable."
The careless, negligent and reckless acts of the defendants lead to dangerous conditions for the spectators present at this particular off-road race, claims the lawsuit. Because of these events, and the tragic death of Andrew Therrien, his daughter suffered severe emotional distress and mental suffering. She will also never get to know her father, who so bravely risked his life to save hers and two others.
Baum Hedlund has also filed a claim for Therrien's death with the Bureau of Land Management.  These types of claims are typically denied by the government but lawsuits can only be filed once such claims are officially denied.  Once that happens, Baum Hedlund will then add the Bureau of Land Management to the lawsuit, as it granted a permit to MDR for the California 200 race.
Baum, Hedlund is representing several other clients who lost a family member or were themselves injured in the California 200 tragedy.