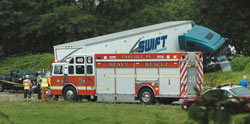 August 10, 2011, Scranton, Pennsylvania – The widow of a man killed in a 2009 Pennsylvania tractor-trailer accident filed a lawsuit today in U.S. District Court for the Middle District of Pennsylvania against the four companies and the truck driver involved in the fatal crash.
Ann Dugas, a United States citizen residing in Ontario, Canada filed the wrongful death lawsuit, citing negligence, among other allegations, as the cause of the crash that fatally injured her husband, Gilles Dugas.
Gilles Dugas was killed on August 28, 2009, when truck driver Dennis Ness, operating a Twist Trucking, LLC tractor, and a Swift Transportation Co. Inc., the trailer for Eagle Systems, Inc., lost control of his big rig and crashed into Mr. Dugas' vehicle. The complaint accuses all defendants of negligence, recklessness, and unlawful conduct, which caused the needless and tragic death of Mr. Dugas, a beloved husband, step-father, and step-grandfather.
On the day of the tragic crash, Gilles Dugas was driving his Chrysler Pacifica southbound on Interstate 81 in Cumberland County, Pennsylvania. Around the same time, truck driver Dennis Ness was driving a tractor-trailer on the northbound lanes of I-81 when he lost control of his big rig, crossed a wide, grassy center median, became airborne, barreled above the southbound lanes, and collided down and head-on into Mr. Dugas' vehicle. The collision was of such force that Mr. Dugas was entrapped, and had to be extricated from his vehicle by cutting it apart.
According to the complaint filed by Mrs. Dugas, the negligent actions of Dennis Ness and the other defendants caused her husband to suffer severe mental and physical pain and suffering, and catastrophic injuries which ultimately led to his death.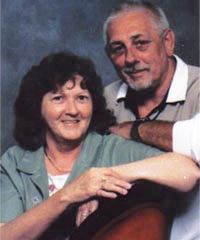 The national law firm of Baum Hedlund Aristei & Goldman, filed the complaint, listing as defendants, truck driver Dennis Ness, Eagle Systems, Inc., and Thoroughbred Direct Intermodal Services. The owner of the truck and trailer involved in the crash, Twist Trucking, LLC, and Swift Transportation Company, respectively, were also named as defendants in the lawsuit.
"My client wants justice. She can't bring back her husband, but she can hold these defendants accountable for killing him.  Truckers need to be extra vigilant because of the greater damage they can cause in an accident and trucking companies should adopt better systems to prevent driver fatigue," said the family's trucking accident attorney, Cara Luther, of the Washington, D.C. office of Baum Hedlund Aristei & Goldman.  "The companies and individuals involved in the operation of the vehicles in this accident will be held accountable for this senseless tragedy."
Each defendant, the lawsuit asserts, owed a duty of due care to others on public streets and highways to obey state and federal regulations with regard to the safe, prudent, and lawful operation of a commercial motor vehicle.  The lawsuit also alleges that truck driver Dennis Ness failed to maintain control of the truck and to take evasive action to avoid a collision. The complaint further alleges that the companies named in the suit also failed to properly hire, train, and supervise Ness.
The lawsuit is seeking general and special damages, including the cost of the funeral, burial, and related expenses.
Baum Hedlund Aristei & Goldman has represented individuals and families in more than 7,000 wrongful death and personal injury cases across the nation. The firm, with offices in Los Angeles, Washington, D.C., and Philadelphia, has been at the forefront of commercial truck accident litigation for more than 20 years and has handled over 175 truck accident cases across the country.
About Gilles Dugas
Gilles Joseph Dugas is survived by his wife, Ann Dugas, and by a close, extended family that includes five step-children with eight step-grandchildren who all loved and admired him. Gilles was known for his strong work ethic, his passion for life, his warmth, and his humor.
Gilles was a passionate environmentalist, lover of literature, music, and poetry. He took great pride in his role as father and grandfather.  He will be remembered as a caring, loving, loyal, and sentimental man who loved life to the fullest.