An overpass planned more than 15 years ago would have prevented Tuesday's tragic Metrolink train crash in Oxnard, according to government officials. The planned overpass, projected to cost Ventura County between $30 and $35 million, has been delayed for many years due to lack of funding. It would carry traffic over the railroad tracks and East 5th Street.
Let's be frank: $35 million dollars is a lot of money, but the crossing at Rice Avenue has consistently been one of the most dangerous crossings in the state. "This is not the first time this has happened," said Representative Julia Brownley (D-Oxnard) of Tuesday's Metrolink crash.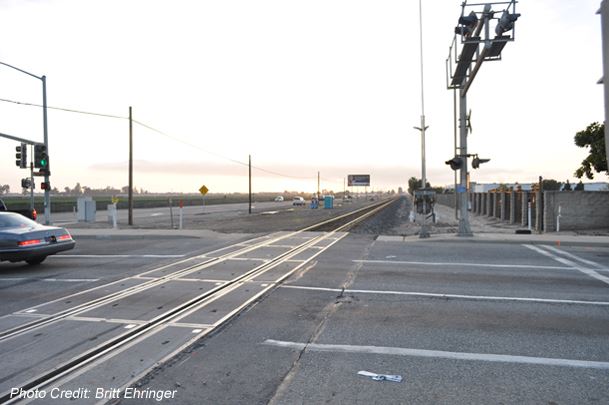 Rail crossing at Rice Avenue and 5th Street, facing north
In 2010, a driver mistakenly turned onto the tracks at the very same crossing. He was injured after his vehicle was struck by an oncoming Metrolink train. Another accident involved a truck's trailer extending partially into the crossing. Then just last year, two people were killed at the Rice Avenue crossing when their car was struck by an Amtrak train. In total, six accidents have been reported within the last seven years, making it one of the worst rail crossings in the state.
Robert Comer, an Ohio-based safety consultant who has been involved in hundreds of rail crossing investigations, told the Los Angeles Times that there is a hump at the crossing on Rice Avenue that could cause trucks or trailers to bottom out (Comer was quick to say that he didn't want to jump to any conclusions about this being the cause of Tuesday's crash). Comer also said when a series of vehicles line up at the crossing, there is "so little space" that a car or big rig could get stuck in the crossing.
To make matters worse for motorists, the crossing doesn't have any K-rails or concrete barriers to prevent drivers from entering the right-of-way adjacent to the tracks, and the right turn arrow and the right turn only sign at the crossing are more confusing than specific. Taken together the crossing is a powder keg of danger, just waiting to explode as it did on Tuesday.
"It may be possible that the driver turned onto the tracks after being misled by the sign and arrow at the crossing," says attorney Ron Goldman of Tuesday's crash. "A simple barrier, a sign or stanchion could prevent the premature turn – and that would take hours as opposed to years and cost a whole lot less than $30 million."
The bottom line is that saying there isn't enough money to do anything to fix this issue simply isn't good enough for all the people who have been affected not just by this week's tragedy, but by all the others as well. It's a shame that 15 years after realizing this crossing presents a serious safety threat, we are still no closer to making it any safer. The only difference is that now, some lives have been lost and many more have been forever changed by serious injuries.
There is no question that the ball was dropped on this. The question now is will it take another 15 years to get picked up?