On May 17, 2018, a major crash between a dump truck and a school bus in Mount Olive Township, New Jersey left at least two dead and several others hospitalized. According to local law enforcement officials, one child and one adult were killed in the bus accident and at least 11 others were sent to area hospitals, including one person who was listed in critical condition.
The New Jersey school bus crash happened at around 10:30 a.m. on the westbound side of Interstate 80 (I-80) near Exit 25. State Police issued a preliminary statement after the crash, calling the situation "serious."
The collision caused the school bus loaded with children to flip onto its side on the highway's grassy median. Witnesses to the accident said the impact ripped the bus off its frame and sheared off the front of the dump truck. Pictures of the school bus show the mangled and partially charred passenger cabin nearly separated from its front end.
According to WPXI, the truck was registered to Mendez Trucking of Belleville, New Jersey.
NJ School Bus Accident Lawyers with Experience
The law firm of Baum Hedlund Aristei & Goldman has represented victims in more than 90 bus crash cases over the last three decades. Our experience representing families of victims harmed in school bus crashes prompted the Chicago Sun-Times to call our firm "the nation's leading school bus damage suit litigator."
In 2017, our firm reached a $10 million settlement with a Southern California school district on behalf of five young students who were injured in a school bus crash that occurred when the driver lost control and drove off the road at an unreasonable rate of speed before violently colliding with fixed objects.
Our team of school bus accident attorneys argued that the school district ignored warning signs that the school bus driver had a condition that should have prohibited him from being behind the wheel of a school bus. We alleged that the school district was accountable for the accident for allowing a medically unfit driver to operate the school bus and that they failed to appropriately train and supervise their bus drivers, which would have prevented this crash.
Our firm is very concerned about the number of glaring safety issues raised by the tragic crash in Mount Olive. If a loved one was aboard the Paramus Public Schools bus, we are interested in representing you and holding accountable any negligent parties.
Contact us or call (855) 948-5098 today for a free, no-hassle case consultation.
School Bus Was Transporting Students from East Brook Middle School in Paramus
The school bus was carrying roughly 50 fifth grade students from East Brook Middle School in Paramus, New Jersey. According to the East Brook Middle School calendar, the fifth graders were scheduled to take a field trip to Waterloo Village, which is a 50-minute drive from Paramus.

The school bus was only a few miles from its destination when the accident occurred. It was one of three school buses transporting children to Waterloo Village. After the accident, the other two buses returned to East Brook where anxious parents were eager to pick up their sons and daughters.
Where Did the East Brook Middle School Bus Crash Occur?
The school bus accident happened in Mount Olive Township, Morris County, which is roughly an hour west of New York City.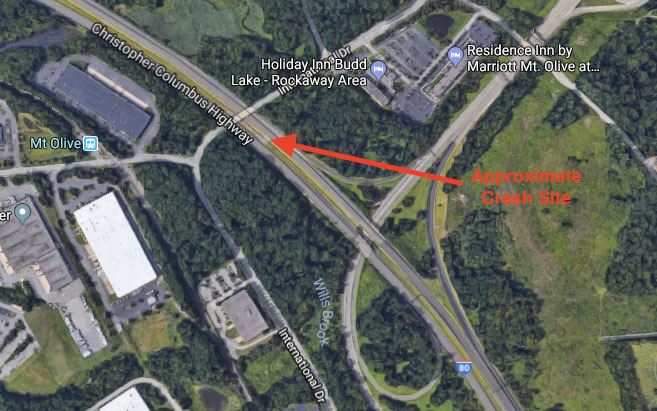 Deceased Victims of NJ School Bus Crash Identified
Authorities identified the deceased victims as 10-year-old Miranda Vargas and 51-year-old Jennifer Williamson.
Vargas was a student at East Brook Middle School who had a contagious smile that her family will remember forever. She is survived by her parents, her two brothers and twin sister. Her family wrote a beautiful and heart-wrenching obituary paying tribute to their daughter.
Williamson taught in the same school and the same classroom for 20 years. Her husband, Kevin Kennedy, issued a statement after the crash saying his family was "shocked" and "devastated" by the tragedy. The couple had recently purchased a dairy farm in upstate New York.
What Caused the New Jersey School Bus Crash?
State Police and prosecutors in Morris County are conducting a joint investigation into the cause of the school bus crash in New Jersey. Typically, bus crash investigations take about a year to complete. The National Transportation Safety Board (NTSB) decided not to pursue an investigation into the accident based on the preliminary reports from law enforcement.
Each day, over 450,000 school buses travel on the nation's roads. While fatal school bus crashes are considered rare, according to the National Highway Traffic Safety Administration (NHTSA), roughly 135 people die in school-vehicle-related crashes each year. Most of the fatalities are other vehicle occupants or pedestrians, though occupants of school buses account for 11 fatalities per year.
In 2015, NHTSA Administrator Mark Rosekind announced that the agency's position on seat belts in school buses had changed. "The position of the National Highway Traffic Safety Administration is that seat belts save lives. That is true whether in a passenger car or in a big yellow bus." Rosekind went on to say that the NHTSA believes, "every child on every school bus should have a three-point seat belt."
While it is true that there is no federal law mandating seat belts on school buses, states are free to enact stricter rules on seat belts as they see fit.
New Jersey is one of several states to pass seat belt legislation for school buses.
Did the NJ School Bus Driver Try to Make an Illegal U-Turn on I-80?
Multiple sources told NBC 4 New York that the school bus driver apparently tried to make a drastic U-turn on Interstate 80 after missing the westbound exit for Waterloo Village. The sources indicate that video surveillance footage of the highway shows the school bus driver cut across lanes of traffic to attempt a U-turn at a designated emergency vehicle U-turn area.
The dump truck, which was reportedly traveling in the same direction, slammed into the school bus.
What We Know About 77-Year-Old School Bus Driver Hudy Muldrow, Sr.
The driver involved in the New Jersey school bus crash is 77-year-old Hudy Muldrow, Sr. According to driving records, Muldrow had numerous citations but was somehow able to continue driving for Paramus School District.
Several media outlets reported that between 1975 and 2017, Muldrow had his license suspended 14 times, primarily for administrative reasons. Most recently, his license was suspended last December for failing to pay parking tickets. Muldrow was also cited for speeding eight times between 1975 and 2001.
At the time of the accident, Muldrow's commercial driver's license and school bus endorsement were both valid. He earned his commercial license in 2012 and his school bus endorsement a year later. In order to obtain a school bus endorsement, one must pass a background check, a road test, and a written test.
Muldrow received three moving violations going back to 2008. One was for not wearing a seatbelt, another for careless driving, and the last was for making an improper turn. None of these violations resulted in an accident.
Witnesses Describe Scene of Mount Olive School Bus Crash
Jay Faltings was one of the first motorists to come upon the scene after the New Jersey school bus crash."It's like nothing you've ever seen before." – Jay Faltings, an eyewitness to NJ school bus accident
"They were young kids," Faltings told the media. "But luckily, first responders, everybody there helped get all the kids out safely from what we could see… The kids were obviously freaked out."
Mendez Trucking Company Involved in NJ Bus Crash has Previous Accidents and Incidents
According to the Federal Motor Carrier Safety Administration (FMCSA) records, Mendez Trucking employs 33 drivers and has a fleet of 33 trucks. Mendez trucks have been in seven crashes over the last two years, though none of them fatal, per FMCSA records.
In 2016, Mendez was fined $22,850 for violating regulations on inspections, repairs and maintenance, and post-crash drug and alcohol testing. The company has a higher than average vehicle out-of-service rate, which means inspections led to violations that had to be corrected before the truck could be returned to service. Mendez Trucking's out-of-service rate was 37.9 percent and the national average is 20.7, according to the FMCSA.
New Jersey Politicians React to School Bus Accident: 'Pray for East Brook'
Richard LaBarbiera, the mayor of Paramus, was at the scene of the crash not long after it was called in. "It's a terrible, terrible day for Paramus, and we're just sorting through everything right now," he told the media. "The only thing I am going to say is to pray for East Brook and pray for Paramus."
Mount Olive Mayor Rob Greenbaum told CNN that he received an emergency alert after the crash was reported indicating that people were possibly ejected in the bus crash, though at the time of his interview, he could not confirm from which vehicle.
New Jersey Congressman Josh Gotteimer's district includes Paramus. "My gut is tied in knots," Gottheimer said after the Mount Olive crash. "As a father, I am praying for every parent and child, and I hope that all those injured make a full recovery."
New Jersey School Bus Crash Updates
New Jersey Dept. of Education Documents on School Bus Driver Contradict Paramus Superintendent's Comments | May 31, 2018
New Jersey's Department of Education informed Paramus Superintendent of Schools Michele Robinson late last year that the school bus driver involved in this month's fatal crash in Mt. Olive was ineligible to drive.
On Dec. 21, 2017, the Dept. of Education sent a letter to Robinson, informing her that New Jersey's Motor Vehicle Commission had revoked school bus driver Hudy Muldrow Sr.'s bus endorsement and that his medical clearance had expired. The letter asked that Robinson respond in writing to document that the school district had complied with the agency's determination that Mr. Muldrow was ineligible to operate school buses.
The documents appear to contradict an earlier statement from Robinson, who indicated she was not aware that Mr. Muldrow had a spotty driving record that would have disqualified him from operating a school bus.
According to North Jersey, a bus endorsement can be revoked due to criminal history or a disqualifying medical condition. Mr. Muldrow also received a letter last December informing him of his license suspension and expired medical clearance. The letter gave him 14 days to challenge the determination.
On Jan. 24, 2018, the Dept. of Education sent a subsequent letter to Robinson informing her that Mr. Muldrow's license had been restored, making him eligible to operate school buses again.
Last week, the Dept. of Education sent letters to Muldrow, Robinson, and the Motor Vehicle Commission, indicating that if Muldrow were to be convicted on the criminal charges he is currently facing, he will be permanently disqualified from operating buses. Muldrow's next court appearance is scheduled for June 25, 2018.
School Bus Driver in NJ Crash Facing Two Charges of Vehicular Homicide | May 25, 2018
The school bus driver involved in last week's fatal collision with a dump truck in Mount Olive appeared in court today. Hudy Muldrow, Sr., 77, is facing two charges of vehicular homicide for his role in the fatal accident.
According to the criminal affidavit, Muldrow missed an exit on Interstate 80 and tried to make an illegal U-turn using one of the highway's designated emergency vehicle U-turn zones. In the process, the school bus was hit by a dump truck, ripping the passenger cabin of the bus clear off its chassis. Ten-year-old East Brook Middle School student Miranda Vargas and 51-year-old teacher Jennifer Williamson were killed in the crash.
According to driving records, Muldrow had numerous driving violations but was somehow allowed to work as a school bus driver for the Paramus School District. Superintendent Michele Robinson issued a statement saying she was "shocked, saddened and angry" to hear of Muldrow's driving record. She said nothing provided to the school district from the state showed that Muldrow "had any moving violations."
Muldrow will remain in jail until his next hearing on May 30.
NTSB Recommends Shoulder Belts in Wake of Morris County School Bus Crash | May 22, 2018
The National Transportation Safety Board (NTSB) issued a recommendation today that New Jersey requires shoulder restraints on its school buses. While the NTSB did not pursue an investigation following the Mount Olive Township crash involving a Paramus Public Schools bus and a dump truck, the agency said its investigations into two other school bus crashes apply to this latest crash in New Jersey.
NTSB Chairman Robert Sumwalt told the media that his agency's recommendation if acted on, would ensure that newly manufactured buses would be equipped with proven occupant protection in shoulder restraints.
New Jersey is one of four states that requires school buses to have lap seat belts on school buses, but not lap-shoulder belts. Other states with similar rules include Florida, Louisiana, and New York, among others. California and Nevada require lap-shoulder restraints.
Paramus Public Schools Cancels All Remaining School Trips for the Year | May 17, 2018, | 5:00 p.m.
In the wake of today's school bus crash, Paramus Public Schools Superintendent Michele Robinson issued a statement saying the district has canceled all remaining school trips for the rest of this year.
New Jersey Governor Phil Murphy Gives Update on Injuries | May 17, 2018 | 4:10 p.m.
New Jersey Gov. Phil Murphy held a press conference this afternoon to provide an update on the Mount Olive school bus crash. According to Murphy, seven adults, including the bus driver, and 38 students were on the bus at the time of the accident. The adult who died in the accident was a teacher.
Aside from the two fatalities, everyone on the school bus was hospitalized. That puts the injury total at 43.
Murphy said some of the injured are currently listed in critical condition, though he did not elaborate on exactly how many.
East Brook Middle School said it will be open tomorrow (May 18). The school will provide crisis counselors for students and staff.
East Brook Middle School Student on Bus Accident: 'A Lot of People Were Screaming and Hanging from Their Seat Belts' | May 17, 2018 | 3:40 p.m.
Theo Ancevski, an East Brook student, was seated in the fourth row of the bus at the time of the collision.
"I heard a scraping sound and we toppled over the highway. A lot of people were screaming and hanging from their seatbelts," Ancevski said outside Morristown Medical Center, where he received treatment for cuts and scrapes. After the collision, Ancevski recalled that people evacuated the bus via the emergency exit on the roof. "A lot of people were injured," he said.