A team of experienced police misconduct/civil rights lawyers from Baum Hedlund Aristei & Goldman of Los Angeles is representing CJ Montano, a Marine Corps Veteran, in a case against the LAPD for severe injuries he sustained when LAPD shot him in the head with a Rubber Bullet while he stood with his arms above his head during protests at Pan Pacific Park in Los Angeles on May 30, 2020.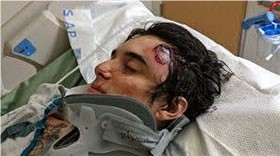 Baum Hedlund filed a claim with the City of Los Angeles on June 24, 2020 on Mr. Montano's behalf, stating that LAPD officers violated his rights and injured him physically and emotionally during the peaceful protest, which he was attending to support Black Lives Matter and to decry the murder of George Floyd by the Minneapolis Police Department. The entire Claim can be viewed here.
The City has 45 days to respond to Mr. Montano's claim. These claims are typically denied. If the claim is ignored or denied, Baum Hedlund is prepared to file a lawsuit on Mr. Montano's behalf.
Baum Hedlund's Statement concerning the LAPD footage released on July 31, 2020 showing the LAPD injuring CJ Montano
Our firm represents Mr. Montano in this case. The body worn video footage that was released by the LAPD this morning was not previously shared with Mr. Montano or his attorneys, despite requests for such evidence through the proper channels provided by California law.

The body worn video makes it abundantly clear that our client, while standing with his hands up and posing no threat whatsoever, was shot in his head by officers who intentionally subjected him to deadly force. The LAPD's disingenuous strategic attempt to minimize the serious nature of his injuries and characterize their actions as "unintentional" is inconsistent with the evidence, including the key video. LAPD's video statement that CJ has refused to speak with them is misleading. The LAPD contacted CJ when he was initially injured but he was not ready to talk. Then he retained our law firm. When the LAPD contacted him again, CJ appropriately directed them to our law firm now that he had legal counsel. Had the LAPD contacted us to speak with CJ, we would have worked with them to arrange an interview. We have yet to hear from them.

The LAPD's conduct violated not only the law, but numerous LAPD policies on the use of force. We are fully prepared to litigate this case against the LAPD and are confident that the evidence, including the video footage just released, will be more than sufficient to hold the LAPD, and the individual officers involved, accountable for Mr. Montano's serious brain injuries.
About CJ Montano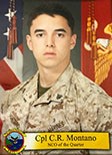 CJ Montano, 24, enlisted in the Marine Corps in 2014. He first served at 29 Palms Marine Base for training and then served in Iwakuni, Japan from 2015 to 2018. He lives in Southern California.
Mr. Montano, aka Iz Sinistra, is in the process of legally changing his name to Iz Sinistra. He is represented by Pedram Esfandiary, Monique Alarcon, Timothy A. Loranger and Ronald L. M. Goldman, of Baum Hedlund Aristei & Goldman of Los Angeles.
He suffered severe injuries, including a traumatic brain injury (TBI) on May 30, 2020 during the attack by LAPD.
About Baum Hedlund Aristei & Goldman
Baum Hedlund Aristei & Goldman is a national, award-winning law firm that has earned a reputation for breaking new ground, holding Fortune 500 companies accountable, influencing public policy, raising public awareness, and improving product safety.
The team at Baum Hedlund has represented over 10,000 clients across the U.S. in personal injury and wrongful death claims stemming from harmful consumer products, medications, medical devices and commercial transportation accidents. The firm also represents whistleblowers and people injured by police misconduct and other civil rights violations. The firm has won more than $4 billion in verdicts and settlements.