June 15, 2020, Salt Lake City, Utah – – Attorneys from the law firm of Baum Hedlund Aristei & Goldman have filed a lawsuit against American Airlines and CheapOAir alleging flight attendants and cabin crew members forced a disabled amputee passenger to crawl from her seat to the lavatory because the airline failed to equip the plane with an aisle wheelchair, causing the passenger humiliation and injuries.
Attorney Ronald L.M. Goldman filed the complaint in U.S. District Court for the District of Utah, Northern Division on behalf of Tammy S. Spears and her husband, Robert G. Spears, both of Idaho. The case number is 2:20-cv-00367-TC.
The complaint names as defendants American Airlines Group Inc. of Texas and CheapOAir Inc. of New York. Among other things, the lawsuit alleges that American Airlines negligently failed to have an aisle wheelchair on Mrs. Spears' flight and failed to warn her that that there would be no means for her to get to an onboard lavatory during the flight if the need arose.
The lawsuit further alleges that CheapOAir, the company that sold Mrs. Spears' ticket for air travel, negligently failed to inform American Airlines of Mrs. Spears' disability and special needs and failed to give Mrs. Spears any information about how and when to notify the airline to arrange for an on-flight aisle wheelchair.
The counts for damages against American Airlines and CheapOAir are as follows:
Count I: Negligence – Failure to Have Onboard Aisle Chair (American Airlines)
Count II: Negligence – Failure to Warn or Deny Boarding (American Airlines)
Count III: Intentional Infliction of Emotional Distress (American Airlines)
Count IV: Negligent Infliction of Emotional Distress (American Airlines)
Count V: Negligence (CheapOAir)
Count VI: Loss of Consortium (Both Defendants)
Lawsuit Against American Airlines Alleges Amputee Passenger Told She Must Hop on Good Leg or Scoot on the Floor to Get to Lavatory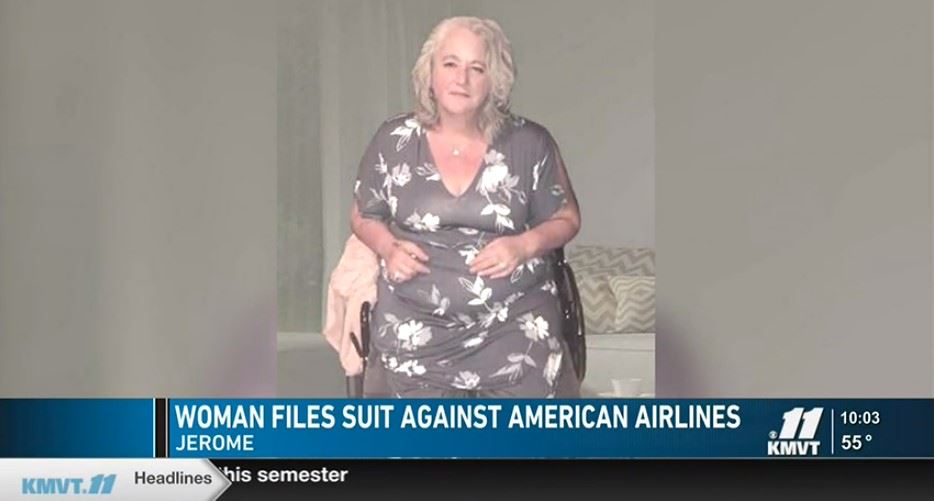 In June of 2018, plaintiff Tammy S. Spears had her left leg amputated below the knee. She had no prosthesis. She is confined to a wheelchair and legally blind. After years of battling multiple illnesses and disabilities, she finally had the opportunity to visit her family on the east coast.
In late June, Mrs. Spears used CheapOAir to book an American Airlines flight to visit her sibling in August. This was to be Mrs. Spears' first plane flight since she suffered the amputation.
To ensure safe air travel, Mrs. Spears, along with her husband and son, consulted with American Airlines before and after purchasing tickets for the planned trip. According to Mrs. Spears, the airline advised her and her family that only certain aircraft carried in-flight aisle (wheel) chairs and recommended those flights between Salt Lake City, Utah and Charlotte, North Carolina that would accommodate her disability. American further advised that Mrs. Spears was to give the airline 48-hours advance notice of her wheelchair needs prior to her flight(s).
Per the complaint, she complied with American's recommendations and booked travel from Salt Lake City to Charlotte, then a connecting flight from Charlotte to Richmond, Virginia. She also informed the airline of her wheelchair needs more than 48 hours in advance of her flights, according to the lawsuit.
Allegations in American Airlines Lawsuit
The events described below are Mrs. Spears' allegations; there has been no determination of liability:
On August 10, 2019, Mrs. Spears presented herself at the boarding gate for American Airlines Flight 2905 in a wheelchair provided by the Transportation Security Administration (TSA). She arrived more than an hour before her flight was scheduled to depart.
American Airlines provided Mrs. Spears with an aisle wheelchair to board Flight 2905, and she was able to get seated on the plane with the assistance of American Airlines personnel without incident. However, before the flight departed none of the American Airlines' gate agents or flight attendants on Flight 2905 told her that the aisle wheelchair would be removed, and none would be available during the flight.
About an hour or more into the approximately four-hour flight, Mrs. Spears needed to use the lavatory and advised an American Airlines flight attendant that she required the use of an aisle wheelchair. The flight attendant returned from the cabin and advised her that there was no aisle chair onboard the aircraft.
The flight attendant then told Mrs. Spears that she would have to "hold it" for the remaining hours of the four-hour flight. Mrs. Spears attempted to comply with the flight attendant's directions but later informed the cabin crew that she required use of the lavatory.
In attempting to get her to the lavatory, the flight attendant and other American Airlines cabin crew members lifted, dropped, pushed, dragged and injured Mrs. Spears in their efforts to get her out of her seat and into the forward lavatory. In the course of the effort to help Mrs. Spears out of her seat, she fell to the floor.
At or about that time, American Airlines' cabin attendants, and other agents, directed her to hop on her one remaining leg down the aisle. Exhausted from the ordeal and aware of her disability, Mrs. Spears was unable to comply.
After a period of time, with her need to use the lavatory increasingly urgent, Mrs. Spears was directed by American's cabin attendants to "scoot" on the floor of the cabin with flight attendants and a passenger, whose help the flight attendants had elicited, pushing and pulling her.
By the time Mrs. Spears finally made it to the lavatory, many of the passengers were focused on her plight. Too exhausted to pull herself up to enter the lavatory, even with help, American's cabin attendants and the passenger pushed suitcases or some other hard-surfaced containers under her in order to raise her up.
American flight attendants disrobed Mrs. Spears in plain view of flight attendants and several of the first-class passengers near the lavatory; she was too humiliated and exhausted to resist. When she finally got into the lavatory, American's crew members insisted Mrs. Spears utilize the lavatory with the door open.
Mortified, injured, exhausted, and defeated, Mrs. Spears told the flight crew that she could not crawl back to her seat. The crew devised another scheme to drag Mrs. Spears from the lavatory to her seat. This method involved Mrs. Spears sitting on a flat of some kind and being dragged inch by inch back to her seat.
By this point, her humiliation and utter pain were so obvious to passengers that one first-class passenger offered Mrs. Spears his seat to stop the dragging; apparently, he took a coach seat.
Because of the pushing, lifting, dragging, falling, crawling, scooting, and dropping, Mrs. Spears suffered burns, strains, pain to her foot, leg, arm, and other areas. Her blood pressure and breathing were also severely and adversely affected, so much so that she required supplemental oxygen. Mrs. Spears remained in the first-class cabin seat for the duration of the flight, receiving supplemental oxygen and having her blood pressure monitored, all whilst experiencing pain, suffering, discomfort, and severe emotional distress.
When the flight arrived in Charlotte, American's employees and EMTs checked Mrs. Spears' vital signs then placed her in a wheelchair. Instead of being taken to her gate, she was taken to a room controlled by American and interrogated about the incident against her desire. Only after questioning her, denying fault, and further embarrassing her, did American Airlines' agents allow her to use restroom facilities and take her to the gate of her connecting flight.
According to the complaint, as a result of the defendants' negligence and failure to warn that Mrs. Spears would not have access to an aisle wheelchair, she suffered burns, strains, and other physical pain. Furthermore, as a result of American Airlines' infliction of severe emotional distress on Mrs. Spears, she has suffered nightmares, fear of flying, anxiety, depression, and other emotional injuries.
"American Airlines and CheapOAir owed a duty of care to Mrs. Spears to provide her with an aisle wheelchair. They not only failed to provide her with a chair, they failed to warn her that without one, there would be no means for her to use the lavatory for the duration of the flight. These failures combined with the flight crew's lack of compassion caused physical and emotional harm to our client that may not ever fully heal."

"I have been litigating cases against major airlines for more than four decades," says veteran trial attorney Ronald L. M. Goldman. "The indignity that our client suffered at the hands of American Airlines is unlike anything I have ever seen. We intend to hold the defendants accountable for their outrageous and intolerable conduct, and we hope the litigation sends a strong message that negligence of this magnitude will carry steep consequences."
About Baum Hedlund Aristei & Goldman
Senior shareholder and trial lawyer, Ronald L. M. Goldman, has been practicing law for nearly 60 years. He is board certified by the National Board of Trial Advocacy as a Civil Trial Lawyer and Civil Pretrial Practice Advocate. He was a private pilot for many years and has been handling airline accidents and incidents since 1972.
Baum Hedlund Aristei & Goldman has successfully litigated against most major airlines in the United States, including more than 80 personal injury and wrongful death cases against American Airlines. Across all areas of practice, the firm's attorneys have won more than $4 billion in verdicts and settlements, including the $2B verdict last year against Monsanto—#1 verdict in California last year and the ninth-largest in US history. With a track record of success going back decades, the nationwide firm has earned a reputation for breaking new ground, holding Fortune 500 companies accountable, influencing public policy, raising public awareness, and improving product safety. The firm has received many honors and awards—most recently listed in The National Law Journal's 2018-2020 Elite Trial Lawyers and The Best Lawyers in America® (2014-2020).
Related News