On Thursday, February 16, 2023, two experienced Tennessee National Guard pilots were killed when their Black Hawk helicopter crashed along Alabama Highway 53 in the unincorporated community of Harvest. The U.S. Army Combat Readiness Center is currently investigating the cause of the fatal helicopter crash.
Authorities identified the deceased as Chief Warrant Officer 3 Daniel Wadham of Joelton, Tennessee, and Chief Warrant Officer 3 Danny Randolph of Murfreesboro, Tennessee. CWO3 Wadham and CWO3 Randolph were both assigned to A Company, 1-230th Assault Helicopter Battalion from Berry Field Air National Guard Base in Nashville, Tennessee.
Investigators say the UH-60 military helicopter crashed during a training exercise, falling from the sky and catching fire after impact. The two National Guardsmen were the only people aboard the UH-60 chopper. In a statement, the Tennessee National Guard said the Black Hawk helicopter "rapidly descended and impacted the ground" on approach to Huntsville Executive Airport.
A witness to the fatal crash told the media that the helicopter fell apart and exploded upon impact. "We heard a very loud — like a car without a muffler, but we knew it was in the sky," said Tammy Adams. "Looking up in the air, we saw the helicopter, and bam! We hear it hit. We saw it hit the ground, and it exploded."
The Black Hawk crash in Alabama was captured on video.
On March 29, 2023, nine U.S. Army soldiers were killed when two HH-60 Black Hawk helicopters crashed in southwest Kentucky near the Tennessee border. Army officials said one of the helicopters had four soldiers on board while the other had five. Read our blog for more information on this tragedy.
Alabama Black Hawk Helicopter Crash Victims Identified as Tennessee National Guard Pilots
Chief Warrant Officer 3 Daniel Wadham
CWO3 Wadham, 39, had 15 years of military service. His wife, Rosetta Wadham, described him as a humble, loving man who enjoyed fixing things. The two served in the same battalion but different units. "He enlisted me into the Army," Mrs. Wadham said. "We had been together for several years and since he was an officer, he was able to do a private enlistment ceremony and he swore me in."
Rosetta Wadham said her husband was known as a mentor to younger pilots. "There aren't enough words to describe the truly amazing type of person he was." A memorial service for CWO3 Wadham was held on March 8, 2023.
"I appreciate the coverage and the escort by MNPD, THP, and NFD. I appreciate all the support from the TN ARNG. My husband was a true hero, a wonderful husband and an amazing father to both his daughters. He was a true friend to everyone who knew him."
CWO3 Wadham is survived by his wife, Rosetta Wadham, and two children.
Chief Warrant Officer 3 Danny Randolph
CWO3 Randolph, 40, had 13 years of military service. His mother, Patricia Randolph, told the media that her son loved the military and died doing what he loved. CWO3 Randolph went to Middle Tennessee State University and hoped to have a career as a commercial airline pilot. After starting a family, he joined the Tennessee National Guard. Joining the military was in his blood; his older brother, David, also served.
While deployed in Afghanistan, Randolph served as an air traffic controller. "He had such a sweet, loving personality, everybody loved Danny Randolph," said his mother, Patricia Randolph. "He was just an outgoing person." Randolph is survived by his wife, Melissa Randolph, his children, and stepchildren.
A celebration of life for CWO3 Randolph was held on March 11, 2023.
What Caused the Black Hawk Crash in Alabama?
The cause of the UH-60 Black Hawk crash in Alabama remains under investigation. A team from the U.S. Army Combat Readiness Center will lead the investigation into the fatal crash. The center is generally responsible for leading investigations when accident findings may have an Army-wide impact.
Military aviation accident attorney Timothy A. Loranger told WAFF 48 Alabama that crash investigators will at every possibility to determine the cause of this tragedy. "Their goal is to make sure they find out whether this was a mechanical failure within the aircraft or a combination of causes," Loranger said. "That could include looking at how the aircraft was piloted, looking at training, looking at all kinds of issues surrounding the safe operation of a helicopter."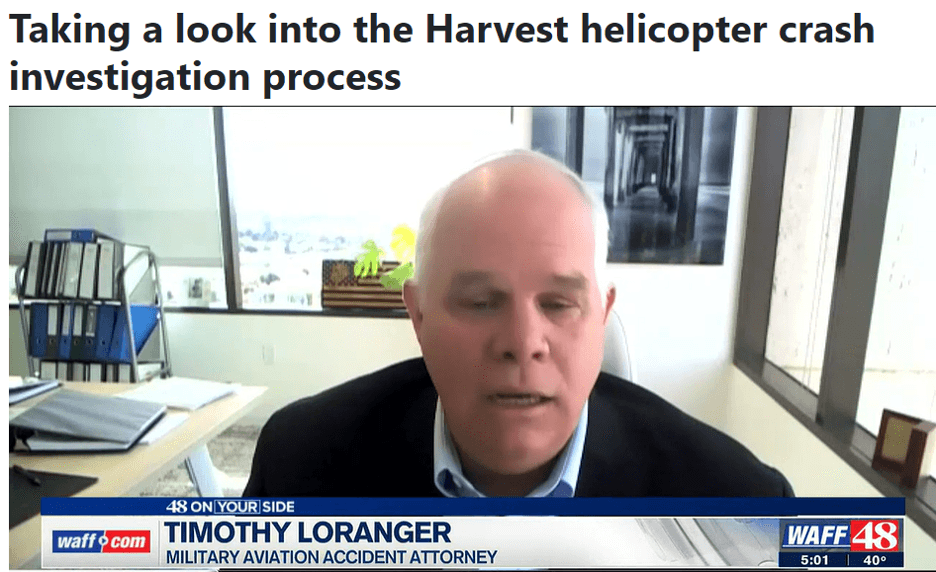 "Families prepare themselves for something like this to happen when their loved one goes off to Afghanistan and Iraq and deployed off to the world protecting their country," Loranger added. "When they're home, they expect them to be safe. It's really hard to wrap their mind around this."
It will likely be a year or more before we know what caused this tragedy.
Recent Black Hawk Crashes
The UH-60 Black Hawk helicopter has a history of fatal crashes. Between 1981 and 1984, UH-60 and its variants crashed 16 times, killing 22 people. In 1985, the U.S. Army briefly grounded Black Hawks after six crashes over four months caused 15 deaths. The most serious Black Hawk helicopter crash at the time happened on March 13, 1985 crash at Fort Bragg. Eight soldiers and four crewmen lost their lives in the crash.
Today, concerns about Black Hawk helicopter safety remain. Between December of 2019 and March of 2023, at least 10 Black Hawk crashes on U.S. soil have resulted in military fatalities.
Some recent Black Hawk crashes include:
March 2023: Nine U.S. Army soldiers died in a crash involving two HH-60 Black Hawk helicopters. The tragedy happened during a routine training exercise in Kentucky near the Tennessee border.
February 2022: Two Black Hawk helicopters crashed in Utah during a training exercise. Thankfully, no one was injured.
February 2021: A Black Hawk helicopter crash outside of Boise, Idaho, killed three Idaho Army National Guard soldiers.
January 2021: A New York Army National Guard Black Hawk helicopter crash during a routine training mission killed all three soldiers on board. A preliminary report cited 911 calls that said "sputtering sounds" came from the engine before the helicopter went down.
November 2020: A Black Hawk helicopter crash during a peacekeeping mission in Egypt, killed five Army soldiers, a French service member, and a Czech service member. Reports indicated that a "technical failure" caused the crash.
August 2020: Two Army soldiers were killed, and three others sustained injuries when a Black Hawk helicopter crashed off the coast of California during a training exercise.
December 2019: A Black Hawk helicopter from the Minnesota Army National Guard Army Aviation Support Facility crashed shortly after taking off for a routine maintenance test flight. Three men on board died in the crash.
Military Accident Lawyer With Experience Litigating Black Hawk Crash Cases
Under the Feres Doctrine, military service members and their families cannot sue the federal government. However, military personnel and their families may be able to pursue a claim against government contractors if defective design, manufacturing, or maintenance failure caused or contributed to a crash or accident that resulted in harm.
If you or someone in your family is interested in learning more about your legal rights after a military aviation accident, it is in your best interest to speak with an experienced lawyer to discuss your potential case. Wisner Baum senior partner Timothy A. Loranger is a U.S. Marine Corps. veteran with a successful track record in aviation accidents involving military aircraft. These legal victories resulted in monetary recoveries for our clients and accountability for the negligent companies that put profit over the safety of our brave men and women serving the country in uniform.
Contact us today for a free and confidential case evaluation.