UH-60 Black Hawk Helicopter Crash Lawyer
The UH-60 Black Hawk is a twin-engine, four-blade helicopter that entered service in the United States Army in 1979. While the Sikorsky UH-60 has since become a workhorse for the Army, Navy, Air Force, and Coast Guard, crashes happen every year, causing severe injuries and deaths.
Under the Feres Doctrine, the U.S. government has sovereign immunity from lawsuits filed by military service members and their families. However, Army Soldiers or other military personnel, and their families may be able to pursue a claim against government contractors if defective design, manufacturing, or maintenance failures caused or contributed to a military aviation accident.
If you or a family member have been harmed in a Black Hawk helicopter accident, it is in your best interest to speak with an experienced military lawyer to discuss your potential case. Wisner Baum's lead military attorney Timothy A. Loranger is a U.S. Marine Corps. veteran who has successfully resolved numerous military accident cases, resulting in significant compensation for his clients. These legal victories not only amounted to monetary recoveries; they also sent a strong message to government contractors—if you cut corners on safety and endanger the lives of military service members, you will be held responsible.
If you or a family member were harmed in a military helicopter crash and would like to speak with an experienced lawyer about your case, please contact us or call (855) 948-5098 today.
Sikorsky Black Hawk Helicopter
The Sikorsky Black Hawk Helicopter has seen heavy use in the U.S. military since the late 1970s. When the UH-60A entered service, it replaced the Bell UH-1 Iroquois helicopter as the Army's tactical transport helicopter.
Sikorsky subsequently developed the UH-60L and the UH-60M utility variants, and other branches of the Armed Forces went on to use modified versions of the UH-60. More than 4,000 Black Hawk helicopters are in service today in the U.S. and 28 other countries. The U.S. Army is the largest Black Hawk helicopter operator globally, with 2,135 in its fleet.
Black Hawk Crashes
The UH-60 and its military variants have crashed many times over the years. Between 1981 and 1984, Black Hawk helicopters crashed 16 times, killing 22 people. In 1985, the U.S. Army briefly grounded the Black Hawk after six crashes over four months caused 15 deaths. The most serious crash of the time, a March 13, 1985 crash at Fort Bragg, killed eight soldiers and four crewmen.
Decades later, concerns about Black Hawk helicopter safety remain as crashes and incidents continue to happen with striking regularity. Between December of 2019 and March of 2023, at least 10 Black Hawk crashes on U.S. soil have resulted in military fatalities.
As of March 2023, Aviation Safety Network lists 390 total incidents involving Black Hawk helicopters (including variants). ASN data lists 970 deaths in Black Hawk helicopter crashes.
The following recent Black Hawk helicopter accidents resulted in U.S. military deaths:
March 2023: Nine US service members were killed when two HH-60 Black Hawk helicopters with the 101st Airborne Division crashed in southwestern Kentucky. There were no survivors in what has become the deadliest helicopter training accident since a 2015 Black Hawk crash in Florida that killed 11 service members.
February 2023: A Tennessee National Guard UH-60 Black Hawk helicopter crashed during a training flight in Alabama, killing CWO3 Daniel Wadham, 39, and CWO3 Danny Randolph, 40.
February 2021: A UH-60 helicopter crashed outside of Boise, Idaho, killing three Idaho Army National Guard soldiers.
January 2021: A New York Army National Guard UH-60 Black Hawk helicopter crashed during a routine training mission, killing all three soldiers on board. A preliminary report cited 911 calls that said "sputtering sounds" came from the engine before the helicopter went down.
November 2020: A UH-60 Black Hawk helicopter crashed during a peacekeeping mission in Egypt, killing five Army soldiers, a French service member, and a Czech service member. According to reports, a "technical failure" caused the crash.
August 2020: Two Army soldiers died, and three others sustained injuries when their Black Hawk helicopter crashed during a training exercise off the coast of California.
December 2019: A UH-60 Black Hawk from the Minnesota Army National Guard Army Aviation Support Facility crashed shortly after taking off for a routine maintenance test flight. Three men on board died in the crash.
Aviation attorney and USMC veteran, Timothy Loranger, commenting about the military investigation report of a Black Hawk helicopter crash that killed three members of the National Guard in 2019.
UH-60 Black Hawk Safety Data
In January of 2021, the U.S. Army published Flightfax data highlighting UH-60 accidents and incidents. The report indicated that between 2016 and 2020, UH-60 helicopters were involved in 160 total mishaps. Of those, 18 were considered "Class A" resulting in at least $2 million in property damage and/or death or permanent disability of personnel. The total cost of the 160 mishaps: 18 fatalities and more than $368 million in damage.
Lawmakers Respond to Black Hawk Crashes
In February of 2021, Senator Kristen Gillibrand (D-NY) sent a letter to Defense Secretary Lloyd Austin calling for an inquiry into the slate of recent Black Hawk crashes to "determine if they fit a larger pattern of malfunction with the UH-60 Black Hawk helicopter."
In her letter, Sen. Gillibrand pointed out that in the case of the 2019 Minnesota National Guard crash, the UH-60's number one engine failed during a maximum-power check at a time when the helicopter's number two engine was idling. This failure led to a situation where neither engine provided power to the helicopter's main rotor system. According to the crash investigation, an incorrect installation of the engine's hydromechanical fuel control unit caused the failure.
The letter further noted that the crashes in Idaho and New York were being investigated as "disparate events," even though three Black Hawk crashes within a year "raises significant concerns about a systemic issue with the Black Hawk helicopter operation cycle."
Military Lawyer with Experience in Black Hawk Helicopter Crash Cases
The law firm of Wisner Baum has decades of experience litigating aviation accident cases, including those on behalf of military service members. Our firm has represented clients in cases involving Sikorsky Black Hawk helicopters. We know what it takes to win cases against the world's leading aviation companies. Across all areas of practice, Wisner Baum attorneys have earned more than $4 billion in verdicts and settlements.
Lead military lawyer Timothy A. Loranger is a pilot and Marine veteran who worked as an aircraft mechanic during his years of service. This experience is an asset in aviation accident investigations involving military aircraft where the claimant must prove that mechanical failure or maintenance negligence on the part of a government contractor caused or contributed to a military accident.
Some of Tim's legal awards and accomplishments include: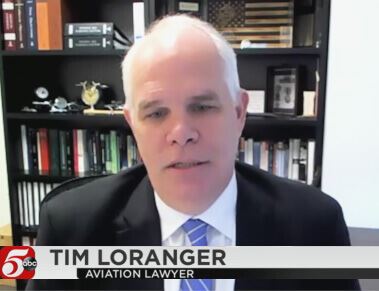 Appointed to Board of Directors for U.S. VETS, the largest nonprofit provider of services to homeless and at-risk veterans from every military branch who served our country in WWII and every conflict since.
Appointed to Board of Governors for Consumer Attorneys Association of Los Angeles (CAALA), the nation's largest local association of plaintiffs' attorneys.
Active member of CAALA's Government Relations Committee, the New Lawyers Committee and the Listserve Committee.
Active member of Consumer Attorneys of California.
Consumer Attorneys Association of Los Angeles Presidential Award in 2007 and 2014 and the Presidential Award of Merit in 2008.
Selected to: The Best Lawyers in America® and Southern California Super Lawyers® – Aviation & Aerospace.
Our legal team is available to discuss your case with you at any time. Please contact us by phone at (855) 948-5098 or fill out our contact form.
A Major US Plane Crash $17.5 Million Settlement

Wisner Baum obtained a $17.5 million settlement on behalf of a client who was killed in a major U.S. plane crash.

A Major US Plane Crash $14 Million Settlement

Wisner Baum obtained a $14 million settlement for the death of a passenger in a major US plane crash.

Helicopter Crash $12 Million Settlement

Wisner Baum secured a $12 million settlement for a passenger who was injured in a helicopter crash.

A Major Foreign Plane Crash $10 Million Settlement

Wisner Baum obtained a $10 million settlement for the death of a passenger in a major foreign plane crash.
Best Law Firms 2023

A ranking in The U.S. News – Best Lawyers® "Best Law Firms" is widely regarded by both client and legal professionals as a significant honor. It is considered the most reliable, unbiased source of legal referrals anywhere.

The Truck Safety Coalition

Wisner Baum is proud to be a sponsor of The Truck Safety Coalition, a a group of caring individuals dedicated to reducing the number of deaths and injuries caused by truck-related crashes. Our support enables them to help families and save lives.

California Powerhouse

Law360 recognizes law firms that have a strong regional presence, working on important matters within their home state. "[Wisner Baum] possesses a David v. Goliath-sized slingshot while seeking justice for everyday citizens it believes were harmed or killed through corporate wrongdoing."

Elite Trial Lawyers

NLJ and American Lawyer Media honor law firms and attorneys as Elite Trial Lawyers for their cutting-edge legal work on behalf of plaintiffs in practice areas ranging from mass torts to securities litigation.

Listed in Best Lawyers

Best Lawyers is the oldest and most respected peer-review publication in the legal profession. A listing in Best Lawyers is widely regarded by both clients and legal professionals as a significant honor, conferred on a lawyer by his or her peers.

AV Top Ranked Law Firm

Less than one-half of one percent of firms across the nation have achieved this ranking. A firm must have a high percentage of lawyers who have achieved the prestigious AV® Preeminent rating by Martindale-Hubbell®.

Verdicts Hall of Fame

The National Law Journal inducted Wisner Baum into the Verdicts Hall of Fame for obtaining the $2 billion landmark verdict in the Roundup cancer case of Pilliod et al. v. Monsanto. The verdict was #1 in California and #2 in the U.S. in 2019 and is #9 in American history.

Super Lawyers

Super Lawyers is a rating service of outstanding lawyers from more than 70 practice areas who have attained a high-degree of peer recognition and professional achievement.

National Trial Lawyers Top 100

The National Trial Lawyers Top 100 recognized the law firms of Wisner Baum, the Miller Firm and Audet & Partners with the 2019 Trial Team of the Year award (in the Mass Torts category) for their work in the groundbreaking case of Dewayne "Lee" Johnson v. Monsanto Company.

AV Preeminent Peer Review Rated

An AV® rating reflects an attorney who has reached the heights of professional excellence. The rating signifies the highest legal ability, and very high adherence to professional standards of conduct, ethics, reliability, and diligence.

Avvo 10.0 Rating

Wisner Baum is proud to have all of its lawyers listed in Avvo, a legal directory connecting people in need of legal services with lawyers and connecting lawyers to lawyers. Eight of our attorneys have earned a 10.0 perfect rating with Avvo.

Top Jury Verdict in
CA and USA

TopVerdict.com ranks our $2 billion verdict in Pilliod et al. v. Monsanto as the biggest verdict in California and the second largest verdict in the U.S. in 2019. It is the ninth largest verdict in U.S. history.

Lawdragon 500 Leading Plaintiff Consumer Lawyers

Published annually, the Lawdragon 500 Leading Plaintiff Consumer Lawyers list recognizes the "best of the best" in this area of the law through nominations, research, and review by a board of their peers.

Product Liability Practice Group of the Year

In 2020, Law360 honored the law firms "behind the litigation wins and major deals that resonated throughout the legal industry." It recognized our success in several landmark cases.

Top Personal Injury Jury Verdict in California

In 2018, our $289 million Johnson v. Monsanto verdict was the largest personal injury verdict in California. TopVerdict.com also ranked it #2 among all verdicts in California and #10 in the nation.

Bar Register of Preeminent Lawyers

The Bar Register is the definitive guide to the most distinguished law firms in America. It includes only those select law practices that have earned the highest rating in the Martindale-Hubbell Law Directory and have been designated by their colleagues as preeminent in their field.
Firm Reviews
What Our Clients Are Saying
I Can't Imagine a Better Law Firm - Best Law Firms Survey

They Are About Changing the Systems... - Kim Witczak

Top Legal Minds in the Country - From Best Lawyers® Best Law Firms

Diligent & Professional Representation - W.T.

Our Best Interest Was Always Number One on Your List - G.C. & C.C