Olympus TJF-Q180V Duodenoscope
The Olympus duodenoscope used at UCLA Medical Center went on the market in 2010. But according to Karen Riley, the deputy director of strategy at the FDA's Office of External Affairs,Olympus never asked for FDA approval to put the device on the market.
When did the FDA notice the egregious error? Either late 2013 or early 2014.
Why didn't the FDA notice? "I don't know," Riley told the media.
FDA regulations require any medical device maker to receive clearance if and when a new device model includes changes that could "significantly affect the safety and effectiveness of the device." In the case of the Olympus TJF-Q180V duodenoscope, a modification to the elevator channel that was never cleared by the FDA was determined to be the exact part of the device implicated in the superbug cases. Olympus submitted an application to the FDA to sell the new model last year. Their FDA application is still pending.
At this time, it remains unknown whether the FDA will penalize Olympus for selling the model without their approval.
Olympus Medical Lawsuit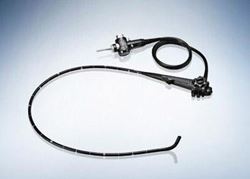 Olympus knew or should have known that endoscopic procedures using the device it designed and sold could result in contaminated fluids being transferred from patient to patient, according to lawsuits filed against the medical device manufacturer. Olympus made serious changes to the Q180V without evaluating the cleaning methods needed to disinfect the device after use. The company also failed to obtain FDA certification to sell the device. Without proper disinfection protocols, or a recall on the device to update safety information, Olympus knowingly put patients at serious risk, the lawsuits allege.
Baum Hedlund's Extensive Legal Experience
Baum Hedlund Aristei & Goldman has successfully represented thousands of clients in defective medical device and pharmaceutical injury cases, as well as illegal and off-label use of drugs and devices, since the late 1980's. Such litigation involves complex evidence and choice of law issues which have been routinely handled by the firm in both state and federal courts. We have been on the prevailing side of some of the nation's most highly-publicized cases.**
Our legal victories have helped consumers in many ways beyond settlement. For example, we have helped uncover harmful drug industry practices, deceptive Big Pharma marketing schemes and helped to improved drug warning labels.
We have participated in cases that have shaped and developed the law for the benefit of injured victims and consumers of pharmaceutical products. We are also at the forefront of the preemption fight, where big pharmaceutical and medical device companies try to seek immunity from lawsuits when their drugs or medical devices have harmed consumers. We have succeeded against having our cases preempted in a multitude of pharmaceutical and medical device cases across the nation.
Our firm has won over $4 billion for our past clients in all areas of practice and many of our attorneys have earned Martindale-Hubbell's highest AV® Preeminent™ Peer Review Rating, and our law firm is also listed in Martindale-Hubbell's Bar Register Preeminent Lawyers, The Best Lawyers in America®, Top Ranked Law Firms™ and U.S. News & World Report Best Lawyers® Best Law Firms.*
If you believe that you were infected with superbug bacteria during an endoscopy procedure using either the Olympus, Fujifilm or Pentax duodenoscopes and would like more information about filing a lawsuit against one of these medical device manufacturers, please fill out our contact form or call us at (855) 948-5098 in order to speak with a medical device injury attorney.
---
*Martindale-Hubbell is the facilitator of a peer review rating process. Ratings reflect the confidential opinions of members of the Bar and the Judiciary. AV® Preeminent™ is certification mark of Reed Elsevier Properties Inc., used in accordance with the Martindale Hubbell certification procedures, standards and policies. An AV® rating reflects an attorney who has reached the heights of professional excellence. He or she has usually practiced law for many years, and is recognized for the highest levels of skill and integrity.
Best Lawyers and The Best Lawyers in America are registered trademarks of Woodward/White, Inc., of Aiken, SC.
*Our past performance, verdicts or settlements do not constitute a guarantee, warranty, or prediction regarding the outcome of your legal matter. Past results obtained or overall performance must be confined to that particular case, its factual and legal circumstances and legal surroundings. Every case is different and must be judged on its own merits.