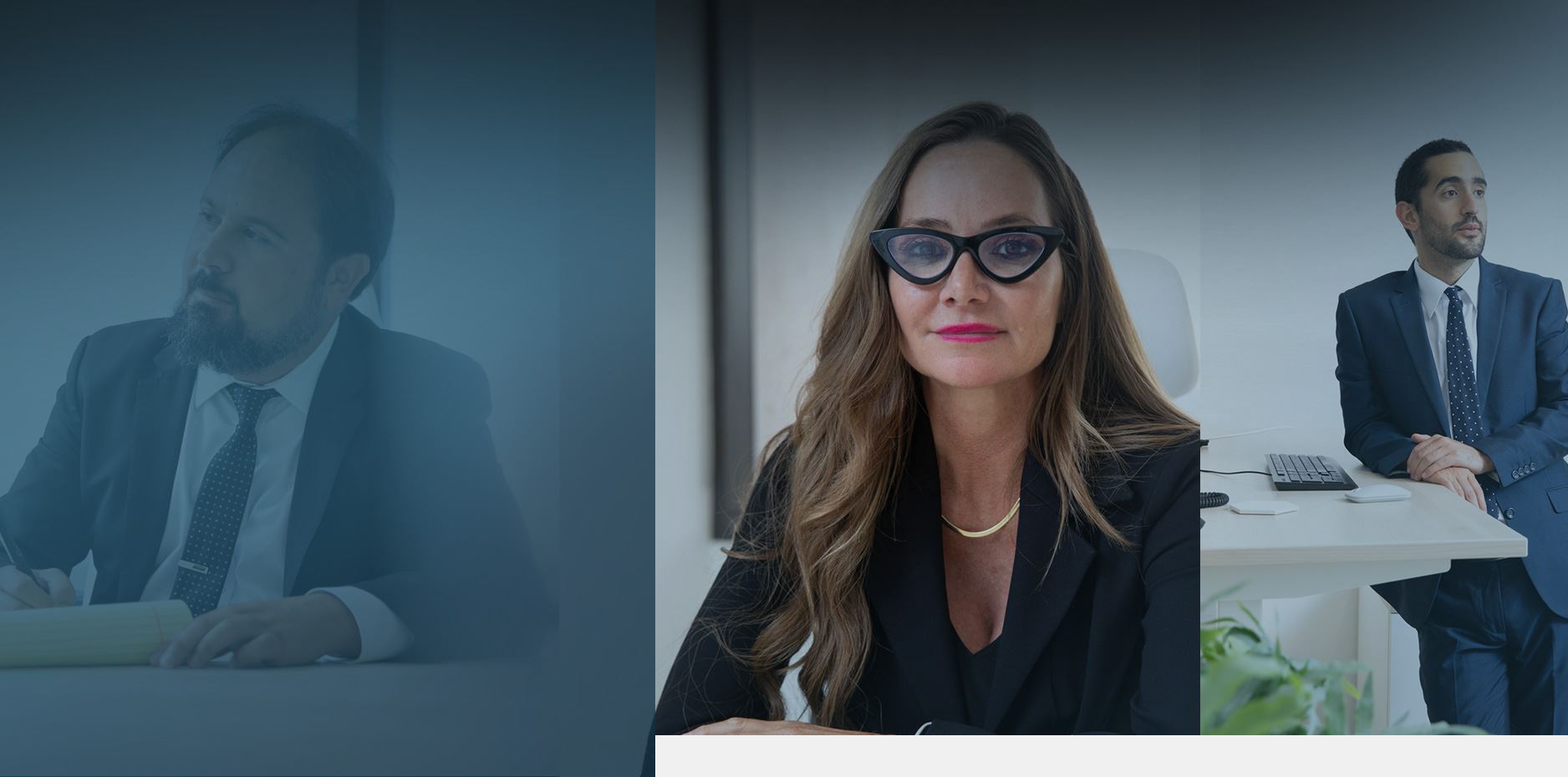 Paxil Suicide Lawsuit Client Focused. Trial Ready. Billions Won.
Paxil Suicide Lawsuits
We are no longer accepting new Paxil cases
Paxil (generic name paroxetine hydrochloride) is an SSRI antidepressant that is commonly taken to treat depression and anxiety disorders, but both the brand name and generic versions have a serious potential side effect: In some cases, victims may be more likely to commit suicide or homicide while taking Paxil. Our attorneys at Baum Hedlund are currently investigating Paxil suicide cases on behalf of families whose loved ones have taken their life while on Paxil, as well as patients who have attempted suicide while taking a form of Paxil.
If you or someone you know was seriously injured or took their life after taking Paxil or generic Paxil, we encourage you to contact our award-winning firm right away. With over $4 billion won for our clients over the last 40 years and some of the largest settlements and verdicts in antidepressant litigation history, our firm has shown that it can successfully advocate for victims and fight to change the pharmaceutical industry for the future.
A Brief Overview of Paxil Suicide Lawsuits
On April 20, 2017, a jury in Illinois awarded $3 million to Wendy Dolin, the widow of 57-year-old Stewart Dolin, who committed suicide only six days after he started taking a generic form of the antidepressant Paxil. Our attorneys at Baum Hedlund Aristei & Goldman were proud to represent Wendy Dolin in her landmark case against GlaxoSmithKline (GSK), the original manufacturer of Paxil that brought the drug to market in 1992. In the end, the Dolin paroxetine lawsuit returned a verdict worth $3 million and sent a clear message to generic drug makers: You will be held accountable if you fail to warn consumers about dangerous side effects.
The most persuasive evidence introduced during the Dolin trial came directly from GlaxoSmithKline. During the case, jurors heard from Dr. David Ross, who worked for the U.S. Food and Drug Administration (FDA) for 10 years reviewing new drug applications submitted to the agency by pharmaceutical companies. Dr. Ross testified about a suicide report on Paxil that GSK submitted to the FDA in 1991 following the Paxil clinical trials. According to his testimony, GSK's report on Paxil side effects misrepresented the suicide data collected during clinical trials.
Specifically, GSK reported a higher number of suicides and suicide attempts in the placebo group than actually took place during the trials. GSK also reported a lower number of suicide attempts in the paroxetine group. These alterations made it appear as though those who took paroxetine faced about the same risk of suicide and suicidal behavior as those who took a placebo.
Some other findings unearthed during the trial:
Evidence of positive bias in publications: In 1995, psychiatrists and employees working for the original incarnation of GSK published a paper in the journal European Neuropsychopharmacology which asserted that paroxetine reduced suicides and suicide attempts. The company encouraged its salesforce to use this article when talking to physicians in order to allay concerns about suicide risks.
Increased suicide risk confirmed again by GSK: The increased risk was confirmed in 2006 by GSK's internal analysis of its own suicide data. Patients taking Paxil were nearly seven times more likely to attempt suicide than those on placebo.
FDA analysis reveals troubling risks: That same year, an FDA analysis of select clinical trials involving adults found that taking Paxil resulted in 2.7 times the risk of suicidal behavior compared to placebo for all indications. Dr. Russell Katz, the FDA's Director of Neurological Products, explained during an FDA Advisory Committee Meeting in 2006 that statistically significant findings such as this are "operationally defined as causality."
In short, by the end of 2006, a clear picture had emerged: Taking Paxil can cause older adults, as well as children and young adults, to experience dangerous Paxil or paroxetine side effects, including suicidal behavior. "Glaxo has known for two decades that Paxil can cause people of all ages to commit suicide. The company not only hid the risk, but stuck its head in the sand and ignored countless suicides that occurred in its clinical trials," says Michael Baum, senior managing shareholder of Baum Hedlund, about the litigation.
All antidepressants, like Paxil and generic paroxetine, already carry a "black box" warning on the label, stating that these drugs can increase the risk of suicidal ideation and behavior in children, adolescents, and young adults up to the age of 24. However, by failing to provide accurate warnings about the risks and include those older than 25, GSK and its successor Apotex may have caused many people to attempt suicide or lose a loved one to suicide.
Can Paxil Really Cause Someone to Commit Suicide?
Because Paxil is prescribed to people diagnosed with a wide range of mental and emotional difficulties, including depression or anxiety, many have wondered how it is possible to blame drug defects for suicide attempts. People damaged by defective antidepressants – or those who have seen their loved ones commit suicide or harm themselves while taking antidepressants – might well think that "mental illness" was solely to blame.
Jurors in the Dolin trial no doubt considered the same possibility. Nevertheless, after five weeks of testimony from psychiatrists and experts in pharmacology, the jurors were convinced that the current body of research and medical science pertaining to antidepressants, Paxil, and suicide proved the drug was to blame. Generic Paxil—paroxetine—can cause someone over 24 to take his, or her, life.
Suicidal Behavior on Paroxetine: "Emotional Blunting" and Self-Harm
Another Paxil side effect known to increase the risk of suicide is emotional blunting. This is also a well-recognized side effect of drugs in Paxil's class, one that others have referred to as apathy or emotional indifference. Psychiatrist and psychotherapist Dr. David Healy told the jurors in the Dolin trial that emotional blunting, combined with a painful condition called akathisia, can lead to a mental state in which an individual has thoughts of harming themselves or others, but is "numbed" to the consequences of their actions. Drugs in the Paxil class can also cause someone to "go psychotic, become delirious," Dr. Healy explained.
According to Dr. Healy's testimony during the Dolin trial, when SSRIs came onto the market, scientists noticed early on that those who harmed themselves while taking the drugs did so in particularly violent ways. During our research and investigation as leading litigators, we identified 22 individuals who committed suicide during the Paxil clinical trials. Sixteen of the suicides were violent in nature, including multiple suicides using firearms.
"One of the things that struck people fairly early on with the effects of these pills was that the nature, the way people harmed themselves, often seemed to be disproportionately violent," said Healy.
Who Is Liable for Your Losses?
Of course, GSK is no longer solely responsible for Paxil suicide victims and their losses. In January of 2014, GlaxoSmithKline (GSK), the original developer and maker of Paxil, transferred full responsibility for Paxil to Apotex. Although Apotex did not create the drug, the company now manufactures Paxil and generic paroxetine, and thus Apotex is responsible for the content of the paroxetine label and advertising campaigns.
Just as GSK was brought to justice for failing to warn consumers about dangerous Paxil side effects, so should the current manufacturer Apotex, Canada's largest drug company and one of the largest generic drug manufacturers in the world. The Canadian pharmaceutical company manufactures more than 300 different pharmaceuticals, including Paxil. Unfortunately, to this day, the Paxil/paroxetine label still fails to warn adults over age 24 of the increased risk of suicide—a risk that Apotex should know all too well. This is why on September 1, 2017, Baum Hedlund sent a letter to Apotex, the current manufacturer of Paxil and paroxetine, putting the company on notice that the Paxil label is inadequate.
Why Apotex Should Change the Generic Paxil Label
The current Paxil/paroxetine label is scientifically, ethically, and legally indefensible. The drug's label does not warn physicians or consumers about the risk of suicide for adults over the age of 24.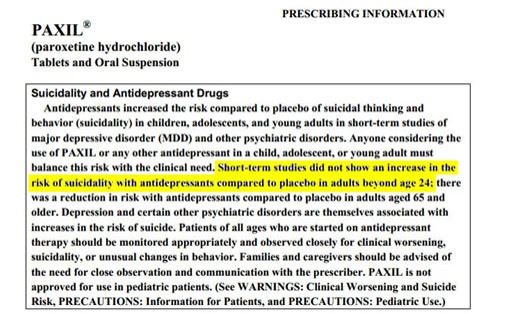 ​Instead, doctors and patients in their care are dangerously misled in two ways:
They are led to believe the risk of suicide does not extend beyond age 24.
They are led to believe known Paxil side effects are just symptoms of an alleged illness.
All of this puts patients and doctors in a very dangerous position.
To challenge this unethical label, our attorneys at Baum Hedlund sent a letter to Apotex in 2017, requesting that the company take "swift action" to "remedy the deficiencies in the Paxil label," so that it warns of the increased risk of adult suicidal behavior related to taking Paxil and paroxetine. Failure to act would send a message that Apotex is willing to sacrifice public safety in pursuit of its own financial gain.
How Do I File a Generic Paxil Suicide Lawsuit?
GSK and Apotex have both been aware of the suicide risks that come with Paxil for many years. Although the current label now warns of the risk in children and young adults, it still does not warn the public of the risk in older adults. If you or someone you care about has been harmed by generic Paxil, we hope this page provided you with information that helps explain how and why that can happen.
Our Los Angeles trial lawyers at Baum Hedlund Aristei & Goldman have represented thousands of victims who have been harmed by dangerous pharmaceutical drugs, including Paxil. We filed our first Paxil suicide lawsuits against GSK in the early 2000s and our firm was appointed lead counsel representing thousands of Paxil victims from across the United States in multidistrict litigation. We have seen the harm antidepressants can cause and the extent to which drug companies will go to protect their enormously profitable, and our team has accumulated a considerable body of evidence demonstrating that Paxil is associated with an increased risk of suicidal behavior in all age groups – not just children and young adults.
This experience has made us one of the most experienced and knowledgeable firms in the nation in bringing major pharmaceutical companies, including GlaxoSmithKline and other makers of SSRI antidepressants, to justice. When you contact us about a claim, our attorneys will review the circumstances and determine if you are eligible to seek compensation by filing a Paxil suicide lawsuit. During your free case consultation, please feel free to ask any questions or raise concerns you may have about the process of filing a Paxil suicide lawsuit. We are here to help.
$63 Million Settlement Paxil Pediatric Class Action

$63 million pediatric class action re false promotion of Paxil. Judge approves final terms of improved national pediatric paxil class action settlement – consumers get a better deal.

$40 Million Settlement Third-Party Payer Class Action

$40 million third-party payer class action re off-label promotion of Paxil. Judge approves $40 million settlement in the second phase of national pediatric paxil class action – insurance companies to be reimbursed.

$28 Million Settlement Defective Drug Class Action

$28 million Paxil defective drug class action. A class action has been brought in the US territory of Puerto Rico against UK-based drug major GlaxoSmithKline.

$10 Million Settlement Celexa-Lexapro Pediatric Class Action

$10 million pediatric class action re false promotion of Celexa and Lexapro. Babies born to women who have used Lexapro and other similar medications such as Zoloft, Celexa, Prozac, Paxil, and Symbyax are at an increased risk for birth defects.

$9 Million Settlement Drug Injury

Wisner Baum obtained a $9 million settlement on behalf of an individual who was injured by a drug. Client-Focused Representation
REVIEWS & TESTIMONIALS
We believe our track record speaks for itself. But you don't have to take our word for it. See what our clients have to say about working with us.
"I Can't Imagine a Better Law Firm"

Multiple lawyers recommended Wisner Baum to me and I have been consistently impressed with the quality of their work.

- Best Law Firms Survey

"They Are About Changing the Systems..."

Wisner Baum are not only amazing attorneys but more importantly, they are activists. They are about changing the systems which got us into trouble in the first place. They understand their role in the process of making change.

- Kim Witczak

"Top Legal Minds in the Country"

The Wisner Baum firm has some of the top legal minds in the country; they are driven, determined, trustworthy, ethical and passionate.

- From Best Lawyers® Best Law Firms

"Diligent & Professional Representation"

Thanks to your efforts I was able to recover from a tragic experience and turn my life around for the best.

- W.T.

"Our Best Interest Was Always Number One on Your List"

A special thank you to your Spanish-speaking staff for the extra effort put into this case. The language barrier was never a problem, and we are so very thankful to them. Your name holds much respect in our family.

- G.C. & C.C

"We Have Never Met a More Wonderful Group of People"

It is obvious that the people at Wisner Baum believe in what they do. And that you all really care about your clients.

- The B. Family

"They Worked Very Hard and Kept in Contact, Which Is Very Important to Me"

I appreciate that you care about how I feel and that you take time to use your talents to ensure your every contact with me is warmly professional.

- A.D.B.

"Your Expertise in This Field Gave Me the Utmost Trust and Confidence"

I wanted a fair settlement within an appropriate time frame, and without any public scrutiny. With your hard work and dedication, we were able to achieve those goals.

- T.O.