As an investigation into last week's fatal crash in Orland between a tour bus and a tractor-trailer continues, safety advocates are voicing concerns over the lack of barriers dividing traffic on California's rural highways. The crash, which involved a FedEx double trailer truck and a tour bus, left 10 people dead and injured dozens more. Authorities say the FedEx truck crossed over the median separating northbound and southbound traffic and collided head-on with the tour bus, causing both vehicles to erupt in flames.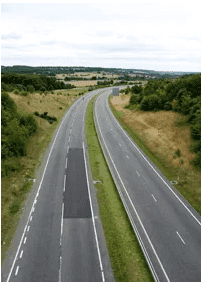 According to CalTrans, roughly 25,000 cars and trucks pass through the stretch of Interstate 5 where last Thursday's fatal crash occurred on a daily basis. Due to the relatively low number of vehicles on the road in and around Orland, the state guidelines say that the 60-foot grass median separating traffic going in opposing directions is sufficient. However, attorneys and truck safety advocates of the law firm Baum Hedlund Aristei & Goldman say that California should reconsider this stance and build a barrier between northbound and southbound lanes of Interstate 5.
"Based on the number of deaths (in this crash) I believe the state will look at this and put a median barrier in to prevent this kind of tragedy in the future," a Baum Hedlund attorney told NBC Los Angeles. These types of barriers can be seen on hundreds of miles of highway in states like Michigan, where officials say the barriers can reduce fatal and serious injury cross-over crashes by over 60 percent.
Another safety issue raised in the crash concerns the use of double trailers. The FedEx truck, which crossed over the grassy median and collided head-on with the tour bus, was pulling a double trailer. Safety advocates say truckers pulling a double trailer is far more dangerous than pulling a single trailer.
Authorities have not given any official cause of last Thursday's crash. The National Transportation Safety Board (NTSB) is investigating.
Contact Us Today for a Free, No-Obligation Legal Consultation