Six consumers are leading a Wisconsin Roundup class action lawsuit against Monsanto, alleging the agrochemical giant falsely promoted its top-selling Roundup weed killer as interfering with an enzyme found in plants but not "in people or pets" when microbiota (bacteria, fungi, etc.) found in the human gut, mucous membranes and skin do depend on that enzyme's proper functioning.
The Roundup class action lawsuit was filed on Tuesday in U.S. District Court for the Western District of Wisconsin by a class of plaintiffs from California, Florida, Illinois, New Jersey, New York, and Wisconsin. The plaintiffs are represented by the law firms of Baum Hedlund Aristei & Goldman P.C., Richman Law Group, Miller Firm LLC, Andrus Wagstaff LLP, Gabrielli Levitt LLP, Kennedy & Madonna LLP, Turke & Strauss LLP, and Weitz & Luxenburg P.C.
The defendants in the case are Monsanto Co. of St. Louis, Missouri, and Marysville, Ohio-based Scotts Miracle-Gro Co., which markets and distributes Roundup in several U.S. states.
Glyphosate is the active ingredient in Roundup. In the decades since its introduction in 1974, glyphosate (and Roundup, in particular) has become the most widely used herbicide in the world.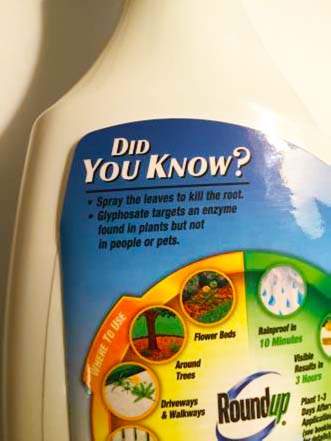 For many years, Monsanto's marketing on several Roundup products has claimed and continues to claim that glyphosate targets an enzyme not found "in people or pets." But according to the Roundup class action lawsuit, this statement is "false, misleading, and deceptive, as the enzyme that glyphosate targets is found in people and pets—specifically, in beneficial gut bacteria…"
Glyphosate kills weeds by interfering with the "shikimate pathway," a metabolic sequence that synthesizes vital amino acids. Glyphosate disrupts the shikimate pathway by interfering with 5-enolpyruvylshikimate-3-phosphate (EPSP), an enzyme synthase that governs aromatic amino acid formation.
The beneficial bacteria in our gut (and the gut of other mammals), on which our immune systems rely, produce, and utilize EPSP synthase. Thus, the lawsuit alleges that Monsanto's marketing disregards the millions of bacteria, fungi, and other microorganisms in or on human mucous membranes, skin, and the gut that rely upon the shikimate pathway that glyphosate interrupts.
"Contrary to Monsanto's marketing, it is undisputed that the EPSP synthase that glyphosate targets is present in many beneficial bacteria that inhabit human mucous membranes, skin, and gut," says Brent Wisner, an attorney at Baum Hedlund Aristei & Goldman who represents a number of plaintiffs in the Wisconsin Roundup class action. "Health risks follow when glyphosate disrupts the microbiota cells that regulate numerous biological processes such as the immune system and digestion."
According to the complaint, the defendants know that consumers are becoming increasingly concerned about herbicides' potential effects on people and animals and that consumers "are more likely to buy—and will pay more for—Roundup if they believe it targets an enzyme that is not found in people and animals."
"Defendants repeat these false and misleading representations throughout their marketing, including in video advertisements produced for their websites and YouTube Channel," the lawsuit states.
Plaintiffs in the Wisconsin Roundup class action seek compensation for themselves and class members equal to the amount of money they paid for Roundup products which they would not have purchased had they been properly informed that the enzyme glyphosate targets actually does exist in humans and animals, contrary to Roundup's marketing.