One person is dead and multiple others injured after a serious incident on a Southwest Airlines flight. The plane was forced to make an emergency landing in Philadelphia when portions of an engine blew apart, thrusting debris into, and breaking, a window, causing the cabin to lose pressure. Officials have not said which passenger died, although it is reported that one woman was partially pulled through the window from the cabin before other passengers could come to her aid. Investigators are now looking into what caused the crash, which was the first death on a US airline in nine years.
The law firm of Baum Hedlund Aristei & Goldman has been retained in this preventable tragedy. Contact us today to speak with a Board Certified Trial Lawyer.
Engine Blew Around 30 Minutes into Southwest Airlines Flight 1380
On Tuesday, April 17, Southwest Airlines took off from LaGuardia Airport in New York City on its way to Dallas with conflicting reports indicating either 148 or 149 people on board. At around 11:20 a.m. local time, the Boeing 737-700 made an emergency landing at Philadelphia International Airport. Around 30 minutes into the flight, a portion of the plane's engine blew apart and debris flew into a window, shattering the window and causing the cabin to lose pressure.
Passengers reported that, before other passengers could come to help her, a female passenger was pulled toward the window of the plane when the window glass shattered. Some reports indicate the woman was partially pulled out of the window, though witnesses say she was pulled toward the window but not out of it.
"We have a part of the aircraft missing," said the pilot of Southwest flight 1380 to air traffic control. When air traffic control asked if the plane was on fire, the pilot responded, "No, it's not on fire, but part of it's missing. They said there is a hole and someone went out."
Paramedics rushed one passenger to a Philadelphia hospital in critical condition. At the scene, paramedics evaluated 12 passengers and gave treatment for minor injuries to seven people.
The engine reportedly blew at around 32,500 feet, with the plane descending to about 10,000 feet before it leveled out.
The National Transportation Safety Board (NTSB) has said it is currently classifying the incident as an "engine failure," though that could be changed to "uncontained engine failure," depending on which parts of the engine blew off. Airplane jet engines are supposed to be designed to contain any debris that might develop from an engine failure. The reason for this is to prevent precisely what happened here—to prevent shrapnel from an exploding engine from impacting the airplane's fuselage or windows. When there is a failure to contain the debris, it is called an uncontained engine failure.
Passengers Describe Terrifying Ordeal Onboard the Boeing 737
Speaking with reporters, witnesses described their terrifying ordeal."We were west of Philadelphia probably about 30,000 feet, and all of a sudden we just heard this loud bang, rattling and then it felt like one of the engines went out," said passenger Kristopher Johnson. "The oxygen masks dropped and flight attendants did a good job. The pilot came on and said we're diverting to Philadelphia and, you know, there was a serious medical injury."
Passenger Marty Martinez spoke with Bloomberg and described passengers and flight attendants crying.
"When we saw that they started crying, of course, we thought we were in a really bad place," Martinez said. "We were going down." Martinez noted that the injured woman made "no noise at all." He later went on, "I kind of just felt like it was over. We're flying at 30,000 feet going 500 miles an hour."
"I just remember holding my husband's hand, and we just prayed and prayed and prayed," said passenger Amanda Bourman. "And the thoughts that were going through my head of course were about my daughters, just wanting to see them again and give them a big hug so they wouldn't grow up without parents."
Bourman said that while many people were crying and upset, some managed to yell words of encouragement to each other, reassuring their fellow passengers that they would be okay.
Investigators Looking into What Caused the CFM Engine Failure on the Plane
The Federal Aviation Administration (FAA) stopped some arrivals and departures at the Philadelphia airport while crews assisted the Southwest Airlines flight. The airport was fully reopened around 2:00 p.m. local time. The plane had damage to the fuselage and one window, apparently adjacent to row 17.
The engine on the Southwest Airlines flight was a CFM International 56 turbofan engine. Last year, the FAA issued an Airworthiness Directive (AD) on the CFM56-7B version of the engine, which would have required inspection of the fan blades. The AD was issued following a report of an "in-flight fan blade failure and uncontained forward release of debris on a CFM56-7B turbofan engine."
Based on the photographs of this engine, it appears that the compressor section of the engine experienced a violent event that caused the entire forward part of the engine to be explosively destroyed.
NTSB Chairman Robert Sumwalt told the media that the agency will be looking into whether the AD affected the CFM engine on the Southwest flight.
CFM has reportedly sent representatives to the scene to assist in the investigation. A former NTSB member told CBS News that a ring around the engine is meant to prevent debris from exploding out, causing more damage to the plane. In this case, that ring failed, which likely contributed to the cabin's window breaking. If this report proves true it may be a sign of defective aircraft design or manufacturing.
Aviation Attorneys for In-Flight Incidents
Attorneys at Baum, Hedlund, Aristei& Goldman are highly skilled at investigating plane crashes and holding the responsible parties accountable. We have represented clients in thousands of personal injury and wrongful death lawsuits, including suits involving commercial airlines. Our attorneys are committed to advocating for your rights and ensuring you receive the compensation you're entitled to. If you or someone you love has been affected by the Southwest Airlines engine failure, contact us immediately for a no-obligation case evaluation.
Why Baum Hedlund Aristei & Goldman?
We are one of the most experienced aviation law firms in the world. Baum Hedlund is recognized as one of the top aviation plaintiff firms in the country. The firm has over 40 years of experience handling major aviation disasters as well as small plane and helicopter accidents. We have represented more than 700 passengers and crew in personal injury and wrongful death lawsuits.
We are proud to have resolved major aviation disaster cases against Airbus, Alaska Airlines, American Airlines, Aero Mexico, Asiana Airlines, British European Airways, Boeing, Bombardier, China Eastern Airlines, Delta Airlines, EgyptAir, Honeywell, Korean Air, McDonnell Douglas, Pacific Southwest Airlines, Raytheon, Singapore Airlines, SAS-Scandinavian Airline Systems, Southwest Airlines, SwissAir, TACA Airlines, TWA, United Airlines, US Airways, among others.
Over 70 airline crashes/incidents successfully resolved across the globe
Handled 230+ aviation crashes/incidents
Over 700 passengers and crew represented
Major honors and recognition for our achievements
Cases handled against all major US airlines that have had a crash since 1985
Cases handled against the majority of all U.S. aircraft parts manufacturers
Among our attorneys are two pilots and two engineers
We have negotiated on behalf of our clients with all the major aviation insurance companies
Broad experience in complex choice of law and difficult insurance coverage issues
Appointed to 15 aviation Plaintiffs' Steering Committees and/or leadership positions
Over $4 billion won by our firm in total; over half a billion for aviation accidents
First U.S. law firm to get an official public apology from an airline for a crash
We Have Experience Litigating Against Southwest Airlines
Our firm has litigated several national cases against Southwest Airlines, including:
Southwest Airlines Flight 812– In-flight fuselage rupture (Yuma, Arizona). On April 1, 2011, Southwest Airlines Flight 812 experienced a rapid decompression due to an in-flight fuselage skin peel. The flight crew was forced to make an emergency landing in Yuma, Arizona. Multiple injuries were reported, and the Boeing 737 sustained substantial damage. A post-accident inspection revealed that a section of fuselage skin (roughly 60 inches long by 8 inches wide) on the upper left side above the wing had fractured and flapped open.
Southwest Airlines Flight 1248– Runway accident (Chicago, Illinois). On December 8, 2005, a Boeing 737-7H4 operating as Southwest Airlines Flight 1248 crashed during a botched landing attempt at Midway International Airport. The plane overran the runway and struck two passenger vehicles on a road adjacent to the airport. A young boy was killed and others were injured.
Southwest Airlines Flight 1455– Runway accident (Burbank, California). On March 5, 2000, a Boeing 737 operating as Southwest Airlines Flight 1455 overshot the runway during a landing attempt at Burbank-Glendale-Pasadena Airport. The NTSB concluded that the incident was caused by the flight crew attempting to land with excessive speed.
We Have Experience Litigating Engine Failure Cases Similar to the Southwest Airlines Flight 1380 Incident
United Airlines Flight 232, Sioux City, Iowa
Baum, Hedlund, Aristei& Goldman represented the families of 11 victims who died in the July 19, 1989, United Airlines Flight 232 crash in Sioux City, Iowa.
United 232 experienced a catastrophic uncontained engine failure of the No. 2 tail-mounted engine during cruise flight. According to the NTSB, the separation, fragmentation, and forceful discharge of fan rotor assembly parts from the No. 2 engine cut through the three hydraulic systems that powered the plane's flight controls. The flight crew had severe difficulties controlling the aircraft, which subsequently crashed during a landing attempt. Of the 285 passengers and 11 crew members on the plane, one flight attendant and 110 passengers were killed in the United 232 crash.
During the United Flight 232 litigation, our firm discovered that GE, the plane's engine manufacturer, had resisted immersion ultrasound recommendations by their engineers, which were based on their prediction that subsurface cracks would lead to catastrophic uncontained engine failures.
In discovery, our firm found a company memo from GE's management to their engineers saying the company did not want to alarm their commercial airline customers by requiring an immersion ultrasound of all rotating parts. GE's disregard for its own engineers allowed the engine on United 232 to remain in operation until it exploded from an undetected fatigue crack, which happened almost precisely when the GE engineers' mathematical model predicted the next one would happen if no ultrasound inspections were implemented.
"This is the same company involved in an accident that happened under similar circumstances to the Southwest 1380 incident," says Baum, Hedlund, Aristei& Goldman's managing shareholder Michael Baum. "Both accidents involved uncontained engine failure following a recently inspected rotating engine part with detectable fatigue cracking."
Baum cites finding these "needles in haystacks" and "smoking gun" documents from the United litigation as one of firm's accomplishments that he is most proud of.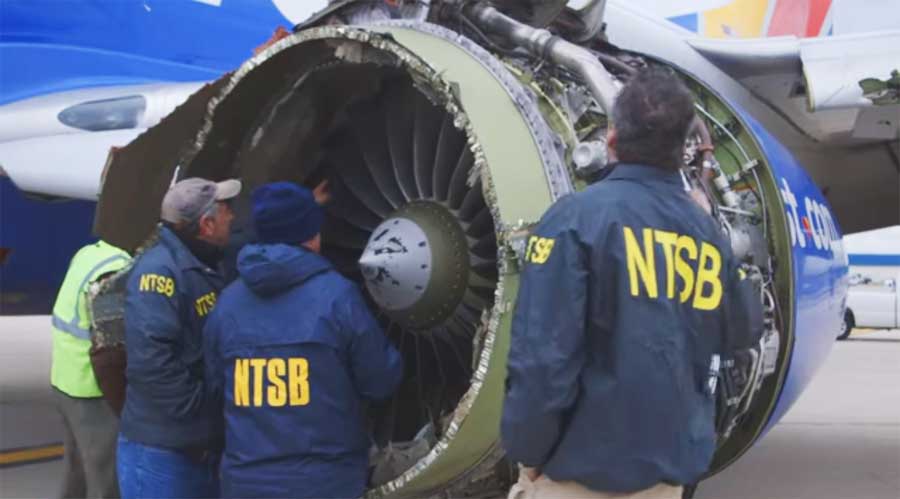 We Have Experience Litigating In-Flight Accident Cases
Our aviation lawyers have handled many In-fight incidents causing injury or wrongful death, including:
JetBlue Flight 1416 – September 18, 2014 – In-flight Emergency
US Airways Flight 797 – November 8, 2011 – In-flight Incident
Southwest Airlines Flight 812 – April 1, 2011 – In-flight Fuselage Rupture
US Airways Flight 583 – February 24, 2011 – In-flight Incident (Depressurization)
United Airlines Flight 967 – July 20, 2010 – In-flight Turbulence
United Airlines Flight 1028 – January 21, 2008 – In-flight Turbulence
Baum, Hedlund, Aristei& Goldman represents 29 passengers who were injured in the JetBlue Flight 1416 in-flight incident caused by engine failure.
On Sept. 18, 2014 JetBlue 1416 experienced a right engine failure and subsequent undercowl fire during shortly after departing from Long Beach Airport in California. The cabin filled with smoke, making it very difficult for the passengers to breath, even with the aid of oxygen masks. The flight crew was forced to make an emergency landing back at Long Beach Airport.
The NTSB concluded the probable cause of the engine failure and subsequent undercowl engine fire was "fatigue fracture of a high-pressure turbine stage 2 disk blade retaining lug that released two blades which impacted the low-pressure turbine case causing a fuel line to fracture spraying fuel on the hot engine cases where it ignited."
Southwest Flight 1380 FAQ
What Was Southwest's Response to the Flight 1380 Engine Failure?
In the aftermath of the incident, Southwest issued a statement saying it would accelerate a maintenance program already in place to conduct ultrasonic scans of its CFM56-7B engines "out of an abundance of caution." In the weeks that followed, the FAA issued a rule requiring airlines to inspect fan blades on CFM56-7B engines that had logged more than 20,000 flights.
Who is Southwest's Engine Manufacturer?
Most of Southwest's fleet are 737-700's and 737-800's, which have engines manufactured by CFM International. CFM is a joint venture between General Electric and Safran Aircraft Engines (France). The CFM56-7B engine first entered commercial service in 1997 and has since racked up more than 350 million hours of combined flight time.
How Many Southwest Planes Have the CFM56-7B Engines?
The CFM56-7B is the engine on all of Southwest Airlines' Boeing 737-700's and Boeing 737-800's. As of this filing in February of 2018, Southwest Airlines had 706 total aircraft in its fleet. Of that total, 512 aircraft were listed as Boeing 737-700's and 181 were listed as the slightly larger Boeing 737-800's.
The newest aircraft in Southwest's fleet is the 737 Max 8, introduced in October of 2017. The Max 8 also uses a CFM engine.
When Was the Southwest Flight 1380 Plane Inspected?
According to airline officials, the Boeing 737-700 involved in the in-flight incident was inspected on Sunday, April 15. The engine was included in the inspection. Southwest CEO Gary Kelly told the media that nothing in the inspection suggested that anything was wrong with the engine or the aircraft.
Who Will be Held Responsible for the Southwest Flight 1380 Engine Explosion?
Southwest Airlines is a common carrier. As such, the airline is responsible for the safety of its flight and the equipment used on each flight. The engine manufacturer, CFM International will also bear responsibility. Other parties may also be held responsible, pending the results of the NTSB's investigation.
What is Metal Fatigue?
Metal fatigue is the weakening of metal subjected to stress from repeated use. Microscopic cracks are often the first indicia of metal fatigue and can occur in fan blades, the aluminum skin on many planes, or other metal parts. If a microscopic crack develops, repeated stress on that part may cause the crack to propagate, and ultimately lead to metal fracturing. NTSB officials said a preliminary investigation of the Southwest Flight 1380 engine showed evidence of metal fatigue.
What is Uncontained Engine Failure?
In rare circumstances, a plane's turbine engine experiences a malfunction that causes it to fall apart. When all of the components remain contained in the cowling, this is called 'contained engine failure.' If components are able to exit the cowling, this is referred to as 'uncontained engine failure.'
What Causes Uncontained Engine Failure?
Generally, there are two main causes of uncontained engine failure: The first is a foreign object making its way into the engine. A bird strike would be an example. The second is mechanical failure. Southwest Flight 1380 was at an altitude of around 32,000 feet when the engine blew apart, and it has been determined that a fan blade broke loose to cause the engine failure. A bird strike is not a possible cause of this failure.
Was the Southwest Engine Explosion the Result of Fan Blade Failure? Or Were Other Factors Involved?
While the investigation into Southwest Flight 1380 is still ongoing, aviation attorney Ronald L.M. Goldman said in an interview with Bloomberg that this tragedy is not just about fan blade failure. "There were really two failures on this flight – the fan blade failure and also the failure of the design to contain that event. There's never supposed to be an escape of material from the airplane's engine to the fuselage or wings of the airplane. So, this is a double failure that has to be considered, not just the fan blade, but also why wasn't it not contained."
Pieces of the engine cowling were broken off when the fan blade wreaked havoc within the engine, and have now been determined to have hit and shattered a window of this 737. Thus, this event is properly classified as an uncontained engine failure.
Do Commercial Aviation Accident Lawsuits Usually Settle or Proceed to Trial?
Generally speaking, lawsuits stemming from commercial airline accidents rarely go to trial. Most result in settlements.
Southwest Airlines Flight 1380 Updates
NTSB Holds Investigative Hearing into Engine Failure | July 24, 2018
The NTSB announced it would hold a one-day investigative hearing on November 14, 2018, regarding the CFM engine failure on Southwest Airlines flight 1380. That hearing will include the following discussions:
CFM International CFM56-7 series engine fan blade design and development history
CFM International CFM56-7 series engine fan blade inspection methods and procedures
Engine containment design and certification criteria
The investigative hearing is for fact-finding only, not for analysis.
Southwest 1380 Passengers File Lawsuit Against Boeing | June 20, 2018
Eight passengers who were aboard a Boeing 737 plane operating as Southwest Airlines Flight 1380 filed a lawsuit today against The Boeing Company, alleging the aircraft manufacturer negligently failed to keep the 737 reasonably safe for passengers.
The lawsuit, filed in New York Supreme Court, also names GE Aviation Systems, Safran USA, and CFM International as defendants. The companies manufactured the engine that failed on Southwest Flight 1380. According to investigators, a fan blade detached from the engine and hit a window, causing a catastrophic series of events in which 43-year-old passenger Jennifer Riordan was partially sucked out of the aircraft mid-flight. Riordan later died of her injuries.
FAA Issues Airworthiness Directive Overhauling Inspection Requirements for CFM56-7B Engines | May 7, 2018
The FAA formally announced a new airworthiness directive (AD) requiring airlines to conduct ultrasonic inspections of fan blades in CFM56-7B engines every 20,000 cycles. The new AD supersedes a previous AD issued in April, which required airlines to conduct the fan blade inspections every 30,000 cycles.
The AD says:
"We are adopting a new airworthiness directive (AD) for all CFM International S.A. (CFM) Model CFM56-7B engines. This AD requires initial and repetitive inspections of the concave and convex sides of the fan blade dovetail to detect cracking and replacement of any blades found cracked. This AD was prompted by a recent engine failure due to a fractured fan blade, that resulted in the engine inlet cowl disintegrating and debris penetrating the fuselage, causing a loss of pressurization, and prompting an emergency descent. We are issuing this AD to address the unsafe condition on these products."

"The Airworthiness Directive that the U.S. Federal Aviation Authority published today is a follow-on Airworthiness Directive from the emergency AD the FAA published on April 20. Today's FAA AD fully adopts the inspections recommended in CFM's Service Bulletin issued on April 20, which EASA formerly adopted through issuance of its emergency AD on that same day. Today's FAA AD mandates the ultrasonic inspection and eddy current inspection of all CFM56-7B fan blades that have accumulated more than 20,000 cycles, as outlined in the CFM Service Bulletin. These inspections are to be completed by August 31, 2018. The AD also mandates that airlines continue to perform these inspections every 3,000 cycles (1.5 to 2 years of operation). In addition, airlines are required to perform the inspections on fan blades as they reach the 20,000 cycle threshold, with the continued repetitive 3,000 cycle inspections."
NTSB Issues Preliminary Report Regarding Southwest Flight 1380 | May 4, 2018
The NTSB has issued a preliminary report regarding Southwest Flight 1380. In its report, the agency notes that the Boeing 737-700 suffered a failure of the "left CFM International CFM-56-7B engine and loss of engine inlet and cowling during climb to about flight level 320." Fragments from the engine inlet and cowling hit the wing and the fuselage, shattering a window and causing the cabin to lose pressure.
The fan blade that failed was reportedly inspected seven times since late 2012, but those inspections were visual and did not use the same technology airlines have since been required to use. Since the engine failure of Flight 1380, the FAA has required all CFM-56-7B engine fleet fan blades with 30,000 or more cycles to receive an ultrasonic inspection for cracks.
The NTSB noted that it was the No. 13 fan blade that separated at the root, with signs consistent with metal fatigue. Parts of the fan blade were found within the engine. The fan blades involved in the accident had more than 32,000 engine cycles since they were new and were last overhauled more than 10,000 cycles before the engine failed. The marks along with the window at row 14, however, were consistent with the fan cowl, not with the fan blade, suggesting it was not the blade that hit the window.
The flight crew reported experiencing a vibration and hearing a loud sound before the cabin lost pressure. The airplane commenced a left bank, and started to descend, as oxygen masks were deployed. Flight attendants and two male passengers went to assist the passenger who was partially pulled from the window. The pilot initially planned a long final approach until learning of the passenger injuries, when she shortened the approach in order to land more quickly.
Southwest Airlines Plane Diverted Due to Broken Window I May 2, 2018
A Southwest Airlines flight that was traveling to Newark, N.J., from Chicago, was diverted due to a crack in a window. Approximately an hour into the May 2, 2018, flight, the plane landed in Cleveland after a crack was noticed in the outer pane of one of the plane's windows. After taking off at 9:53 a.m. ET, Flight 957 rose to 33,000 feet, then turned over Lake Erie and descended to Cleveland, landing at 10:46 a.m.
The crew chose to land the plane after passengers reported a popping sound when the window cracked. Passengers seated near the window moved away while crew inspected the window. The plane reportedly did not lose cabin pressure and the landing was not considered an emergency landing.
More than 70 passengers were on the plane and were put on a different flight to Newark. There were no injuries reported in relation to the cracked window. The Boeing 737 was taken out of service.
"It made you nervous because something like this just happened," said Paul Upshaw, a passenger on the plane who was seated near the window. "We didn't know if it was going to crack open."
The Federal Aviation Administration is investigating the cracked window.
FAA Orders More Frequent Engine Inspections After Southwest Flight 1380 | May 1, 2018
The FAA announced that airlines will be required to perform more frequent inspections on certain engines after the Southwest Airlines Flight 1380 engine failure last month. The agency said it will publish the new rule tomorrow.
Per the new rule, airlines will have until the end of August to perform inspections on CFM56-7B engine fan blades that have logged over 20,000 flights. The new rule will also require airlines to inspect the fan blades every 3,000 flights, which should roughly translate to an inspection every two years.
On April 20, the FAA issued an emergency order that required airlines to inspect the fan blades on CFM56-7B engines that had logged 30,000 flights within the next 20 days. That order was based on a service bulletin from the engine manufacturer, which included recommendations that the FAA ended up adopting in the new rule set to be published tomorrow.
In a call with investors last week, Southwest COO Mike Van de Ven said the airline now knows more about the Southwest Flight 1380 engine failure. According to Van de Ven, the engine inlet cowling "suffered significant damage and lost pieces of that cowling may be responsible for the damage to the fuselage, the wing, and the stabilizer," he said. "And the loss of a single blade inside the engine just shouldn't have caused such dramatic impact."
Passenger Files First Lawsuit Against Southwest Stemming from Flight 1380 Incident | April 26, 2018
A passenger who was sitting three seats behind the window that broke open after the Southwest Flight 1380 engine failure filed a lawsuit against the airline today, the first stemming from the April 17, 2018 incident. Passenger Lilia Chavez of California filed the lawsuit in U.S. District Court for the Eastern District of Pennsylvania.
Chavez alleges that she now suffers from post-traumatic stress disorder (PTSD), anxiety, depression, and other personal injuries as a result of the in-flight incident. According to the complaint, "Ms. Chavez witnessed the horror as the force of the depressurization pulled an innocent passenger partially through the shattered window and she watched as passengers risked their lives to pull the passenger back into the aircraft and save her life."
The lawsuit accuses Southwest of negligence, claiming it failed to warn passengers that the plane and engine had defects.
Southwest Cancels Over 100 Flights as Engine Inspections Ramp Up | April 23, 2018
Southwest Airlines announced 128 cancellations for April 23, 2018, as the airline begins to accelerate its engine inspection program following the engine failure of Flight 1380. Last week, Southwest issued a statement warning passengers that flight disruptions were possible as the airline tries to make good on its plan to inspect all CFM engine fan blades within 30 days.
Passengers with canceled flights are getting rebooked on other flights.
Hundreds Gather in Albuquerque to Pay Respects to Jennifer Riordan | April 22, 2018
Hundreds of people came to a Sunday evening service to pay their respects to Jennifer Riordan, 43, who lost her life in the Southwest Airlines Flight 1380 engine explosion last week. The memorial was held at Popejoy Hall on the campus of New Mexico University, Riordan's alma mater.
Riordan was heading home from a business trip on the flight from New York to Dallas when one of the plane's twin engines experienced uncontained engine failure, sending shrapnel and debris toward the passenger cabin. The impact shattered the window next to Riordan, who was partially sucked out of the plane.
Passengers scrambled to pull her back into the aircraft and performed CPR as the plane made an emergency landing in Philadelphia. Tragically, she could not be saved. Authorities say Riordan passed away due to blunt force trauma to the head, neck, and torso.
According to those who knew her best, Jennifer Riordan was many things; a dedicated mother and wife, a community leader, a successful executive at one of the country's largest financial institutions, and a philanthropist.
"She was the face of giving. If you were an idea or a dream that needed a little help, she was your gal. Her currency was compassion," said Albuquerque poet laureate Hakim Bellamy, who read an original poem at Riordan's service. "The kind of kindness that folds like a hug like a laugh like her wings before she was so close to heaven that the angels recognized her and plucked her from the sky."
Riordan is survived by Michael Riordan, her husband of more than 20 years, and her two children.
What Was It Like Aboard Flight 1380? | April 19, 2018
The New York Times wrote an illuminating article about the Southwest Airlines Flight 1380 engine explosion with firsthand accounts from several passengers.
What did passengers do after the plane blew an engine?
"I just sat there and prayed." – Timothy Bourman
"I thought I was going to die." – Matthew Tranchin
"There was blood everywhere." – Marty Martinez
"You hear the large explosion, screeching, squealing, yelling." – Sheri Spears
"You were holding onto whoever was next to you." – Courtney Padilla
NTSB Holds Press Conference on Southwest 1380 | April 19, 2018
At this morning's press briefing, NTSB Chairman Robert Sumwalt discussed what happened immediately after Southwest Airlines Flight 1380 experienced uncontained engine failure.
NTSB Looking into Interior Crack in Fan Blade on CFM Engine | April 19, 2018
The NTSB is investigating how an interior crack on the fan blade of the CFM56-7B engine could have resulted in uncontained engine failure. According to NTSB Chairman Robert Sumwalt, the metal fatigue that likely caused the fan blade to fracture would have been difficult for maintenance crews to detect.
"It was on the interior part of the fan blade," said Sumwalt, who added that it was "certainly not detectible from looking at it from the outside." The fan blade cracked twice, according to Sumwalt; the first crack was where the blade meets the hub and the second was halfway up the blade.
Southwest said in an email statement today that airline officials conducted a visual inspection of the engine prior to the Southwest 1380 incident. An ultrasonic scan was scheduled to take place in December of 2018.
FAA to Issue Order Requiring Ultrasonic Inspection of Fan Blades on Certain CFM56-7B Engines | April 18, 2018
The FAA announced late today that it will issue an order requiring ultrasonic inspections of fan blades for CFM56-7B engines that have reached a specific number of takeoffs and landings. Any fan blade that fails during the testing will need to be replaced.
As of today, it is unclear precisely how many planes will be affected by the FAA order. Last year, the agency estimated that the order would affect approximately 220 engines on commercial planes in the U.S. That number of affected aircraft could be higher in 2018, as more planes will likely have reached the designated number of takeoffs and landings, triggering the requirement for an inspection.
Deceased Southwest Flight 1380 Passenger Identified as Jennifer Riordan | April 18, 2018
The Southwest Airlines passenger who died on Flight 1380 from New York to Dallas has been identified as Jennifer Riordan of Albuquerque, New Mexico. The 43-year-old mother of two was identified by her employer, Wells Fargo. Riordan worked as a community relations leader.
"The Wells Fargo family is saddened to learn of the death of our friend and colleague Jennifer Riordan," the San Francisco-based bank said in a statement. "She was a well-known leader who was loved and respected. We extend our deepest sympathies to her family and friends. Out of respect for the family and their privacy, we've nothing more to share at this time."
Southwest Flight 1380 Investigation Focused on Engine Wear and Tear | April 18, 2018
NTSB officials are focusing on whether wear and tear caused a fan blade to break away and trigger a series of catastrophic events that killed Southwest passenger Jennifer Riordan. NTSB Chairman Robert Sumwalt told the media that investigators immediately noticed the engine's number 13 fan blade missing. The CFM56-7B engine has 24 fan blades in total.
"This fan blade was broken right at the hub, and our preliminary examination of this was there is evidence of metal fatigue where the blade separated," said NTSB Chairman Robert Sumwalt.
The Southwest Flight 1380 engine failure shares similarities with another incident in 2016, also involving a Southwest plane. The 2016 flight was transporting passengers from New Orleans to Orlando when an engine blew and shrapnel ripped a hole in the plane just above the wing. The pilot was able to land safely.
According to the NTSB, the 2016 Southwest in-flight incident was caused by a fan blade breaking off due to metal fatigue. That particular incident resulted in regulators issuing an Airworthiness Directive for ultrasonic inspections of fan blades on engines just like the one on that exploded over Pennsylvania yesterday at an altitude of over 32,000 feet.
Southwest Pilot Tammie Jo Shults Praised for Nerves of Steel During In-Flight Incident | April 18, 2018
As panic took over the passenger cabin of Southwest Airlines Flight 1380 following an engine explosion, pilot Tammie Jo Shults steadied herself with the kind of poise only found in veteran pilots.
Three decades ago, Shults was one of the first female fighter pilots in the Navy. She flew F/A-18 Hornets at a time when women were not permitted to fly in combat missions.
Put simply, Shults was the type of pilot anyone would want at the controls during a commercial flight that experienced such a catastrophic engine explosion. "Can you have the medical meet us there on the runway," Captain Shults calmly asked air traffic controllers in Philadelphia. "They said there's a hole and, uh, someone went out."
Roughly 40 minutes after losing an engine, Shults made an emergency landing at Philadelphia International Airport. The incident was not without tragedy – a woman was killed in the in-flight incident. Nevertheless, the passengers aboard Southwest Flight 1380 were quick to praise Shults for her "nerves of steel."
"This is a true American hero," said passenger Diana McBride Self in a Facebook post. "A huge thank you for her knowledge, guidance and bravery in a traumatic situation. God bless her and all the crew."