Los Angeles, California, December 20, 2021 - - Baum Hedlund Aristei & Goldman vice president and senior shareholder R. Brent Wisner has earned Mass Torts Made Perfect's Clarence Darrow Award in recognition of his outstanding legal work.
MTMP's Clarence Darrow Award is given to a lawyer who demonstrates exceptional conviction, dedication, and excellence in their work. It is a national award honoring the enduring legacy of Clarence Darrow, one of the country's greatest trial lawyers and a leading member of the American Civil Liberties Union (ACLU).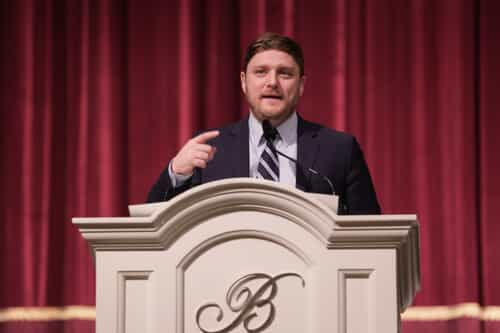 Famed attorney Mike Papantonio gave Wisner the award at the annual MTMP conference in Las Vegas, Nevada. The Clarence Darrow Award is the highest honor the organization gives out next to the Hall of Fame. Wisner received the award for his groundbreaking work in handing Monsanto Company (now a part of Bayer AG) several major legal defeats.
In introducing Wisner for the award, Papantonio urged young attorneys in the audience to seek out Wisner and ask, "what's your secret?"
"He did such a great job as a young trial lawyer," Papantonio said of Wisner's work in a landmark case against GlaxoSmithKline (GSK) that jumpstarted his career as a trial lawyer. "The next story I hear, he just humiliated Monsanto…to the tune of $290 million," he continued, referencing Wisner's trial victory in Johnson v. Monsanto Co. At the time the jury verdict was read, Wisner was just 34 years old.
Wisner followed up his success in the Johnson case by winning a $2.055 billion jury verdict in Pilliod et al. v. Monsanto Co. As co-lead trial counsel in Johnson and Pilliod, he earned roughly $2.4 billion in total jury verdicts (later reduced to $165 million total). The trial victories were key as the cases headed for settlement negotiations. In 2020, Wisner and several other colleagues helped negotiate $10.9 billion settlements with Bayer to resolve tens of thousands of Roundup cases. Fierce Pharma called it the largest settlement in pharma history (Bayer AG is primarily known as a pharmaceutical manufacturer).
In accepting his award, Wisner was adamant that his court victories were not just about big verdicts. "[A]t the end of the day, what we do is help people," Wisner said. "There's a person who is hurt. Connecting with them and getting their story in front of jury, it changes things."
He closed by telling the audience that, "Roundup is being taken off the market…we did that through hard work and by getting in front of a jury. Everything we do comes to that moment where you connect with people about something really important. Everyone here, whether you're in an MDL, a JCCP…get in front of a jury. Anything that gets in the way of that is a disservice to your client. Because at the end of the day, that's who you work for. If we do that right, and we keep doing that, we can change the world."
Leading the Charge in Two New Mass Torts: Zantac and Toxic Baby Food
After the successful resolution of the Monsanto litigation, Wisner and his colleagues at Baum Hedlund Aristei & Goldman have turned to two new mass torts against the makers of Zantac (ranitidine) and several major baby food manufacturers.
Thousands of people from across the nation have Zantac lawsuits against Sanofi US Services Inc., Chattem Inc., Boehringer Ingelheim, Pfizer and GlaxoSmithKline alleging exposure to the antacid drug caused them to develop various forms of cancer. Wisner, who represents thousands of clients nationwide, is now co-leading the Zantac cancer litigation after his appointment to the plaintiffs' leadership in the California Ranitidine Product Cases" JCCP 5150.
Wisner's team is also leading the toxic baby food litigation. The firm represents hundreds of parents across the U.S. who allege exposure to dangerous levels of toxic metals in several baby food brands caused their children to develop autism spectrum disorder (ASD) or attention-deficit/hyperactivity disorder (ADHD).
About R. Brent Wisner
Consumer attorney R. Brent Wisner is Baum Hedlund Aristei & Goldman's vice president and one of the firm's senior shareholders. He is based in the firm's San Francisco Bay Area office. Wisner focuses his practice on mass tort litigation, pharmaceutical class actions, and consumer fraud cases. In 2019, he became the youngest attorney ever to win a multi-billion-dollar jury verdict.
Brent has won numerous awards. In 2019, he was awarded "Civil Plaintiffs Trial Lawyer of the Year" by the National Trial Lawyers Association and was named one of "America's 50 Most Influential Trial Lawyers" by The National Law Journal. Law360 recognized Brent as a "Titan of the Plaintiffs Bar" and, in 2020, awarded Brent "MVP of the Year" in Products Liability. Since 2019, the Daily Journal has recognized Brent as one of the "Top Plaintiffs Lawyers in California" and as one of the "Top 100 Lawyers in California." In 2021, Brent was awarded "West Trailblazer" by The American Lawyer.