Software executive Glen de Vries, who just completed a trip to space on a Blue Origin rocket alongside actor William Shatner, was one of two people killed in a fatal plane crash in northern New Jersey last week. Thomas P. Fischer, the owner and head instructor of Fischer Aviation, a family-owned flight school in New Jersey that trained de Vries for his private pilot license also died in the crash.
On the afternoon of November 11, 2021, the 2017 Cessna 172S Skyhawk SP, registration number N90559, departed from Essex County, New Jersey with Sussex Airport as its destination. The fixed-wing single-engine plane was reported missing at approximately 3:00 p.m. local time.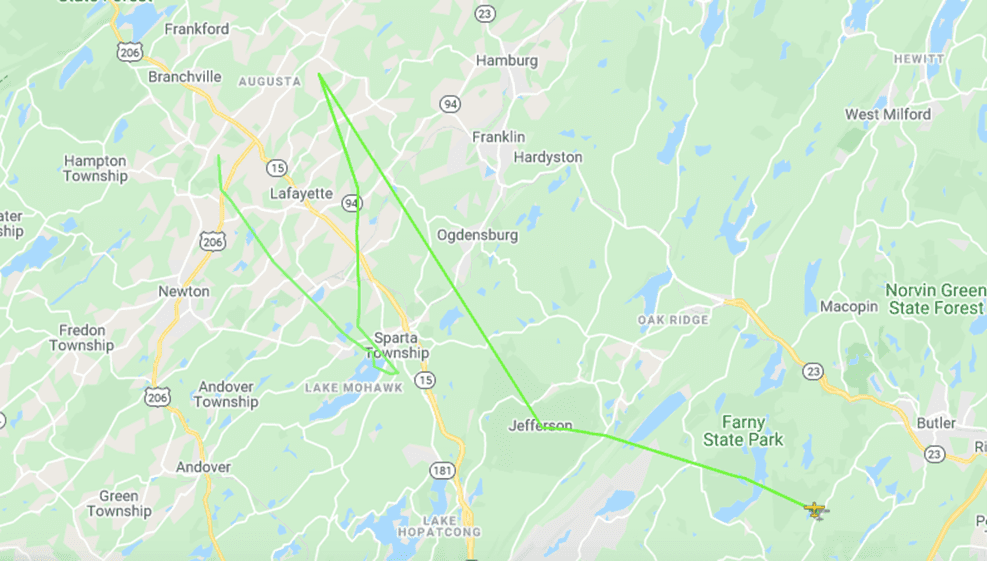 Flight path from FlightRadar24
Emergency crews located the wreckage about an hour after it was reported missing in a heavily wooded area near Lake Kemah in Hampton Township. De Vries and Fischer were both pronounced dead at the scene. It was not immediately clear which man was piloting the plane when it went down.
What Caused the Plane Crash That Killed Glen de Vries and Thomas Fischer?
Early in the investigation into the cause of the New Jersey plane crash, one thing officials know for certain is that Fischer had experience overcoming Cessna mechanical failure. In 2009, he crash-landed a different Cessna 172 plane in a Rockaway Townsquare mall parking lot after the aircraft lost power. Fischer and his flight student walked away from the crash with only minor injuries.
As for the cause of the November 2021 crash, veteran aviation attorney Ronald L. M. Goldman says National Transportation Safety Board (NTSB) and Federal Aviation Administration (FAA) investigators will review maintenance records for any anomalies and analyze the wreckage for any signs of mechanical failure. While officials will undoubtedly review the pilot's actions for any potential errors, Goldman believes some kind of mechanical failure was likely a factor in the fatal crash.
"We can only speculate at this time, but it appears the pilot attempted a controlled crash, which means he probably faced a mechanical failure that he could not recover from," Goldman says.
General aviation crash investigations generally take between 12 and 18 months to complete. A full report will include the likely cause (or causes) as well as any relevant safety recommendations to prevent this type of plane crash from happening again.
Software Executive Glen de Vries
Glen de Vries co-founded Medidata Solutions, a life sciences technology that markets software as a service for medical research. He began private pilot training in 2016 at Fischer Aviation and later received his FAA-issued Pilot Proficiency badge. According to the FAA's website, the Pilot Proficiency badge is given to pilots that maintain proficiency in flight basics to help mitigate accidents due to pilot errors, lack of proficiency, and faulty knowledge.
Last month, de Vries boarded a Blue Origin rocket that flew to the edge of space with William Shatner and two others, fulfilling a lifelong dream.
As a crew member aboard the highly-publicized space flight, de Vries utilized the platform to bring awareness to critical humanitarian issues like access to drinking water for communities most affected by climate change. Just before the trip to space, he donated $1 million to the cause.
In an interview with Carnegie Mellon University where de Vries was a trustee, he noted that the space flight helped give him a "heightened sense of time in my mind starting from the countdown."
He added: "I think I've taken that perspective back down with me to our planet, and into my relationships…The passage of time, just like the resources on Earth, feels more precious with expanded perspective."
After hearing the news of de Vries' untimely passing, Blue Origin's owner Jeff Bezos called him "a visionary and an innovator—a true leader."
Flight School Founder Thomas P. Fischer
Thomas P. Fischer founded Fischer Aviation with his wife in 2012. A second-generation flight instructor, Fischer earned several advanced flight certifications and had accumulated thousands of hours of flight experience.
Plane Crash Attorneys with Extensive Track Record in Cases Involving Cessna Aircraft
Aviation attorneys from the national law firm of Baum Hedlund Aristei & Goldman have a long track record of success in plane crash cases involving Cessna planes. Since 1990, our firm has earned justice and compensation on behalf of victims in 45 Cessna plane crashes. Fifteen of these crashes involved the Cessna 172 model.
Baum Hedlund's team of small plane crash lawyers work closely with skilled investigators who understand how to effectively gather evidence and determine whether maintenance issues, air traffic controller negligence, defective parts, manufacturing issues, or other issues caused an accident. We vigorously pursue claims on our clients' behalf to not only maximize compensation, but to send a message to all negligent parties that they will be held to account for failing to keep air travelers safe.
Since 1985, Baum Hedlund has won over $4 billion in verdicts and settlements for our clients. We know what it takes to win big cases against big companies.
If you would like more information about pursuing a Cessna plane crash lawsuit, please contact us or give us a call at (855) 948-5098. Our legal team offers free and confidential case evaluations.