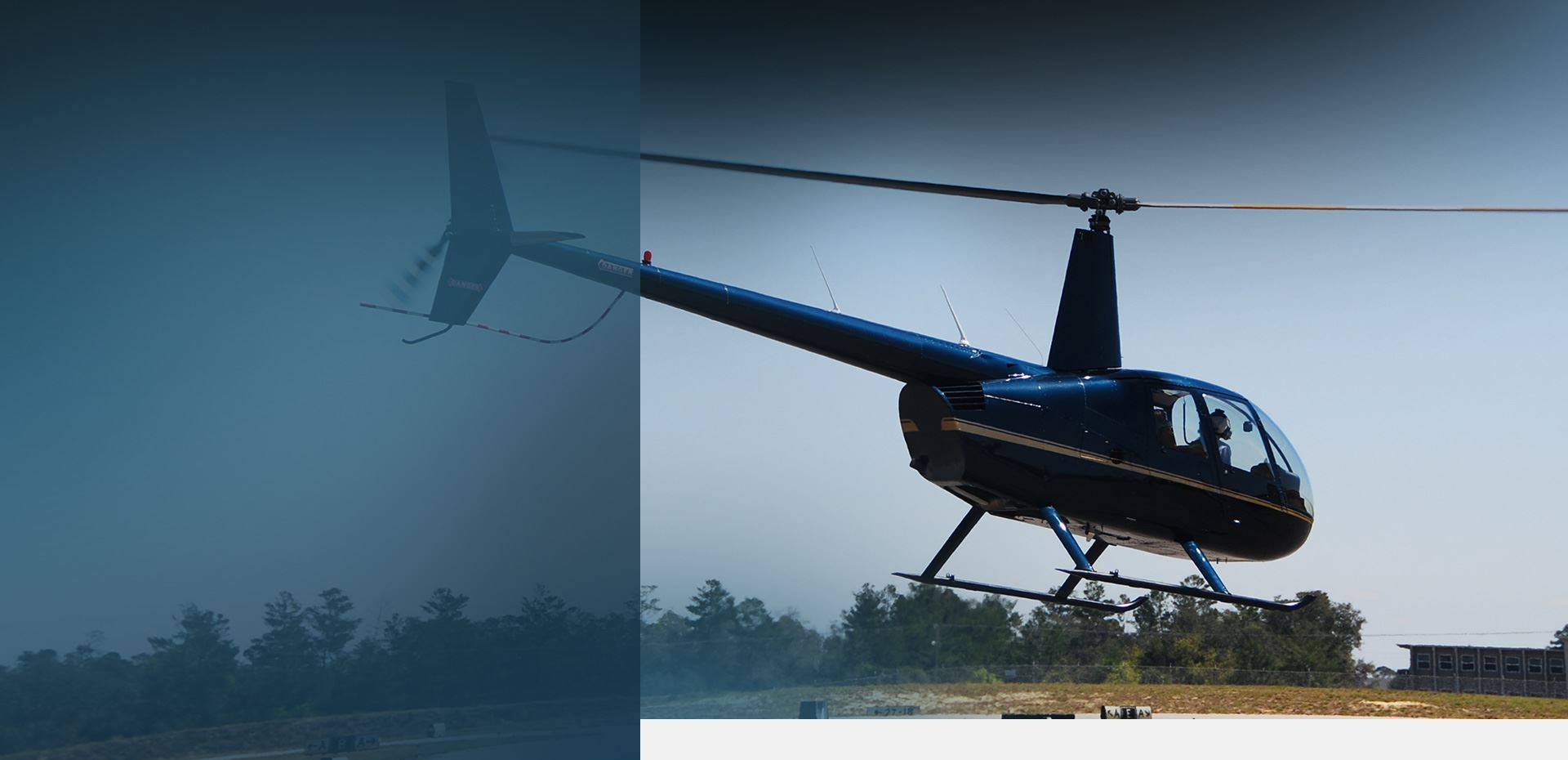 Robinson Helicopter Crashes Client Focused. Trial Ready. Billions Won.
Robinson Helicopter Crashes
Helicopter Crash Lawyers Serving Clients Nationwide
Wisner Baum aviation accident attorneys have represented over 800 victims in a wide variety of air disasters, including Robinson helicopter crashes. Throughout this process, we have conducted extensive investigations related to Robinson R44 crashes, as well as incidents involving the R22 and R66 models. We have even visited the company's headquarters in Torrance, California on numerous occasions to conduct post-crash inspections of the helicopters involved in our clients' cases and to take depositions of company personnel.
"It's very surprising to see this kind of repetitiveness. We've handled cases against almost every single manufacturer; you see nothing like the quantity you see with Robinson."
-Attorney Ronald L. M. Goldman* in The Daily Breeze
"Robinson, in my opinion, continues to prioritize profit over safety and it's a shame."
-Attorney Ronald L. M. Goldman* in Heli Hub
Do you need to speak with an attorney who can handle your Robinson Helicopter crash case? Call Wisner Baum today at (855) 948-5098 or contact us online.
Robinson Helicopter Models
Robinson's fleet of helicopters are listed below:
R66 Turbine

R44 Raven II / R44 Clipper II

R44 Raven I / R44 Clipper I

R44 Cadet

R22 Beta II

R44 Newscopter

R66 Newscopter

R66 Police Helicopter
Wisner Baum Robinson Helicopter Case Experience
Our helicopter crash lawyers have investigated and handled 20 crash cases involving R22s, R44s or R66s, representing 34 passengers or pilots, in wrongful death or personal injury claims involving Robinson helicopters.
Robinson R44 Crash Cases
June 12, 2021, Robinson R44 crash in Windwhistle, New Zealand. An R44 helicopter, carrying a newly married couple and a photographer, crashed after the aircraft's engine lost power. The three passengers and the pilot all sustained serious injuries. Wisner Baum filed a lawsuit against Robinson stemming from this R44 crash in June of 2023.
April 22, 2021, Robinson R44 helicopter crash in Wyoming County, Pennsylvania. The pilot was killed when the helicopter began to spiral after he made a slight right turn. The helicopter collided with trees and terrain in a remote, wooded area near Forkston.
July 4, 2020, Robinson R44 helicopter crash in Broome, Australia. The pilot and a passenger died and two others were critically injured when the R44 crashed in a suburb of Broome, after witnessed heard a loud bang.
January 30, 2018, Robinson R44 helicopter crash near Newport Beach, California. The R44 crashed into a house, killing the pilot and two passengers. Another passenger was seriously injured and one person on the ground was also injured. Wisner Baum represents all of the passengers from this crash.
March 22, 2015, Robinson R44 helicopter crash, near Orlando, Florida. The R44 collided with a building and exploded into fire.
August 29, 2008, crash near Table Rock Lake, Missouri, involving a Robinson R44 II operated by Central Illinois Air Corp., (two people were killed). This case resolved with a confidential settlement.
June 14, 2008, Robinson R44 II operated by Adventure Helicopter Tours crashed in Topanga Canyon, California (the two passengers and the pilot were injured). We resolved this case with a confidential settlement.
August 2, 2007, a Robinson R44 II charter flight operated by Classic Helicopter Corp., crashed and burned three miles south of Easton, Washington (three passengers and one pilot were killed). We resolved this case on the eve of trial with a confidential settlement.
Robinson R66 Crash Cases
January 9, 2020, Robinson R66 crash near Mechanicsburg, Pennsylvania. Experienced pilot Mark Croce, a prominent businessman from Buffalo, was piloting the aircraft when it allegedly experienced a sudden and catastrophic break up inflight during normal flight and crashed, killing Mr. Croce and his colleague. Wisner Baum helicopter crash lawyers are taking this case to trial on November 6, 2023.
June 23, 2016, Robinson R66 helicopter crash, near Wikieup, Arizona. The R66 crashed during a cross-country flight, headed for Riverside, California to conduct a chief pilot check ride with an FAA inspector.
November 20, 2013, Robinson R66 helicopter crash, Mangaratiba, Rio de Janeiro, Brazil.
July 12, 2011, the first Robinson R66 helicopter crash, near Flandes, Colombia, (two people were killed). We inspected this wreckage in Colombia and then had it shipped to the U.S. We and our team of experts are conducting an extensive investigation into this crash.
Robinson R22 Crash Cases
January 4, 2017, Robinson R22 helicopter crash in San Pedro, California. The R22 crashed into the waters at the Port of Los Angeles during an aerial photo shoot of cruise ships.
July 9, 2012, Robinson R22 crash, near Murrieta, California. The R22 crashed during flight instruction.
July 8, 2004, a Robinson R22 Beta Helicopter crashed in Rochester, Minnesota (the student pilot was killed, and the flight instructor seriously injured). This case was resolved with a confidential settlement.
November 27, 2001, a Robinson R22 Helicopter crashed in San Salvador, El Salvador (the passenger and pilot were both killed). We were successful in obtaining U.S. jurisdiction for this case and we subsequently resolved it for our clients with a confidential settlement.
Robinson Helicopter Company Overview
Robinson Helicopter Company was established in 1985 as a helicopter manufacturing company, based in Southern California. They produce the R22, a two-seater model, the R44, a four-seater model and the R66, a turbine-powered model. Over the last 50 years, the company has manufactured and delivered more than 13,000 helicopters.
The company employs a workforce of approximately 1,300 workers who work in manufacturing, refurbishing older aircraft and providing training for instructors and technicians. Robinson also offers helicopters that are made specifically for law enforcement agencies and news organizations.
Robinson Helicopter Crash Stats
Robinson helicopters have been involved in hundreds of fatal accidents and incidents since the company delivered its first helicopter in 1979. According to government data*, as of June 9, 2023, Robinson R22, R44, and R66 models have been involved in approximately 1,659 aviation accidents or incidents globally. Of these, 412 were fatal crashes.
Robinson R22 crashes – 985 total incidents; 177 fatal.

Robinson R44 crashes – 623 total incidents; 212 fatal.

Robinson R66 crashes – 51 total incidents; 23 fatal.
* Data current as of June 9, 2023. In October of 2020, NTSB changed its data search tool to the Case Analysis and Reporting Online (known as the CAROL query system). The CAROL system currently includes accident data going back to 1983. Because the Robinson R22 was released in 1979, the total accidents for that model are underrepresented.
Our Robinson Helicopter Cases and Lawyers in the News
Canterbury wedding helicopter crash: Newlyweds, photographer file lawsuit against Robinson Helicopter Company in US | NZ Herald
Two killed, including pilot, in fiery helicopter crash in Texas | New York Post
Robinson helicopters' safety record in New Zealand: Are increased safety measures making them safer to fly? | NZ Herald
Lawsuit Blames Croce Crash on Defective R66 Robinson Helicopter | Press Release
Preliminary report released on helicopter crash that killed Mark Croce, Michael Capriotto – WKBW TV | Buffalo, NY
Experts blamed weather in fatal crash, but lawsuit alleges design flaw of Torrance-built Robinson helicopter – Daily Breeze
Choppers down: Mystery of fatal flights – The New Zealand Herald
Air safety board issues preliminary report on fatal Port of LA crash of Torrance-built helicopter– Daily Breeze
NTSB: Robinson helicopter crashes have killed 19, injured 41 in Florida since 2000 – Orlando Sentinel
Helicopter Model Involved In Fatal Crash Has Troubling Track Record – CBS News Miami
'Ford Pinto' of Helicopters? – Santa Barbara Independent
Robinson R44 Helicopter Forced to Make Emergency Landing in England on Same Day New Zealand Lifts Directive Grounding All R44's
New Zealand's Civil Aviation Authority Urged to Take Action on Robinson R22 Helicopters
Los Angeles Superior Court Judge Denies Robinson Helicopter Company's Motion to Remove Helicopter Crash Trial Outside U.S.
Los Angeles Crash Victims Sue Robinson Helicopter Company, Rolls Royce and Honeywell, Claiming Newly Designed R66 is Defective
After 74 Deaths and 15 Injuries, Will the FAA Follow Australia's Lead and Ground Unsafe Robinson Helicopters?
Contact us at (855) 948-5098 to get started with a free consultation.
Experienced Robinson Helicopter Lawyer | Free Case Evaluation
If a Robinson helicopter crash has had a serious impact on your family, contact us online or give us a call to schedule a free consultation. Based in Los Angeles, our helicopter crash lawyer team has the experience for these cases, and we are available to handle all types of airline, general aviation, and helicopter crashes throughout the U.S. and around the world, especially crashes involving helicopters manufactured by Robinson Helicopter Co.
$14 Million Settlement A Major US Plane Crash

Wisner Baum obtained a $14 million settlement for the death of a passenger in a major US plane crash.

$12 Million Settlement Helicopter Crash

Wisner Baum secured a $12 million settlement for a passenger who was injured in a helicopter crash.

$10 Million Settlement A Major Foreign Plane Crash

Wisner Baum obtained a $10 million settlement for the death of a passenger in a major foreign plane crash.

$17.5 Million Settlement A Major US Plane Crash

Wisner Baum obtained a $17.5 million settlement on behalf of a client who was killed in a major U.S. plane crash. Client-Focused Representation
REVIEWS & TESTIMONIALS
We believe our track record speaks for itself. But you don't have to take our word for it. See what our clients have to say about working with us.
"I Can't Imagine a Better Law Firm"

Multiple lawyers recommended Wisner Baum to me and I have been consistently impressed with the quality of their work.

- Best Law Firms Survey

"They Are About Changing the Systems..."

Wisner Baum are not only amazing attorneys but more importantly, they are activists. They are about changing the systems which got us into trouble in the first place. They understand their role in the process of making change.

- Kim Witczak

"Top Legal Minds in the Country"

The Wisner Baum firm has some of the top legal minds in the country; they are driven, determined, trustworthy, ethical and passionate.

- From Best Lawyers® Best Law Firms

"Diligent & Professional Representation"

Thanks to your efforts I was able to recover from a tragic experience and turn my life around for the best.

- W.T.

"Our Best Interest Was Always Number One on Your List"

A special thank you to your Spanish-speaking staff for the extra effort put into this case. The language barrier was never a problem, and we are so very thankful to them. Your name holds much respect in our family.

- G.C. & C.C

"We Have Never Met a More Wonderful Group of People"

It is obvious that the people at Wisner Baum believe in what they do. And that you all really care about your clients.

- The B. Family

"They Worked Very Hard and Kept in Contact, Which Is Very Important to Me"

I appreciate that you care about how I feel and that you take time to use your talents to ensure your every contact with me is warmly professional.

- A.D.B.

"Your Expertise in This Field Gave Me the Utmost Trust and Confidence"

I wanted a fair settlement within an appropriate time frame, and without any public scrutiny. With your hard work and dedication, we were able to achieve those goals.

- T.O.