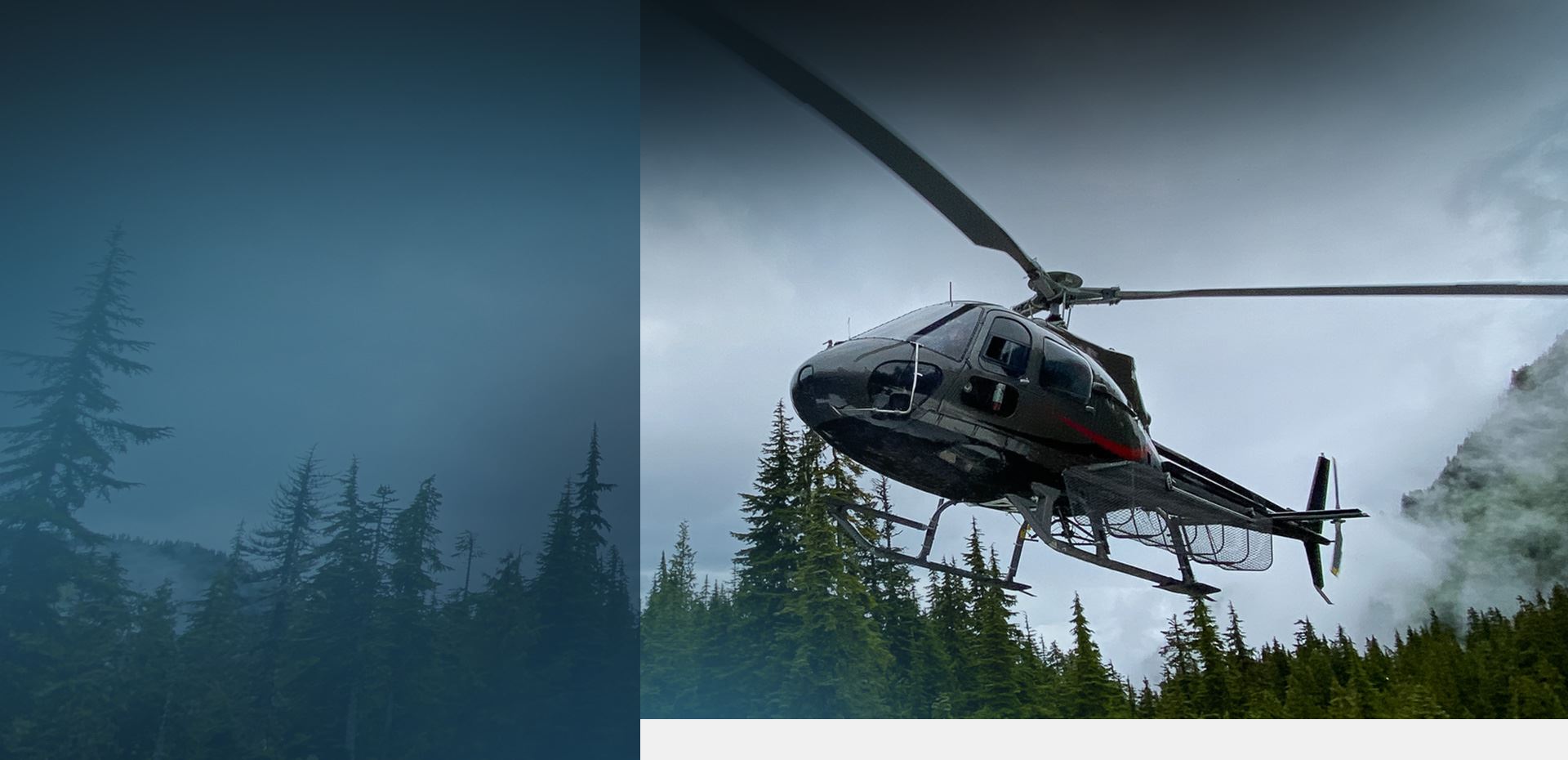 Bell Helicopter Crashes Client Focused. Trial Ready. Billions Won.
Bell Helicopter Crashes
Seasoned Helicopter Accident Lawyers Based in Los Angeles
When you become a passenger on a helicopter, you might assume they have the same safety and industry standards as commercial airlines. Unfortunately, this is not the case. Privately-owned and chartered aircrafts – such as those manufactured by Bell Helicopters – are often more susceptible to a crash.
Wisner Baum is a recognized leader in complex litigation involving plane accidents, helicopter crashes and other air disasters in the U.S. and worldwide. The firm's experienced helicopter attorneys have represented victims in medical helicopter air‑ambulance rescue operations and work‑related helicopter accidents, including industrial and construction type operations as well as professional aerial photography and logging enterprises.
Ready to speak with a Bell Helicopter crash attorney? Contact Wisner Baum at (855) 948-5098 or submit a form online.
Bell Helicopter Company Overview
Bell Helicopter Textron, Inc., began in 1935 as Bell Aircraft Corporation. The company has produced more than 35,000 aircraft and serves customers around the world. The company is headquartered in Fort Worth, Texas, and has manufacturing plants in Amarillo, Texas, and Mirabel, Canada.
The company claims the invention of the tilt rotor aircraft, which purports to produce vertical lift like a helicopter for takeoff and landing, then shifts (tilts) to horizontal thrust in order to achieve speeds similar to an airplane. It boasts the ability to carry three times more cargo than traditional helicopters.
Bell Helicopter Accidents and Incidents Handled by Wisner Baum
Bell helicopters have been involved in approximately 4,900 accidents, 800 of which were fatal crashes. As a result, more than 1,660 people have died. Wisner Baum has handled some of the worst aviation disasters in history, including several helicopter cases involving Bell helicopters.
The following are some of the Bell helicopter accidents we have handled, all of which have been resolved with our clients' approval:
December 10, 2015, near McFarland, California, crash of a Bell 407 medical helicopter, operated by Rogers Helicopters, dba SkyLife.
September 19, 2011, Camp Pendleton, San Diego, California, Bell AH-1W Cobra Attack helicopter training flight crash.
July 23, 2003, Kauai, Hawaii, sightseeing flight to Waialeale Crater, operated by Jack Harter Helicopters, Inc., involving a Bell 206B JetRanger helicopter (four passengers and one crew member killed).
November 1, 1999, Cottage Grove, Minnesota, accident involving a Bell 206B JetRanger helicopter that crashed on its way to provide aerial shots for ABC's Monday Night Football (one passenger and the pilot, working for KSTP TV, were killed).
March 23, 1998, Los Angeles, California, an air ambulance flight involving a Bell 205A1 Medical Helicopter operated by the Los Angeles Fire Dept., crashed in Griffith Park, (four passengers killed, two seriously injured).
November 29, 1996, a Bell 206B JetRanger operated by Pacific Helicopter Tours, Inc., of Kahului, Hawaii, was substantially damaged near McGregor Point, Maui, Hawaii, during a power line construction project (pilot and his passenger both received serious injuries).
September 2, 1992, a Bell 206L3 LongRanger medical helicopter from San Juan Medical Center in Farmington, New Mexico, leased by the hospital from Air Methods Corp. crashed northeast of Durango, Colorado while attempting to rescue a hiker who had suffered a stroke (three people were seriously injured).
July 22, 1991, a Bell 206B JetRanger, operated by Intermountain Air Service, was on a scenic sightseeing tour of Mt. St. Helens when the aircraft turned to view a herd of elk in a dry river bed and crashed. (We represented two passengers injured in that accident.)
June 22, 1976, a Hanson Aviation, Inc., chartered Bell 206B JetRanger helicopter, carrying film producers and photographers scouting locations for a Kodak commercial, crashed and burned near Bishop, California. Two people were seriously injured and two were killed. (Ron Goldman tried this case before joining Wisner Baum, obtaining a plaintiffs jury verdict in Gradus vs. Hanson Aviation, Inc., 1984)
Give us a call at (855) 948-5098 today to get started with a free consultation.
Contact Us for Help Pursuing Truth, Justice and Accountability
If a Bell helicopter crash has had a serious impact on your family, we invite you to call us and schedule a free consultation. With almost half-a-century in business and over $4 billion won for our clients, our award-winning attorneys have the experience and expertise to handle complex helicopter and airplane crash cases. Based in Los Angeles, Philadelphia, and Washington, D.C., we represent clients throughout the U.S., and around the world.
$14 Million Settlement A Major US Plane Crash

Wisner Baum obtained a $14 million settlement for the death of a passenger in a major US plane crash.

$12 Million Settlement Helicopter Crash

Wisner Baum secured a $12 million settlement for a passenger who was injured in a helicopter crash.

$10 Million Settlement A Major Foreign Plane Crash

Wisner Baum obtained a $10 million settlement for the death of a passenger in a major foreign plane crash.

$17.5 Million Settlement A Major US Plane Crash

Wisner Baum obtained a $17.5 million settlement on behalf of a client who was killed in a major U.S. plane crash. Client-Focused Representation
REVIEWS & TESTIMONIALS
We believe our track record speaks for itself. But you don't have to take our word for it. See what our clients have to say about working with us.
"I Can't Imagine a Better Law Firm"

Multiple lawyers recommended Wisner Baum to me and I have been consistently impressed with the quality of their work.

- Best Law Firms Survey

"They Are About Changing the Systems..."

Wisner Baum are not only amazing attorneys but more importantly, they are activists. They are about changing the systems which got us into trouble in the first place. They understand their role in the process of making change.

- Kim Witczak

"Top Legal Minds in the Country"

The Wisner Baum firm has some of the top legal minds in the country; they are driven, determined, trustworthy, ethical and passionate.

- From Best Lawyers® Best Law Firms

"Diligent & Professional Representation"

Thanks to your efforts I was able to recover from a tragic experience and turn my life around for the best.

- W.T.

"Our Best Interest Was Always Number One on Your List"

A special thank you to your Spanish-speaking staff for the extra effort put into this case. The language barrier was never a problem, and we are so very thankful to them. Your name holds much respect in our family.

- G.C. & C.C

"We Have Never Met a More Wonderful Group of People"

It is obvious that the people at Wisner Baum believe in what they do. And that you all really care about your clients.

- The B. Family

"They Worked Very Hard and Kept in Contact, Which Is Very Important to Me"

I appreciate that you care about how I feel and that you take time to use your talents to ensure your every contact with me is warmly professional.

- A.D.B.

"Your Expertise in This Field Gave Me the Utmost Trust and Confidence"

I wanted a fair settlement within an appropriate time frame, and without any public scrutiny. With your hard work and dedication, we were able to achieve those goals.

- T.O.