Continental Connection Flight 3407 crashed into a house near Buffalo, New York, at approximately 10:17 p.m. ET on Thursday, February 12, 2009. All 49 people aboard and a person in the home were killed, authorities confirmed. Two others inside the house, a mother and daughter, escaped with minor injuries.
The sons of Susan Wehle, a well known spiritual leader from Amherst, have hired Baum Hedlund Aristei & Goldman and filed a wrongful death lawsuit for the loss of their mother.
"Justice for our clients and safety for the aviation community and traveling public, those are our twin objectives." Aviation Attorney, Ron Goldman – New Jersey Star-Ledger
The aircraft, a 74-seater Bombardier Dash 8 Q400 turboprop, was traveling as a commuter flight from Newark, New Jersey, to Buffalo, New York. It was preparing to land when it suddenly plunged into Clarence Center, a suburban neighborhood less than five miles from Buffalo Niagara International Airport. Witnesses described hearing odd sputtering sounds from the plane seconds before it smashed through the roof of a house in a terrible explosion. The aircraft, carrying 5,000 pounds of fuel, had exploded on impact. Only the tail section of the plane was visible through flames that reached at least 50 feet high. The fire was finally subdued late Friday morning, more than 12 hours after the initial explosion.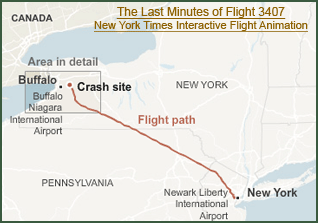 The National Transportation Safety Board (NTSB) sent a team to Buffalo to investigate the crash. The two "black boxes" were recovered from the wreckage and were sent to Washington for examination. Investigators say they have found evidence that points to the possibility of pilot error seconds before the deadly impact with the house and ground.
According to the NTSB, the pilot of the doomed aircraft may have overreacted after an automatic stall warning system sensed the plane was dangerously slowing down. According to investigators, at around 1,600 feet the automatic warning system shut off the autopilot and moved the Bombardier Dash 8's nose down to regain speed. Investigators are now saying that it is possible the pilot pulled back too hard to avoid a stall, pitching the aircraft upward 31 degrees and causing it to plunge for about 26 seconds before smashing into the suburban home. Also being scrutinized is the pilot's failure to turn off the autopilot in what seemed to be "significant ice," against recommendations from both the NTSB and his own airline.
"All aircraft have de-icing systems: a big jet like a 747 can cope with ice almost indefinitely, but smaller planes, especially propeller planes can experience problems," said Kieran Daly, of the online aviation news service Air Transport Intelligence.
The potential for ice was present in Thursday's crash, experts said since the plane was traveling at relatively low altitude in icing conditions.
"Pilots cope by increasing altitude — icing mainly occurs at lower levels — but because propeller-driven planes are slower, they take longer to reach high altitude and spend longer in the icy conditions," Daly said.
After the crash, a handful of pilots were heard on air traffic control messages saying they had been gathering ice on their wings. "We've been getting ice since 20 miles south of the airport," one said.
According to the National Weather Service, the weather in Buffalo shortly before the crash was light snow, fog and mist with winds at 17 mph.
In addition to potential problems with ice, the Bombardier Dash 8 Q400 also has a history of problems with its landing gear. In 2007, Scandinavian Airlines (SAS) permanently grounded its fleet of Dash 8 Q400 aircraft after three crash landings occurred during a two-month period. The crash landings were blamed on the faulty landing gear. Mats Jansson, President and CEO of SAS said at the time, " Confidence in the Q400 has diminished considerably and our customers are becoming increasingly doubtful about flying in this type of aircraft."
The investigation into the cause of this crash is still ongoing and there is no word yet on whether ice, pilot error, or other causes led to the tragic accident. NTSB spokesman Keith Holloway said on Wednesday, "We have not concluded anything."
The Dash 8 was carrying a four-member crew, as well as an off-duty pilot. The crew was identified as pilot Capt. Marvin Renslow, first officer Rebecca Shaw and flight attendants Matilda Quintero and Donna Prisco. No mayday call was heard from the pilot before the disaster and according to a tape of communications between air traffic control and the flight crew, neither the pilot nor the controller showed much concern as the plane was cleared to approach Buffalo.
Thursday's plane crash is the deadliest on U.S. soil since August 27, 2006, when Comair Flight 5191 crashed while attempting to take off from the wrong runway, in Lexington, Kentucky, also killing 49 people on board the aircraft.
This is Continental's second serious crash in two months.  On Dec. 20, 2008, 38 people were injured when a Continental Airlines plane veered off a runway and slid into a snowy field at the Denver airport.
The Continental Connection Flight 3407 was operated by Colgan Air, based in Manassas, Va. Colgan's parent company is Pinnacle AirlinesCorp. of Memphis, Tenn.
"This is easily the saddest day in the history of our airline," said Philip Trenary, CEO of Colgan Air.
Anyone seeking legal representation should Contact the aviation disaster attorneys at Baum Hedlund Aristei & Goldman, or call 800-827-0087 or 310-207-3233 for a free consultation.
For more than two decades, Baum Hedlund has represented aviation accident victims in some of the worst aviation disasters in our history. The firm's aviation accident attorneys have litigated hundreds of aviation personal injury and wrongful death claims across the United States and around the world.
Related Articles