The landmark jury verdict in the case of Dewayne "Lee" Johnson v. Monsanto Company (now Bayer) was one of the largest and most significant verdicts in California last year, according to the Daily Journal.
In its 'Top Verdicts' issue, the Daily Journal highlighted the work of Roundup cancer attorneys from Baum Hedlund Aristei & Goldman, the Miller Firm, and Audet & Partners in securing the second-highest jury verdict in California last year.
Daily Journal Honors Baum Hedlund Aristei & Goldman in Top Verdicts 2018 Issue
In August of 2018, a San Francisco jury unanimously awarded Mr. Johnson $289.2 million in damages ($39.25 million in compensatory damages and $250 million in punitive damages) following five weeks of trial proceedings. Mr. Johnson, a former groundskeeper for the Benicia Unified School District in Northern California, alleged that exposure to Monsanto weed killers caused him to develop terminal non-Hodgkin lymphoma (NHL), and that Monsanto failed to warn consumers of the dangerous health risks associated with its products.
"A jury unanimously told Monsanto: 'Enough. You did something wrong and now you have to pay,'" said R. Brent Wisner of the law firm Baum Hedlund Aristei & Goldman following the verdict. Wisner served as co-lead trial counsel for Mr. Johnson, alongside David Dickens of the Miller Firm.
"There are thousands of other cases filed around the United States and countless other people out there who are suffering from cancer because Monsanto didn't give them a choice … We now have a way forward."
The only California verdict to exceed Johnson's was the $538.641 million verdict in the Apple v. Samsung patent infringement case.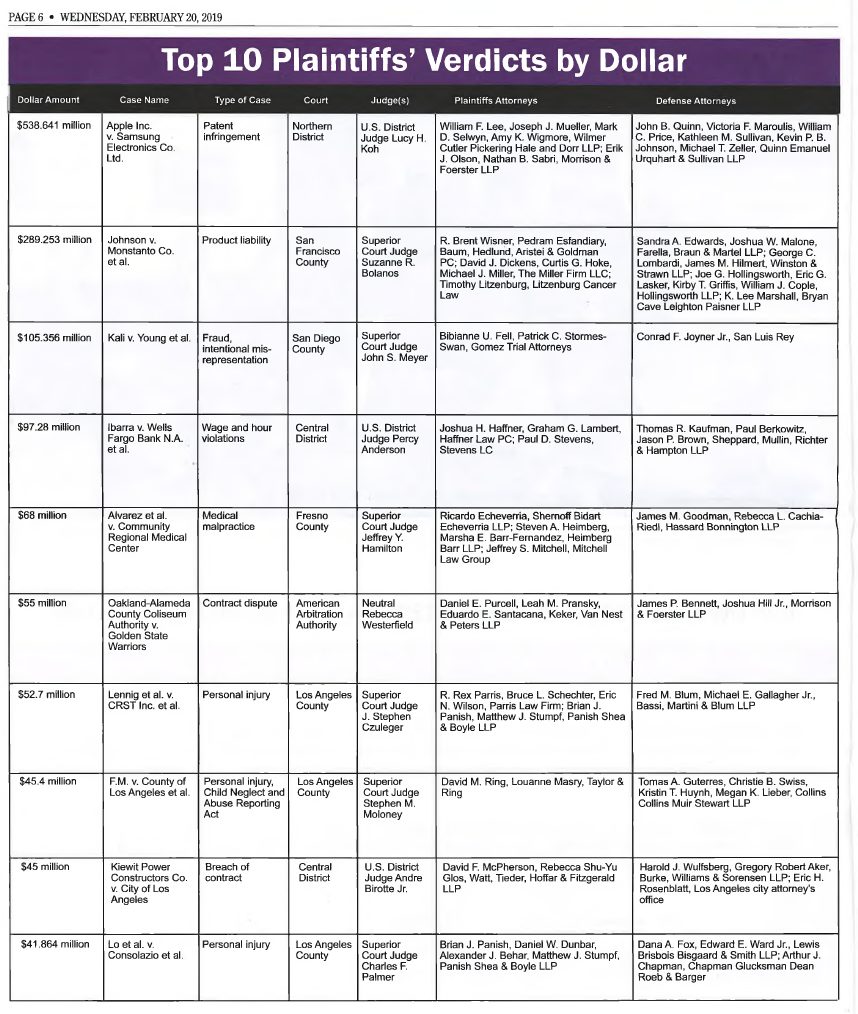 In the weeks that followed the Johnson verdict, Monsanto asked the judge overseeing the trial to vacate the jury's verdict. San Francisco Superior Court Judge Suzanne Bolanos denied Monsanto's request but did reduce the total damages award to $78.5 million. Faced with the choice of accepting the judge's ruling or opting for a new trial, Mr. Johnson decided to take the reduced amount to hopefully achieve a final resolution in his case within his lifetime.
Monsanto filed a notice of appeal in the California State Court of Appeals (Case No. A155940) in November of 2018 and Johnson filed a cross-appeal shortly thereafter, seeking to reinstate the jury award. Monsanto's opening brief is due in April.
Next Monsanto Roundup Cancer Case Begins in California State Court
The next Monsanto Roundup cancer case will begin next week in Oakland, California. The case is Alva Pilliod and Alberta Pilliod v. Monsanto Company, Case No. RG17862702, JCCP No. 4953.
Alva Pilliod and his wife, Alberta, allege that long term exposure to Monsanto's Roundup herbicide caused them to develop NHL. The Pilliod's case is the third Monsanto Roundup cancer case to proceed to trial.
The tentative trial schedule for Pilliod v. Monsanto:
Tue. 3/19: Motions in Limine discussions
Wed. 3/20: Jurors panel fills out questionnaires, address hardship issues
Thurs. 3/21: Review questionnaires
Fri. 3/22: Dark
Mon. 3/25: Voir dire, for cause challenges, jury selection
Tue. 3/26: Continue jury selection
Wed. 3/27: Complete jury selection
Thurs. 3/28: Opening statements
Fri. 3/29: Dark
Mon. 4/1: Dark
Tue. 4/2: First Testimony (Portier)
Mon. 4/22: Plaintiffs rest
Thurs. 5/2: Dark
Wed. 5/6: Defense rests
Thurs. 5/7: Closing Arguments
The jury in the second Monsanto trial, Edwin Hardeman v. Monsanto Company, returned a verdict yesterday in favor of Mr. Hardeman, finding that exposure to Roundup was a substantial factor in causing his cancer. The case now moves into its second phase to determine Monsanto's liability.