Greyhound Bus Shooting
The latest Greyhound bus shooting in Oroville, California demonstrates how vulnerable passengers and drivers are to attacks. As lawyers with years of experience representing victims of bus shootings, our firm continues to ask: when are companies like Greyhound going to commit themselves to safety and improve security standards to stop preventable tragedies from happening?
Lawyers from Wisner Baumare in active litigation against Greyhound stemming from a bus shooting in 2020. Attorney Clay Robbins III, who has successfully represented bus passengers in previous cases against Greyhound, filed lawsuits on behalf of multiple victims. If you or a member of your family was harmed in a Greyhound bus shooting incident, we are here to help. Put your case in the hands of experienced lawyers who know what it takes to secure justice and maximum compensation on your behalf.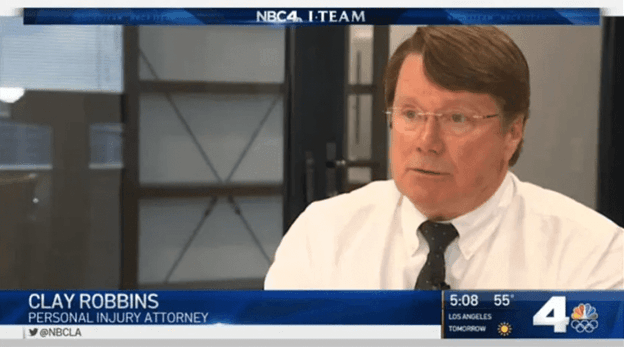 Watch the video: Attorney Clay Robbins III discusses his experience litigating bus assault cases against Greyhound with Joel Grover, head of KNBC's I-Team.
To speak with attorney Clay Robbins III about your claim, please fill out our case evaluation form or give us a call today at (855) 948-5098.
Greyhound Bus Shooting in Oroville, California (2022)
On the evening of February 2, 2022, it is reported that a 21-year-old man from Sacramento pulled out a gun and opened fire while in a Greyhound bus on its way to Los Angeles. A 43-year-old woman was killed and at least four passengers were injured. Two of the victims, a 25-year-old pregnant woman and a 32-year-old man who was in surgery overnight, were listed in critical condition after the Greyhound shooting.
Law enforcement in Oroville responded to 911 calls at approximately 7:30 p.m. local time reporting an active shooter on a Greyhound bus parked outside an AM-PM convenience store at Feather River Blvd. and Oroville Dam Blvd. The bus was traveling from Redding down to Los Angeles and had made stops in Red Bluff and Chico before reaching Oroville.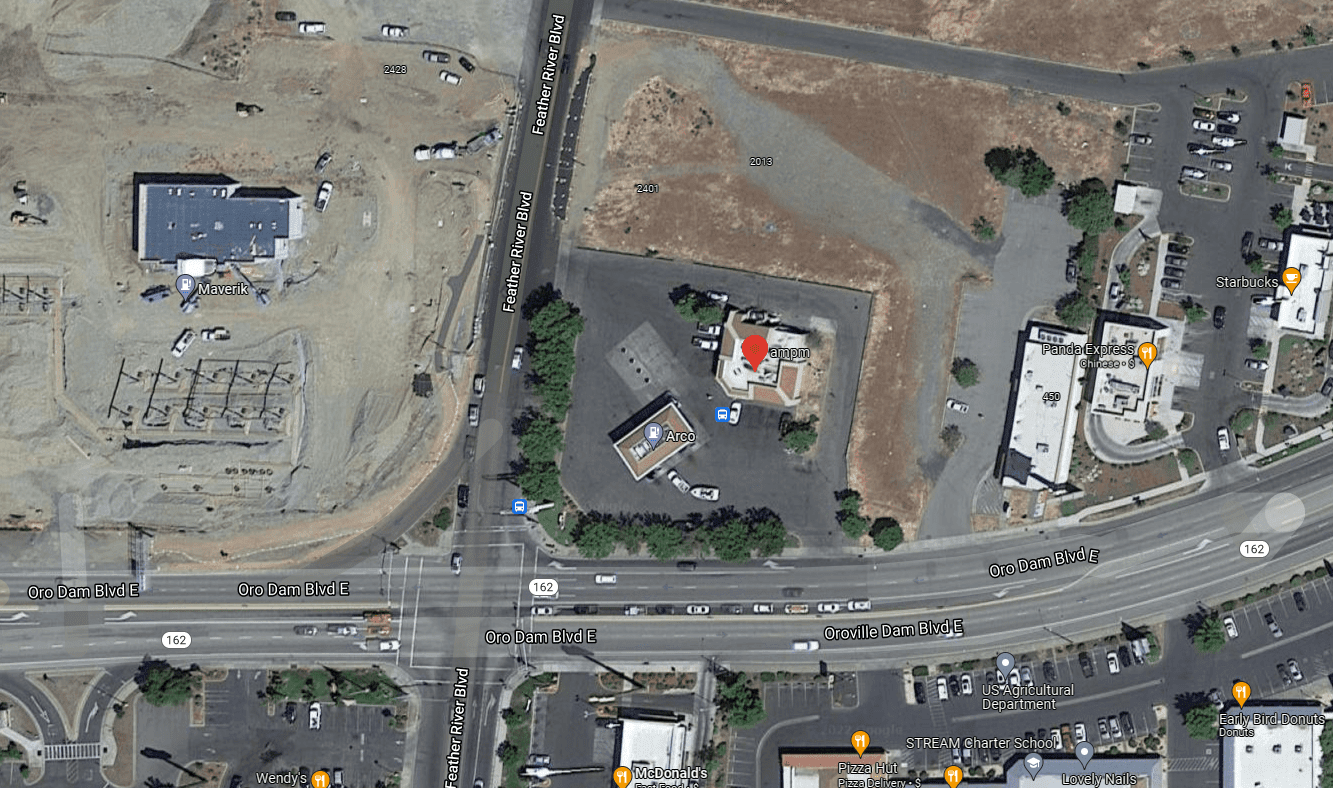 Google Maps view of Oroville Bus Shooting Site
According to Butte County District Attorney Michael Ramsey, suspected shooter Asaahdi Elijah Coleman boarded the Greyhound bus near Redding and began showing signs of abnormal and concerning behavior. He reportedly made or received a phone call that seemed to agitate him, and he soon began acting paranoid and upset.
Coleman later showed another bus passenger the firearm in his small bag, a 9mm handgun. When the bus arrived at the convenience store in Oroville, Coleman reportedly began firing as passengers disembarked the vehicle. Law enforcement authorities said there were roughly 25 passengers on the Greyhound bus at the time.
After multiple shots were fired, Coleman then reportedly fled the scene on foot, dropped the handgun in a construction zone near the AM-PM, and walked into a nearby Walmart, where he was eventually apprehended.
Suspect in Oroville Shooting on Bus Had Criminal Record, Was Not Legally Allowed to Possess Firearm
Officials indicated that Coleman was wanted in Alameda County for violating the terms of his probation at the time of the Greyhound shooting in Oroville and was not legally allowed to possess a gun. Coleman was also served felony charges in 2021 for violating prohibition of firearm access. He was later released on bail with a scheduled court appearance for March.
"For years, we have been calling on Greyhound to protect its passengers from gun violence by investing in metal detection and other security measures that stop guns from getting on buses," says attorney Clay Robbins III, who is currently representing victims of a 2020 Greyhound bus shooting. "These tragedies also make it clear that Greyhound has a driver training problem that needs to be addressed. Drivers don't have the tools to promptly recognize and respond to passenger disturbances. It is, in my opinion, Greyhound's obligation to provide the tools and training so that drivers and station personnel can recognize and effectively deal with safety problems before they end up escalating into senseless violence."
Greyhound Bus Shooting in Kern County, California (2020)
In the early morning hours of Feb. 3, 2020, a man with a gun opened fire inside a Greyhound bus as it traveled north on Interstate 5 through Kern County, California. One woman was killed and five other people were wounded in the Greyhound bus shooting.
Wisner Baum has filed a lawsuit against Greyhound on behalf of four passengers harmed in this tragedy. Read our press release on the lawsuit here.
The bus left Los Angeles at 11:30 p.m. on the night of Feb. 2, 2020, and was scheduled to make stops in Avenal and Oakland before arriving at its final destination of San Francisco. Forty-two passengers were aboard the bus at the time of the fatal shooting, which occurred at around 1:27 a.m.
"I have litigated two other cases similar to this against Greyhound in the past, and their stance on pre-board screening and other passenger safety mechanisms has not changed much, if at all." said attorney Clay Robbins III, a Wisner Baumlawyer with decades of experience handling personal injury and wrongful death cases against commercial transportation companies.
"Greyhound could and should employ an onboard security guard on all routes, install stationary facility metal detectors and/or handheld metal detectors to screen incoming passengers for weapons, and implement security enhancements such as surveillance equipment or a wireless transmitter coupled with a standard industry GPS device to facilitate instant communication with police officers if violence occurs in transit. Instead, they continue to prioritize profit over the safety of its passengers, and as a result, preventable incidents like this one continue to happen."
"Whether one is boarding an airliner or a Greyhound bus, every passenger in today's day and age deserves proper, effective, security both during the screening and boarding process and during the trip", Robbins said.
Victims of Greyhound Bus Attack Near Lebec Describe the Incident
Mark Grabban and his girlfriend were among the passengers on the Greyhound bus fortunate to survive the shooting. In an interview with NBC News, Grabban said he noticed the man who would later open fire on the bus as he was walking to his seat.
"He was, massive, so tall, I remember before this happened, I noticed he had really big shoes on," Grabban said. He also remembered the man talking loudly and incoherently. At one point, the man got into an altercation with another passenger who had asked him to quiet down.
"He was muttering things, about 'wait till we get to the station,'" said Grabban. Later, the attacker shouted a series of expletives, then opened fire.
"I heard a gun cock, and eight to nine rounds let off," said Grabban, who dove under a seat. He recalled seeing a mother and two small children. "I was shaking, telling them to stay down," he said.
According to media reporting, passengers were able to remove the shooter from the bus. He left behind the black handgun used in the attack along with extra magazines. The Greyhound driver proceeded to a nearby gas station where emergency responders rushed onto the bus and started administering first aid.
Lurbis Elena Vence, a 51-year-old woman from Molino Colombia, was pronounced dead at the scene. Of the five other passengers who were wounded, a 19-year-old woman and a 45-year-old man were hospitalized in critical condition. A 39-year-old woman suffered major injuries, a 49-year-old man sustained moderate injuries, and a 50-year-old woman had minor injuries, according to local law enforcement officials.
Kern County Greyhound Shooting Investigation
In the aftermath of the Greyhound bus shooting in Kern County, local law enforcement officials were able to arrest the gunman without incident. He was identified as 33-year-old Anthony D. Williams of Capitol Heights, Maryland. It is unclear why Williams decided to open fire on the Greyhound bus. Authorities have said there does not appear to be a connection between Williams and any of the passengers.
Sgt. Brian Pennings of the California Highway Patrol said in a press conference that he has never seen an incident like this in his 25-year career. But according to Wisner Baum attorney Clay Robbins III, while these types of attacks on Greyhound buses are rare, they are happening more and more.
"I have represented victims harmed in multiple incidents similar to this one outside Lebec," says Robbins III. "I can tell you from experience that Greyhound simply does not have the necessary security measures in place to prevent these types of attacks from happening."
"Why are passengers not screened by metal detection devices prior to boarding a bus, as is commonplace for spectators at concerts or sporting events? Why does Greyhound not insist on having more than one person—the driver—on its buses at all times? If the company was serious about preventing these types of tragedies from occurring, Greyhound would do well to improve its safety protocols."
Accident Attorney with Lawsuit Against Greyhound
Clay Robbins III has represented Greyhound passengers harmed in two incidents that share similarities with the Greyhound shooting outside Lebec.
In one of the incidents, a mentally disturbed man was permitted to board a Greyhound bus after being kicked off another Greyhound bus only a day before. The man ended up assaulting the bus driver while the bus was in motion, causing a rollover crash that left several people with injuries.
In another incident, a man wielding a knife stabbed a Greyhound bus driver, causing a horrible accident. Two passengers were killed. The bus driver and three other people sustained critical injuries. Mr. Robbins represented the family of one of the deceased victims and two of those who sustained injuries.
Both of these cases resolved with large settlements between the victims and Greyhound. Mr. Robbins' clients and their families received significant compensation.*
If you or a member of your family have been the victim of a Greyhound bus attack, you need to speak with an experienced attorney to protect your legal rights and pursue compensation on your behalf. Clay Robbins III and the law firm of Wisner Baum have the experience and resources necessary to litigate claims against Greyhound. With a proven track record of success against Greyhound, we are committed to pursuing justice and maximum compensation on your behalf.
*Past performance is not a guarantee of future outcomes.
Call us today at (855) 948-5098 for a free case evaluation, or contact us online.
Best Law Firms 2023

A ranking in The U.S. News – Best Lawyers® "Best Law Firms" is widely regarded by both client and legal professionals as a significant honor. It is considered the most reliable, unbiased source of legal referrals anywhere.

The Truck Safety Coalition

Wisner Baum is proud to be a sponsor of The Truck Safety Coalition, a a group of caring individuals dedicated to reducing the number of deaths and injuries caused by truck-related crashes. Our support enables them to help families and save lives.

California Powerhouse

Law360 recognizes law firms that have a strong regional presence, working on important matters within their home state. "[Wisner Baum] possesses a David v. Goliath-sized slingshot while seeking justice for everyday citizens it believes were harmed or killed through corporate wrongdoing."

Elite Trial Lawyers

NLJ and American Lawyer Media honor law firms and attorneys as Elite Trial Lawyers for their cutting-edge legal work on behalf of plaintiffs in practice areas ranging from mass torts to securities litigation.

Listed in Best Lawyers

Best Lawyers is the oldest and most respected peer-review publication in the legal profession. A listing in Best Lawyers is widely regarded by both clients and legal professionals as a significant honor, conferred on a lawyer by his or her peers.

AV Top Ranked Law Firm

Less than one-half of one percent of firms across the nation have achieved this ranking. A firm must have a high percentage of lawyers who have achieved the prestigious AV® Preeminent rating by Martindale-Hubbell®.

Verdicts Hall of Fame

The National Law Journal inducted Wisner Baum into the Verdicts Hall of Fame for obtaining the $2 billion landmark verdict in the Roundup cancer case of Pilliod et al. v. Monsanto. The verdict was #1 in California and #2 in the U.S. in 2019 and is #9 in American history.

Super Lawyers

Super Lawyers is a rating service of outstanding lawyers from more than 70 practice areas who have attained a high-degree of peer recognition and professional achievement.

National Trial Lawyers Top 100

The National Trial Lawyers Top 100 recognized the law firms of Wisner Baum, the Miller Firm and Audet & Partners with the 2019 Trial Team of the Year award (in the Mass Torts category) for their work in the groundbreaking case of Dewayne "Lee" Johnson v. Monsanto Company.

AV Preeminent Peer Review Rated

An AV® rating reflects an attorney who has reached the heights of professional excellence. The rating signifies the highest legal ability, and very high adherence to professional standards of conduct, ethics, reliability, and diligence.

Avvo 10.0 Rating

Wisner Baum is proud to have all of its lawyers listed in Avvo, a legal directory connecting people in need of legal services with lawyers and connecting lawyers to lawyers. Eight of our attorneys have earned a 10.0 perfect rating with Avvo.

Top Jury Verdict in
CA and USA

TopVerdict.com ranks our $2 billion verdict in Pilliod et al. v. Monsanto as the biggest verdict in California and the second largest verdict in the U.S. in 2019. It is the ninth largest verdict in U.S. history.

Lawdragon 500 Leading Plaintiff Consumer Lawyers

Published annually, the Lawdragon 500 Leading Plaintiff Consumer Lawyers list recognizes the "best of the best" in this area of the law through nominations, research, and review by a board of their peers.

Product Liability Practice Group of the Year

In 2020, Law360 honored the law firms "behind the litigation wins and major deals that resonated throughout the legal industry." It recognized our success in several landmark cases.

Top Personal Injury Jury Verdict in California

In 2018, our $289 million Johnson v. Monsanto verdict was the largest personal injury verdict in California. TopVerdict.com also ranked it #2 among all verdicts in California and #10 in the nation.

Bar Register of Preeminent Lawyers

The Bar Register is the definitive guide to the most distinguished law firms in America. It includes only those select law practices that have earned the highest rating in the Martindale-Hubbell Law Directory and have been designated by their colleagues as preeminent in their field.
Firm Reviews
What Our Clients Are Saying
I Can't Imagine a Better Law Firm - Best Law Firms Survey

They Are About Changing the Systems... - Kim Witczak

Top Legal Minds in the Country - From Best Lawyers® Best Law Firms

Diligent & Professional Representation - W.T.

Our Best Interest Was Always Number One on Your List - G.C. & C.C