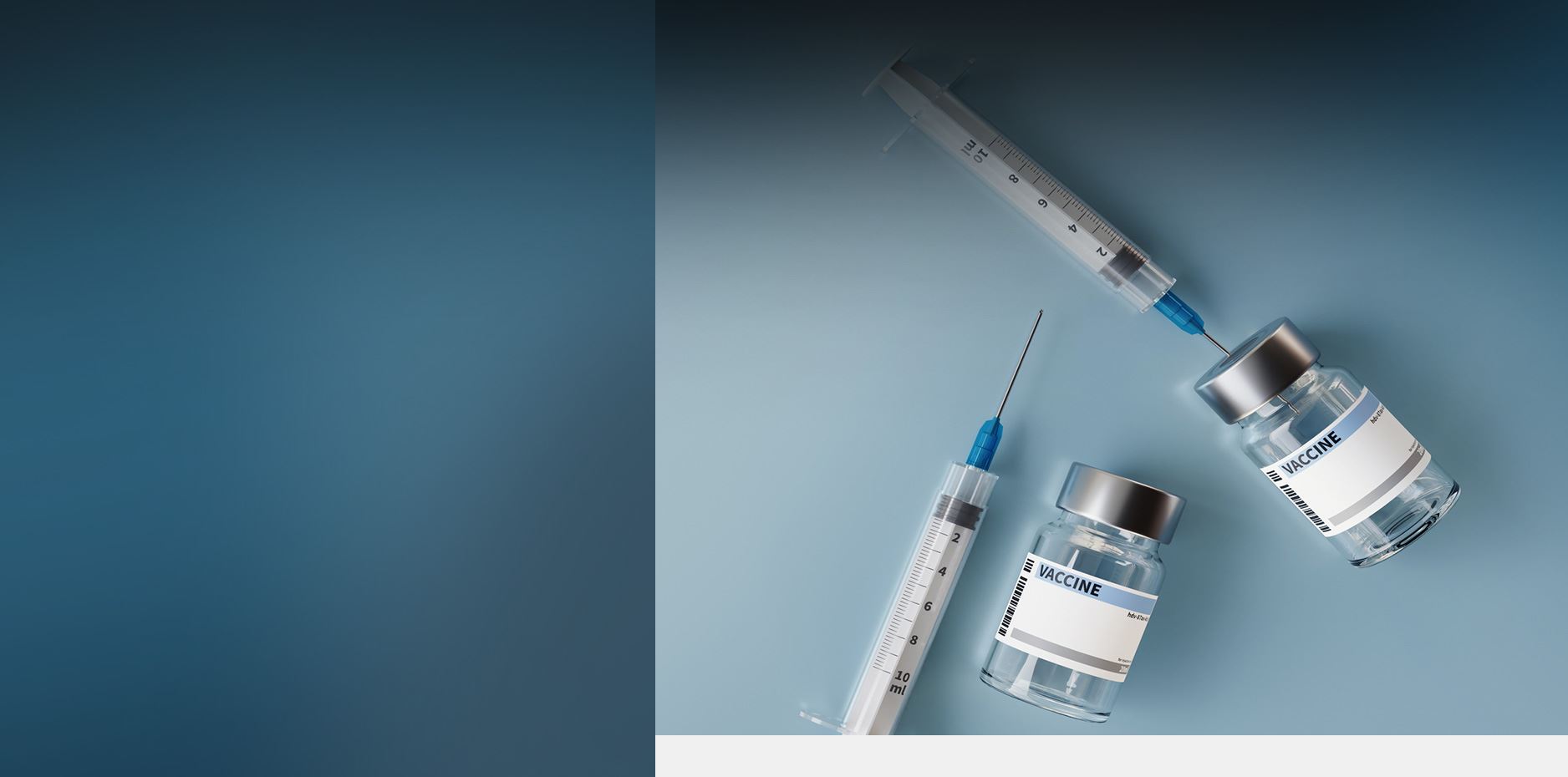 Gardasil Deaths Client Focused. Trial Ready. Billions Won.
Gardasil Deaths
You may have heard that the HPV vaccine Gardasil has been linked to numerous side effects. Something you may not know: According to the National Vaccine Information Center, hundreds of people have died after receiving the Gardasil vaccine.
On September 27, 2022, Wisner Baum attorneys Bijan Esfandiari, Michael L. Baum, Stephanie B. Sherman, and Monique Alarcon, along with co-counsel Robert F. Kennedy, Jr., filed the first Gardasil death lawsuit in civil court. The case was filed on behalf of Clifton and Kelli Foley, a couple from North Carolina who allege the Gardasil HPV vaccine killed their 13-year-old son.
According to the complaint allegations, Gardasil's manufacturer, Merck, "engaged in a relentless propaganda campaign aimed at frightening and guilting parents" who did not vaccinate their children with the HPV vaccine. The Gardasil death lawsuit further alleges:
Merck regularly risks the lives of patients with full knowledge of Gardasil's limited efficacy and severely harmful and sometimes fatal dangers.
Merck has made conscious decisions to not warn or inform the unsuspecting public and medical providers of such risks of injury and sometimes death.
Merck's conduct, including its false promotion of Gardasil and its failure to issue appropriate warnings concerning the severe risks of Gardasil, created a substantial risk of significant harm to children and patients who were being injected with Gardasil, and therefore warrants an award of punitive damages.
Clifton and Kelli Foley's son, Noah, passed away at age 13 of encephalitis. Their Gardasil lawsuit alleges Noah's death stemmed from an autoimmune/autoinflammatory dysregulation process, which was caused-in-fact by the Gardasil shot received in 2018.
The Foleys have said that if they had been warned about Gardasil's potential to cause serious adverse health effects, they would not have given consent for their son to receive the vaccine.
"Our faith is very strong," says Kelli Foley. "That's how I know that despite the pain our family continues to feel in Noah's absence, we won't let his death be in vain. We will fight for him in getting justice against Merck for what they did to him."
"I lost my fishing and hunting buddy, and my daughter lost her best friend," says Cliff Foley. "They say time heals all wounds, but losing your son is something you never really heal from. Every day, we feel the loss, and it doesn't get any easier."
The Foleys issued the following statement when their Gardasil lawsuit was filed:
"We have several reasons for pursuing this action against Merck. First and foremost, we want justice for our son, who suffered mightily because Merck never told us that serious adverse effects were possible. We want accountability and acknowledgment that what they've done is wrong. We hope that our case will raise awareness and provide other families the opportunity to make more informed choices about the risks associated with Gardasil. Lastly, we want some form of closure, which is something that we've never had."
Watch the Video: 13-Year-Old Noah Foley's Untimely Death After Gardasil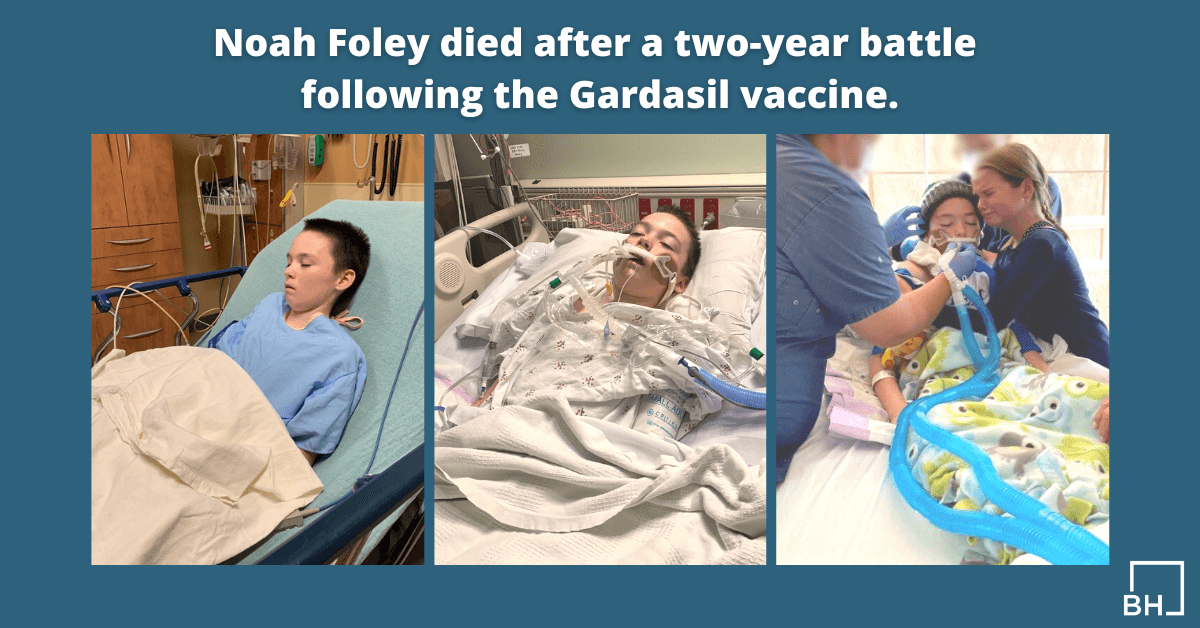 ​
For more information or to speak with a lawyer, call (855) 948-5098 today or fill out our contact form.
Hundreds of Reported Gardasil Vaccine Deaths
According to the CDC's Vaccine Adverse Event Reporting System (VAERS), hundreds of people have died after receiving the HPV2, HPV4, HPV9 or HPVX vaccine. It is worth noting that the number of HPV vaccine adverse events is assumed to be underreported.
On June 23, 2008, a 21-year-old student at Bard College died suddenly and unexpectedly in bed at the New York home she shared with other students. Christina Tarsell was young and healthy; a multi-sport athlete who played softball in high school and tennis at Bard.
Medical examiners listed Christina's cause of death as undetermined. Unable to live without answers to Christina's unexplainable death, the Tarsell family pursued an extensive investigation involving world-class experts in immunology, cardiology and electrophysiology.
The doctors evaluating Christina Tarsell's death determined that she died of an arrhythmia induced by an autoimmune response to Gardasil, an HPV vaccine that she had received only days before her death.
Merck & Co. advertised the Gardasil vaccine to young women as an effective tool to prevent cervical cancer. The Centers for Disease Control and Prevention (CDC) recommended that girls and women receive three shots of Gardasil.
Days after receiving her first Gardasil shot, Christina Tarsell suffered from arrhythmia. She experienced the same problem again days after her second Gardasil shot. Ms. Tarsell died after her third Gardasil injection.
Gardasil Makes Good Vaccines Look Bad
There is currently a great deal of controversy surrounding vaccines. Our firm wishes to stress that we are not against vaccines. They have the potential to eradicate disease and save millions of lives. We are, however, against intentional efforts to mislead consumers about the safety and effectiveness of a drug or vaccine. We have always fought-- and will continue to fight-- for the rights of consumers to be fully and honestly informed about risks associated with any drug, vaccine, or medical device. We will work tirelessly to ensure those rights are defended and victims of injustice are compensated for their injuries.
Studies Linking Gardasil and Death
While more study is needed to better understand the link between Gardasil and death, there are published studies linking HPV vaccination to sudden death in previously healthy women.
In 2012, a published case study of two deaths after HPV vaccination suggests that HPV vaccines containing HPV-16L1 antigens "pose an inherent risk for triggering potentially fatal autoimmune vasculopathies."
Also in 2012, Dr. Sin Hang Lee, a research scientist and board certified pathologist, published a case study examining the sudden death of a teenaged girl six months after receiving the final of her three shots of Gardasil. Dr. Lee found HPV-16 gene DNA in blood and spleen tissue samples similar to HPV-16 gene DNA fragments he found in Gardasil. The HPV-16 LI gene DNA was bound to what Merck describes as its proprietary aluminum adjuvant used in Gardasil 4 and Gardasil 9. This binding protected the DNA fragments from degradation.
"Viral DNA molecules, as those found in Gardasil, when transfected with the aluminum adjuvant into the macrophages after intramuscular injection, are now known to stimulate release of many immune molecules some of which, such as the tumor necrosis factor-α, are potent myocardial depressants. Tumor necrosis factor is capable of causing hypotension and even death in experimental animals and in humans."
Gardasil Lawyers Representing Victims
The Gardasil HPV vaccine was fast-tracked to the market, achieving in six months a move from drug application to FDA approval that generally takes years. One of the principal investigators of the Gardasil clinical trials (the human testing that precedes FDA approval) said the process "went too fast." Some of the more disturbing side effects that were not disclosed on the Gardasil package insert:
The miscarriage rate among those injected with Gardasil was 25%. The miscarriage rate for women under 30 in the U.S. is 12.5%.
In the Gardasil group, 5 babies were born with congenital abnormalities compared to none in the control group.
10.9% of women who received Gardasil reported reproductive disorders within 7 months. In the Protocol 18 placebo group, that figure was 1.2%
The rate of Gardasil deaths in the clinical trials was 8.5 per 10,000, nearly double the background U.S. death rate for young women ages 15-24.
Wisner Baum is evaluating Gardasil claims involving the following side effects and injuries:
Auto-immune disorders
Chronic fatigue syndromes
Chronic pain syndromes, including Chronic regional pain syndrome (CRPS)
Death
Dysautonomia
Fibromyalgia
Idiopathic Thrombocytopenic Purpura (ITP)
Lupus
Movement disorders
Neurological disorders
Postural orthostatic tachycardia syndrome (POTS)
Reproductive disorders, including premature ovarian failure (POF)
Small fiber neuropathy
If you or a family member suffered from any of the above maladies after receiving a Gardasil shot, we can help. Call (855) 948-5098 today, or complete our contact form, for a free confidential case evaluation.
Gardasil Claim Filed
Emily Tarsell, Christina's mother, decided to pursue legal action over her daughter's wrongful death against the Department of Health and Human Services (HHS). As a covered vaccine, victims of Gardasil injuries cannot file a Gardasil lawsuit against Merck in civil court before first filing a claim with the Vaccine Injury Compensation Program (VICP).
On April 2, 2018, after the Tarsell family fighting many years for justice, a special master in the VICP ruled that Christina had died from a heart arrhythmia caused by Gardasil. The decision stated that Tarsell's legal team had presented "preponderant evidence of a logical sequence of cause and effect, connecting the HPV vaccination to the ensuing arrhythmia."
Emily Tarsell is one of many Gardasil victims to file a claim in the VICP. As of February of 2020, 441 Gardasil claims have been filed in the VICP for 15 deaths and 426 injuries that occurred after HPV vaccination. Of those, 134 resulted in compensation for the victims.
$63 Million Settlement Paxil Pediatric Class Action

$63 million pediatric class action re false promotion of Paxil. Judge approves final terms of improved national pediatric paxil class action settlement – consumers get a better deal.

$40 Million Settlement Third-Party Payer Class Action

$40 million third-party payer class action re off-label promotion of Paxil. Judge approves $40 million settlement in the second phase of national pediatric paxil class action – insurance companies to be reimbursed.

$28 Million Settlement Defective Drug Class Action

$28 million Paxil defective drug class action. A class action has been brought in the US territory of Puerto Rico against UK-based drug major GlaxoSmithKline.

$10 Million Settlement Celexa-Lexapro Pediatric Class Action

$10 million pediatric class action re false promotion of Celexa and Lexapro. Babies born to women who have used Lexapro and other similar medications such as Zoloft, Celexa, Prozac, Paxil, and Symbyax are at an increased risk for birth defects.

$9 Million Settlement Drug Injury

Wisner Baum obtained a $9 million settlement on behalf of an individual who was injured by a drug. Client-Focused Representation
REVIEWS & TESTIMONIALS
We believe our track record speaks for itself. But you don't have to take our word for it. See what our clients have to say about working with us.
"I Can't Imagine a Better Law Firm"

Multiple lawyers recommended Wisner Baum to me and I have been consistently impressed with the quality of their work.

- Best Law Firms Survey

"They Are About Changing the Systems..."

Wisner Baum are not only amazing attorneys but more importantly, they are activists. They are about changing the systems which got us into trouble in the first place. They understand their role in the process of making change.

- Kim Witczak

"Top Legal Minds in the Country"

The Wisner Baum firm has some of the top legal minds in the country; they are driven, determined, trustworthy, ethical and passionate.

- From Best Lawyers® Best Law Firms

"Diligent & Professional Representation"

Thanks to your efforts I was able to recover from a tragic experience and turn my life around for the best.

- W.T.

"Our Best Interest Was Always Number One on Your List"

A special thank you to your Spanish-speaking staff for the extra effort put into this case. The language barrier was never a problem, and we are so very thankful to them. Your name holds much respect in our family.

- G.C. & C.C

"We Have Never Met a More Wonderful Group of People"

It is obvious that the people at Wisner Baum believe in what they do. And that you all really care about your clients.

- The B. Family

"They Worked Very Hard and Kept in Contact, Which Is Very Important to Me"

I appreciate that you care about how I feel and that you take time to use your talents to ensure your every contact with me is warmly professional.

- A.D.B.

"Your Expertise in This Field Gave Me the Utmost Trust and Confidence"

I wanted a fair settlement within an appropriate time frame, and without any public scrutiny. With your hard work and dedication, we were able to achieve those goals.

- T.O.